This species is accepted, and its native range is Queensland.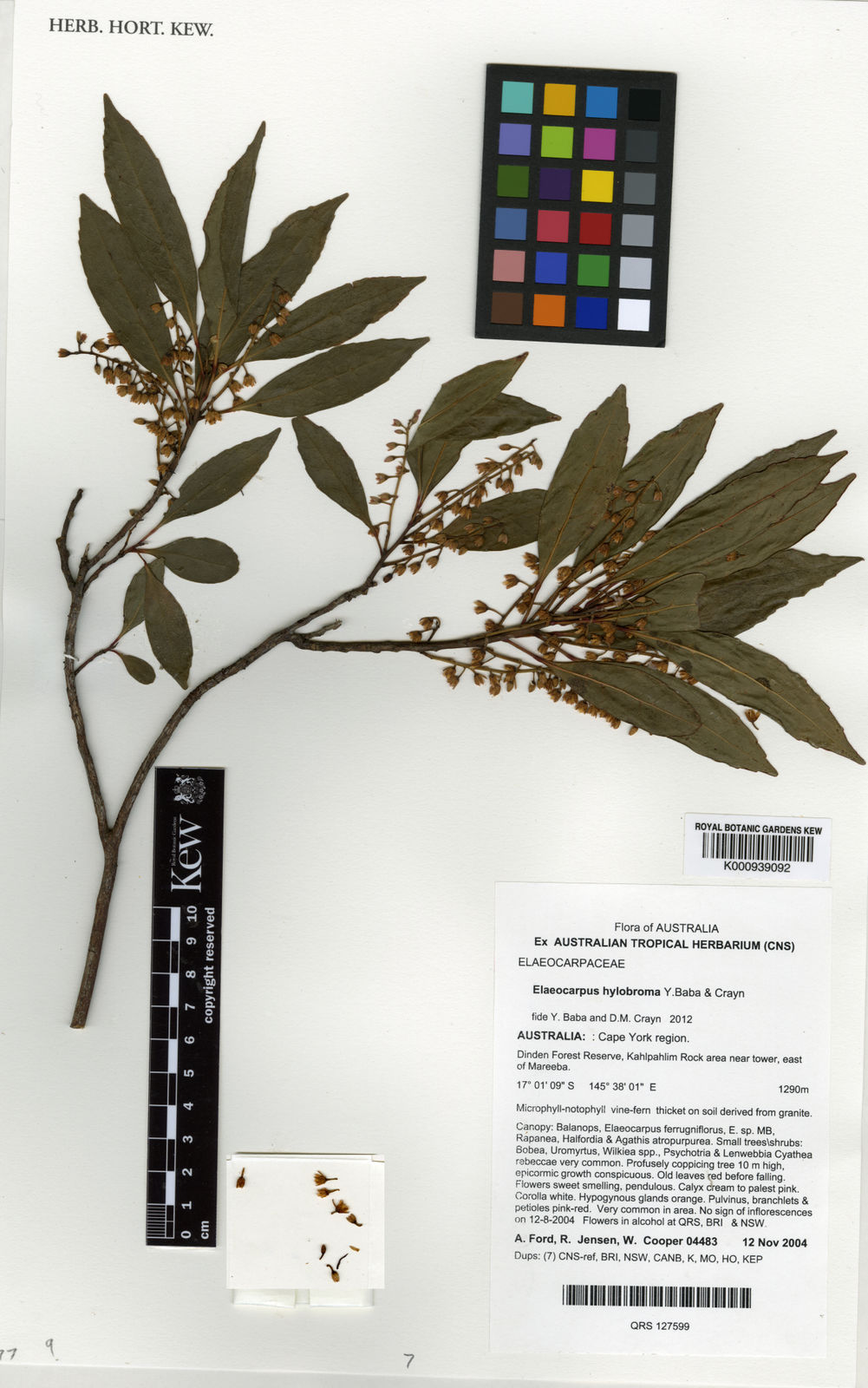 [KBu]
Baba, Y. & Crayn, D. Kew Bull (2012) 67: 743. https://doi.org/10.1007/s12225-012-9398-9
Conservation

Although all known localities are within protected areas, the species is known from relatively few individuals and is restricted to mountain rainforest in northern Queensland. Population genetic analysis (Rossetto et al. 2009) (as E. sp. MB) revealed low genetic diversity within and among populations, likely resulting from contraction to refugia during Quaternary climatic oscillations, and climate change may pose a threat to this tropical mountaintop endemic. Assessment against the IUCN criteria (IUCN 2001) results in a status of 'VU D1' and against the Queensland Nature Conservation Act 1992 as 'Vulnerable, D1', based on an estimated population size of less than 1,000 mature individuals.

Distribution

Australia: Queensland: Cook Distr. (Map 1). The species is restricted to the Wet Tropics bioregion of NE Queensland. It has been collected from Mount Windsor Tableland National Park, Daintree National Park (Thornton Peak, Pinnacle Rock, Mossman Bluff, Mt Lewis and Mt Spurgeon) Dinden National Park (Kahlpahlim Rock and Lambs Head), Mt Williams and Danbulla National Park and State Forest.

Ecology

Mountain rainforest (complex notophyll vine forest sensu Webb 1959), sometimes windswept and stunted, between alt. (900 –) 1000 – 1330 m in the Wet Tropics bioregion of north-east Queensland. Found on soils derived from granite and metasediments (A. Ford, pers. comm.), often growing among and over rocks.

Morphology

Branches

Branchlets pinkish red, shortly pubescent (hairs <0.1 mm) when young, glabrescent; vegetative buds covered in long (>0.1 mm) appressed hairs; stipules black, narrow triangular, 0.5 – 1.3 mm long, pubescent (hairs >0.1 mm) at base, caducous

Morphology

General

Buds

Buds cream with pinkish tinge, ellipsoid to ovoid, apex conical, pubescent (>0.1 mm)

Morphology

General

Habit

Small tree to 18 m tall, usually very poorly formed, coppicing, adventitious roots pinkish red with yellow tips

Morphology

Leaves

Leaves clustered towards branch tips, petioles pinkish red, gradually turning green, often leaving only pulvinae red, both surfaces pubescent (hairs >0.1 mm) when young, glabrescent, 5 – 19 mm long, often with pulvinae at both ends, straight; leaf blade glossy green adaxially, paler green abaxially, elliptic, narrow-elliptic to oblong, 37 – 106 (– 112) × 10 – 30 (– 37) mm, both surfaces glabrous except pubescent (hairs >0.5 mm) on midrib, apex acute to acuminate and minutely emarginate with a very short black tooth on abaxial side; base attenuate-cuneate; margin serrate in upper ½ to ⅓ (rarely ⅔), serrations 2 – 6 each terminated by a minute black tooth associated with a vein ending, slightly recurved, often undulate; secondary veins (3 –) 4 – 8 pairs angled 45 – 65° to midrib; domatia present in secondary vein axils, pocket-shaped, glabrous inside, 2 – 8 (– 10) per leaf, rarely absent

Morphology

Reproductive morphology

Flowers

Flowers 5-merous, cupiform; sepals cream to white sometimes with slightly pinkish tinge abaxially, deltoid, 2.5 – 3 × c. 1 mm, slightly keeled in the lower half, apex abruptly incurved and bearing a tuft of minute hairs (<0.1 mm), sparsely hairy (c. 0.1 mm) along the midline otherwise glabrous adaxially, sparsely hairy (c. 0.1 mm) abaxially; petals white, oblanceolate, 2 – 3 mm × 0.5 – 1 mm, slightly keeled inside in lower half, glabrous adaxially, sparsely hairy along the midline abaxially, margin sparsely and shortly ciliate (≤0.1 mm), upper 1/3 fringed with 6 – 9 equal narrow triangular segments; disk orange, c. 0.5 mm high, densely hairy (<0.1 mm), lobed; stamens cream, borne between disk and ovary, 11 – 14; filaments (0.4 –) 0.5 – 0.7 mm long, with minute antrose hairs (<0.1 mm), sigmoid, curved or straight; anthers 1.2 – 1.4 mm, dehiscing via an apical transverse slit, outer tip longer by 0.05 – 0.1 mm, shortly hairy with antrorse hairs (<0.1 mm), apex acute with a cluster of short setae (<0.1 mm) on the outer tip; ovary pale green, pubescent (>0.1 mm), 0.7 – 1.1 × 0.8 – 1.1 mm, tapering to style, 3-locular, 4 ovules per locule; style filiform 1.4 – 1.7 mm long, sometimes sigmoid in the upper ¼; stigma indistinguishable from style

Morphology

Reproductive morphology

Fruits

Fruit dull blue with pale speckles, obovoid to ellipsoid, 17.5 – 20 mm long × 11 – 13 mm in diam., glabrous; outer mesocarp (flesh) 1.7 – 2.2 mm thick, slightly gritty, stone c. 2 – 4 mm thick, surface bastionate, sutures 3 becoming deep grooves distally, (11 – ) 13.0 – 16 (– 17) × (7.5 – ) 8.0 – 10.5 ( – 11) mm

Morphology

Reproductive morphology

Inflorescences

Inflorescences racemose, borne amongst and below leaves; rachis (8 –) 18 – 51 mm long, pale green, sparsely hairy (c. 0.1 mm); pedicels 2.4 – 5 mm in flower elongating to 4.5 – 7 mm in fruit; flowers (3 –) 5 – 20 per inflorescence; bracts one per flower, caducous, deltoid, once toothed, ciliate, 0.7 – 1.5 mm long

Morphology

Reproductive morphology

Seeds

Seed one (– 2) per fruit, 6.9 – 9.3 × 3.6 – 4.8; endosperm entire, straight; cotyledons broadly elliptic, straight.

Note

The specific epithet derives from the Greek hylo- (forest) and bromo (food). The name refers to the seed containing rich endosperm that is available as a food source for forest animals. We observed almost all fallen stones to have been gnawed through to the locule and the seed missing, suggesting seed predation by ground feeding animals, presumably native rodents.

Individual trees are often encountered with poorly formed trunks and large branches and crowns broken off (presumably by cyclonic and storm winds) and always with extensive basal coppicing. Red adventitious roots are frequently observed emerging from the buttress roots (Fig. 2). Leaves turn glossy bright red before falling. Crystal-blisters appear on the aerial parts of the plants upon drying. Compared with other NE Queensland species in the genus, buds of Elaeocarpus hylobroma reach anthesis exceptionally quickly (A. Ford, pers. comm.).

Superficially similar to Elaeocarpus elliffii B. Hyland & Coode but differing in having petioles red with a pink tinge when young, leaves turning glossy bright red before falling, leaf margins minutely recurved and undulating; corolla cupiform, stamens 11 to 14, anthers with a terminal tuft of minute setae; fruit obovoid to ellipsoid, stones with bastionate ornamentation, three basally prominent sutures, seeds/embryos straight and endosperm entire. (Table 1).

Phenology

Buds are recorded in late Oct. and flowers mid to late Nov. Fruit may remain on the tree until the following May.

Type

Type: Australia, Queensland, Dinden Forest Reserve, Kahlpahlim Rock area near tower, E of Mareeba. [Lamb Range, Dinden National Park], 1290 m, 12 Nov. 2004, Ford, Jensen & Cooper 4483 (holotype CNS!; isotypes to be distributed to BO!, BRI!, CANB!, E!, K!, KEP!, KYO!, L!, LAE!, MEL!, MO!, NSW!, P!).
Elaeocarpus hylobroma Y.Baba & Crayn appears in other Kew resources:
| Date | Reference | Identified As | Barcode | Type Status |
| --- | --- | --- | --- | --- |
| Jan 1, 2012 | Ford, A., Jensen, W., Cooper, [04483], Australia | | K000939092 | isotype |
First published in Kew Bull. 67: 744 (2012)
Accepted by
Govaerts, R., Nic Lughadha, E., Black, N., Turner, R. & Paton, A. (2021). The World Checklist of Vascular Plants, a continuously updated resource for exploring global plant diversity. https://doi.org/10.1038/s41597-021-00997-6 Scientific Data 8: 215.
Literature
Kew Bulletin
Coode, M. J. E. (1978). A conspectus of Elaeocarpaceae in Papuasia. Brunonia 1: 131 – 302.CrossRefGoogle Scholar
Coode, M. J. E. (1984). Elaeocarpus in Australia and New Zealand. Kew Bull. 39: 509 – 586.CrossRefGoogle Scholar
Coode, M. J. E. (2004). Elaeocarpaceae. In: K. Kubitzki (ed.), Families and Genera of Vascular Plants, pp. 135 – 144. Springer, Berlin.
Coode, M. J. E. (2010). Elaeocarpus for Flora Malesiana: new taxa and understanding in the Ganitrus group. Kew Bull. 65: 355 – 399.CrossRefGoogle Scholar
Cooper, W. & Cooper, W. T. (2004). Fruits of the Australian Tropical Rainforest. Nokomis Editions Pty Ltd, Melbourne.
Council of Heads of Australasian Herbaria (CHAH) (2011). Australian Plant Census. Viewed on 19 Jan. 2012. URL http://www.anbg.gov.au/chah/apc/
Crayn, D. & Kupsch, K. (2006). Elaeocarpaceae in Australia. Austral. Pl. 23: 339 – 373.
Crayn, D., Rossetto, M. & Maynard, D. J. (2006). Molecular phylogeny and dating reveals an Oligo-Miocene radiation of dry-adapted shrubs (Tremandraceae) from rainforest tree progenitors (Elaeocarpaceae) in Australia. Amer. J. Bot. 93: 1328 – 1342.CrossRefGoogle Scholar
Dettmann, M. E. & Clifford, H. T. (2001). The fossil record of Elaeocarpus L. fruits. Mem. Queensland Mus. 46: 461 – 497.
Graham, C. H., Vanderwal, J., Phillips, S. J., Moritz, C. & Williams, S. E. (2010). Dynamic refugia and species persistence: tracking spatial shifts in habitat through time. Ecography 33: 1062 – 1069.CrossRefGoogle Scholar
Guymer, G. (1997). Elaeocarpaceae. In: R. J. F. Henderson (ed.), Names and Distribution of Queensland Plants, Algae and Lichens, p. 67. State of Queensland Environmental Protection Agency, Brisbane.
Guymer, G. (2002). Elaeocarpaceae. In: R. J. F. Henderson (ed.), Names and Distribution of Queensland Plants, Algae and Lichens, pp. 65 – 66. Queensland Herbarium, Environmental Protection Agency, Brisbane.
Guymer, G. (2007). Elaeocarpaceae. In: P. Bostock & A. E. Holland (eds), Census of the Queensland Flora, p. 66. Queensland Herbarium, Environmental Protection Agency, Brisbane.
Guymer, G. (2010). Elaeocarpaceae. In: P. Bostock & A. E. Holland (eds), Census of the Queensland Flora, pp. 61 – 62. Queensland Herbarium, Department of Environment and Resource Management, Brisbane.
Hyland, B. P. M. & Whiffin, T. (1993). Australian Tropical Rain Forest Trees — an Interactive Identification System. Vol 2. CSIRO Publishing, East Melbourne.
Hyland, B. P. M., Whiffin, T., Christophel, D. C., Gray, B. & Elick, R. W. (2003). Australian Tropical Rain Forest Plants — Trees, Shrubs and Vines. CSIRO Publishing, Collingwood.
IUCN (2001). IUCN Red List Categories and Criteria: Version 3.1. IUCN Species Survival Commission, IUCN, Gland and Cambridge.
Rossetto, M., Crayn, D., Ford, A., Mellick, R. & Sommerville, K. (2009). The influence of environment and life-history traits on the distribution of genes and individuals: a comparative study of 11 rainforest trees. Molec. Ecol. 18: 1422 – 1438.CrossRefGoogle Scholar
Rozefelds, A. C. & Christophel, D. C. (1996). Elaeocarpus (Elaeocarpaceae) endocarps from the Early to Middle Miocene Yallourn formation of Eastern Australia. Muelleria 9: 229 – 237.
Vanderwal, J., Shoo, L. P. & Williams, S. E. (2009). New approaches to understanding late Quaternary climate fluctuations and refugial dynamics in Australian wet tropical rain forests. J. Biogeogr. 36: 291 – 301.CrossRefGoogle Scholar
Webb, L. J. (1959). A physiognomic classification of Australian rainforests. J. Ecol. 47: 551 – 570.CrossRefGoogle Scholar
Weibel, R. (1968). Morphologie de l'embryon et de la graine des Elaeocarpus. Candollea 23: 101 – 108.
Zmarzty, S. (2001). Revision of Elaeocarpus (Elaeocarpaceae) section Elaeocarpus in Southern India and Sri Lanka. Kew Bull. 56: 405 – 447.CrossRefGoogle Scholar
Herbarium Catalogue Specimens
Digital Image © Board of Trustees, RBG Kew http://creativecommons.org/licenses/by/3.0/

Kew Backbone Distributions
The International Plant Names Index and World Checklist of Selected Plant Families 2021. Published on the Internet at http://www.ipni.org and http://apps.kew.org/wcsp/
© Copyright 2017 World Checklist of Selected Plant Families. http://creativecommons.org/licenses/by/3.0

Kew Bulletin
Kew Bulletin
http://creativecommons.org/licenses/by-nc-sa/3.0

Kew Names and Taxonomic Backbone
The International Plant Names Index and World Checklist of Selected Plant Families 2021. Published on the Internet at http://www.ipni.org and http://apps.kew.org/wcsp/
© Copyright 2017 International Plant Names Index and World Checklist of Selected Plant Families. http://creativecommons.org/licenses/by/3.0