Raphanus raphanistrum subsp. raphanistrum
This subspecies is accepted
The native range of this subspecies is Europe to Medit. and Central Asia. It is an annual or biennial and grows primarily in the temperate biome.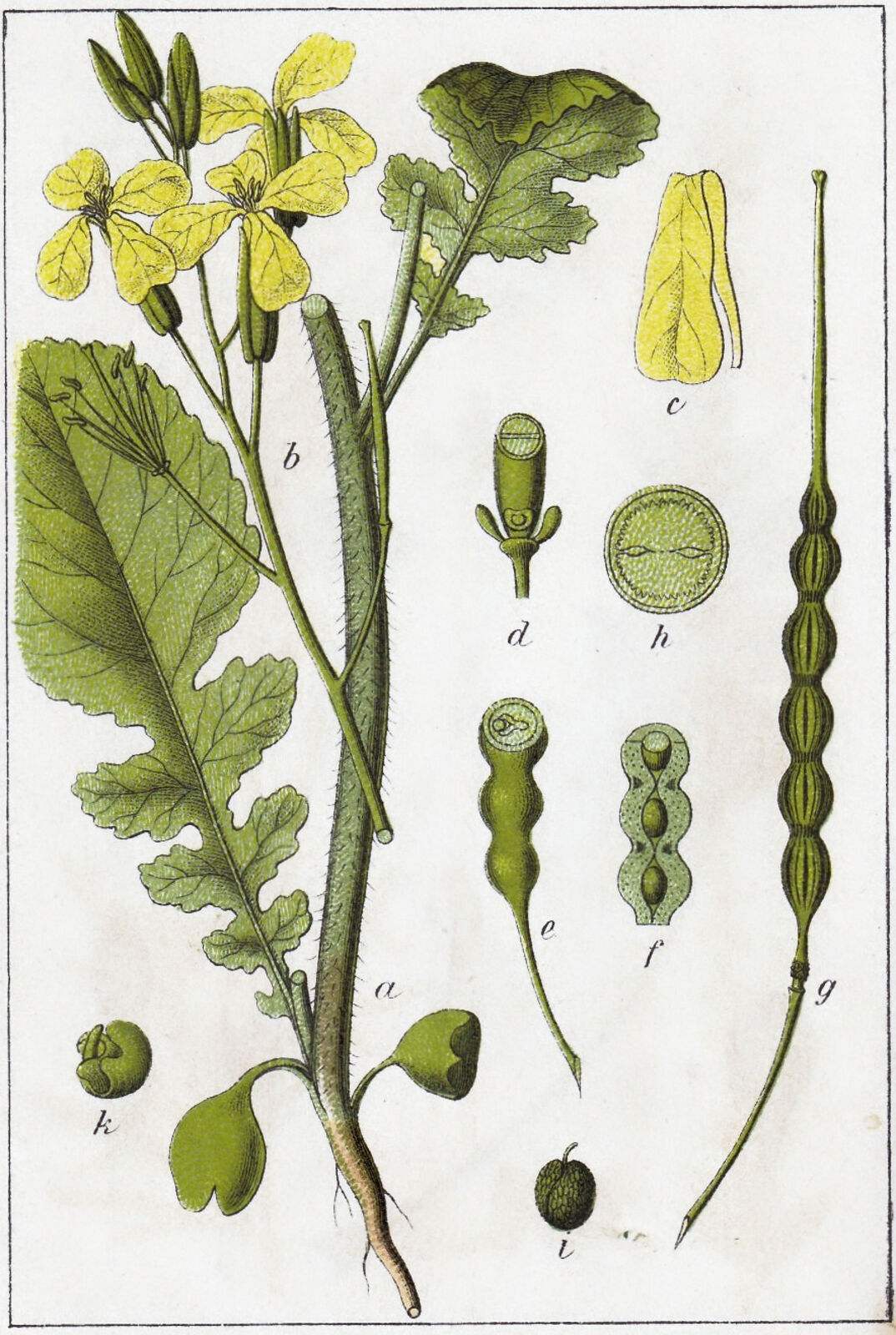 Distribution
Native to:
Albania, Algeria, Altay, Austria, Azores, Baleares, Baltic States, Belarus, Belgium, Bulgaria, Canary Is., Central European Rus, Corse, Cyprus, Czechoslovakia, Denmark, East Aegean Is., East European Russia, Egypt, Finland, France, Germany, Greece, Hungary, Italy, Kazakhstan, Kirgizstan, Lebanon-Syria, Libya, Madeira, Morocco, Netherlands, North Caucasus, North European Russi, Northwest European R, Norway, Palestine, Poland, Portugal, Romania, Sardegna, Sicilia, South European Russi, Spain, Sweden, Switzerland, Transcaucasus, Tunisia, Turkey, Turkey-in-Europe, Ukraine, Uzbekistan, Yugoslavia
Introduced into:
Alabama, Alaska, Alberta, Amur, Argentina Northeast, Assam, Bahamas, Bermuda, Bolivia, Brazil South, Brazil Southeast, Brazil West-Central, British Columbia, Buryatiya, California, Cape Provinces, Chile Central, Chile North, Chile South, China South-Central, Chita, Colombia, Colorado, Connecticut, Costa Rica, Crozet Is., Cuba, Delaware, District of Columbia, Djibouti, East Himalaya, Ecuador, Eritrea, Ethiopia, Florida, Free State, Georgia, Great Britain, Greenland, Guatemala, Gulf States, Haiti, Idaho, Illinois, India, Indiana, Iowa, Ireland, Irkutsk, Japan, Kamchatka, Kansas, Kentucky, Kenya, Kerguelen, Khabarovsk, Korea, Krasnoyarsk, Kuril Is., KwaZulu-Natal, Labrador, Lesotho, Louisiana, Magadan, Maine, Manitoba, Marianas, Maryland, Massachusetts, Mauritius, Mexico Central, Mexico Northwest, Mexico Southwest, Michigan, Minnesota, Mississippi, Missouri, Montana, Nebraska, Nevada, New Brunswick, New Hampshire, New Jersey, New Mexico, New South Wales, New York, New Zealand North, New Zealand South, Newfoundland, North Carolina, North Dakota, Northern Provinces, Northern Territory, Nova Scotia, Ohio, Oklahoma, Oman, Ontario, Oregon, Pakistan, Paraguay, Pennsylvania, Peru, Primorye, Prince Edward I., Qinghai, Queensland, Québec, Rhode I., Réunion, Sakhalin, Saskatchewan, Saudi Arabia, South Australia, South Carolina, South Dakota, St.Helena, Taiwan, Tanzania, Tasmania, Tennessee, Texas, Tristan da Cunha, Uruguay, Utah, Victoria, Virginia, Washington, West Virginia, Western Australia, Wisconsin, Wyoming, Yakutskiya, Yemen, Zimbabwe
Publications
POWO follows these authorities in accepting this name:
Govaerts, R., Nic Lughadha, E., Black, N., Turner, R. & Paton, A. (2021). The World Checklist of Vascular Plants, a continuously updated resource for exploring global plant diversity. https://doi.org/10.1038/s41597-021-00997-6. Scientific Data 8: 215.
Muer, T., Sauerbier, H. & Cabrara Calixto, F. (2020). Die Farn- und Blütenpflanzen Madeiras: 1-792. Verlag und Versandbuchhandlung Andreas Kleinsteuber.
Kew Backbone Distributions
(2020). https://bsbi.org/archaeophytes. epublication.
Acevedo-Rodríguez, P. & Strong, M.T. (2012). Catalogue of seed plants of the West Indies. Smithsonian Contributions to Botany 98: 1-1192.
Ackerfield, J. (2015). Flora of Colorado: 1-818. BRIT Press.
Al-Eisawi, D. (2016). Taxonomic synopsis of Brassicaceae for the flora of Jordan. Webbia; Raccolta de Scritti Botanici 71: 219-226.
Allred, K.W. (2012). Flora Neomexicana, ed. 2, 1: 1-599. Range Science Herbarium, Las Cruces, New Mexico.
Audru, J., Cesar, J. & Lebrun, J.-P. (1994). Les Plantes Vasculaires de la République de Djibouti. Flore Illustrée 1: 1-336. CIRAD, Départerment d'Elevage et de Médecine vétérinaire, Djibouti.
Authier, P. & Covillot, J. (2011). Catalogue actualisé des plantes de l'île de Rhodes (Grèce). Saussurea; Travaux de la Société Botanique de Genève 41: 131-170.
Bailey, C. & al. (2015). Guide to the Vascular Plants of Tennessee: 1-813. University of Tennessee press.
Barooah, C. & Ahmed, I. (2014). Plant diversity of Assam. A checklist of Angiosperms and Gymnosperms: 1-599. Assam science technology and environment council, India.
Bosser, J., Cadet, T., Julien, H.R. & Marais, W. (eds.) (1980). Flore des Mascareignes 31-50: 1. IRD Éditions, MSIRI, RBG-Kew, Paris.
Boulos, L. (1999). Flora of Egypt 1: 1-419. Al Hadara Publishing, Cairo.
Brako, L. & Zarucchi, J.L. (1993). Catalogue of the Flowering Plants and Gymnosperms of Peru. Monographs in Systematic Botany from the Missouri Botanical Garden 45: i-xl, 1-1286. Missouri Botanical Garden.
Britton, N. (1918). Flora of Bermuda: 1-585. Charles Scribner's Sons, New York.
Brown, L.C. (1982). The Flora and Fauna of St Helena: 1-88. Land Resources Development Centre, Surbiton, England.
Chang, C.S., Kim, H. & Chang, K.S. (2014). Provisional checklist of vascular plants for the Korea peninsula flora (KPF): 1-660. DESIGNPOST.
Collenette, S. (1999). Wildflowers of Saudi Arabia: 1-799. National commission for wildlife conservation and development (NCWCD), Kingdom of Saudi Arabia.
Commonwealth Scientific and Industrial Research Organisation (2014-continuously updated). Atlas of Living Australia http://www.ala.org.au/.
Davis, P.H. (ed.) (1965). Flora of Turkey and the East Aegean Islands 1: 1-567. Edinburgh University Press, Edinburgh.
Dobignard, A. & Chatelain, C. (2011). Index synonymique de la flore d'Afrique du nord 3: 1-449. Éditions des conservatoire et jardin botaniques, Genève.
Edwards, S., Tadesse, M., Demissew, S. & Hedberg, I. (eds.) (2000). Flora of Ethiopia and Eritrea 2(1): 1-532. The National Herbarium, Addis Ababa University, Ethiopia & The Department of Systematic Botany, Upps.
Exell, A.W. & Wild, H. (eds.) (1960). Flora Zambesiaca 1(1): 1-336. Royal Botanic Gardens, Kew.
Flora of North America Editorial Committee (2010). Flora of North America North of Mexico 7: 1-797. Oxford University Press, New York, Oxford.
Forzza, R.C., Zappi, D. & Souza, V.C. (2016-continuously updated). Flora do Brasil 2020 em construção http://reflora.jbrj.gov.br/reflora/listaBrasil/ConsultaPublicaUC/ResultadoDaConsultaNovaConsulta.do.
Fosberg, F.R., Sachet, M.-H., Oliver, R. (1979). A geographical checklist of the Micronesian Dicotyledonae. Micronesica; Journal of the College of Guam 15: 41-295.
Frenot, Y., Chown, S.L., Whinam, J., Selkirk, P.M., Convey, P., Skotnicki, M. & Bergstrom,D.M. (2005). Biological invasions in the Antarctic: extent, impacts and implications. Biological Reviews of the Cambridge Philosophical Society 80: 45-72.
GBIF (2008-2020). Global Biodiversity Information Facility http://www.gbif.org/.
Garcia-Mendoza, A.J. & Meave, J.A. (eds.) (2012). Diversidad florística de Oaxaca: de musgos a angiospermas (colecciones y listas de especies), ed. 2: 1-351. Instituto de Biología, Universidad Nacional Autónoma de México.
Garcillán, P.P. & al. (2013). Plantas no nativas naturalizadas de la península de Baja California, México. Botanical Sciences 91: 461-475.
Germishuizen, G. & Meyer, N.L. (eds.) (2003). Plants of Southern Africa an annotated checklist. Strelitzia 14: 1-1231. National Botanical Institute, Pretoria.
Gremmen, N. & Halbertsma, R.L. Gremmen, N. & Halbertsma, R.L. (2009). Alien plants and their impact on Tristan da Cunha 2: 1-307. Overseas Territories Environment Programme (OTEP).
Grierson, A.J.C. & Long, D.G. (1984). Flora of Bhutan 1(2): 189-462. Royal Botanic Gardens, Edinburgh.
Hammel, B.E., Grayum, M.H., Herrera, C. & Zamora, N. (eds.) (2020). Manual de Plantas de Costa Rica 4(2): 1-524. Missouri Botanical Garden Press, St. Louis.
Idárraga-Piedrahita, A., Ortiz, R.D.C., Callejas Posada, R. & Merello, M. (eds.) (2011). Flora de Antioquia: Catálogo de las Plantas Vasculares 2: 1-939. Universidad de Antioquia, Medellín.
Iwatsuki, K., Boufford, D.E. & Ohba, H. (eds.) (2006). Flora of Japan IIa: 1-550. Kodansha Ltd., Tokyo.
Jafri, S.M.H. (1973). Flora of West Pakistan 55: 1-308.
Jalas, J., Suominen, J. & Lampinen, R. (eds.) (1996). Atlas Florae Europaeae. Distribution of vascular plants in Europe 11: 1-310.
Jones, R.L. (2005). Plant life of Kentucky. An illustrated guide to the vascular flora: 1-833. The universitry press of Kentucky.
Jonsell, B. (1982). Flora of Tropical East Africa, Cruciferae: 1-73.
Jørgensen, P.M. & León-Yánez, S. (eds.) (1999). Catalogue of the Vascular Plants of Ecuador. Monographs in Systematic Botany from the Missouri Botanical Garden 75: i-viii, 1-1181. Missouri Botanical Garden.
Jørgensen, P.M., Nee, M.H. & Beck., S.G. (eds.) (2013). Catálogo de las plantas vasculares de Bolivia. Monographs in Systematic Botany from the Missouri Botanical Garden 127: 1-1741. Missouri Botanical Garden.
Kharkevich, S.S. (ed.) (1988). Plantae Vasculares Orientalis Extremi Sovietici 3: 1-419. Nauka, Leningrad.
Korovin, E.P. & Vvedensky, A.I. (eds.) (1955). Flora Uzbekistana 3: 1-824. Izd-va Akademii nauk Uzbekskoi SSR, Tashkent.
Kral, R., Diamond, A.R., Ginzbarg, S.L., Hansen, C.J., Haynes, R.R., Keener, B.R., Lelong, M.G., Spaulding, D.D. & Woods, M. (2011). Annotated checklist of the vascular plants of Alabama: 1-112. Botanical reseach institute of Texas.
Lazkov, G.A. & Sultanova, B.A. (2011). Checklist of vascular plants of Kyrgyzstan. Norrlinia 24: 1-166.
López Patiño, E.J., Szeszko, D.R., Rascala Pérez, J. & Beltrán Retis, A.S. (2012). The flora of the Tenacingo-Malinalco-Zumpahuacán protected natural area, state of Mexico, Mexico. Harvard Papers in Botany 17: 65-167.
Malyschev, L.I. & Peschkova, G.A. (eds.) (2004). Flora of Siberia 7: 1-318. Scientific Publishers, Inc., Enfield, Plymouth.
Mateos, M.A. & Valdés, B. (2009). Catálogo de la flora vascular del Rif occidental calizo (N de Marruecos). I Selaginellaceae - Rosaceae. Lagascalia 29: 105-257.
Meikle, R.D. (1977). Flora of Cyprus 1: 1-832. The Bentham-Moxon Trust Royal Botanic Gardens, Kew.
Miller, A.G. & Cope, T.A. (1996). Flora of the Arabian peninsula and Socotra 1: 1-586. Edinburgh university press.
Mohlenbrock, R.H. (2014). Vascular Flora of Illinois. A Field Guide, ed. 4: 1-536. Southern Illinois University Press, Carbondale.
Musselman, L.J. (2011). Checklist of Plants of Lebanon and Syria http://ww2.odu.edu/~lmusselm/plant/lebsyria/Checklist%20of%20Lebanon%20Plants.pdf.
Takhtajan, A.L. (ed.) in Takhtajan, A.L. (ed.) (2012). Konspekt Flora Kavkaza 3(2): 1-623. Editio Universitatis Petropolitanae.
Wood, J.R.I. (1997). A handbook of the Yemen Flora: 1-434. Royal Botanic Gardens, Kew.
Wu, Z. & Raven, P.H. (eds.) (2001). Flora of China 8: 1-506. Science Press (Beijing) & Missouri Botanical Garden Press (St. Louis).
Zuloaga, F.O., Morrone, O. , Belgrano, M.J., Marticorena, C. & Marchesi, E. (eds.) (2008). Catálogo de las Plantas Vasculares del Cono Sur. Monographs in Systematic Botany from the Missouri Botanical Garden 107: 1-3348. Missouri Botanical Garden.
Other Data
Other Kew resources that provide information on this taxon:
Sources
Kew Backbone Distributions

The International Plant Names Index and World Checklist of Vascular Plants 2023. Published on the Internet at http://www.ipni.org and https://powo.science.kew.org/
© Copyright 2022 World Checklist of Vascular Plants. http://creativecommons.org/licenses/by/3.0

Kew Names and Taxonomic Backbone

The International Plant Names Index and World Checklist of Vascular Plants 2023. Published on the Internet at http://www.ipni.org and https://powo.science.kew.org/
© Copyright 2022 International Plant Names Index and World Checklist of Vascular Plants. http://creativecommons.org/licenses/by/3.0

Kew Science Photographs

Copyright applied to individual images