This species is accepted, and its native range is Bolivia.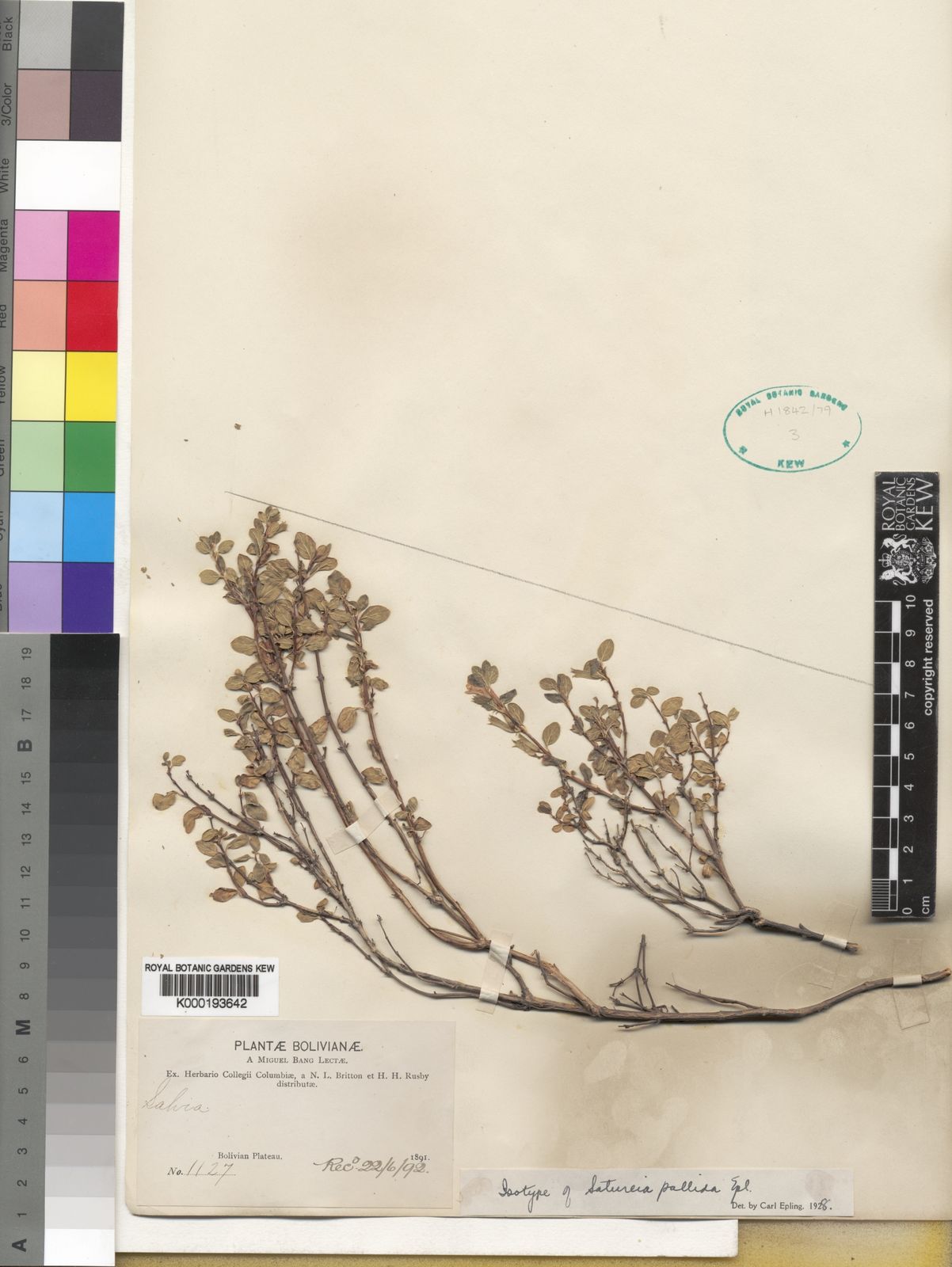 [KBu]
Wood, J.R.I. Kew Bull (2011) 66: 199. https://doi.org/10.1007/s12225-011-9282-z
Conservation

The four populations of this species are quite small but, while it would be useful to monitor these and evaluate the exact size of each population, there does not seem to be any obvious threat either to the populations themselves or their habitat. For the moment this species should be treated as Data Deficient (DD).

Ecology

A plant of bushy, sometimes disturbed places in the Inter-Andean dry valleys between about 2200 and 3100 m growing in four places in Bolivia, to which it is apparently endemic: Torotoro (Potosi), Arque (Cochabamba), Inquisivi-Circuata and near Huajchilla, Rio Abajo, La Paz. Populations are small in all localities but the plant is easy to find, perhaps because of its conspicuous corolla. For comments on the type locality see under Clinopodium axillare above. Map 2.

Morphology

General

Habit

Much-branched aromatic undershrub forming a rounded but somewhat untidy bush up to 1 m high; young stems somewhat sulcate, purplish, glabrous

Morphology

Leaves

Leaves shortly petiolate; petioles 1 – 2 mm long, articulated above a persistent basal stub, glabrous; lamina 7 – 17 × 3 – 7 mm, oblong to narrowly oblong-elliptic, obtuse at the apex, narrowly cuneate at the base, entire, glabrous, gland-dotted on both surfaces, paler beneath

Morphology

Reproductive morphology

Fruits

Nutlets trigonous, glabrous to minutely scurfy, obtuse.

Morphology

Reproductive morphology

Inflorescences

Inflorescence of solitary, pedicellate, axillary flowers; pedicels 2 – 2.5 mm long, puberulent, bearing small caducous bracteoles; calyx 8 – 12 mm long, cylindrical, weakly 2-lipped, the teeth acuminate, glabrous both on the exterior and on the interior, prominently ribbed; corolla 15 – 32 mm long, reddish or reddish-orange with yellow throat and strong red blotches in the mouth, shortly puberulent, narrowly funnel-shaped, weakly but distinctly 2-lipped, tube 13 – 27 mm long, lobes 3 – 4 × 4 mm, obtuse; stamens didynamous, filaments glabrous, the shorter pair c. 6 mm long, the longer pair c. 12 mm long, anthers weakly exserted

Note

Clinopodium pallidum is extremely variable in the length of its corolla, which varies from around 15 mm to about 30 mm but is usually around 20 mm. Two specimens cited above (Beck et al. 12484, Wood et al. 23231) have corollas reaching 32 mm. There is also some variation in leaf shape and calyx indumentum. The specimens from Torotoro (Wood et al. 21983, 23231) have elliptic to ovate leaves almost as broad as long, whereas in other specimens the leaves are narrowly oblong-elliptic, clearly longer than broad. In most specimens the calyx is completely glabrous but in some specimens (Lewis 35106, Wood et al. 23231) the gaps between the longitudinal ribs are minutely puberulent. None of this variation, apart from the leaf shape, shows any obvious geographical patterning and has not been recognised here. Clinopodium pallidum appears to be closest to an undescribed species from Ancash in Peru (Beck 7911) which differs mainly in its shorter calyx (c. 5 mm long) and much shorter ± infundibuliform corolla (9 – 12 mm long), the lips relatively prominent (c. 4 mm long). More material is needed of this species.

Phenology

Appears to flower in most seasons of the year, perhaps after any significant rainfall.
Clinopodium pallidum (Epling) Govaerts appears in other Kew resources:
| Date | Reference | Identified As | Barcode | Type Status |
| --- | --- | --- | --- | --- |
| Jul 14, 2009 | Miguel, A [1127], Bolivia | | K000193642 | |
| Jan 1, 2009 | Lewis [881099], Bolivia | | K000249757 | |
First published in World Checkl. Seed Pl. 3(1): 18 (1999)
Accepted by
Govaerts, R. (2003). World Checklist of Selected Plant Families Database in ACCESS: 1-216203. The Board of Trustees of the Royal Botanic Gardens, Kew.
Wood, J.R.I. (2011). Clinopodium L. (Lamiaceae) in Bolivia Kew Bulletin 66: 199-226.
Literature
Kew Bulletin
(1999: 18).
Bell, C. D. & Donoghue, M. J. (2005). Phylogeny and biogeography of Valerianaceae (Dipsacales) with special reference to the South American valerians. Organ. Divers. Evol. 5: 147 – 159.CrossRefGoogle Scholar
Bentham, G. (1832 – 5). Labiatarum Genera et Species. London, 1 – 60 (1832), 61 – 322 (1833), 323 – 645 (1834), 646 – 783 (1835).
Briquet, J. (1896). Fragmenta Monographiae Labiatarum. Bull. Herb. Boiss. 4: 762 – 878.
Briquet, J. (1897). Labiatae. In: A. Engler & K. Prantl, Die Natürlichen Pflanzenfamilien IV(3): 183 – 373. Wilhelm Englemann, Leipzig.
Cantino, P. D. & Wagstaff, S. J. (1998). A Reexamination of North American Satureja s.l. (Lamiaceae) in light of molecular evidence. Brittonia 50: 63 – 70.CrossRefGoogle Scholar
Epling, C. & Játiva, C. (1964). Revisión del genero Satureja en América del Sur. Brittonia 16: 393 – 416.CrossRefGoogle Scholar
Epling, C. (1927). Studies in South American Labiatae III. Ann. Missori Bot. Gard. 14: 47 – 86.CrossRefGoogle Scholar
Epling, C. (1937). Synopsis of South American Labiatae. Repert. Spec. Nov. Regni Veg. 85: 97 – 192.
Fries, R. E. (1905). Zur Kenntnis der alpinen Flora in nördlichen Argentinien. Nov. Acta Regiae Soc. Sci Upsal. Ser. 4: 1 – 205.
Govaerts, R. (1999). World Checklist of Seed Plants 3(1). Continental Publishing, Deurne.
Grisebach, A. H. R. (1874). Plantae Lorentzianae. Abh. Königl. Ges. Wiss. Göttingen 19: 49 – 279.
Grisebach, A. H. R. (1879). Symbolae ad Floram Argentiniam. Abh. Königl. Ges. Wiss. Göttingen 24 (1): 1 – 345.
Harley, R. M. & Granda Paucar, A. (2000). List of species of tropical American Clinopodium (Labiatae) with new combinations. Kew Bull. 55: 917 – 927.CrossRefGoogle Scholar
Hieronymus, G. H. E. W. (1882). Plantae diaphoricae florae argentiniae. Bol. Acad. Nac. Ci. Cordova 4: 182 – 598.
Hughes, C. E. & Eastwood, R. J. (2006). Island Radiation on a continental scale: exceptional rates of plant diversification after uplift of the Andes. Proc. Nat. Acad. Sci. 103: 10334 – 10339.PubMedCrossRefGoogle Scholar
IUCN (2001). IUCN Red List Categories and Criteria: Version 3.1. Prepared by the IUCN Species Survival Commission. IUCN, Gland, Switzerland & Cambridge, UK.
Kuntze, C. E. O. (1891 – 1898). Revisio Generum Plantarum 2: 515 (1891); 3: 259 (1898). A. Felix, Leipzig.
Leybold, F. (1873). Excursión a las Pampas Argentinas. Imprenta Nacional, Santiago.
Pontiroli, A. (1993). Labiatae. In: A. L. Cabrera, Flora de la Provincia de Jujuy IX, Verbénaceas a Caliceraceas. INTA, Buenos Aires.
Rusby, H. H. (1896). An enumeration of the plants collected in Bolivia by Miguel Bang [3]. Mem. Torrey. Bot. Club 6: 1 – 130.
Schmidt-Lebuhn, A. N. (2008). A Revision of the Genus Minthostachys (Labiatae). Mem. New York Bot. Gard. 98: 1 – 75.
Torrico, G., Peca, C., Beck, S. G. & García, E. (1994). Leñosas Utiles de Potosí. Potosí.
Wagstaff, S. J., Olmstead, R. G. & Cantino, P. D. (1995). Parsimony analysis of cpDNA restriction site variation in subfamily Nepetoideae (Labiatae). Amer. J. Bot. 82: 886 – 892.CrossRefGoogle Scholar
Weddell, A. A. (1857). Chloris Andina. Vol. 2. P. Bertrand, Paris.
Xifreda, C. C. (1999). Lamiaceae. In: O. Zuloaga & O. Morrone (eds), Catálogo de las Plantas Vasculares de la Republica Argentina II, Angiospermae (Dicotyledoneae). Monogr. Syst. Bot. Missouri Bot. Gard. 74: 769 – 781.
Herbarium Catalogue Specimens
Digital Image © Board of Trustees, RBG Kew http://creativecommons.org/licenses/by/3.0/

Kew Backbone Distributions
The International Plant Names Index and World Checklist of Selected Plant Families 2021. Published on the Internet at http://www.ipni.org and http://apps.kew.org/wcsp/
© Copyright 2017 World Checklist of Selected Plant Families. http://creativecommons.org/licenses/by/3.0

Kew Bulletin
Kew Bulletin
http://creativecommons.org/licenses/by-nc-sa/3.0

Kew Names and Taxonomic Backbone
The International Plant Names Index and World Checklist of Selected Plant Families 2021. Published on the Internet at http://www.ipni.org and http://apps.kew.org/wcsp/
© Copyright 2017 International Plant Names Index and World Checklist of Selected Plant Families. http://creativecommons.org/licenses/by/3.0