Medusanthera inaequalis Utteridge
First published in Kew Bull. 56: 234 (2001)
This species is accepted
The native range of this species is SW. New Guinea. It is a shrub and grows primarily in the wet tropical biome.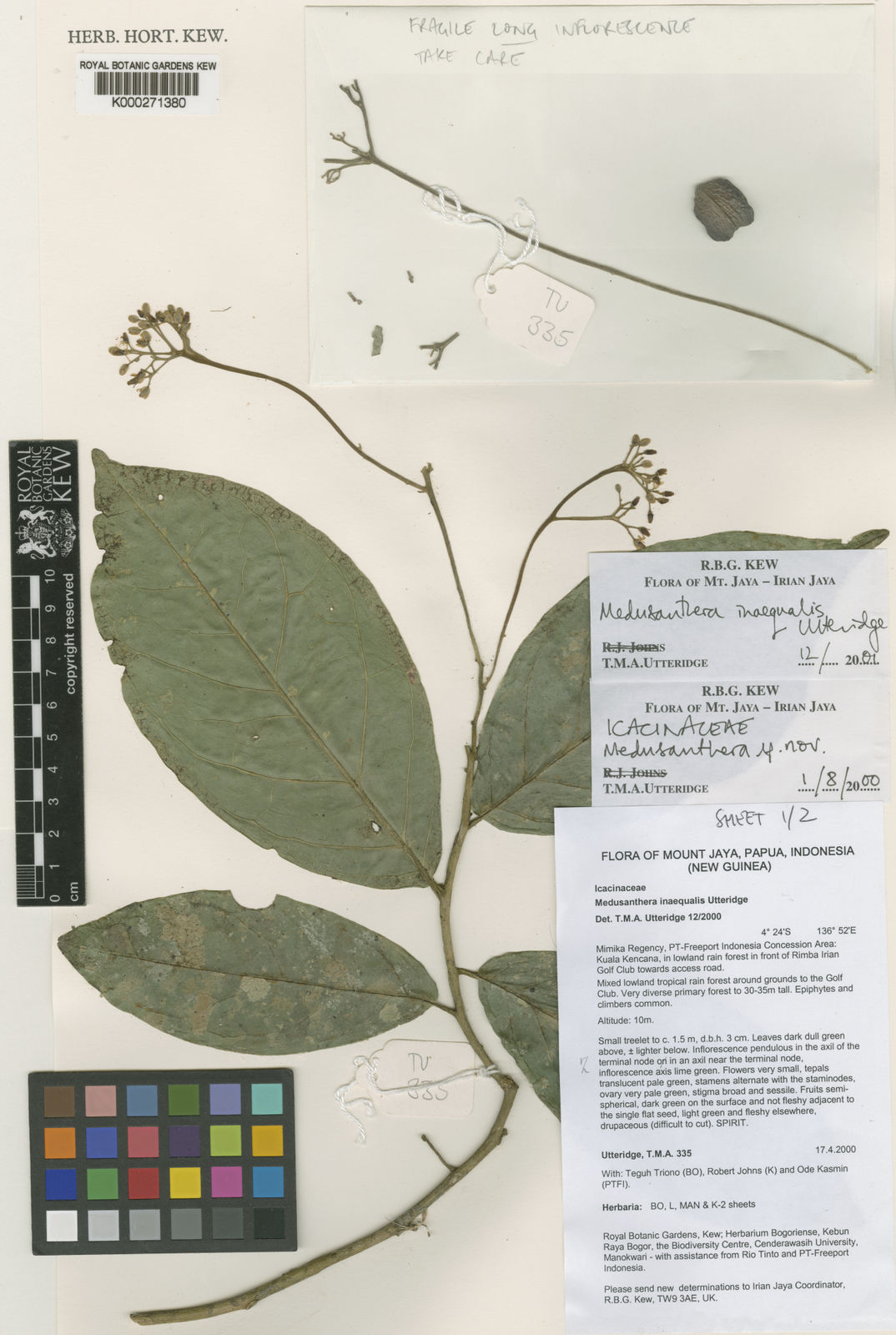 Descriptions
Utteridge, T.M.A. Kew Bull (2011) 66: 49. https://doi.org/10.1007/s12225-011-9266-z
Type

Type: Indonesia, Papua Province, Mimika regency, PT-Freeport Indonesia Contract of Work area, Kuala Kencana, in lowland rain forest in front of Rimba Irian golf club, 4°24′23″S 136°52′25″E, c. 50 m, 17 April 2000 (fl. & fr.), Utteridge 335 (holotype K; isotypes BO, L, MAN).

Morphology

General

Habit

Small treelet to c- 1.5 m high, d.b.h 3 cm

Morphology

General

Indumentum

Indumentum of simple appressed hairs, translucent, tinged ginger-brown (on the branches and leaves) or colourless (on the inflorescence and floral parts), 0.06 – 0.35 mm long (see description of specific structures for distribution)

Morphology

Branches

Branches 5 – 8 mm in diameter, glabrous to hairy, drying dull green

Morphology

Leaves

Leaves coriaceous, elliptic to obovate, (9.5 –) 11 – 15 (– 20) × (4.5 –) 5 – 9 cm, apex acute to  ± acuminate, base cordate and unequal; adaxial lamina glabrous, abaxial lamina sparsely hairy, lamina drying pale dull-green on both surfaces; midrib adaxially sulcate and glabrous, abaxially prominent and hairy; secondary veins brochidodromus, enclosed by secondary arches, 6 or 7 pairs, indumentum as on the midrib, ± sulcate adaxially, prominent abaxially; tertiary veins weakly percurrent; petioles (3 –) 5 – 7 mm long, glabrous to hairy

Morphology

Reproductive morphology

Inflorescences

Pistillate inflorescences in axil of the terminal node or in an axil below the terminal node, pendulous, compound racemose or umbellate with ultimate branches terminating in a cyme or irregular cyme, primary axis 9 – 17 cm long, with 0 – 4 first order branches 1.5 – 8.5 cm long, hairy; pedicels 1.8 – 3.5 (– 6) mm long, indumentum as inflorescence axis Staminate inflorescences and flowers not seen

Morphology

Reproductive morphology

Flowers

Pistillate flowers pentamerous, calyx gamosepalous, ± crateriform, 0.7 – 1.2 mm long, undulate with 3 – 5 minute lobes, glabrous; petals pale green, 3.4 – 3.8 mm long; staminodes with vestigial anthers 0.5 – 0.7 mm long, filaments narrowly elliptic, 2.4 – 3.4 mm long, glabrous except for 2 – 4 linear, membranous hairs 0.4 – 0.8 mm long on the margins of the filaments below the vestigial anthers; ovary ellipsoid to cylindrical, 2.9 – 3.6 × 1.7 – 2.2 mm

Morphology

Reproductive morphology

Fruits

Fruits broadly elliptic to broadly oblong, truncate at both ends, glabrous; when dry putamen curved, 18 – 25 × 11 – 14 mm and 2 – 3 mm thick (dimensions include drupe only), apex of drupe recurving strongly, putamen with a single longitudinal ridge on the convex side and with 4 – 6 longitudinal ridges on either side of the central ridge, pulviniform appendage ± covering the whole of the concave surface; when fresh 20 – 23 × 20 – 23 mm and 14 – 17 mm thick (dimensions include drupe and appendage), sarcocarp fleshy, lime green, pulviniform appendage oblong, fleshy, white to pale pink, covering the drupe

Distribution

Restricted to the southern part of Indonesia New Guinea, and perhaps from a single collection in Papua New Guinea (see Notes below).

Ecology

Tropical lowland rainforest; 50 m.

Conservation

Currently this species is only known from two localities in Indonesian New Guinea from the lowland forest in the PT-Freeport Indonesia area around the town of Timika. The lowland habitat in this region is undergoing conversion as the population increases as people move into the area to work for the mine, as well as related companies supplying the mine. However, immediately to the east of this region is the Lorentz World Heritage area (a protected area of 2.5 million ha) but, to date, no collections of this species have been made in this area. Because of the very low AOO (61 km2), and the small number of collections from the Timika area, a preliminary conservation rating of Endangered (EN B1ab(iii)) is given here.

Note

A specimen from Papua New Guinea — East Sepik Province: Hunstein range (Mt Samsai), at site "Camp 3" on slopes above the main streamcourse, 4°29′S 142°41′E, 19 July 1990 (st.), Takeuchi 6230 (A, BISH, BRI n.v., K-2 sheets, L, US n.v.) — has leaf morphology approaching that of Medusanthera inaequalis but differs in the inflorescence structure which, unfortunately, has lost any flowers or fruits that were present. Although the specimen is sterile the label states there is an associated spirit collection, but this could not be located in the home institution (BISH). Based on the current material, the specimen cannot be unequivocally placed either as a new species or as M. inaequalis. The only other species of Medusanthera from New Guinea is the widespread species M. laxiflora; morphological differences between the two species are discussed in the notes of M. laxiflora. There is, however, a distinct distributional pattern between the two species: M. inaequalis restricted to the lowlands south of the main range in Indonesian New Guinea; M. laxiflora does not cross the central range in western New Guinea. When Medusanthera inaequalis was first described (Utteridge 2001), the species was thought to be distinct in the genus in having a large fruit with a very large appendage which covers practically the whole surface of the drupe when dry, as all other described species of Medusanthera had a very small appendage which, when dry, 'shrinks and may be inconspicuous' (Howard 1943b: 135). However, during this revision it became apparent that another large fruited species was present in New Guinea; this is described below as M. megistocarpa Utteridge sp. nov. Medusanthera inaequalis differs from M. megistocarpa in the leaf morphology, especially having elliptic to obovate leaves with an acute or shortly acuminate apex, and a rounded and unequal leaf base (M. megistocarpa: obovate leaves with acuminate apices and narrowly cuneate and equal leaf bases), very short petioles less than 7 mm long (M. megistocarpa: 6 – 18 mm long), and the very long terminal or sub-terminal inflorescences over 9 cm long (M. megistocarpa: axillary and along the branches up to 7.5 cm long), and the relatively smaller fresh fruits 20 – 23 × 20 – 23 mm (M. megistocarpa: 33.5 – 40.6 × 35 – 39.9 mm). Medusanthera inaequalis Utteridge is distinct in having long pendulous inflorescences (up to 17 cm long), relatively large broadly elliptic fruits (18 – 25 × 11 – 14 mm when dry) which have a pink fleshy appendage and green drupe when mature, short petioles (5 – 7 mm), and coriaceous, elliptic to obovate leaves with cordate and unequal bases.
[KBu]
Sources
Herbarium Catalogue Specimens

Digital Image © Board of Trustees, RBG Kew http://creativecommons.org/licenses/by/3.0/

Kew Backbone Distributions

The International Plant Names Index and World Checklist of Vascular Plants 2023. Published on the Internet at http://www.ipni.org and https://powo.science.kew.org/
© Copyright 2022 World Checklist of Vascular Plants. http://creativecommons.org/licenses/by/3.0

Kew Bulletin

Kew Bulletin
http://creativecommons.org/licenses/by-nc-sa/3.0

Kew Names and Taxonomic Backbone

The International Plant Names Index and World Checklist of Vascular Plants 2023. Published on the Internet at http://www.ipni.org and https://powo.science.kew.org/
© Copyright 2022 International Plant Names Index and World Checklist of Vascular Plants. http://creativecommons.org/licenses/by/3.0