Phymatosorus papuanus (Baker) S.Matsumoto
First published in Ann. Tsukuba Bot. Gard. 17: 30, 93 (1998)
This species is accepted
The native range of this species is New Guinea to Solomon Islands. It grows primarly in the wet tropical biome(s).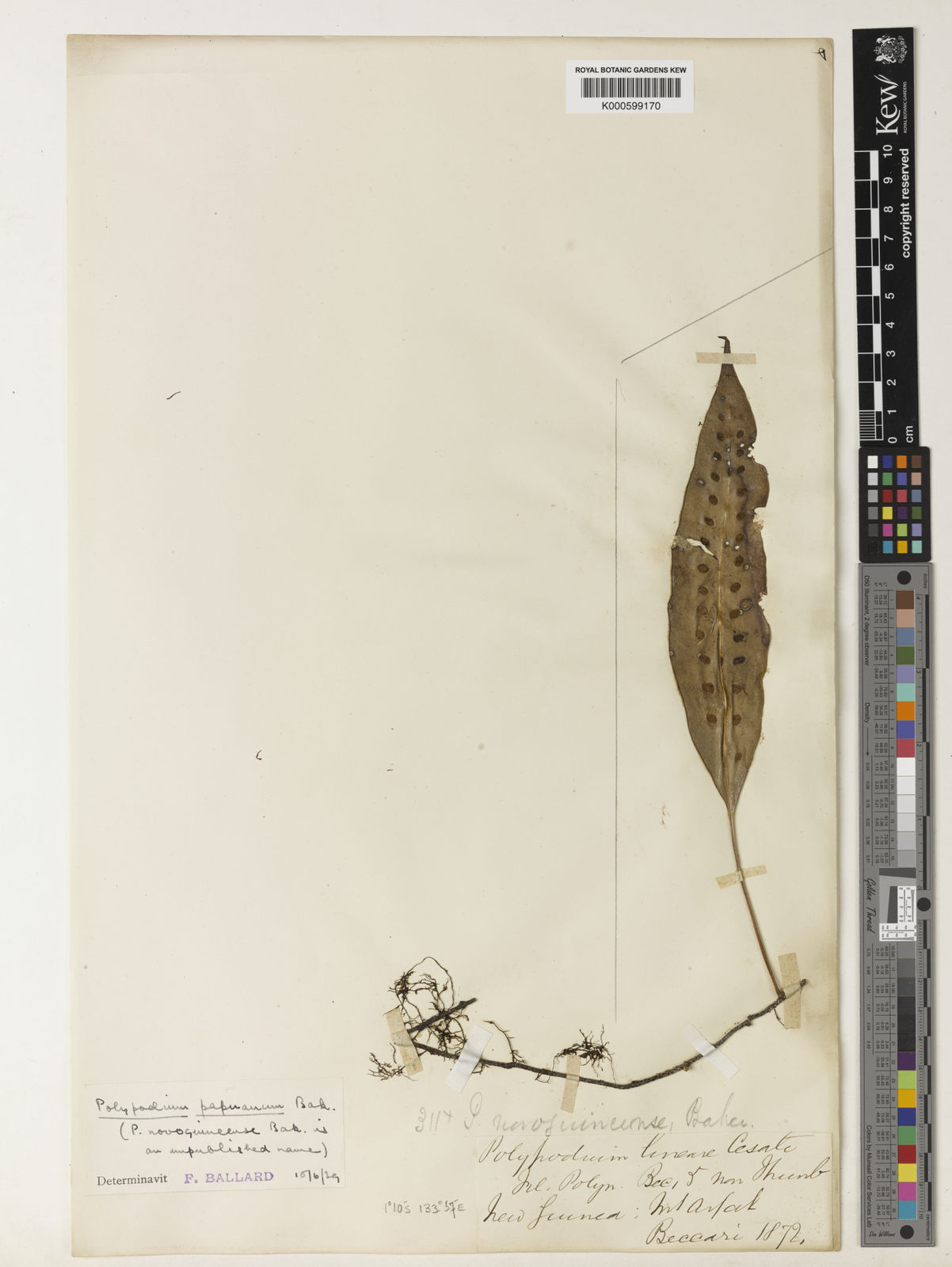 Distribution
Native to:
New Guinea, Solomon Is.
Publications
POWO follows these authorities in accepting this name:
Roskov Y. & al. (eds.) (2018). World Ferns: Checklist of Ferns and Lycophytes of the World. Species 2000 & ITIS Catalogue of Life Naturalis, Leiden, the Netherlands.
Kew Backbone Distributions
Chen, C.-W. & al. (2022). An annotated checklist of lycophytes and ferns of the Solomon islands. The Fern Gazette 21: 292-419.
Other Data
Other Kew resources that provide information on this taxon:
| Date | Reference | Identified As | Barcode | Type Status | Has image? |
| --- | --- | --- | --- | --- | --- |
| Aug 1, 2006 | Johns, R.J. [9579], Irian Jaya | Microsorum papuanum | K000445352 | | No |
| Aug 1, 2006 | Johns, R.J. [9579], Irian Jaya | Microsorum papuanum | K000445353 | | No |
| Aug 1, 2006 | Johns, R.J. [9164], Irian Jaya | Microsorum papuanum | K000448295 | | No |
| Aug 1, 2006 | Willis, F.R. [271], Irian Jaya | Microsorum papuanum | K000451152 | | No |
| Aug 1, 2006 | Willis, F.R. [271], Irian Jaya | Microsorum papuanum | K000451153 | | No |
| Aug 1, 2006 | Willis, F.R. [271], Irian Jaya | Microsorum papuanum | K000451154 | | No |
| Aug 1, 2006 | Edwards, P.J. [4120], Irian Jaya | Microsorum papuanum | K000444262 | | No |
| Aug 1, 2006 | Edwards, P.J. [4120], Irian Jaya | Microsorum papuanum | K000444261 | | No |
| Aug 1, 2006 | Edwards, P.J. [4241], Irian Jaya | Microsorum papuanum | K000599176 | | No |
| Aug 1, 2006 | Edwards. P.J. [4336], Irian Jaya | Microsorum papuanum | K000448293 | | No |
| Aug 1, 2006 | Raynal, J. [17555], Irian Jaya | Microsorum papuanum | K000599177 | | No |
| Aug 1, 2006 | Edwards. P.J. [4336], Irian Jaya | Microsorum papuanum | K000448294 | | No |
| Aug 1, 2006 | Edwards, P.J. [4241], Irian Jaya | Microsorum papuanum | K000599175 | | No |
| Aug 1, 2006 | Edwards, P.J. [4241], Irian Jaya | Microsorum papuanum | K000599174 | | No |
| Dec 1, 2005 | Johns, R.J. [7921], Irian Jaya | Microsorum papuanum | K000377488 | | No |
| Dec 1, 2005 | Johns, R.J. [7921], Irian Jaya | Microsorum papuanum | K000377486 | | No |
| Dec 1, 2005 | Johns, R.J. [7921], Irian Jaya | Microsorum papuanum | K000377487 | | No |
| Dec 1, 2005 | Croft, J.R. [LAE65583], Papua New Guinea | Microsorum papuanum | K000599470 | | No |
| Dec 1, 2004 | Hicks, D. [110], Sulawesi | Microsorum papuanum | K000399048 | | No |
| Dec 1, 2004 | Hicks, D. [110], Sulawesi | Microsorum papuanum | K000399046 | | No |
| Dec 1, 2004 | Hicks, D. [110], Sulawesi | Microsorum papuanum | K000399049 | | No |
| Dec 1, 2004 | Hicks, D. [110], Sulawesi | Microsorum papuanum | K000399047 | | No |
| Sep 1, 2004 | Sinaga, N.I. [1248], Irian Jaya | Microsorum papuanum | K000474069 | | No |
| Jun 1, 1999 | Canning, E.M. [5131], Papua New Guinea | Microsorum papuanum | K000599442 | | No |
| Oct 1, 1997 | Takeuchi, W. [10477], Papua New Guinea | Microsorum papuanum | K000599285 | | No |
| Oct 1, 1997 | Takeuchi, W. [10477], Papua New Guinea | Microsorum papuanum | K000599284 | | No |
| Jul 1, 1997 | Johns, R.J. [8201], Indonesia | Microsorum papuanum | K000408039 | | No |
| Jul 1, 1997 | Johns, R.J. [7782], Irian Jaya | Microsorum papuanum | K000599160 | | No |
| Jul 1, 1997 | Johns, R.J. [7967], Irian Jaya | Microsorum papuanum | K000599162 | | No |
| Jul 1, 1997 | Davis, A.P. [555], Irian Jaya | Microsorum papuanum | K000599168 | | No |
| Jul 1, 1997 | Simaga, J.M. [3109], Papua New Guinea | Microsorum papuanum | K000599444 | | No |
| Jul 1, 1997 | Davis, A.P. [787], Irian Jaya | Microsorum papuanum | K000599166 | | No |
| Jul 1, 1997 | Johns, R.J. [8201], Indonesia | Microsorum papuanum | K000408038 | | No |
| Jul 1, 1997 | Simaga, J.M. [3089], Papua New Guinea | Microsorum papuanum | K000599443 | | No |
| Jul 1, 1997 | Johns, R.J. [7967], Irian Jaya | Microsorum papuanum | K000599163 | | No |
| Jul 1, 1997 | Johns, R.J. [7782], Irian Jaya | Microsorum papuanum | K000599161 | | No |
| May 2, 1997 | Sands, M.J.S. [6776], Irian Jaya | Microsorum papuanum | K000599167 | | No |
| May 2, 1997 | Sands, M.J.S. [6728], Irian Jaya | Microsorum papuanum | K000599164 | | No |
| May 2, 1997 | Sands, M.J.S. [6728], Irian Jaya | Microsorum papuanum | K000599165 | | No |
| May 1, 1997 | Sands, M.J.S. [6826], Irian Jaya | Microsorum papuanum | K000599169 | | No |
| Dec 1, 1996 | Canning, E.M. [5123], Papua New Guinea | Microsorum papuanum | K000599295 | | No |
| Dec 1, 1996 | Canning, E.M. [5123], Papua New Guinea | Microsorum papuanum | K000599296 | | No |
| Jun 1, 1996 | Johns, R.J. [8095], Irian Jaya | Microsorum papuanum | K000399338 | | No |
| Jun 1, 1996 | Johns, R.J. [8095], Irian Jaya | Microsorum papuanum | K000599178 | | No |
| Jul 1, 1995 | Braithwaite, A.F. [2278], Vanuatu | Microsorum papuanum | K000803570 | | No |
| Jul 1, 1995 | Braithwaite, A.F. [2063], Vanuatu | Microsorum papuanum | K000803572 | | No |
| Jul 1, 1995 | Braithwaite, A.F. [2063], Vanuatu | Microsorum papuanum | K000803571 | | No |
| Jul 1, 1995 | Parks, H.E. [20616], Fiji | Microsorum papuanum | K000803577 | | No |
| Jan 1, 1995 | Gay, H.J. [436], Papua New Guinea | Microsorum papuanum | K000599183 | | No |
| Jan 1, 1995 | Gay, H.J. [424], Papua New Guinea | Microsorum papuanum | K000599184 | | No |
| Jan 1, 1995 | Sayers, C.D. [NGF18060], Papua New Guinea | Microsorum papuanum | K000599275 | | No |
| Jan 1, 1995 | Ledermann, C.L. [8374], Papua New Guinea | Microsorum papuanum | K000599277 | | No |
| Jan 1, 1995 | Gillespie, J.W. [2920], Fiji | Microsorum papuanum | K000803578 | | No |
| Jan 1, 1995 | Milne, W.G. [218], Fiji | Microsorum papuanum | K000803581 | | No |
| Jan 1, 1995 | Seemann, B. [730], Fiji | Microsorum papuanum | K000803583 | | No |
| Jan 1, 1995 | Seemann, B. [730], Fiji | Microsorum papuanum | K000803584 | | No |
| Jan 1, 1995 | Gay, H.J. [653], Papua New Guinea | Microsorum papuanum | K000599181 | | No |
| Jan 1, 1995 | Hennipman, E. [5189], Sulawesi | Microsorum papuanum | K000559431 | | No |
| Jan 1, 1995 | Carr, C.E. [15975], Papua New Guinea | Microsorum papuanum | K000599438 | | No |
| Jan 1, 1995 | Hennipman, E. [5189], Sulawesi | Microsorum papuanum | K000559430 | | No |
| Jan 1, 1995 | Kairo, A. [440], Papua New Guinea | Microsorum papuanum | K000599182 | | No |
| Jan 1, 1995 | Kornassi [1473], Indonesia | Microsorum papuanum | K000559440 | Unknown type material | No |
| Jan 1, 1995 | Parks, H.E. [20635], Fiji | Microsorum papuanum | K000803589 | | No |
| Jan 1, 1995 | Joncheere, G.J. de [1173], Sulawesi | Microsorum papuanum | K000559429 | | No |
| Jan 1, 1995 | Darnaedi, D. [1646], Sulawesi | Microsorum papuanum | K000559433 | | No |
| Jan 1, 1995 | Hoogland, R.D. [8951], Papua New Guinea | Microsorum papuanum | K000599276 | | No |
| Jan 1, 1995 | Thurn, E.F. im [51], Fiji | Microsorum papuanum | K000803580 | | No |
| Jan 1, 1995 | Smith, A.C. [8982], Fiji | Microsorum papuanum | K000803579 | | No |
| Jan 1, 1995 | Balgooy, van [4669], Indonesia | Microsorum papuanum | K000559439 | | No |
| Jan 1, 1995 | Vink, W. [12033], Irian Jaya | Microsorum papuanum | K000599179 | | No |
| Jan 1, 1995 | Darnaedi, D. [1646], Sulawesi | Microsorum papuanum | K000559432 | | No |
| Jan 1, 1995 | Docters van Leeuwen, W.M. [9053], Irian Jaya | Microsorum papuanum | K000599180 | | No |
| Jan 1, 1995 | Hoogland, R.D. [4500], Papua New Guinea | Microsorum papuanum | K000599453 | | No |
| Jan 1, 1995 | Joncheere, G.J. de [1173], Sulawesi | Microsorum papuanum | K000559428 | | No |
| Jan 1, 1995 | Køie, M. [2225], Papua New Guinea | Microsorum papuanum | K000599471 | | No |
| Jan 1, 1995 | Hoogland, R.D. [6829], Papua New Guinea | Microsorum papuanum | K000599278 | | No |
| Jan 1, 1995 | Seemann, B. [730], Fiji | Microsorum papuanum | K000803582 | | No |
| Oct 2, 1987 | Croft, J.R. [1862], Papua New Guinea | Microsorum papuanum | K000599431 | | No |
| Oct 2, 1987 | Croft, J.R. [1862], Papua New Guinea | Microsorum papuanum | K000599430 | | No |
| Feb 9, 1987 | Croft, J.R. [2003], Papua New Guinea | Microsorum papuanum | K000599429 | | No |
| Nov 10, 1984 | Croft, J.R. [1767], Papua New Guinea | Microsorum papuanum | K000599408 | | No |
| Nov 10, 1984 | Kairo, A. [24], Papua New Guinea | Microsorum papuanum | K000599411 | | No |
| Nov 10, 1984 | Womersley, J.S. [4808], Papua New Guinea | Microsorum papuanum | K000599267 | | No |
| Nov 10, 1984 | Millar, A.N. [NGF15729], Papua New Guinea | Microsorum papuanum | K000599410 | | No |
| Nov 10, 1984 | Croft, J.R. [1767], Papua New Guinea | Microsorum papuanum | K000599409 | | No |
| Oct 11, 1984 | Brass, L.J. [29623], Papua New Guinea | Microsorum papuanum | K000599286 | | No |
| Oct 11, 1984 | Jury, F.M. [s.n.], Papua New Guinea | Microsorum papuanum | K000599289 | | No |
| Oct 11, 1984 | Pullen, R. [5355], Papua New Guinea | Microsorum papuanum | K000599446 | | No |
| Oct 11, 1984 | Cheesman, L.E. [214], Papua New Guinea | Microsorum papuanum | K000599465 | | No |
| Oct 11, 1984 | Croft, J.R. [LAE61942], Papua New Guinea | Microsorum papuanum | K000599469 | | No |
| Oct 11, 1984 | Croft, J.R. [562], Papua New Guinea | Microsorum papuanum | K000599416 | | No |
| Oct 11, 1984 | Hartley, T.G. [12315], Papua New Guinea | Microsorum papuanum | K000599279 | | No |
| Oct 11, 1984 | Croft, J.R. [1107], Papua New Guinea | Microsorum papuanum | K000599472 | | No |
| Oct 11, 1984 | Coode, M.J.E. [NGF46262], Papua New Guinea | Microsorum papuanum | K000599290 | | No |
| Oct 11, 1984 | Barker, W.R. [LAE67509], Papua New Guinea | Microsorum papuanum | K000599445 | | No |
| Oct 11, 1984 | Croft, J.R. [LAE61942], Papua New Guinea | Microsorum papuanum | K000599468 | | No |
| Oct 11, 1984 | Hoogland, R.D. [5827], Papua New Guinea | Microsorum papuanum | K000599282 | | No |
| Oct 11, 1984 | Brass, L.J. [30660], Papua New Guinea | Microsorum papuanum | K000599287 | | No |
| Oct 11, 1984 | Larivita, G. [LAE67128], Papua New Guinea | Microsorum papuanum | K000599467 | | No |
| Oct 11, 1984 | Foreman, D.B. [LAE60104], Papua New Guinea | Microsorum papuanum | K000599294 | | No |
| Oct 11, 1984 | Millar, A.N. [NGF40685], Papua New Guinea | Microsorum papuanum | K000599280 | | No |
| Oct 11, 1984 | Schodde, R. [1362], Papua New Guinea | Microsorum papuanum | K000599437 | | No |
| Oct 11, 1984 | Brass, L.J. [31848], Papua New Guinea | Microsorum papuanum | K000599288 | | No |
| Oct 11, 1984 | Kanis, A. [1363], Papua New Guinea | Microsorum papuanum | K000599415 | | No |
| Oct 5, 1984 | Royen, P. van [NGF18157], Papua New Guinea | Microsorum papuanum | K000599266 | | No |
| Oct 5, 1984 | Gideon, O. [005], Papua New Guinea | Microsorum papuanum | K000599268 | | No |
| Oct 5, 1984 | Croft, J.R. [LAE60609], Papua New Guinea | Microsorum papuanum | K000599435 | | No |
| Oct 5, 1984 | Croft, J.R. [LAE60609], Papua New Guinea | Microsorum papuanum | K000599463 | | No |
| Oct 5, 1984 | Sayers, C.D. [NGF19897], Papua New Guinea | Microsorum papuanum | K000599265 | | No |
| Oct 5, 1984 | Giulianetti, A. [s.n.], Papua New Guinea | Microsorum papuanum | K000599459 | | No |
| Oct 5, 1984 | Carr, C.E. [13001], Papua New Guinea | Microsorum papuanum | K000599464 | | No |
| Oct 5, 1984 | MacGregor, W. [17], Papua New Guinea | Microsorum papuanum | K000599458 | | No |
| Oct 5, 1984 | Kostermans, A.J.G.H. [2129], Irian Jaya | Microsorum papuanum | K000599172 | | No |
| Oct 4, 1984 | Vandenberg, J. [NGF39852], Papua New Guinea | Microsorum papuanum | K000599263 | | No |
| Oct 4, 1984 | Kairo, A. [NGF35730], Papua New Guinea | Microsorum papuanum | K000599264 | | No |
| Oct 4, 1984 | Floyd, A.G. [6299], Papua New Guinea | Microsorum papuanum | K000599424 | | No |
| Oct 4, 1984 | Womersley, J.S. [6044], Papua New Guinea | Microsorum papuanum | K000599428 | | No |
| Oct 4, 1984 | Vink, W. [16977], Papua New Guinea | Microsorum papuanum | K000599436 | | No |
| Oct 4, 1984 | Kinbag, F. [30], Papua New Guinea | Microsorum papuanum | K000599434 | | No |
| Oct 4, 1984 | Brass, L.J. [4993], Papua New Guinea | Microsorum papuanum | K000599466 | | No |
| Oct 4, 1984 | Eyma, P.J. [1992], Indonesia | Microsorum papuanum | K000559441 | | No |
| Oct 4, 1984 | Clunie, N.M.U. [LAE63194], Papua New Guinea | Microsorum papuanum | K000599433 | | No |
| Oct 4, 1984 | Vogel, E.F. de [3322], Indonesia | Microsorum papuanum | K000559442 | | No |
| Oct 4, 1984 | Brass, L.J. [22495], Papua New Guinea | Microsorum papuanum | K000599460 | | No |
| Oct 4, 1984 | Womersley, J.S. [4798], Papua New Guinea | Microsorum papuanum | K000599427 | | No |
| Oct 4, 1984 | Reksodihardjo, S. [549], Irian Jaya | Microsorum papuanum | K000599173 | | No |
| Oct 4, 1984 | Johns, R.J. [LAE65000], Papua New Guinea | Microsorum papuanum | K000599412 | | No |
| Oct 4, 1984 | Kairo, A. [NGF35730], Papua New Guinea | Microsorum papuanum | K000599413 | | No |
| Oct 4, 1984 | Croft, J.R. [142], Papua New Guinea | Microsorum papuanum | K000599414 | | No |
| Jul 1, 1982 | Parris, B.S. [4608], Papua New Guinea | Microsorum papuanum | K000599187 | | No |
| Jul 1, 1982 | Parris, B.S. [4596], Papua New Guinea | Microsorum papuanum | K000599253 | | No |
| Jul 1, 1982 | Parris, B.S. [4596], Papua New Guinea | Microsorum papuanum | K000599254 | | No |
| Jul 1, 1982 | Parris, B.S. [4598], Papua New Guinea | Microsorum papuanum | K000599257 | | No |
| Jul 1, 1982 | Parris, B.S. [4608], Papua New Guinea | Microsorum papuanum | K000599185 | | No |
| Jul 1, 1982 | Parris, B.S. [4601], Papua New Guinea | Microsorum papuanum | K000599259 | | No |
| Jul 1, 1982 | Parris, B.S. [4608], Papua New Guinea | Microsorum papuanum | K000599186 | | No |
| Jul 1, 1982 | Parris, B.S. [4600], Papua New Guinea | Microsorum papuanum | K000599260 | | No |
| Jul 1, 1982 | Parris, B.S. [4597], Papua New Guinea | Microsorum papuanum | K000599255 | | No |
| Jul 1, 1982 | Parris, B.S. [4602], Papua New Guinea | Microsorum papuanum | K000599258 | | No |
| Jul 1, 1982 | Parris, B.S. [4599], Papua New Guinea | Microsorum papuanum | K000599256 | | No |
| Feb 1, 1968 | Køie, M. [2308], Papua New Guinea | Microsorum papuanum | K000599473 | | No |
| Feb 1, 1968 | Hoogland, R.D. [9074], Papua New Guinea | Microsorum papuanum | K000599273 | | No |
| Feb 1, 1968 | Schlechter, R. [19004], Papua New Guinea | Microsorum papuanum | K000599270 | | No |
| Feb 1, 1968 | Waterhouse, J.H.L. [127], Solomon Is. | Microsorum papuanum | K000803588 | | No |
| Feb 1, 1968 | Hoogland, R.D. [9376], Papua New Guinea | Microsorum papuanum | K000599271 | | No |
| Jan 1, 1929 | Ledermann, C.L. [7511], Papua New Guinea | Microsorum papuanum | K000599159 | Unknown type material | No |
| Jan 1, 1929 | Ledermann, C.L. [7511], Papua New Guinea | Microsorum papuanum | K000599158 | Unknown type material | No |
| | Jury, F.M., Papua New Guinea | Microsorum papuanum | 65038.000 | | No |
| | Vogel, E.F. de [5057], Sulawesi | Microsorum papuanum | K000559436 | | No |
| | Versteeg, G.M. [1555], Irian Jaya | Microsorum papuanum | K000599171 | Unknown type material | Yes |
| | Parris, B.S. [7768], Papua New Guinea | Microsorum papuanum | K000599261 | | No |
| | Kerenga, K. [LAE77617], Papua New Guinea | Microsorum papuanum | K000599297 | | No |
| | Parris, B.S. [7806], Papua New Guinea | Microsorum papuanum | K000599299 | | No |
| | Manseima, J. [09], Papua New Guinea | Microsorum papuanum | K000599301 | | No |
| | Gideon, O. [011], Papua New Guinea | Microsorum papuanum | K000599303 | | No |
| | Rau, K. [394], Papua New Guinea | Microsorum papuanum | K000599304 | | No |
| | Gay, H.J. [522], Papua New Guinea | Microsorum papuanum | K000599425 | | No |
| | Demoulin, V. [5539], Papua New Guinea | Microsorum papuanum | K000599432 | | No |
| | Takeuchi, W. [11366], Papua New Guinea | Microsorum papuanum | K000599439 | | No |
| | Parris, B.S. [9532], Papua New Guinea | Microsorum papuanum | K000599447 | | No |
| | Croft, J.R. [888], Papua New Guinea | Microsorum papuanum | K000599449 | | No |
| | Parris, B.S. [5777], Papua New Guinea | Microsorum papuanum | K000599455 | | No |
| | Croxall, J.P. [6310], Papua New Guinea | Microsorum papuanum | K000599457 | | No |
| | Braithwaite, A.F. [4193], Solomon Is. | Microsorum papuanum | K000803585 | | No |
| | Gay, H.J. [522], Papua New Guinea | Microsorum papuanum | K000599426 | | No |
| | Takeuchi, W. [6434], Papua New Guinea | Microsorum papuanum | K000599441 | | No |
| | Parris, B.S. [7768], Papua New Guinea | Microsorum papuanum | K000599262 | | No |
| | Braithwaite, A.F. [4525], Solomon Is. | Microsorum papuanum | K000803575 | | No |
| | Braithwaite, A.F. [4003], Solomon Is. | Microsorum papuanum | K000803587 | | No |
| | Kinbag, F. [006], Papua New Guinea | Microsorum papuanum | K000599302 | | No |
| | Parris, B.S. [8295], Papua New Guinea | Microsorum papuanum | K000599420 | | No |
| | Croft, J.R. [LAE65738], Papua New Guinea | Microsorum papuanum | K000599407 | | No |
| | Millar, A.N. [NGF40803], Papua New Guinea | Microsorum papuanum | K000599450 | | No |
| | Stevens, P.F. [LAE51008], Papua New Guinea | Microsorum papuanum | K000599423 | | No |
| | Parris, B.S. [11050], Indonesia | Microsorum papuanum | K000559434 | | No |
| | Takeuchi, W. [11745], Papua New Guinea | Microsorum papuanum | K000599291 | | No |
| | Royen, P. van [16400], Solomon Is. | Microsorum papuanum | K000803574 | | No |
| | Parris, B.S. [7816], Papua New Guinea | Microsorum papuanum | K000599421 | | No |
| | Parris, B.S. [10102], Papua New Guinea | Microsorum papuanum | K000599188 | | No |
| | Conn, B. [117], Papua New Guinea | Microsorum papuanum | K000599298 | | No |
| | Braithwaite, A.F. [4573], Solomon Is. | Microsorum papuanum | K000803576 | | No |
| | Parris, B.S. [7803], Papua New Guinea | Microsorum papuanum | K000599418 | | No |
| | Gilli, A. [419], Papua New Guinea | Microsorum papuanum | K000599157 | holotype | No |
| | Beccari, O. [s.n.], Irian Jaya | Microsorum papuanum | K000599170 | Unknown type material | Yes |
| | Brass, L.J. [31779], Papua New Guinea | Microsorum papuanum | K000599272 | | No |
| | Broome, E. [23], Papua New Guinea | Microsorum papuanum | K000599461 | | No |
| | Gay, H.J. [914], Papua New Guinea | Microsorum papuanum | K000599456 | | No |
| | Schodde, R. [2206], Papua New Guinea | Microsorum papuanum | K000599451 | | No |
| | Parris, B.S. [9532], Papua New Guinea | Microsorum papuanum | K000599448 | | No |
| | Vogel, E.F. de [5057], Sulawesi | Microsorum papuanum | K000559435 | | No |
| | Schlechter, F.R.R. [17064], Papua New Guinea | Microsorum papuanum | K000599269 | Unknown type material | Yes |
| | Croft, J.R. [1518], Papua New Guinea | Microsorum papuanum | K000599462 | | No |
| | Rau. K. [660], Papua New Guinea | Microsorum papuanum | K000599281 | | No |
| | Hennipman, E. [6011], Sulawesi | Microsorum papuanum | K000559438 | | No |
| | Rau, K. [498], Papua New Guinea | Microsorum papuanum | K000599293 | | No |
| | Parris, B.S. [9398], Papua New Guinea | Microsorum papuanum | K000599454 | | No |
| | Whitmore, T.C. [2262], Solomon Is. | Microsorum papuanum | K000803586 | | No |
| | Parris, B.S. [8313], Papua New Guinea | Microsorum papuanum | K000599419 | | No |
| | Carr, C.E. [12120], Papua New Guinea | Microsorum papuanum | K000599274 | | No |
| | Parris, B.S. [5992], Papua New Guinea | Microsorum papuanum | K000599189 | | No |
| | Schlechter, R. [14482], Papua New Guinea | Microsorum papuanum | K000599452 | Unknown type material | Yes |
| | Parris, B.S. [7803], Papua New Guinea | Microsorum papuanum | K000599417 | | No |
| | Gay, H.J. [696], Papua New Guinea | Microsorum papuanum | K000599283 | | No |
| | Hoogland, R.D. [10853], Papua New Guinea | Microsorum papuanum | K000599422 | | No |
| | s.coll. [5136], Solomon Is. | Microsorum papuanum | K000803573 | | No |
| | Vogel, E.F. de [5057], Sulawesi | Microsorum papuanum | K000559437 | | No |
| | Takeuchi, W. [11366], Papua New Guinea | Microsorum papuanum | K000599440 | | No |
| | Takeuchi, W. [11745], Papua New Guinea | Microsorum papuanum | K000599292 | | No |
| | Unkau, C. [058], Papua New Guinea | Microsorum papuanum | K000599300 | | No |
Sources
Herbarium Catalogue Specimens

Digital Image © Board of Trustees, RBG Kew http://creativecommons.org/licenses/by/3.0/

Kew Backbone Distributions

The International Plant Names Index and World Checklist of Vascular Plants 2022. Published on the Internet at http://www.ipni.org and https://powo.science.kew.org/
© Copyright 2022 World Checklist of Vascular Plants. http://creativecommons.org/licenses/by/3.0

Kew Names and Taxonomic Backbone

The International Plant Names Index and World Checklist of Vascular Plants 2022. Published on the Internet at http://www.ipni.org and https://powo.science.kew.org/
© Copyright 2022 International Plant Names Index and World Checklist of Vascular Plants. http://creativecommons.org/licenses/by/3.0