Family:

Genus:
Panax quinquefolius L.
Panax quinquefolius is indigenous to North America, and its roots have become a very popular herbal medicine, especially in China. As a result of its over-exploitation and the loss of its natural forest habitat, it is now rare in the wild, and material used commercially has to come from cultivated plants.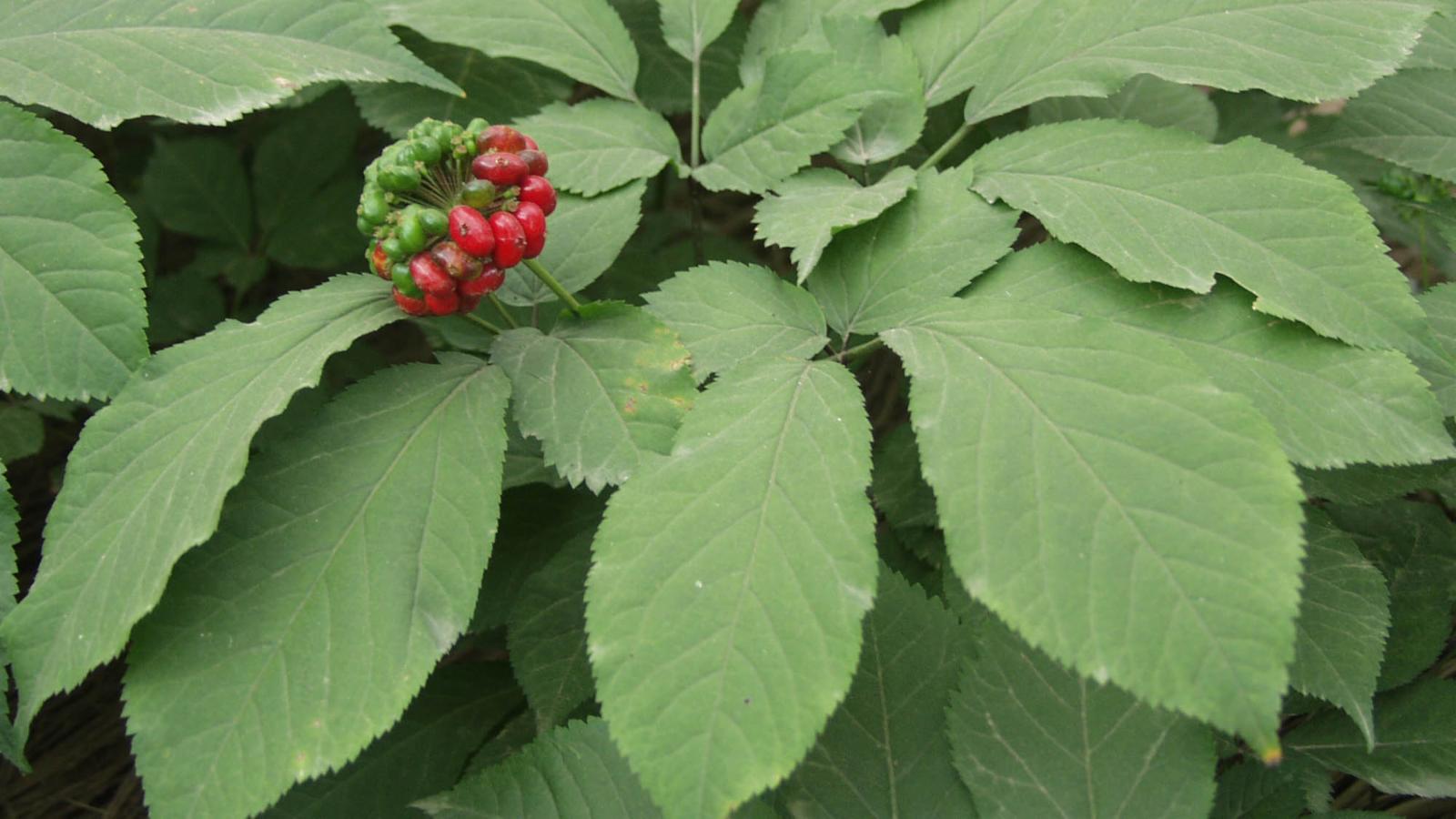 [KSP]
Kew Species Profiles
General Description

Panax quinquefolius is indigenous to North America, and its roots have become a very popular herbal medicine, especially in China. As a result of its over-exploitation and the loss of its natural forest habitat, it is now rare in the wild, and material used commercially has to come from cultivated plants.

Species Profile

Geography and distribution

American ginseng is native to the temperate forest regions of North America, from 70˚ to 90˚ W longitude and 34˚ to 47˚ N latitude, including Quebec and Ontario in the north and Mississippi, Arkansas and Georgia in the south. Wild ginseng is still harvested from areas in Wisconsin, Pennsylvania and New York State.

Description

Overview: A slow-growing shrub that can reach a height of about 25-50 cm.

Leaves: The seedlings produce a whorl of three leaves, which are compound (divided into leaflets) and palmate (the leaflets originate from a central point). From the third year, the plant produces 3-5 compound leaves. These leaves consist of 3-7 leaflets that are 5-10 cm long, with the basal leaflets being smaller than the upper leaflets. The leaflets are serrate (toothed), wedge-shaped and taper to a point at the apex. They have small, stiff hairs along the marginal veins. The leaves are bright green in summer and become yellow in the autumn.

Flowers: The greenish-white inflorescences consist of a cluster of 4-40 flowers on a single stalk 5-13 cm long. Each flower is 2-3 mm long and has a 5-toothed, green calyx (sepals, collectively) and 5 yellow-green petals. Each flower also contains 5 short stamens (male parts) with oblong anthers (pollen-bearing structures), and a style (female part) divided into two at the tip. The ovary is inferior (occurs below the calyx).

Fruits: The fruits are bright red and each fruit contains 2 or 3 white seeds.

Roots: The root is pale yellow to brown, spindle-shaped and up to 10 cm long and 2.5 cm in diameter, with transverse striations (fine grooves) and longitudinal wrinkles. Older roots are forked or branched. The upper part of the root can show the scars from rhizomes (underground stems) and the tips of the roots bear root hairs.

Threats and conservation

American ginseng was widely distributed within North America, but due to the loss of its natural forest habitat and the over-harvesting of the roots, it is now considered to be a threatened species in 16 states and endangered in a further 10 states. Panax quinquefolius is listed on CITES (Convention on International Trade in Endangered Species) Appendix II, which restricts the trade of whole roots and slices of roots. Traders are required to have CITES certificates before they can take root material from one country to another. Now that American ginseng has become more popular as a herbal tonic, it is being cultivated in other parts of the world, including China.

Uses

Ginseng is the name given to a range of different species used as medicinal plants, including Panax ginseng , which is known as Chinese or Korean ginseng, P. notoginseng known as Sanchi ginseng and the American ginseng, P. quinquefolius . The name 'ginseng' is derived from the Cantonese term for 'image of man', because the roots are often branched and look like the human body.

Historically, the medicinal properties of American ginseng were more highly-valued in China than by the indigenous communities in North America who, it seems likely, learned many uses of American ginseng from China as a result of contacts with traders.

As early as the mid-1700s, roots were being exported from Canada to China, and then from North America to China, with a peak of over 282 tonnes being shipped to China in 1862. The trade with China then decreased, and stopped in 1939. However, as trade between the USA and China increased in the late 1960s, the trade in American ginseng increased and the species was in danger of becoming extinct in the wild. As a result of this over-exploitation it was decided to monitor the trade of American ginseng, and in 1973 it was listed on Appendix II of CITES. Traders now need permits to export the roots out of North America and to demonstrate that the roots are being harvested from cultivated plants.

In China, the dried roots of American ginseng are used, often in combination with other plants, to treat respiratory infections, diabetes and as a general health tonic.

Although American ginseng has been used medicinally for many hundreds of years there is still very little robust scientific data to support the traditional uses. However, there is an increased interest in ginseng as the plants contain a group of compounds called ginsenosides. Laboratory studies have shown that these compounds, along with others in the roots, can influence the body's ability to deal with different forms of stress. This could support its worldwide use as a tonic.

Ginseng is also reported to decrease the signs of ageing and is sometimes added to drinks and face creams. Time will tell whether the traditional uses of ginseng will be supported scientifically, but advances in molecular biology and our understanding of different diseases provide the tools to evaluate whether plants like American ginseng might help improve our well-being.

Millennium Seed Bank: Seed storage

Kew's Millennium Seed Bank Partnership aims to save plant life world wide, focusing on plants under threat and those of most use in the future. Seeds are dried, packaged and stored at a sub-zero temperature in our seed bank vault.

Description of seeds: Average 1,000 seed weight = 27.754 g

Number of seed collections stored in the Millennium Seed Bank: None

American ginseng at Kew

Several specimens of American ginseng root are held in the behind-the-scenes Economic Botany Collection at Kew, and made available to researchers by appointment.

The related species Panax pseudoginseng is cultivated in the behind the scenes Tropical Nursery.

Promoting safety in Chinese herbal medicine

Research on American ginseng is being carried out as part of the work undertaken by Kew's Chinese Medicinal Plants Authentication Centre (CMPAC). Scientists at Kew are often asked to identify which species of ginseng are being traded for use in medicines and cosmetics. To enable them to answer these questions, the centre uses verified specimens from a collection of different species of ginseng, as well as common adulterants. This collection forms part of Kew's Economic Botany Collection.

Distribution

USA

Ecology

Eastern temperate forest.

Conservation

Not yet assessed according to IUCN Red List criteria. Listed on CITES Appendix II.

Hazards

None known.
Native to:
Alabama, Arkansas, Connecticut, Delaware, District of Columbia, Florida, Georgia, Illinois, Indiana, Iowa, Kansas, Kentucky, Louisiana, Maine, Maryland, Massachusetts, Michigan, Minnesota, Mississippi, Missouri, Nebraska, New Hampshire, New Jersey, New York, North Carolina, Ohio, Oklahoma, Ontario, Pennsylvania, Québec, South Carolina, South Dakota, Tennessee, Vermont, Virginia, West Virginia, Wisconsin
First published in Sp. Pl.: 1058 (1753)
Accepted by
Frodin, D.G. & Govaerts, R. (2003 publ. 2004). World Checklist and Bibliography of Araliaceae: 1-444. The Board of Trustees of the Royal Botanic Gardens, Kew.
Mohlenbrock, R.H. (2014). Vascular Flora of Illinois. A Field Guide, ed. 4: 1-536. Southern Illinois University Press, Carbondale.
Wu, Z., Raven, P.H. & Hong, D. (eds.) (2007). Flora of China 13: 1-548. Missouri Botanical Garden Press, St. Louis.
Literature
Kew Species Profiles
Court, W.E. (2000). Ginseng: the genus Panax. Harwood Academic Publishers.
Taylor, D.A. (2006). Ginseng, the Divine Root: the curious history of the plant that captivated the world. Algonquin Books, North Carolina.
Kew Backbone Distributions

The International Plant Names Index and World Checklist of Selected Plant Families 2022. Published on the Internet at http://www.ipni.org and http://apps.kew.org/wcsp/
© Copyright 2017 World Checklist of Selected Plant Families. http://creativecommons.org/licenses/by/3.0


Kew Names and Taxonomic Backbone

The International Plant Names Index and World Checklist of Selected Plant Families 2022. Published on the Internet at http://www.ipni.org and http://apps.kew.org/wcsp/
© Copyright 2017 International Plant Names Index and World Checklist of Selected Plant Families. http://creativecommons.org/licenses/by/3.0


Kew Species Profiles

Kew Species Profiles
http://creativecommons.org/licenses/by-nc-sa/3.0