Family:
Gymnadenia R.Br.
This genus is accepted, and its native range is Temp. Eurasia to Himalaya.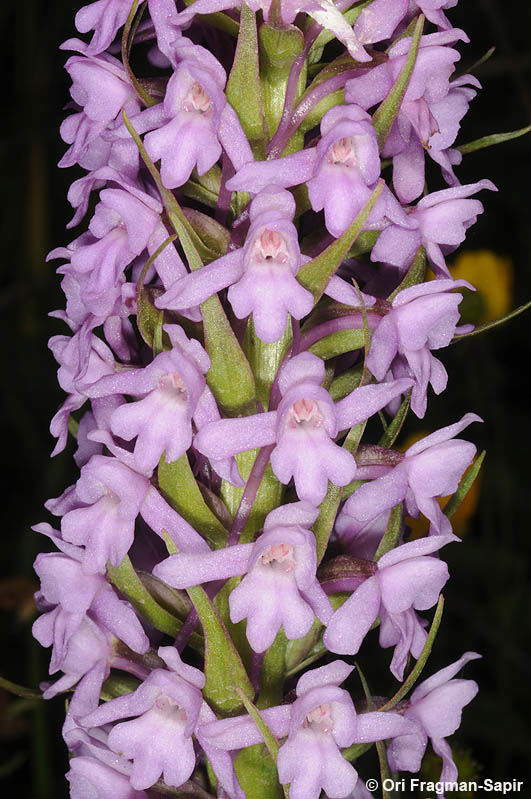 [O-EM]
Distribution

About 16 species distributed in Europe, central and eastern Asia including China, Japan, and the Himalayan region. (JW).

Ecology

Gymnadenia grows on a variety of soil types but is most common on calcareous soils such as limestone and chalk with high calcium levels (Summerhayes 1951). A calcium measurement of 780 mg/ 100 g soil was recorded for soils supporting G. 'verna' by O. Moller in 1985 (Arditti 1992). Some Gymnadenia species, such as G. conopsea subsp. borealis (Druce) F. Rose in Scotland, occur on more acidic soils (Davies et al. 1988). Similarly, Gymnadenia nigra can grow in soils with a low calcium content such as the riverbank habitats described from Sweden by Bjorkback and Lundgvist (1996), but generally it occurs on calcareous soils (Rune 1993). Soil moisture preferences vary considerably between members of the genus and encompass both comparatively dry and very wet habitats. For example, in Britain G. conopsea subsp. conopsea typically grows in dry grasslands such as the chalk downlands of southern England (Summerhayes 1951; Lang 1989), whereas G. conopsea subsp. densiflora is always found in wet marshes and bogs, as in the East Anglian fens (Sanford 1991). Rasmussen (1995) noted for Gymnadenia nigra that although the plants grow in damp conditions, the shallow soils and drying winds of the habitats they inhabit may create conditions of comparative drought.
Gymnadenia normally grows in full sun in open habitats such as grassland, mountain pastures, base-rich mires and fen meadows (Delforge 1995; Eysink and De Bruijn 1997) and sometimes roadside verges or wet ditches (Allan et al. 1993). However, it can withstand some shade since in some parts of its range it is found growing in heathland, scrubland, and open woodland (Summerhayes 1951), and in Russia it has been reported from pine forests (Davies et al. 1988). In the Mediterranean G. conopsea occurs primarily in mountain areas where it grows at elevations of up to 2500 m. Gymnadenia nigra usually grows in grassland and alpine meadows but may also occur in open wooded pastures and on woodland edges (Davies et al. 1988; Delforge 1995). It grows at high elevations of 1000-2800 m, in the mountains of central Europe, such as the Alps, Carpathians, Appenines, and Pyrenees, but in Scandinavia it normally grows at lower elevations in subalpine or low alpine regions (Engelskjon and Skifte 1984; Davies et al. 1988). In the Swedish province of Jamtland, G. nigra is largely confined to cultivated farmsteads but has also been discovered growing in the same region at sites on the banks of streams (Bjorkback et al. 1986; Bjorkback and Lundqvist 1996).
Depending on the habitat in which they occur, Gymnadenia species can ec-occur with a range of other orchids. On the chalk downland of southern England for example, G. conopsea can be found in short grassland with Ophrys apifera Huds., Neotinea ustulata (L.) R. M. Bateman, Pridgeon & M. W Chase, and Herminium monorchis (L.) R.Br., and with Dactylorhiza fuchsii, Anacamptis pyramidalis or Listera ovata (L.) R.Br. among taller grasses. In the limestone areas of northern England it also grows with Platanthera chlorantha (Custer) Rchb., Dactylorhiza viridis, and Orchis mascula (L.) L., while in upland pastures at up to 700 m it may be accompanied by P. bifolia (L.) Rich., D. purperella, and Pseudorchis albida (L.) A. Love & D. Love. In the more acidic soils of British heathland habitats it is sometimes found growing among Calluna and Ulex species with D. maculata subsp. ericetorum, whereas in wetland areas where Gymnadenia grows among sedges and coarse grasses (e.g. Carex and Molinia species) typical co-occurring orchids include D. praetermissa and Epipactis palustris (L.) Crantz (Summerhayes 1951; Lang 1989).
Gymnadenia flowers between May and August throughout its range (Delforge 1995), the exact period of flowering depending on the latitude and locality of individual populations. In Britain, for example, most flower in June (Lang 1989), although plants growing in drier sites usually flower before those in damper soils (Summerhayes 1951). Leaves of Gymnadenia develop in the spring prior to flowering and are retained until the autumn ('summergreen' orchids), the plants perennating over the winter by means of tubers (Möller 1987, cited in Rasmussen 1995). The number of plants emerging above ground and flowering in populations of G. conopsea is reportedly highly variable between years, an observation which has variously been explained as due to differences in establishment success of seedlings and youngg plants between seasons (Summerhayes 1951), annual changes in rainfall patterns (AIIan et al. 1993), a short lifespan, and frequent monocarpy (Salisbury 1942).
Fruit-set level is generally high within the genus (Lang 1989). Summerhayes (1951) reported that between 50% and 90% of the flowers of G. conopsea produce seed capsules, and Neiland (1994) has recorded an average of 63.3% of flowers setting fruit in study populations in Britain. Salisbury (1942) has explained the failure of the uppermost flowers on some inflorescences to set fruit as the result of nutritional constraints. Relatively high fruit-set is to be expected in Gymnadenia since many members of the genus are nectariferous (Neiland and Wilcock 1998), but this is also due to apomixis in some species (Delforge 1995). An average of 2044 ± 515 seeds are estimated to be produced by each capsule of G. conopsea (Salisbury 1942). Seed germination is believed to take place in the spring after dispersal, following a period of chilling in the winter that is thought to break seed dormancy (Fuchs and Ziegenspeck 1927, cited in Rasmussen 1995). In culture, seeds of G. nigra take 2-3 months to germinate in vitro (Veyret 1969; Haas 1977, cited in Rasmussen 1995), whereas some immature seeds excised about one month after pollination could be rapidly germinated with just two weeks of incubation (Malmgren 1989, cited in Rasmussen 1995). In the field, the first aerial stem forms about two years after germination, the seedlings having already developed roots in the previous autumn. The first tuber is formed in the summer. Adult plants perennate by means of tubers during the winter, gaining nutrition at this time from mycotrophic roots, which are normally found in the upper layers of the soil in G. conopsea (Rasmussen 1995). Beau (1913) also found fungi in the tapering extensions of the tuber, and a number of different fungi have been identified including Rhizoctonia solani (Anderson 1990a) and Tulasnella spp., although not all are compatible with Gymnadenia seedlings. Downie (1959) failed to germinate G. conopsea with a fungus isolated from adult plants, although Anderson (1990b) was successful with Tulasnella calospora and another Tulasnella species (Rasmussen 1995).
The frequency of occurrence and rarity of Gymnadenia species varies among the species and across their geographic range. The widespread G. conopsea, for example, is quite localized in its occurrence in some parts of its range, as in the British Isles, where it is not considered to be a common orchid even though it can be abundant in some places (Summerhayes 1951). In Scotland, G. conopsea subsp. borealis is the most common of the three sub-species and has been recorded from every Scottish vice-county (Allan et al. 1993). The distribution of the other two subspecies (ssp. densiflora and ssp. conopsea) is severely restricted by habitat and soil limitations such that they are extremely rare in Scodand but more frequent in southern England. Gynmadenia nigra can occur in large numbers in the Alps, but it has become a rare and endangered species in Scandinavia due to a loss of suitable habitats such as hay meadows (Bjorkback and Lundqvist 1996; Rune 1993). In the absence of grazing or mowing G. nigra becomes shaded and out-competed by more vigorous plants (Bjorkback et al. 1986). Habitat changes also threaten other members of the genus. A steady decline in the size of one G. conopsea population in Scodand was attributed to overgrowth of heather at the site (Dickson and Parkes 1994), and drainage of fenland is identified as the major threat to the remaining populations of G. conopsea subsp. densiflora in Suffolk, England (Sanford 1991).
Remedial measures, such as removing shrubs by hand, have been suggested as means by which Gymnadenia populations can be protected (e.g. Dickson and Parkes 1994), and in Sweden a conservation programme has been und erway for several years to maintain G. nigra populations using different management regimes aimed at keeping the habitats open and thereby preventing shading out of the orchid by more vigorous plants (Bjorkback et al. 1986). (RN).

General Description

Small slender herbs. Rootstock tuberous, tubers flattened, palmate-digitate for at least half their length. Stem erect, leafy, especially toward base. Leaves basal and cauline, linear to unear-lanceolate, conduplicate, unspotted. Inflorescence cylindrical or capitate, densely many- flowered; floral bracts shorter than, equal to, or slightly exceeding ovary. Flowers small, resupinate or non-resupinate, fragrant, often of vanilla. Sepals and petals free and spreading, or lateral sepals spreading and decurved, dorsal sepal connivent with petals to form a hood. Labellum shortly three-lobed or entire, spurred, spur short or long, often filiform, nectariferous. Column short, with two lateral lobe-like stigmas; rostellum elongate or small, three-lobed, folded between anther loculi; pollinia two, each with a caudicle attached to a free viscidium without a bursicle, or placed in very rudimentary bursicles. Ovary narrowly cylindrical, sessile, twisted, or not twisted, glabrous. (JW).
Native to:
Albania, Altay, Amur, Austria, Baleares, Baltic States, Belarus, Belgium, Bulgaria, Buryatiya, Central European Rus, China North-Central, China South-Central, Chita, Czechoslovakia, Denmark, East European Russia, East Himalaya, Finland, France, Germany, Great Britain, Greece, Hungary, Inner Mongolia, Iran, Ireland, Irkutsk, Italy, Japan, Khabarovsk, Korea, Krasnoyarsk, Krym, Kuril Is., Manchuria, Mongolia, Myanmar, Nepal, Netherlands, North Caucasus, North European Russi, Northwest European R, Norway, Pakistan, Poland, Portugal, Primorye, Qinghai, Romania, Sakhalin, Sicilia, South European Russi, Spain, Sweden, Switzerland, Tibet, Transcaucasus, Turkey, Tuva, Ukraine, West Himalaya, West Siberia, Yakutskiya, Yugoslavia
Introduced into:
Connecticut
Gymnadenia R.Br. appears in other Kew resources:
| Date | Reference | Identified As | Barcode | Type Status | Has image? |
| --- | --- | --- | --- | --- | --- |
| | Barneby, T.P., France | Nigritella | 31657.000 | | No |
First published in W.T.Aiton, Hortus Kew. 5: 191 (1813)
Accepted by
Govaerts, R. (2003). World Checklist of Monocotyledons Database in ACCESS: 1-71827. The Board of Trustees of the Royal Botanic Gardens, Kew.
Pridgeon, A.M., Cribb, P.J., Chase, M.C. & Rasmussen, F.N. (2001). Orchidoideae (Part 1) Genera Orchidacearum 2: 1-416. Oxford University Press, New York, Oxford.
Herbarium Catalogue Specimens

Kew Backbone Distributions

The International Plant Names Index and World Checklist of Selected Plant Families 2022. Published on the Internet at http://www.ipni.org and http://apps.kew.org/wcsp/
© Copyright 2017 World Checklist of Selected Plant Families. http://creativecommons.org/licenses/by/3.0


Kew Names and Taxonomic Backbone

The International Plant Names Index and World Checklist of Selected Plant Families 2022. Published on the Internet at http://www.ipni.org and http://apps.kew.org/wcsp/
© Copyright 2017 International Plant Names Index and World Checklist of Selected Plant Families. http://creativecommons.org/licenses/by/3.0


Orchideae: e-monocot.org

All Rights Reserved