Family:
Myroxylon L.f.
This genus is accepted, and its native range is Mexico to S. Tropical America.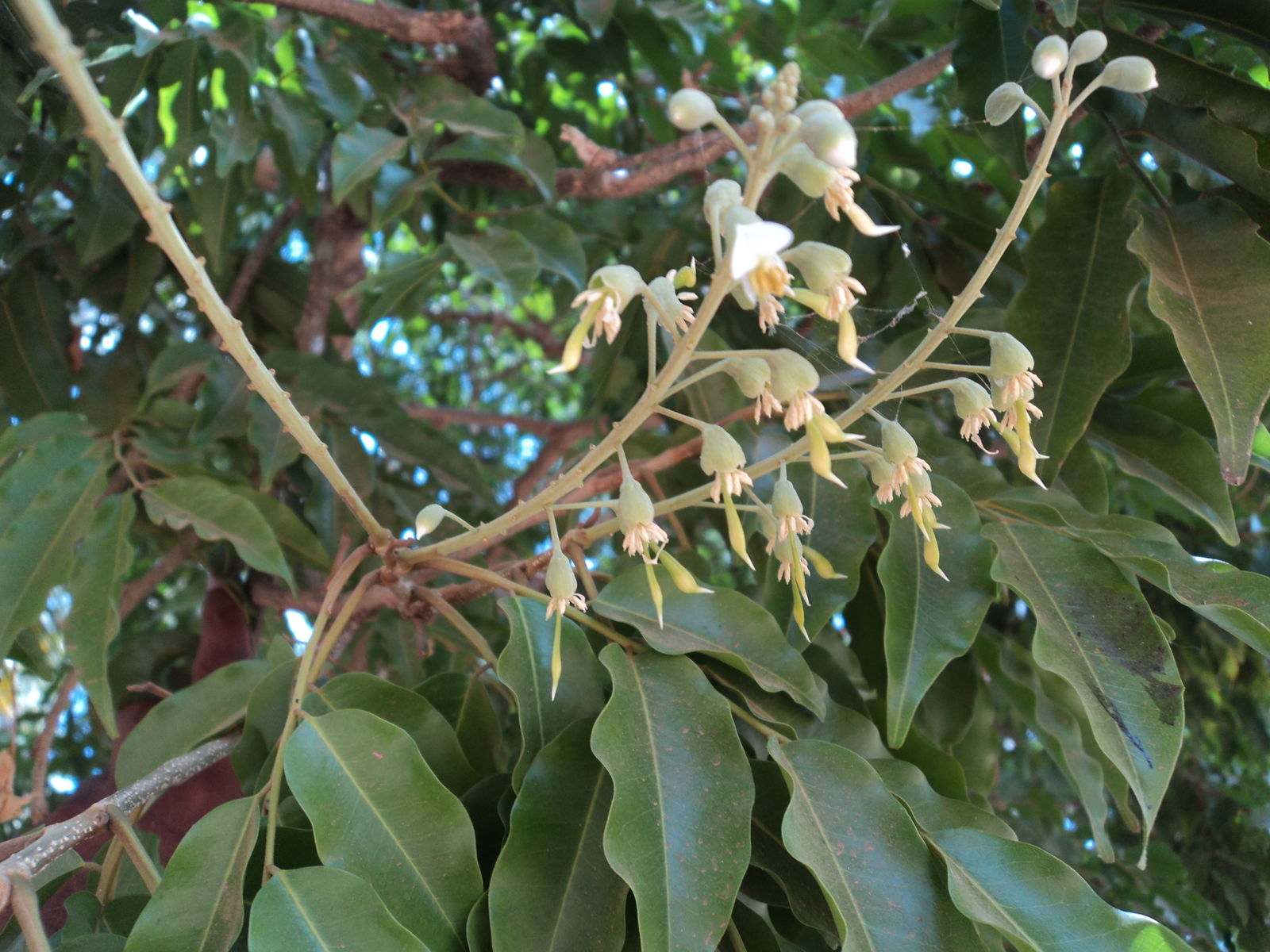 [KBu]
Sartori, Â.L.B., Lewis, G.P., de Freitas Mansano, V. et al. 2015. A revision of the genus Myroxylon (Leguminosae: Papilionoideae)Kew Bulletin 70: 48. DOI https://doi.org/10.1007/s12225-015-9604-7
Morphology

Branches

Branches terete, lenticellate, stipules caducous

Morphology

General

Habit

Tree

Morphology

Leaves

Leaves imparipinnate, to 15-foliolate; petiole flattened, rough; rachis square or terete in cross section, sulcate on the adaxial surface; petiolules wrinkled, leaflets alternate, venation brochidodromous, pellucid gland dots and streaks conspicuous in the leaflet blades (on herbarium specimens and in the field these are best seen when a leaflet is held up to the light)

Morphology

Reproductive morphology

Fruits

Fruit a 1-seeded samara, wing proximal, veins crowded submedially, seed-chamber distal; testa smooth or rough.

Morphology

Reproductive morphology

Inflorescences

Racemes axillary and/or terminal; a bract inserted at the base of the pedicel; minute bracteoles inserted at the base of the calyx, caducous; calyx campanulate, 5-lobed (the lobe apices obtuse) or the lobes obsolete; the sub-papilionaceous flowers spirally arranged along the inflorescence axis, petals white; standard petal with a greenish central blotch; stamens 10 (5 longer), all united at base, filaments and anthers glabrous, anthers dorsifixed, oblong, apiculate, sagittate, dehiscence longitudinal; gynoecium uniovulate, glabrous, stipitate, stigma punctiform

Type

Type: Myroxylon peruiferum L. f.
[LOWO]
Legumes of the World. Edited by G. Lewis, B. Schrire, B. MacKinder & M. Lock. Royal Botanic Gardens, Kew. (2005)
Habit

Trees

Ecology

Tropical lowland rain forest to seasonally dry forest and woodland

Distribution

Mexico, C America; western and northern S America to N Argentina

Note

For relationships see notes under Myrospermum

In Polhill's (1994) treatment the following informal groups were recognised: the Myroxylon group (11 genera; 10 Neotropics, one Africa); Ormosia group (3 genera; Neotropics, Africa, Asia); Angylocalyx group (4 genera; Neotropics, Africa, Australia); Baphia group (6 genera; Africa to Asia); Dussia group (9 genera; Neotropics) and Sophora group (14 genera; Africa, Asia, Neotropics).

The only formal change made to the classification of Sophoreae since Polhill (1994) is the transfer of Bowringia and Baphiastrum to Leucomphalos (Breteler, 1994b). In this account we maintain Bowringia and Baphiastrum, not because we disagree with Breteler (1994b), but in the spirit of this volume, to encourage future workers to verify the monophyly of Leucomphalos sens. lat. with new data. We also do not follow Polhill's (1994) suggestion that Riedeliella, Etaballia and Inocarpus belong in Sophoreae. It has been generally accepted (e.g., Polhill, 1981b) that these belong in Dalbergieae, which is confirmed by the recent study of Lavin et al. (2001a) that places them in the Dalbergioid clade. They are therefore treated as Dalbergieae in this volume (see page 307).

Cladistic analyses of overall morphology (Chappill, 1995; Herendeen, 1995) and pollen data (Ferguson et al., 1994) showed Sophoreae to be non-monophyletic because Swartzieae genera were mixed in the same monophyletic groups as Sophoreae. These results have been corroborated by molecular studies. Doyle et al. (1996) showed Sophoreae to be heterogeneous for a large inversion in the chloroplast genome. This suggests that Sophoreae is non-monophyletic if it is assumed that the inversion arose only once. Doyle et al.'s (1997) DNA sequencing study of the chloroplast gene rbcL included 18 genera of Sophoreae. Cladistic analysis showed these to be scattered widely across the papilionoid tree. More recently, these results have been corroborated by another chloroplast locus, the trnL intron (Pennington et al., 2001). This study sampled more putatively basal genera of Papilionoideae (26 of 41 Sophoreae; 14 of 15 Swartzieae and all Dalbergieae and Dipterygeae). The trnL tree (summarised in Fig. 29) is also largely congruent with other molecular studies that include some taxa of basal Papilionoideae (e.g., Hu et al., 2000; Ireland et al, 2000; Lavin et al., 2001a; Kajita et al., 2001; Wojciechowski et al., 2004). It clearly shows genera of Sophoreae to be members of disparate papilionoid clades.

Diverse datasets now indicate Sophoreae to be non-monophyletic as Polhill (1981b; 1994) predicted. If the trnL results are corroborated, it seems likely that Sophoreae will be dismembered with its genera scattered across several tribes. This would entail extensive taxonomic changes. Yakovlev (1972b; 1991) split Sophoreae into five and nine tribes respectively. These classifications have not been widely accepted, and although they are not congruent with the most recent molecular topologies, they will need to be considered in any formalisation of new tribal names. In any new scheme, Sophoreae sens. strict. will comprise a group of genistoid clade genera from among Polhill's (1994) Sophora group (Fig. 29), but published molecular phylogenetic studies have not yet sampled sufficient genera to suggest its delimitation.

A new classification for Sophoreae requires sampling of the genera not included by Pennington et al. (2001; see Fig. 29) and other authors, in future molecular systematic studies. Some of the clades discovered by DNA sequence data (Fig. 29) are cryptic in that they are not marked by obvious macro-morphological features, and it is therefore perilous to attempt to determine the affinities of genera based upon macro-morphology alone. It may be that these clades are defined by anatomical or chemical characters. For example, quinolizidine alkaloid accumulation may be a synapomorphy for the Genistoid clade (Pennington et al., 2001; Kite & Pennington, 2003), and lack of these chemicals in Styphnolobium species supports the segregation of this genus from Sophora sens. strict. The presence of quinolizidine alkaloids in Calia, which is not placed amongst the genistoids, suggests that this genus is a strong candidate as sister group to the Genistoid clade, a relationship that might be resolved by more robust molecular phylogenies. Such phylogenies should incorporate information from nuclear genes (Lavin et al., 1998; Doyle & Doyle, 2000) which would be particularly useful to test hypotheses that are currently based solely upon evidence from chloroplast DNA. Careful integration of morphology, preferably as part of a simultaneous cladistic analysis, is also critical. Such morphological study may be best achieved by focusing on separate monophyletic groups because assessment of homology of morphological features across all Papilionoideae is difficult. The monophyletic groups discovered in the trnL analysis provide a framework for starting these future studies. In all 45 genera and (393) – 396 – (398) species are treated here (including c. 76 basally branching, c. 262 genistoid and c. 58 baphioid species of Sophoreae; Fig. 29).
[LOWO]
Use

Used for timber (furniture, turnery, interior trim and construction); balsam extraction for medicine, perfumery, thickening agents, etc. (cultivated in e.g., Sri Lanka and W Africa)
Native to:
Argentina Northwest, Belize, Bolivia, Brazil North, Brazil Northeast, Brazil South, Brazil Southeast, Brazil West-Central, Colombia, Costa Rica, Ecuador, El Salvador, Guatemala, Guyana, Honduras, Mexico Central, Mexico Gulf, Mexico Northeast, Mexico Northwest, Mexico Southeast, Mexico Southwest, Nicaragua, Panamá, Peru, Venezuela
Introduced into:
Caroline Is., Cuba, Dominican Republic, Florida, Gabon, Ghana, India, Jawa, Marshall Is., Puerto Rico, Sierra Leone, Sri Lanka, Tanzania, Trinidad-Tobago, Uganda, Zaïre
First published in Suppl. Pl.: 34 (1782)
Accepted by
Govaerts, R., Nic Lughadha, E., Black, N., Turner, R. & Paton, A. (2021). The World Checklist of Vascular Plants, a continuously updated resource for exploring global plant diversity. https://doi.org/10.1038/s41597-021-00997-6. Scientific Data 8: 215.
Literature
Kew Bulletin
(Linnaeus filius 1781: 233).
Allemão, F. F. (1857). Leguminosae. Myrospermum erythroxylum. Revista Brazil. 1: 51.
Baillon, H. (1870). Toluifera L. Histoire des plantes. 2: 369 – 370. Librairie Hachette, Paris.
Baillon, H. (1883). Toluifera balsamum L. Traité de botanique médicale, phanérogamique. 5: 676 – 677. Librairie Hachette et Cie, Paris.
Bentley, R. & Trimen, H. (1880a). Toluifera pereirae. Medicinal Plants 42: 83. J. & A. Churchill, London.
Bentley, R. & Trimen, H. (1880b). Toluifera balsamum. Medicinal Plants 42: 84. J. & A. Churchill, London.
Biemer, T. A., Asral, N. & Albanese, J. A. (1992). Simultaneous, stability-indicating capillary gas chromatographic assay for benzocaine and the two principal benzyl esters of Balsamum Peru formulated in a topical ointment. J. Chromatogr. 623: 395 – 398.CrossRefGoogle Scholar
Cardoso, D., Queiroz, L. P., Pennington, R. T., Lima, H. C., Fonty, E., Wojciechowski, M. F. & Lavin, M. (2012). Revisiting the phylogeny of papilionoid legumes: New insights from comprehensively sampled early-branching lineages. Amer. J. Bot. 99: 1991 – 2013.CrossRefGoogle Scholar
Doyle, J. J. (1995). DNA data and legume phylogeny: a progress report. In: M. D. Crisp & J. J. Doyle (eds), Advances in Legume Systematics, part 7, pp. 11 – 30. Royal Botanic Gardens, Kew.
Doyle, J. J. , Doyle, J. L., Ballenger, J. A., Dickinson, E. E., Kajita, T. & Ohashi, H. (1997). A phylogeny of the chloroplast gene rbcL in the Leguminosae: taxonomic correlations and insights into the evolution of nodulation. Amer. J. Bot. 84(4): 541 – 554.CrossRefGoogle Scholar
Farr, E. R., Leussink, J. A. & Stafleu, F. A. (1979). Index nominum genericorum (Plantarum). Regnum Veg. 100. Scheltema & Holkema, Utrecht, Bohn.
Fluckiger, F. A. & Hanbury, D. (1874). Balsamum tolunatum. Pharmacographia 15: 177 – 184.
Harms, H. (1908). VI Zur nomenclatur des Perubalsambaumes. Notizbl. Königl. Bot. Gart. Berlin 5: 85 – 97.CrossRefGoogle Scholar
Holmgren, P. K., Holmgren, N. H. & Barnett, L. C. (1990). Index Herbariorum, Vol. I: The herbaria of the world. New York Botanical Garden, New York.
Hutchinson, J. (1964). The genera of flowering plants, Vol. 1. Clarendon Press, Oxford.
Isely, D. (1981). Leguminosae of the United States III, subfamily Papilionoideae; Tribes Sophoreae, Podalyrieae, Loteae. Mem. New York Bot. Gard. 25(3): 1 – 264.
Klotzsch, J. F. (1843). Myroxylon punctatum Klotzsch. In: F. G. Hayne, Getreue Darstellung und Beschreibung der in Arzneykunde Gebrauchlichen Gewachse 14: 12. Auf kosten des verfassers, Berlin.
Klotzsch, J. F. (1857). Eine synoptische Aufzählung der Arten von Myroxylon Mutis und Myrospermum Jacq. Bonplandia 5: 272 – 277.
Kunth, C. S. (1823). Voyage de Humboldt et Bonpland. In: F. H. A. von Humboldt, A. J. A. Bonpland & K. S. Kunth (eds), Nova Genera et Species Plantarum, Vol. 6: 371 – 375, 570 – 571. Facsimile ed. 1963, J. Cramer, Weinheim.
Lamarck, J. B. A. P. de (1797). Encyclopédie Méthodique. Chez H. Agasse, Paris.
Lawrence, G. H. M. (1971). Taxonomy of vascular plants. Macmillan, New York.
Linares, E. & Bye Jr., R. A. (1987). A study of four medicinal plant complexes of Mexico and adjacent United States. J. Ethno-pharmacol. 19: 153 – 183.
Linnaeus filius, C. (1781). Myroxylon peruiferum. Supplementum Plantarum 34: 232 – 234. Impensis Orphanotrophei, Brunsvigae.
Linnaeus, C. (1753). Toluifera balsamum. Species Plantarum ed. I, 1: 383 – 385. Impensis l. Salvii, Holmiae.
Maranduba, A., Oliveira, A. B., Oliveira, G. G. de, Reis, J. E. de P. & Gottlieb, O. R. (1979). Isoflavonoids from Myroxylon peruiferum. Phytochemistry 18: 815 – 817.
McNeill, J. C., Barrie, F. R., Buck, W. R., Demoulin, V., Greuter, W., Hawksworth, D. L., Herendeen, P. S., Knapp, S., Marhold, K., Prado, J., Prud'homme van Reine, W. F., Smith, G. F. & Wiersema, J. H. (2011). International Code of Nomenclature for algae, fungi, and plants (Melbourne Code). Regnum Veg. 154. Koeltz Scientific Books.
Oersted, W. (1855). Myrospermum sonsonatense. Vidensk Meddel Naturhist. Foren. Kjöbenhavn: 27 – 32.
Pennington, R. T., Stirton, C. H. & Schrire, B. D. (2005). Tribe Sophoreae. In: G. Lewis, B. Schrire, B. Mackinder & M. Lock (eds), Legumes of the world, pp. 227 – 249. Royal Botanic Gardens, Kew.
Pereira, J. (1851). On the Myrospermum of Sonsonate, from which balsamum of Peru, white balsamum and balsamito are obtained. Pharm. J. Trans. 10: 27 – 29.
Polhill, R. M. (1981). Sophoreae. In: R. M. Polhill & P. H. Raven (eds), Advances in legume systematics part 1, pp. 213 – 230. Royal Botanic Gardens, Kew.
Radford, A. E., Dickinson, W. C., Massey, J. R. & Bell, C. R. (1974). Vascular plant systematics. Harper & Row, New York.
Royle, J. F. (1853). Myrospermum pereirae. A manual of materia medica and therapeutics 2: 414. John Churchill, London.
Rudd, V. E. (1968). Leguminosae of Mexico-Faboideae. I. Sophoreae and Podalyrieae. Rhodora 70: 493 – 532.
Ruiz, H. & Pavon, J. (1956). Flora Peruviana et Chilensis. Anales Inst. Bot. Cavanilles 14: 717 – 784.
Sartori, A. L. B. & Tozzi, A. M. G. (2002). Comparative leaflet anatomy in Myrocarpus Allemão, Myroxylon L.f. and Myrospermum Jacq. (Leguminosae-Papilionoideae-Sophoreae) species. Bot. J. Linn. Soc. 140: 249 – 259.CrossRefGoogle Scholar
Stafleu, F. A. & Cowan, R. S. (1983). Taxonomic Literature, Vol. 4. W. Junk, Utrecht.
Stafleu, F. A. (1965). Florae Peruvianae et Chilensis, Vol. 43. Facsimile, J. Cramer, Lehre.
Stearn, W. T. (1973). Botanical Latin. Redwood Press Limited, Trowbridge.
Stokes, J. (1812). Myroxylon abruptifolium. A botanical materia medica 2, p. 471. J. Johnson, London.
Walpers, W. G. (1843). Myrospermum. Repertorium botanices systematicae 1: 805. Sumtibus Friderici Hofmeister, Lipsiae.
Willdenow, K. (1799). Species plantarum, vol. 2. Impensis G. C. Nauk, Berolini.
Wojciechowski, M. F., Lavin, M. & Sanderson, M. J. (2004). A phylogeny of legumes (Leguminosae) based on analysis of the plastid matK gene resolves many well-supported subclades within the family. Amer. J. Bot. 91: 1846 – 1862.CrossRefGoogle Scholar
de Candolle, A. P. (1825). Leguminosae. In: A. P. Candolle (ed.), Prodromus systematis naturalis regni vegetabilis, Vol. 2, pp. 93 – 423. Treuttel & Würtz, Paris.
Kew Backbone Distributions

The International Plant Names Index and World Checklist of Selected Plant Families 2022. Published on the Internet at http://www.ipni.org and http://apps.kew.org/wcsp/
© Copyright 2017 World Checklist of Selected Plant Families. http://creativecommons.org/licenses/by/3.0


Kew Bulletin

Kew Bulletin
http://creativecommons.org/licenses/by-nc-sa/3.0


Kew Names and Taxonomic Backbone

The International Plant Names Index and World Checklist of Selected Plant Families 2022. Published on the Internet at http://www.ipni.org and http://apps.kew.org/wcsp/
© Copyright 2017 International Plant Names Index and World Checklist of Selected Plant Families. http://creativecommons.org/licenses/by/3.0


Legumes of the World Online

http://creativecommons.org/licenses/by-nc-sa/3.0