Acanthus eminens C.B.Clarke
First published in D.Oliver & auct. suc. (eds.), Fl. Trop. Afr. 5: 107 (1899)
This species is accepted
The native range of this species is Ethiopia to South Sudan and Central Kenya. It is a shrub and grows primarily in the seasonally dry tropical biome.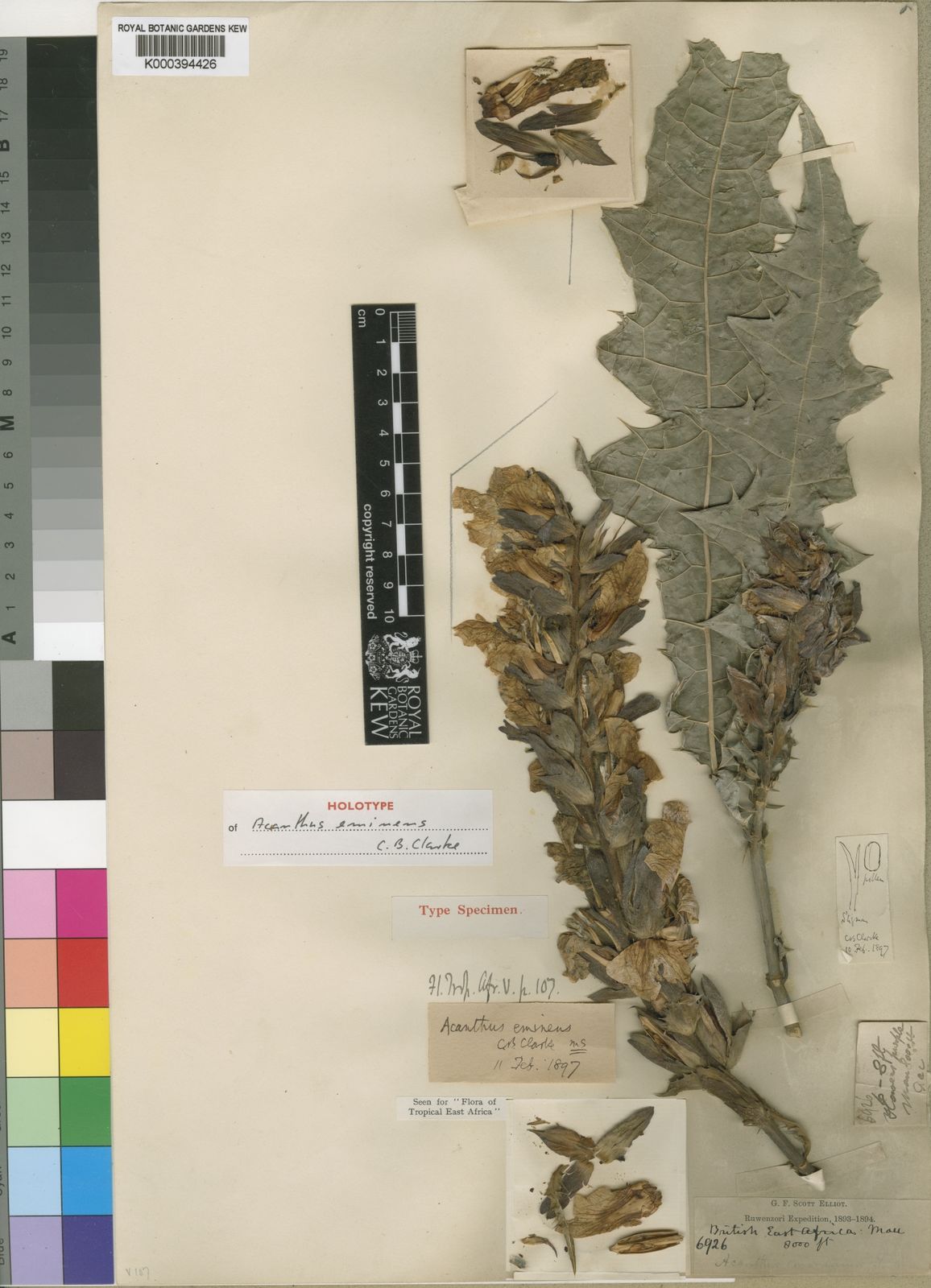 Distribution
Native to:
Ethiopia, Kenya, Sudan, Uganda
Publications
POWO follows these authorities in accepting this name:
Darbyshire, I., Kordofani, M., Farag, I., Candiga, R. & Pickering, H. (eds.) (2015). The Plants of Sudan and South Sudan: 1-400. Kew publishing, Royal Botanic Gardens, Kew.
Fischer, E., Rembold, K., Althof, A. & Obholzer, J. (2010). Annotated checklist of the vascular plants of Kakamega forest, Western province, Kenya. Journal of East African Natural History 99: 129-226.
Govaerts, R. (1995). World Checklist of Seed Plants 1(1, 2): 1-483, 529. MIM, Deurne.
Hedberg, I., Kelbessa, E., Edwards, S., Demissew, S. & Persson, E. (eds.) (2006). Flora of Ethiopia and Eritrea 5: 1-690. The National Herbarium, Addis Ababa University, Ethiopia & The Department of Systematic Botany, Upps.
Vollesen, K. (2008). Flora of Tropical East Africa, Acanthaceae(1): 1-285.
Kew Bulletin
Agnew, A. D. Q. & Agnew, S. (1994). Upland Kenya Wild Flowers, ed. 2. East Africa Natural History Society, Nairobi.
Anderson, T. (1863). An Enumeration of the species of Acanthaceae from the Continent of Africa and the adjacent Islands. J. Proc. Linn. Soc., Bot. 7: 13 - 54.
Andrews, F. W. (1956). The flowering plants of the Sudan. Volume 3. Published for the Sudan Government by T. Buncle, Arbroath.
Beentje, H. (1994). Kenya trees shrubs and lianas. National Museums of Kenya, Nairobi.
Blundell, M. (1987). Collins Guide to the Wild Flowers of East Africa. Collins, London.
Brenan,J. P. M. & Greenway, P. J. (1949). Check-lists of the Forest Trees and Shrubs of the British Empire. No. 5. Tanganyika Territory, Part 2. Imperial Forestry Institute, Oxford.
Brickell, C. (ed.) (2003). The Royal Horticultural Society A - Z Encyclopedia of Garden Plants. Vol. 1: A - J. Dorling Kindersley, London.
Bullock, A. A. (1934). Enumeration of Plants. In: E.J. Lugard, The Flora of Mount Elgon. Bull. Misc. Inform., Kew 1933: 58 - 106.
Burrows, J. (2005). Acanthaceae. In: J. Burrows & C. Willis, Plants of the Nyika Plateau: 48 - 54. SABONET, Pretoria.
Champluvier, D. (1985). Acanthaceae. In: G. Troupin, Flore du Rwanda Spermatophytes. Vol. III: 422 - 492. Ann. Mus. Roy. Afrique Centrale Tervuren Belg., Sci. Econ.
Chiovenda, E. (1940). Plantae novae aut minus notae ex Aethiopia. Atti Reale Accad. Italia, Mem. Cl. Sci. Fis. 11: 17-67.
Christensen, C. (1922). Index to Pehr Forsskål: Flora Aegyptiaco-Arabica 1775, with a revision of Herbarium Forsskålii. Dansk Bot. Arkiv 4, 3: 1 - 54.
Clarke, C. B. (1899 - 1900). Acanthaceae. In: W. T. Thiselton-Dyer, Flora of Tropical Africa 5: 1 - 262 8c 506 - 515. L. Reeve & Co., London.
Cufodontis, G. (1964). Enumerado Plantarum Aethiopiae Spermatophyta (Sequentia). Bull. Jard. Bot. État. 34, Suppl: 925 - 978.
Dale, I. R. & Greenway, P. J. (1961). Kenya trees and shrubs. Buchanan's Kenya Estates, Nairobi.
De Wildeman, E. (1910). Études de systématiques et de Géographie Botaniques sur la Flore du Bas- et du Moyen-Congo. Ann. Mus. Congo Belge. Bot., Ser. 5, 3: 1 - 533.
Delile, A. R. (1826). Centurie de plantes d'Afrique du voyage à Méroé recueillies par M. Cailliaud. Paris.
Edwards, S. (1976). Some wild flowering plants of Ethiopia: an introduction. Addis Ababa University Press, Addis Ababa.
Enayet Hossain, A. B. M. (1982). Acanthaceae. In: P. H. Davis, Flora of Turkey, Vol. 7: 23 - 27. Edinburgh University Press.
Engler, A. (1892). Über die Hochgebirgsflora des tropischen Afrika. Abh. Akad. Berlin.
Fichtl, R. & Admasu, A. (1994). Honeybee Flora of Ethiopia. Margraf Verlag, Weikersheim.
Fiori, A. (1940). Plantae a Dominico Saccardo in regionibus Galla et Sidama Abyssiniae collectae. Nuovo Giorn. Bot. Ital. 47: 24 - 46.
Forsskål, P. (1775). Flora Aegyptiaco-Arabica. Möller, Copenhagen.
Friis, I. & Vollesen, K. B. (2005). Flora of the Sudan- Uganda border area east of the Nile. II. Catalogue of vascular plants, 2nd part, vegetation and phytogeography. Biol. Skr. 51 (2): 390 - 855.
Glover, P. E. (1946). A provisional check-list of British and Italian Somaliland trees, shrubs and herbs. Published on behalf of the Govt. of Somaliland by Crown Agents for the Colonies.
Govaerts, R. (1995). World Checklist of Seed Plants, vol. 1, part 1. MIM bvba, Antwerp.
Hepper, F. N., Jaeger, P. M. L., Gillett, J. B. & Gilbert, M. G. (1981). Annotated Check-list of the Plants of Mount Kulal, Kenya. IPAL Technical Report Number D - 3. Nairobi.
Heywood, V. H. & Richardson, L B. K. (1972). Acanthaceae. In: T. G. Tu tin et al., Flora Europaea, Vol. 3: 283 - 284. Cambridge University Press.
Huxley, A, Griffiths, M. & Levy, M. (eds.) (1992). The New Royal Horticultural Society Dictionary of Gardening, 1: A to C. Macmillan Press, London.
Kuchar, P. (1986). The plants of Somalia: an overview and checklist. CRDP Techn. Rep. Ser. 16: 1 - 335. Mogadishu, Somalia.
Lebrun J.-P. & Stork. A. L. (1997). Enumeration des plantes à fleurs d'Afrique Tropicale. Vol. IV - Gamopétales: Clethraceae à Lamiaceae. Conservatoire & Jardin Botaniques de la Ville de Génève. Génève.
Lindau, G. (1894). Acanthaceae Africanae. II. In: A. Engler, Beiträge zur Flora von Afrika. IX. Bot. Jahrb. Syst. 20: 1 - 76.
Lwanga, J. (1996). Trees and shrubs. In: T. Davenport & P. Howard, Biodiversity Report No. 14, Agoro- Agu and Lokung Forest Reserves: 17 - 35. Kampala.
Meeuse, A. D. J. (1958). Acanthus pubescens. Fl. Pl. Africa 32: t. 1268.
Moquin-Tandon, A. (1832). Considérations sur les irregularities de la Corolle dans les Dicotylédones. Ann. Sci. Nat. (Paris) Ser I, 27: 225 - 290.
Napper, D. M. (1970). Notes on Acanthaceae 1. Some tropical African Acanthoideae and Nelsonioideae. Kew Bull. 24: 323 - 342.
Nees ab Esenbeck, C. G. (1847). Acanthaceae. In: A. de Candolle, Prodromus systematis naturalis regni vegetabilis 11: 46 - 519. Fortin, Masson, Paris.
Oliver, D. (1875). The Botany of the Speke and Grant expedition. Trans. Linn. Soc. London 29: 1 - 190.
Pichi Sermolli, R. (1951). Missione di studio al Lago Tana. Vol. 7, 1. Accademia nazionale dei Lincei, Roma.
Richard, A. (1850). Tentamen florae Abyssinicae . Vol. 2. Arthus Bertrand, Paris.
Robyns, W. (1947). Flore des Spermatophytes du Parc National Albert. II. Sympétales. Brussels.
Ruffo, C. K., Chilonga, S. B. & Mabula, C. K. (1996). Catalogue of Lushoto Herbarium Tanzania. Tanzania Forestry Research Institute & Tanzania National Tree Seed Programme, Morogoro.
Schwartz, O. (1939). Flora des tropischen Arabien. Mitt. Inst. Allg. Bot. Hamburg 10: 1 - 393.
Schweinfurth, G. (1867). Beitrag zur Flora Aethiopiens. Part 1. G. Reimer, Berlin.
Thulin, M. (2006). Acanthaceae. In: M. Thulin, Flora of Somalia 3: 374 - 454. Royal Botanic Gardens, Kew.
Tui rill, W. B. (1913). Acanthus pubescens and A. arboreus. Bull. Misc. Inform. Kew 1913: 336 - 338.
Vahl, M. (1790). Symbolae Botanicae. Vol. 1. N. Möller & f., Copenhagen.
Vivero, J. L., Ensermu Kelbessa & Sebsebe Demissew (2005). The Red List of Endemic Trees & Shrubs of Ethiopia and Eritrea. Fauna & Flora International, Cambridge.
Wood, J. R. I. (1997). A handbook of the Yemen Flora. Royal Botanic Gardens, Kew.
— & Friis, I. (1994). The plants of Pehr Forsskål's Flora Aegyptiaco-Arabica. Royal Botanic Gardens Kew in association with the Botanical Museum, Copenhagen.
— (1895). Acanthaceae. In: A. Engler, Die Pflanzenwelt Ost-Afrikas und der Nachbargebiete. Theil C: 365 - 374. Berlin.
— (1904). Über die Vegetationsverhältnisse des Somali-Landes. Sitzungsber. Kaiserl. Akad. Wiss., Math.-Naturwiss. Cl., Abt. 1, 10: 355 - 416.
— (1906). Acanthus ugandensis. In: O. Stapf, Plantae Novae Daweana in Uganda lectae. J. Linn. Soc., Bot. 37: 527 - 528.
— (1912). Acanthaceae. In: J. Mildbraed, Wissenschaftliche Ergebnisse der Deutschen Zentral-Afrika-Expedition 1907-1908. Band II. Botanik: 291 - 310. Leipzig.
— (1913). Études sur le Flore du Congo. Ann. Mus. Congo Belge. Bot., Ser. 4, 2(1): 1 - 180.
— (1914). Decades Novarum Specierum Florae Congolensis II. Bull. Jard. Bot. État. 4: 361 - 429.
— (1916). Acanthaceae. In: R. E. Fries, Wissen- schaftliche Ergebnisse der Schwedischen Rhodesia -Kongo-Expedition 1911-1912. Band I. Botanische Untersuchungen. Heft 2. Monocotyledones und Sympetalae: 302 - 309. Aftonbladets Druckerei, Stockholm.
— (1921). Contribution a l'etude de la Flore du Katanga. D. Reynaert, Brussels.
— (1926). Plantae Bequaertianae. Vol. 4. Fasc. 1. A. Buyens, Gand & J. Lechevelier, Paris.
— (1965a). Systematische Bearbeitung der in Süd- Athiopien gesammelten Pflanzen. 5. Teil. Senckenbergiana Biol. 46: 89 - 106.
— (1965b). Beitrag zur Flora von Godjam. 2. Teil. Senckenbergiana Biol. 46: 115 - 120.
— (2000). Blepharis (Acanthaceae) A taxonomic revision. Royal Botanic Gardens, Kew.
— (2006). A taxonomic revision of the genus Duosperma (Acanthaceae). Kew Bull. 61: 289 - 351.
Flora of Tropical East Africa
Biol. Skr. 51(2): 435 (2005)
Blundell, Wild Fl. E. Afr.: 385, fig. 601 (1987)
E.P.A.: 952 (1964)
F.E.E. 5: 355 (2006)
F.P.S. 3: 166 (1956)
F.T.A. 5: 107 (1899)
K.B. 1933: 94 (1934)
K.B. 62: 239 (2007).
K.T.S.: 16 (1961)
K.T.S.L.: 596 (1994)
Lebrun & Stork, Enum. Pl. Afr. Trop. 4: 466 (1997)
U.K.W.F., ed. 2: 274 (1994)
Other Data
Other Kew resources that provide information on this taxon:
| Date | Reference | Identified As | Barcode | Type Status | Has image? |
| --- | --- | --- | --- | --- | --- |
| Feb 11, 1897 | Scott Elliot, G.F. [6926], Kenya | | K000394426 | holotype | Yes |
Sources
Flora of Tropical East Africa

Flora of Tropical East Africa
http://creativecommons.org/licenses/by-nc-sa/3.0

Herbarium Catalogue Specimens

Digital Image © Board of Trustees, RBG Kew http://creativecommons.org/licenses/by/3.0/

Kew Backbone Distributions

The International Plant Names Index and World Checklist of Vascular Plants 2023. Published on the Internet at http://www.ipni.org and https://powo.science.kew.org/
© Copyright 2022 World Checklist of Vascular Plants. http://creativecommons.org/licenses/by/3.0

Kew Bulletin

Kew Bulletin
http://creativecommons.org/licenses/by-nc-sa/3.0

Kew Names and Taxonomic Backbone

The International Plant Names Index and World Checklist of Vascular Plants 2023. Published on the Internet at http://www.ipni.org and https://powo.science.kew.org/
© Copyright 2022 International Plant Names Index and World Checklist of Vascular Plants. http://creativecommons.org/licenses/by/3.0