This species is accepted, and its native range is Ethiopia to South Sudan and Central Kenya.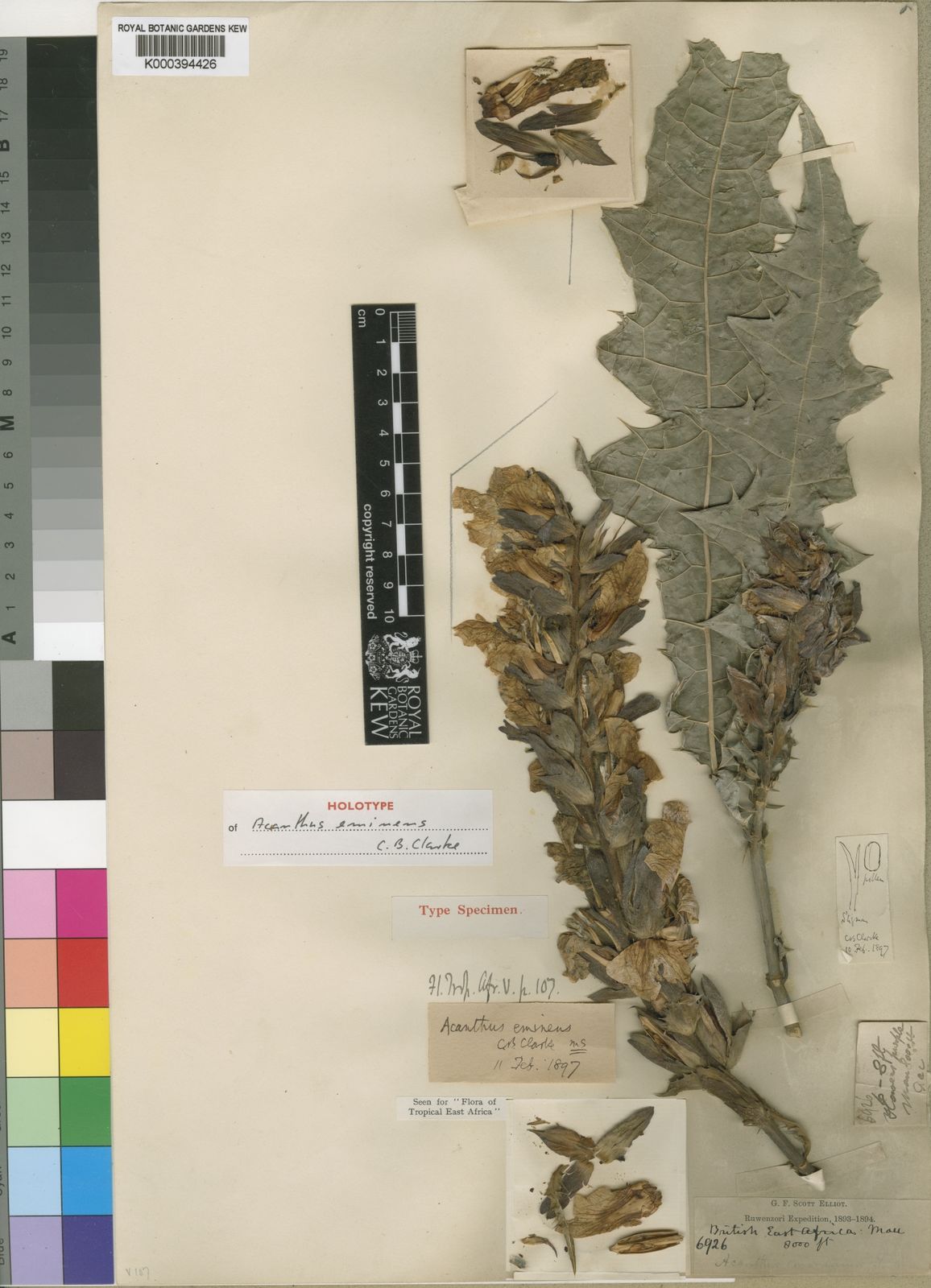 [KBu]
Vollesen, K. (2007). Synopsis of the Species of Acanthus (Acanthaceae) in Tropical East and Northeast Africa and in Tropical Arabia. Kew Bulletin, 62(2), 233-249. Retrieved from http://www.jstor.org/stable/20443348
Conservation

Often a dominant element of the undergrowth of montane forest. In the Imatong Mts in the Sudan it forms (pers. obs.) large, almost impenetrable thickets under Podocarpus in the montane forest from 1800 - 2200 m. There are recent collections from all parts of the distribution area. Some of the forest areas where it occurs are exploited to a smaller or larger degree for timber, firewood, building poles and cattle fodder. The species is unpalatable to browsing animals and does not reach dimensions that make it usable for firewood or poles. It is difficult to imagine it becoming threatened in any of its core areas. Least Concern (LC).

Distribution

Sudan (Imatong Mts), Ethiopia, Uganda, Kenya.

Ecology

Primary and disturbed wet evergreen montane (rarely intermediate) forest, forest margins, coffee plantations, persisting in secondary forest, scrub and thicket clumps in wetter areas, often forming large stands, occasionally used as a hedge plant; (950 -) 1500 - 2800 m.

Note

The absence of Acanthus eminens from all of northern Kenya and northern Uganda is due to the fact that all of this vast area is covered with dry deciduous Acacia-Commiphora bushland, a vegetation type far too dry to support this species of wet evergreen forests. See also note after A. polystachius. The species could occur on the Uganda side of the Imatong Mts as it is common in the Podocarpus forests on the north side of the mountains, but as yet no specimens have been seen from the south side. See also note after A. seretii.

Type

Kenya, Mau, Scott Elliot 6926 (holotype K!; isotype BM!).
[FTEA]
Acanthaceae (part 1), Kaj Vollesen, Flora of Tropical East Africa, 2008
Morphology

General

Habit

Shrubby herb or shrub to 3 m tall; young stems glabrous.

Morphology

Leaves

Leaves with petiole 0.5–2(–2.5) cm long; lamina narrowly elliptic to elliptic or obovate in outline, largest 13–37 × 5–15 cm, deeply lobed with large triangular spine-tipped lobes, each lobe with a spine on antrorse side, apex acuminate to cuspidate, spine-tipped, base attenuate to cuneate, glabrous; each node with one to several persistent sharp terete straw-coloured interpetiolar downwardly directed pungent pale yellow spines to 1.5 cm long, occasionally some with a small lamina.

Morphology

Reproductive morphology

Inflorescences

Cymes solitary or also 2 from upper leaf-pair, (5–)7–30 cm long; rachis upwards pubescent with hairs and few to many short to long capitate glands, with several pairs of sterile bracts at base, sometimes merging into the vegetative leaves; bracts green to purplish, ovate to elliptic, finely puberulous to sparsely pubescent and upwards with few to many stalked capitate glands, 1.4–2.8 cm long in middle of cyme, spine-tipped and with 4–8 teeth per side (rarely entire); bracteoles subulate to linear, 5–11 mm long, entire.

Morphology

Reproductive morphology

Flowers

Calyx

Calyx green to purplish, puberulous and with few to many stalked capitate glands; dorsal and ventral sepals longer than bract, oblong-obovate, similar or dorsal slightly longer, 2.1–4 cm long, dorsal entire or 2–3-toothed, ventral 2–3-toothed or irregularly toothed, lateral lanceolate, 1.3–2.5 cm long, acuminate.

Morphology

Reproductive morphology

Flowers

Corolla

Corolla dark blue to dark purple (rarely pale blue to almost white); tube 4–5 mm long below thickened rim which is 3–4 mm long; limb 5-lobed, 3.5–5 × 3.5–5 cm, below puberulous with hairs and capitate glands, above glabrous; callus with narrow central groove.

Morphology

Reproductive morphology

Flowers

Androecium

Stamens

Filaments

Filaments 1.7–2.2 cm long, glabrous or with stalked glands near apex; anthers 6–9 mm long, densely glandular dorsally.

Morphology

Reproductive morphology

Fruits

Capsule 2.3–2.5 cm long.

Morphology

Reproductive morphology

Seeds

Seed ellipsoid to round, 9–10 mm long, glabrous.

Distribution

Range: Uganda. Range: Sudan (Imatong Mts), Ethiopia Range: Kenya. Flora districts: U3 K3 K4 K5 K6 Range: Sudan (Imatong Mts), Ethiopia

Ecology

Primary and disturbed wet evergeen montane forest, forest margins, secondary grassland, often forming large stands, occasionally used as a hedge plant; (1200–)1500–2600 m

Note

Always easily recognised by the spinose nodes and large sepals combined with small bracts. This species must surely also occur in the N Ugandan mountains ( U 1) as it is common in the Imatong Mts on the Sudan side.
Native to:
Ethiopia, Kenya, Sudan, Uganda
Acanthus eminens C.B.Clarke appears in other Kew resources:
| Date | Reference | Identified As | Barcode | Type Status |
| --- | --- | --- | --- | --- |
| Feb 11, 1897 | Scott Elliot, G.F. [6926], Kenya | | K000394426 | holotype |
First published in D.Oliver & auct. suc. (eds.), Fl. Trop. Afr. 5: 107 (1899)
Accepted by
Darbyshire, I., Kordofani, M., Farag, I., Candiga, R. & Pickering, H. (eds.) (2015). The Plants of Sudan and South Sudan: 1-400. Kew publishing, Royal Botanic Gardens, Kew.
Fischer, E., Rembold, K., Althof, A. & Obholzer, J. (2010). Annotated checklist of the vascular plants of Kakamega forest, Western province, Kenya Journal of East African Natural History 99: 129-226.
Govaerts, R. (1995). World Checklist of Seed Plants 1(1, 2): 1-483, 529. MIM, Deurne.
Hedberg, I., Kelbessa, E., Edwards, S., Demissew, S. & Persson, E. (eds.) (2006). Flora of Ethiopia and Eritrea 5: 1-690. The National Herbarium, Addis Ababa University, Ethiopia & The Department of Systematic Botany, Upps.
Vollesen, K. (2008). Flora of Tropical East Africa, Acanthaceae(1): 1-285.
Literature
Kew Bulletin
Agnew, A. D. Q. & Agnew, S. (1994). Upland Kenya Wild Flowers, ed. 2. East Africa Natural History Society, Nairobi.
Anderson, T. (1863). An Enumeration of the species of Acanthaceae from the Continent of Africa and the adjacent Islands. J. Proc. Linn. Soc., Bot. 7: 13 - 54.
Andrews, F. W. (1956). The flowering plants of the Sudan. Volume 3. Published for the Sudan Government by T. Buncle, Arbroath.
Beentje, H. (1994). Kenya trees shrubs and lianas. National Museums of Kenya, Nairobi.
Blundell, M. (1987). Collins Guide to the Wild Flowers of East Africa. Collins, London.
Brenan,J. P. M. & Greenway, P. J. (1949). Check-lists of the Forest Trees and Shrubs of the British Empire. No. 5. Tanganyika Territory, Part 2. Imperial Forestry Institute, Oxford.
Brickell, C. (ed.) (2003). The Royal Horticultural Society A - Z Encyclopedia of Garden Plants. Vol. 1: A - J. Dorling Kindersley, London.
Bullock, A. A. (1934). Enumeration of Plants. In: E.J. Lugard, The Flora of Mount Elgon. Bull. Misc. Inform., Kew 1933: 58 - 106.
Burrows, J. (2005). Acanthaceae. In: J. Burrows & C. Willis, Plants of the Nyika Plateau: 48 - 54. SABONET, Pretoria.
Champluvier, D. (1985). Acanthaceae. In: G. Troupin, Flore du Rwanda Spermatophytes. Vol. III: 422 - 492. Ann. Mus. Roy. Afrique Centrale Tervuren Belg., Sci. Econ.
Chiovenda, E. (1940). Plantae novae aut minus notae ex Aethiopia. Atti Reale Accad. Italia, Mem. Cl. Sci. Fis. 11: 17-67.
Christensen, C. (1922). Index to Pehr Forsskål: Flora Aegyptiaco-Arabica 1775, with a revision of Herbarium Forsskålii. Dansk Bot. Arkiv 4, 3: 1 - 54.
Clarke, C. B. (1899 - 1900). Acanthaceae. In: W. T. Thiselton-Dyer, Flora of Tropical Africa 5: 1 - 262 8c 506 - 515. L. Reeve & Co., London.
Cufodontis, G. (1964). Enumerado Plantarum Aethiopiae Spermatophyta (Sequentia). Bull. Jard. Bot. État. 34, Suppl: 925 - 978.
Dale, I. R. & Greenway, P. J. (1961). Kenya trees and shrubs. Buchanan's Kenya Estates, Nairobi.
De Wildeman, E. (1910). Études de systématiques et de Géographie Botaniques sur la Flore du Bas- et du Moyen-Congo. Ann. Mus. Congo Belge. Bot., Ser. 5, 3: 1 - 533.
Delile, A. R. (1826). Centurie de plantes d'Afrique du voyage à Méroé recueillies par M. Cailliaud. Paris.
Edwards, S. (1976). Some wild flowering plants of Ethiopia: an introduction. Addis Ababa University Press, Addis Ababa.
Enayet Hossain, A. B. M. (1982). Acanthaceae. In: P. H. Davis, Flora of Turkey, Vol. 7: 23 - 27. Edinburgh University Press.
Engler, A. (1892). Über die Hochgebirgsflora des tropischen Afrika. Abh. Akad. Berlin.
Fichtl, R. & Admasu, A. (1994). Honeybee Flora of Ethiopia. Margraf Verlag, Weikersheim.
Fiori, A. (1940). Plantae a Dominico Saccardo in regionibus Galla et Sidama Abyssiniae collectae. Nuovo Giorn. Bot. Ital. 47: 24 - 46.
Forsskål, P. (1775). Flora Aegyptiaco-Arabica. Möller, Copenhagen.
Friis, I. & Vollesen, K. B. (2005). Flora of the Sudan- Uganda border area east of the Nile. II. Catalogue of vascular plants, 2nd part, vegetation and phytogeography. Biol. Skr. 51 (2): 390 - 855.
Glover, P. E. (1946). A provisional check-list of British and Italian Somaliland trees, shrubs and herbs. Published on behalf of the Govt. of Somaliland by Crown Agents for the Colonies.
Govaerts, R. (1995). World Checklist of Seed Plants, vol. 1, part 1. MIM bvba, Antwerp.
Hepper, F. N., Jaeger, P. M. L., Gillett, J. B. & Gilbert, M. G. (1981). Annotated Check-list of the Plants of Mount Kulal, Kenya. IPAL Technical Report Number D - 3. Nairobi.
Heywood, V. H. & Richardson, L B. K. (1972). Acanthaceae. In: T. G. Tu tin et al., Flora Europaea, Vol. 3: 283 - 284. Cambridge University Press.
Huxley, A, Griffiths, M. & Levy, M. (eds.) (1992). The New Royal Horticultural Society Dictionary of Gardening, 1: A to C. Macmillan Press, London.
Kuchar, P. (1986). The plants of Somalia: an overview and checklist. CRDP Techn. Rep. Ser. 16: 1 - 335. Mogadishu, Somalia.
Lebrun J.-P. & Stork. A. L. (1997). Enumeration des plantes à fleurs d'Afrique Tropicale. Vol. IV - Gamopétales: Clethraceae à Lamiaceae. Conservatoire & Jardin Botaniques de la Ville de Génève. Génève.
Lindau, G. (1894). Acanthaceae Africanae. II. In: A. Engler, Beiträge zur Flora von Afrika. IX. Bot. Jahrb. Syst. 20: 1 - 76.
Lwanga, J. (1996). Trees and shrubs. In: T. Davenport & P. Howard, Biodiversity Report No. 14, Agoro- Agu and Lokung Forest Reserves: 17 - 35. Kampala.
Meeuse, A. D. J. (1958). Acanthus pubescens. Fl. Pl. Africa 32: t. 1268.
Moquin-Tandon, A. (1832). Considérations sur les irregularities de la Corolle dans les Dicotylédones. Ann. Sci. Nat. (Paris) Ser I, 27: 225 - 290.
Napper, D. M. (1970). Notes on Acanthaceae 1. Some tropical African Acanthoideae and Nelsonioideae. Kew Bull. 24: 323 - 342.
Nees ab Esenbeck, C. G. (1847). Acanthaceae. In: A. de Candolle, Prodromus systematis naturalis regni vegetabilis 11: 46 - 519. Fortin, Masson, Paris.
Oliver, D. (1875). The Botany of the Speke and Grant expedition. Trans. Linn. Soc. London 29: 1 - 190.
Pichi Sermolli, R. (1951). Missione di studio al Lago Tana. Vol. 7, 1. Accademia nazionale dei Lincei, Roma.
Richard, A. (1850). Tentamen florae Abyssinicae . Vol. 2. Arthus Bertrand, Paris.
Robyns, W. (1947). Flore des Spermatophytes du Parc National Albert. II. Sympétales. Brussels.
Ruffo, C. K., Chilonga, S. B. & Mabula, C. K. (1996). Catalogue of Lushoto Herbarium Tanzania. Tanzania Forestry Research Institute & Tanzania National Tree Seed Programme, Morogoro.
Schwartz, O. (1939). Flora des tropischen Arabien. Mitt. Inst. Allg. Bot. Hamburg 10: 1 - 393.
Schweinfurth, G. (1867). Beitrag zur Flora Aethiopiens. Part 1. G. Reimer, Berlin.
Thulin, M. (2006). Acanthaceae. In: M. Thulin, Flora of Somalia 3: 374 - 454. Royal Botanic Gardens, Kew.
Tui rill, W. B. (1913). Acanthus pubescens and A. arboreus. Bull. Misc. Inform. Kew 1913: 336 - 338.
Vahl, M. (1790). Symbolae Botanicae. Vol. 1. N. Möller & f., Copenhagen.
Vivero, J. L., Ensermu Kelbessa & Sebsebe Demissew (2005). The Red List of Endemic Trees & Shrubs of Ethiopia and Eritrea. Fauna & Flora International, Cambridge.
Wood, J. R. I. (1997). A handbook of the Yemen Flora. Royal Botanic Gardens, Kew.
— & Friis, I. (1994). The plants of Pehr Forsskål's Flora Aegyptiaco-Arabica. Royal Botanic Gardens Kew in association with the Botanical Museum, Copenhagen.
— (1895). Acanthaceae. In: A. Engler, Die Pflanzenwelt Ost-Afrikas und der Nachbargebiete. Theil C: 365 - 374. Berlin.
— (1904). Über die Vegetationsverhältnisse des Somali-Landes. Sitzungsber. Kaiserl. Akad. Wiss., Math.-Naturwiss. Cl., Abt. 1, 10: 355 - 416.
— (1906). Acanthus ugandensis. In: O. Stapf, Plantae Novae Daweana in Uganda lectae. J. Linn. Soc., Bot. 37: 527 - 528.
— (1912). Acanthaceae. In: J. Mildbraed, Wissenschaftliche Ergebnisse der Deutschen Zentral-Afrika-Expedition 1907-1908. Band II. Botanik: 291 - 310. Leipzig.
— (1913). Études sur le Flore du Congo. Ann. Mus. Congo Belge. Bot., Ser. 4, 2(1): 1 - 180.
— (1914). Decades Novarum Specierum Florae Congolensis II. Bull. Jard. Bot. État. 4: 361 - 429.
— (1916). Acanthaceae. In: R. E. Fries, Wissen- schaftliche Ergebnisse der Schwedischen Rhodesia -Kongo-Expedition 1911-1912. Band I. Botanische Untersuchungen. Heft 2. Monocotyledones und Sympetalae: 302 - 309. Aftonbladets Druckerei, Stockholm.
— (1921). Contribution a l'etude de la Flore du Katanga. D. Reynaert, Brussels.
— (1926). Plantae Bequaertianae. Vol. 4. Fasc. 1. A. Buyens, Gand & J. Lechevelier, Paris.
— (1965a). Systematische Bearbeitung der in Süd- Athiopien gesammelten Pflanzen. 5. Teil. Senckenbergiana Biol. 46: 89 - 106.
— (1965b). Beitrag zur Flora von Godjam. 2. Teil. Senckenbergiana Biol. 46: 115 - 120.
— (2000). Blepharis (Acanthaceae) A taxonomic revision. Royal Botanic Gardens, Kew.
— (2006). A taxonomic revision of the genus Duosperma (Acanthaceae). Kew Bull. 61: 289 - 351.
Flora of Tropical East Africa
Biol. Skr. 51(2): 435 (2005)
Blundell, Wild Fl. E. Afr.: 385, fig. 601 (1987)
E.P.A.: 952 (1964)
F.E.E. 5: 355 (2006)
F.P.S. 3: 166 (1956)
F.T.A. 5: 107 (1899)
K.B. 1933: 94 (1934)
K.B. 62: 239 (2007).
K.T.S.: 16 (1961)
K.T.S.L.: 596 (1994)
Lebrun & Stork, Enum. Pl. Afr. Trop. 4: 466 (1997)
U.K.W.F., ed. 2: 274 (1994)
Flora of Tropical East Africa
Flora of Tropical East Africa
http://creativecommons.org/licenses/by-nc-sa/3.0

Herbarium Catalogue Specimens
Digital Image © Board of Trustees, RBG Kew http://creativecommons.org/licenses/by/3.0/

Kew Backbone Distributions
The International Plant Names Index and World Checklist of Selected Plant Families 2021. Published on the Internet at http://www.ipni.org and http://apps.kew.org/wcsp/
© Copyright 2017 World Checklist of Selected Plant Families. http://creativecommons.org/licenses/by/3.0

Kew Bulletin
Kew Bulletin
http://creativecommons.org/licenses/by-nc-sa/3.0

Kew Names and Taxonomic Backbone
The International Plant Names Index and World Checklist of Selected Plant Families 2021. Published on the Internet at http://www.ipni.org and http://apps.kew.org/wcsp/
© Copyright 2017 International Plant Names Index and World Checklist of Selected Plant Families. http://creativecommons.org/licenses/by/3.0