This species is accepted, and its native range is Ethiopia to NW. Tanzania.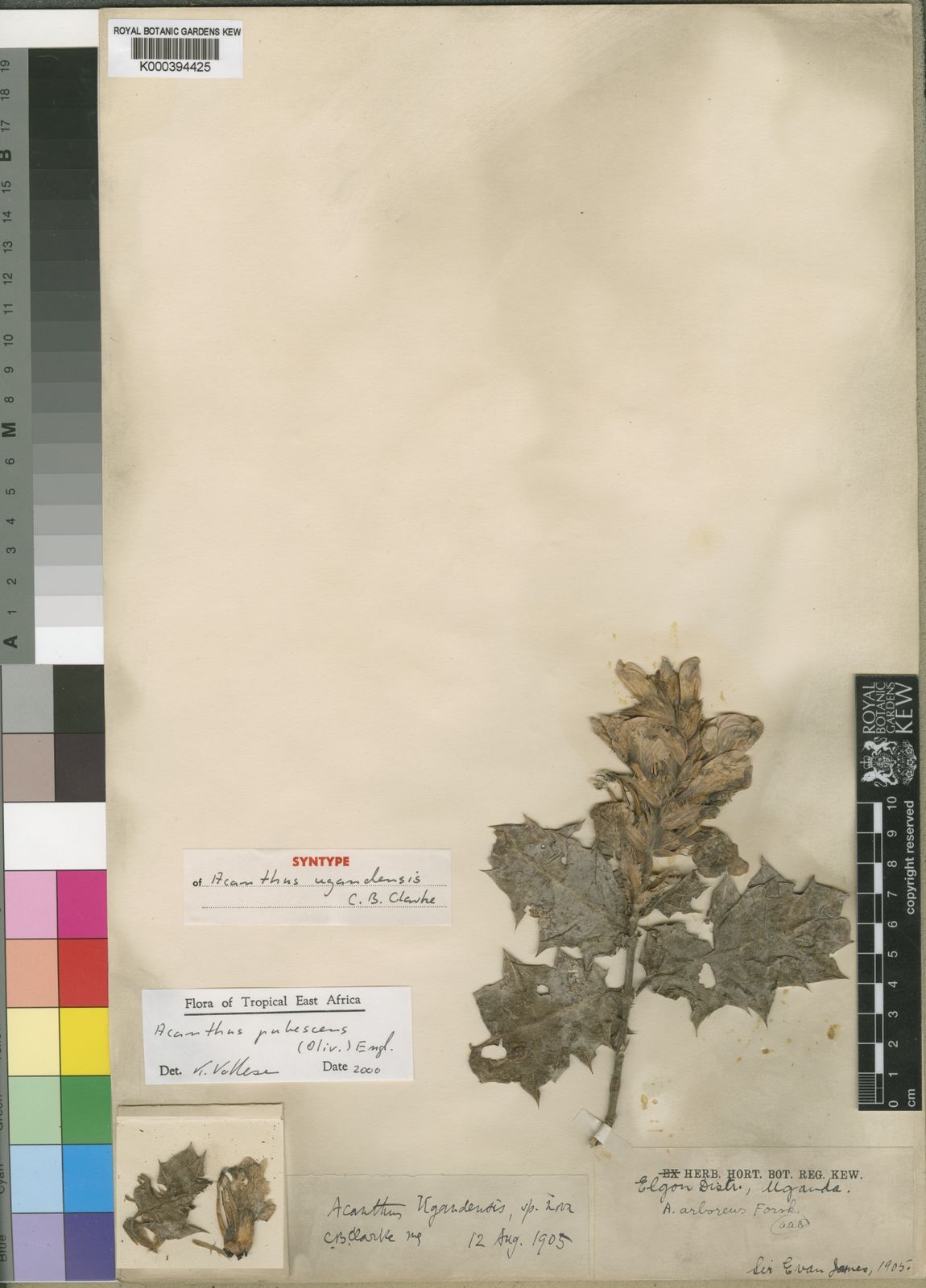 [FTEA]
Acanthaceae (part 1), Kaj Vollesen, Flora of Tropical East Africa, 2008
Morphology

General

Habit

Shrub to 4 m tall; young stems puberulous to tomentellous (rarely glabrous).

Morphology

Leaves

Leaves with petiole 0.3–2.2(–2.5) cm long; lamina ovate to elliptic in outline, largest 11–35 × 6–16 cm, deeply lobed with large triangular spine-tipped lobes, each lobe with 1–2 spines on antrorse side or on both sides, apex acute to acuminate, spine-tipped, base truncate to cordate, beneath sparsely puberulous to tomentellous (rarely glabrous) on midrib and larger veins, glabrous to puberulous on lamina, above sparsely to densely pubescent on midrib and glabrous or with scattered long hairs on lamina (rarely uniformly puberulous); stipule-like interpetiolar leaves present, but often falling quickly, with lamina, up to 1.5 cm long, spiny.

Morphology

Reproductive morphology

Inflorescences

Cymes solitary or also 2–4 from upper axils, 4–25(–30) cm long; rachis puberulous to tomentose, with several pairs of sterile bracts at base; bracts pale green to straw-coloured, elliptic to slightly obovate, puberulous to densely pubescent (rarely almost glabrous but for ciliate margin), 1.4–2.8 cm long in middle of cyme, spine-tipped and with (5–)10–25 large and small teeth per side, longest 3–5 mm long, small teeth inserted between large, teeth hairy near base; bracteoles linear-lanceolate, 1–2.5 cm long, toothed in apical part.

Morphology

Reproductive morphology

Flowers

Calyx

Calyx green or tinged purplish, glabrous to densely puberulous or pubescent, conspicuously ciliate; dorsal and ventral sepals ovate or broadly so, dorsal 1.4–2.2 cm long, obtuse or with 1–3-toothed tip and without or with 1(–4) weak lateral teeth per side, ventral 1.1–1.8 cm long, obtuse or with spiny tip or with 2 small additional apical teeth or with 2 triangular spine-tipped lobes, lateral ovate, 0.8–1.4 cm long, obtuse or acuminate.

Morphology

Reproductive morphology

Flowers

Corolla

Corolla pale pink to pink or rose (more rarely white); tube 3–5 mm long below thickened rim which is 3–5 mm long; limb 5-lobed, 2.5–4 × 3–4 cm, below densely puberulous, above puberulous (rarely glabrous); callus with broad central groove and two narrow lateral ridges.

Morphology

Reproductive morphology

Flowers

Androecium

Stamens

Filaments

Filaments 1.4–2.4 cm long, glabrous or 2 dorsal hairy on inside near base; anthers 3.5–5 mm long, glabrous or with long curly hairs on sides and back.

Morphology

Reproductive morphology

Fruits

Capsule 1.7–2.4 cm long.

Morphology

Reproductive morphology

Seeds

Seed ellipsoid to round, 7–9 mm long, glabrous.

Figures

Fig. 15.

Distribution

Range: Kenya. Range: Uganda. Range: Sudan, Ethiopia, Congo-Kinshasa, Rwanda, Burundi Range: Tanzania. Range: Sudan, Ethiopia, Congo-Kinshasa, Rwanda, Burundi Flora districts: U2 U 3, U 4; K3 K5 T1 T4

Ecology

Tall fireswept seasonally wet grassland, often forming dense stands at forest margins, rocky hills; 1100–2300 m

Note

Ups. 29, 3: 160 (1991) reports A. pubescens from both E and W Usambara Mts. It often forms a 5–10 m wide belt between the forest and the tall grassland, thus protecting the forest from the grassfires and eventually allowing the forest to expand. Iversen in Symb. Occasionally these are cultivated in Kenya. No species of Acanthus has been collected in the Usambaras; it is unclear what Iversens records refer to. White-flowered forms are apparently much more common in Uganda than elsewhere. One of the most characteristic forest margin species in Uganda and NW Tanzania.
[KBu]
Vollesen, K. (2007). Synopsis of the Species of Acanthus (Acanthaceae) in Tropical East and Northeast Africa and in Tropical Arabia. Kew Bulletin, 62(2), 233-249. Retrieved from http://www.jstor.org/stable/20443348
Conservation

Acanthus polystachius is the most widespread of the species treated here. It often occurs in large stands and is usually common where it occurs. In W Tanzania (pers. obs.) the species often forms a belt between tall Hyparrhenia grassland and forest or woodland, and acts as a firebreak preventing the often fierce grassfires from entering the forest. Even after severe late season burns it seems to fully recover in the following growing season. In N Tanzania it is also unpalatable to browsing animals and acts as a natural fence keeping cattle out of the forest. In Ethiopia it tolerates moderate disturbance and occasionally seems to flourish as a "weed" in old fields and in secondary vegetation. With the exception of the Studain and Congo there are recent collections from all parts of the species' distribution area. Up to the middle of last century the species was widespread in the eastern part of Congo but due to prolonged civil wars there is very little recent material from there and it is impossible to evaluate its present status in this area. Over its total area it cannot in any way be considered under threat. Least concern (LC).

Distribution

Sudan, Ethiopia, Congo (Kinshasa), Uganda, Kenya, Rwanda, Burundi, Tanzania.

Ecology

Margins of upland Podocarpus forest and forest/grassland mosaics, tall fireswept grassland, sometimes seasonally inundated, often forming dense stands at forest margins, rocky hills, also in secondary forest, scrub and bushland and in old fields; 1100 - 2500 m.

Note

The excellent illustration in Delile, made from the type material at Paris (P), leaves no doubt as to its identity. C. B. Clarke cites three collections (C. F. Elliott 244, Evan James s.n. and Dawe 237) when describing Acanthus ugandensis, all three are kept at Kew (K). Most botanists have tried to keep Acanthus polystachius and A. pubescens separate on the basis of bract and corolla size. It is true that material from northern Ethiopia and Sudan (A. polystachius sensu stricto) have generally larger bracts with more teeth, larger calyces and larger corollas than material from further south. However a closer study of even this material and comparison with material from western and southern Ethiopia and Uganda reveal a total gradation with typical "A. pubescens". A superficial glance at the distribution map of Acanthus polystachius shows that the species has a disjunct distribution between Ethiopia/ eastern Sudan and Uganda/ Kenya/Tanzania. This might, contrary to what has just been stated, seem to indicate that two distinct taxa are involved. However, if we look at the ecology of the species it becomes clear that this disjunction is really an illusion. A. polystachius is a species of fairly wet intermediate or upland grassland. The areas in northern Kenya, northern Uganda and southwestern Ethiopia, where it is absent, are much drier and on the whole covered with Acacia-Commiphora bushland. The reason A. polystachius does not occur here is simply that the climate is far too dry.

Type

Sudan, Singué [Singa], Cailliaud s.n. (holotype P).
Native to:
Burundi, Ethiopia, Kenya, Rwanda, Sudan, Tanzania, Uganda, Zaïre
Acanthus polystachyus Delile appears in other Kew resources:
| Date | Reference | Identified As | Barcode | Type Status |
| --- | --- | --- | --- | --- |
| | Codrington, Ethiopia | | 25935.000 | |
| Jan 1, 2000 | Speke [136], Tanzania | Acanthus pubescens | K000394422 | holotype |
| Jan 1, 2000 | Dawe [237], Uganda | Acanthus pubescens | K000394423 | syntype |
| Jan 1, 2000 | Elliott, C.F. [s.n.], Uganda | Acanthus pubescens | K000394424 | syntype |
| Jan 1, 2000 | James, E. [s.n.], Uganda | Acanthus pubescens | K000394425 | syntype |
First published in F.Caillaud, Voy. Méroé 1: 2 (1826)
Accepted by
Darbyshire, I., Kordofani, M., Farag, I., Candiga, R. & Pickering, H. (eds.) (2015). The Plants of Sudan and South Sudan: 1-400. Kew publishing, Royal Botanic Gardens, Kew.
Fischer, E., Rembold, K., Althof, A. & Obholzer, J. (2010). Annotated checklist of the vascular plants of Kakamega forest, Western province, Kenya Journal of East African Natural History 99: 129-226.
Govaerts, R. (1995). World Checklist of Seed Plants 1(1, 2): 1-483, 529. MIM, Deurne.
Hedberg, I., Kelbessa, E., Edwards, S., Demissew, S. & Persson, E. (eds.) (2006). Flora of Ethiopia and Eritrea 5: 1-690. The National Herbarium, Addis Ababa University, Ethiopia & The Department of Systematic Botany, Upps.
Vollesen, K. (2008). Flora of Tropical East Africa, Acanthaceae(1): 1-285.
Literature
Kew Bulletin
Agnew, A. D. Q. & Agnew, S. (1994). Upland Kenya Wild Flowers, ed. 2. East Africa Natural History Society, Nairobi.
Anderson, T. (1863). An Enumeration of the species of Acanthaceae from the Continent of Africa and the adjacent Islands. J. Proc. Linn. Soc., Bot. 7: 13 - 54.
Andrews, F. W. (1956). The flowering plants of the Sudan. Volume 3. Published for the Sudan Government by T. Buncle, Arbroath.
Beentje, H. (1994). Kenya trees shrubs and lianas. National Museums of Kenya, Nairobi.
Blundell, M. (1987). Collins Guide to the Wild Flowers of East Africa. Collins, London.
Brenan,J. P. M. & Greenway, P. J. (1949). Check-lists of the Forest Trees and Shrubs of the British Empire. No. 5. Tanganyika Territory, Part 2. Imperial Forestry Institute, Oxford.
Brickell, C. (ed.) (2003). The Royal Horticultural Society A - Z Encyclopedia of Garden Plants. Vol. 1: A - J. Dorling Kindersley, London.
Bullock, A. A. (1934). Enumeration of Plants. In: E.J. Lugard, The Flora of Mount Elgon. Bull. Misc. Inform., Kew 1933: 58 - 106.
Burrows, J. (2005). Acanthaceae. In: J. Burrows & C. Willis, Plants of the Nyika Plateau: 48 - 54. SABONET, Pretoria.
Champluvier, D. (1985). Acanthaceae. In: G. Troupin, Flore du Rwanda Spermatophytes. Vol. III: 422 - 492. Ann. Mus. Roy. Afrique Centrale Tervuren Belg., Sci. Econ.
Chiovenda, E. (1940). Plantae novae aut minus notae ex Aethiopia. Atti Reale Accad. Italia, Mem. Cl. Sci. Fis. 11: 17-67.
Christensen, C. (1922). Index to Pehr Forsskål: Flora Aegyptiaco-Arabica 1775, with a revision of Herbarium Forsskålii. Dansk Bot. Arkiv 4, 3: 1 - 54.
Clarke, C. B. (1899 - 1900). Acanthaceae. In: W. T. Thiselton-Dyer, Flora of Tropical Africa 5: 1 - 262 8c 506 - 515. L. Reeve & Co., London.
Cufodontis, G. (1964). Enumerado Plantarum Aethiopiae Spermatophyta (Sequentia). Bull. Jard. Bot. État. 34, Suppl: 925 - 978.
Dale, I. R. & Greenway, P. J. (1961). Kenya trees and shrubs. Buchanan's Kenya Estates, Nairobi.
De Wildeman, E. (1910). Études de systématiques et de Géographie Botaniques sur la Flore du Bas- et du Moyen-Congo. Ann. Mus. Congo Belge. Bot., Ser. 5, 3: 1 - 533.
Delile, A. R. (1826). Centurie de plantes d'Afrique du voyage à Méroé recueillies par M. Cailliaud. Paris.
Edwards, S. (1976). Some wild flowering plants of Ethiopia: an introduction. Addis Ababa University Press, Addis Ababa.
Enayet Hossain, A. B. M. (1982). Acanthaceae. In: P. H. Davis, Flora of Turkey, Vol. 7: 23 - 27. Edinburgh University Press.
Engler, A. (1892). Über die Hochgebirgsflora des tropischen Afrika. Abh. Akad. Berlin.
Fichtl, R. & Admasu, A. (1994). Honeybee Flora of Ethiopia. Margraf Verlag, Weikersheim.
Fiori, A. (1940). Plantae a Dominico Saccardo in regionibus Galla et Sidama Abyssiniae collectae. Nuovo Giorn. Bot. Ital. 47: 24 - 46.
Forsskål, P. (1775). Flora Aegyptiaco-Arabica. Möller, Copenhagen.
Friis, I. & Vollesen, K. B. (2005). Flora of the Sudan- Uganda border area east of the Nile. II. Catalogue of vascular plants, 2nd part, vegetation and phytogeography. Biol. Skr. 51 (2): 390 - 855.
Glover, P. E. (1946). A provisional check-list of British and Italian Somaliland trees, shrubs and herbs. Published on behalf of the Govt. of Somaliland by Crown Agents for the Colonies.
Govaerts, R. (1995). World Checklist of Seed Plants, vol. 1, part 1. MIM bvba, Antwerp.
Hepper, F. N., Jaeger, P. M. L., Gillett, J. B. & Gilbert, M. G. (1981). Annotated Check-list of the Plants of Mount Kulal, Kenya. IPAL Technical Report Number D - 3. Nairobi.
Heywood, V. H. & Richardson, L B. K. (1972). Acanthaceae. In: T. G. Tu tin et al., Flora Europaea, Vol. 3: 283 - 284. Cambridge University Press.
Huxley, A, Griffiths, M. & Levy, M. (eds.) (1992). The New Royal Horticultural Society Dictionary of Gardening, 1: A to C. Macmillan Press, London.
Kuchar, P. (1986). The plants of Somalia: an overview and checklist. CRDP Techn. Rep. Ser. 16: 1 - 335. Mogadishu, Somalia.
Lebrun J.-P. & Stork. A. L. (1997). Enumeration des plantes à fleurs d'Afrique Tropicale. Vol. IV - Gamopétales: Clethraceae à Lamiaceae. Conservatoire & Jardin Botaniques de la Ville de Génève. Génève.
Lindau, G. (1894). Acanthaceae Africanae. II. In: A. Engler, Beiträge zur Flora von Afrika. IX. Bot. Jahrb. Syst. 20: 1 - 76.
Lwanga, J. (1996). Trees and shrubs. In: T. Davenport & P. Howard, Biodiversity Report No. 14, Agoro- Agu and Lokung Forest Reserves: 17 - 35. Kampala.
Meeuse, A. D. J. (1958). Acanthus pubescens. Fl. Pl. Africa 32: t. 1268.
Moquin-Tandon, A. (1832). Considérations sur les irregularities de la Corolle dans les Dicotylédones. Ann. Sci. Nat. (Paris) Ser I, 27: 225 - 290.
Napper, D. M. (1970). Notes on Acanthaceae 1. Some tropical African Acanthoideae and Nelsonioideae. Kew Bull. 24: 323 - 342.
Nees ab Esenbeck, C. G. (1847). Acanthaceae. In: A. de Candolle, Prodromus systematis naturalis regni vegetabilis 11: 46 - 519. Fortin, Masson, Paris.
Oliver, D. (1875). The Botany of the Speke and Grant expedition. Trans. Linn. Soc. London 29: 1 - 190.
Pichi Sermolli, R. (1951). Missione di studio al Lago Tana. Vol. 7, 1. Accademia nazionale dei Lincei, Roma.
Richard, A. (1850). Tentamen florae Abyssinicae . Vol. 2. Arthus Bertrand, Paris.
Robyns, W. (1947). Flore des Spermatophytes du Parc National Albert. II. Sympétales. Brussels.
Ruffo, C. K., Chilonga, S. B. & Mabula, C. K. (1996). Catalogue of Lushoto Herbarium Tanzania. Tanzania Forestry Research Institute & Tanzania National Tree Seed Programme, Morogoro.
Schwartz, O. (1939). Flora des tropischen Arabien. Mitt. Inst. Allg. Bot. Hamburg 10: 1 - 393.
Schweinfurth, G. (1867). Beitrag zur Flora Aethiopiens. Part 1. G. Reimer, Berlin.
Thulin, M. (2006). Acanthaceae. In: M. Thulin, Flora of Somalia 3: 374 - 454. Royal Botanic Gardens, Kew.
Tui rill, W. B. (1913). Acanthus pubescens and A. arboreus. Bull. Misc. Inform. Kew 1913: 336 - 338.
Vahl, M. (1790). Symbolae Botanicae. Vol. 1. N. Möller & f., Copenhagen.
Vivero, J. L., Ensermu Kelbessa & Sebsebe Demissew (2005). The Red List of Endemic Trees & Shrubs of Ethiopia and Eritrea. Fauna & Flora International, Cambridge.
Wood, J. R. I. (1997). A handbook of the Yemen Flora. Royal Botanic Gardens, Kew.
— & Friis, I. (1994). The plants of Pehr Forsskål's Flora Aegyptiaco-Arabica. Royal Botanic Gardens Kew in association with the Botanical Museum, Copenhagen.
— (1895). Acanthaceae. In: A. Engler, Die Pflanzenwelt Ost-Afrikas und der Nachbargebiete. Theil C: 365 - 374. Berlin.
— (1904). Über die Vegetationsverhältnisse des Somali-Landes. Sitzungsber. Kaiserl. Akad. Wiss., Math.-Naturwiss. Cl., Abt. 1, 10: 355 - 416.
— (1906). Acanthus ugandensis. In: O. Stapf, Plantae Novae Daweana in Uganda lectae. J. Linn. Soc., Bot. 37: 527 - 528.
— (1912). Acanthaceae. In: J. Mildbraed, Wissenschaftliche Ergebnisse der Deutschen Zentral-Afrika-Expedition 1907-1908. Band II. Botanik: 291 - 310. Leipzig.
— (1913). Études sur le Flore du Congo. Ann. Mus. Congo Belge. Bot., Ser. 4, 2(1): 1 - 180.
— (1914). Decades Novarum Specierum Florae Congolensis II. Bull. Jard. Bot. État. 4: 361 - 429.
— (1916). Acanthaceae. In: R. E. Fries, Wissen- schaftliche Ergebnisse der Schwedischen Rhodesia -Kongo-Expedition 1911-1912. Band I. Botanische Untersuchungen. Heft 2. Monocotyledones und Sympetalae: 302 - 309. Aftonbladets Druckerei, Stockholm.
— (1921). Contribution a l'etude de la Flore du Katanga. D. Reynaert, Brussels.
— (1926). Plantae Bequaertianae. Vol. 4. Fasc. 1. A. Buyens, Gand & J. Lechevelier, Paris.
— (1965a). Systematische Bearbeitung der in Süd- Athiopien gesammelten Pflanzen. 5. Teil. Senckenbergiana Biol. 46: 89 - 106.
— (1965b). Beitrag zur Flora von Godjam. 2. Teil. Senckenbergiana Biol. 46: 115 - 120.
— (2000). Blepharis (Acanthaceae) A taxonomic revision. Royal Botanic Gardens, Kew.
— (2006). A taxonomic revision of the genus Duosperma (Acanthaceae). Kew Bull. 61: 289 - 351.
Flora of Tropical East Africa
Cent. Pl. Méroé: 72, t. 62, f. 2 (1826)
E.P.A.: 953 (1964)
F.E.E. 5: 357 (2006)
K.B. 62: 241 (2007).
Lebrun & Stork, Énum. Pl. Afr. Trop. 4: 466 (1997)
Pichi Sermolli, Miss. Lago Tana 7,1: 140 (1951)
Senck. Biol. 46: 117 (1965)
Flora of Tropical East Africa
Flora of Tropical East Africa
http://creativecommons.org/licenses/by-nc-sa/3.0

Herbarium Catalogue Specimens
Digital Image © Board of Trustees, RBG Kew http://creativecommons.org/licenses/by/3.0/

Kew Backbone Distributions
The International Plant Names Index and World Checklist of Selected Plant Families 2021. Published on the Internet at http://www.ipni.org and http://apps.kew.org/wcsp/
© Copyright 2017 World Checklist of Selected Plant Families. http://creativecommons.org/licenses/by/3.0

Kew Bulletin
Kew Bulletin
http://creativecommons.org/licenses/by-nc-sa/3.0

Kew Names and Taxonomic Backbone
The International Plant Names Index and World Checklist of Selected Plant Families 2021. Published on the Internet at http://www.ipni.org and http://apps.kew.org/wcsp/
© Copyright 2017 International Plant Names Index and World Checklist of Selected Plant Families. http://creativecommons.org/licenses/by/3.0