This species is accepted, and its native range is Angola.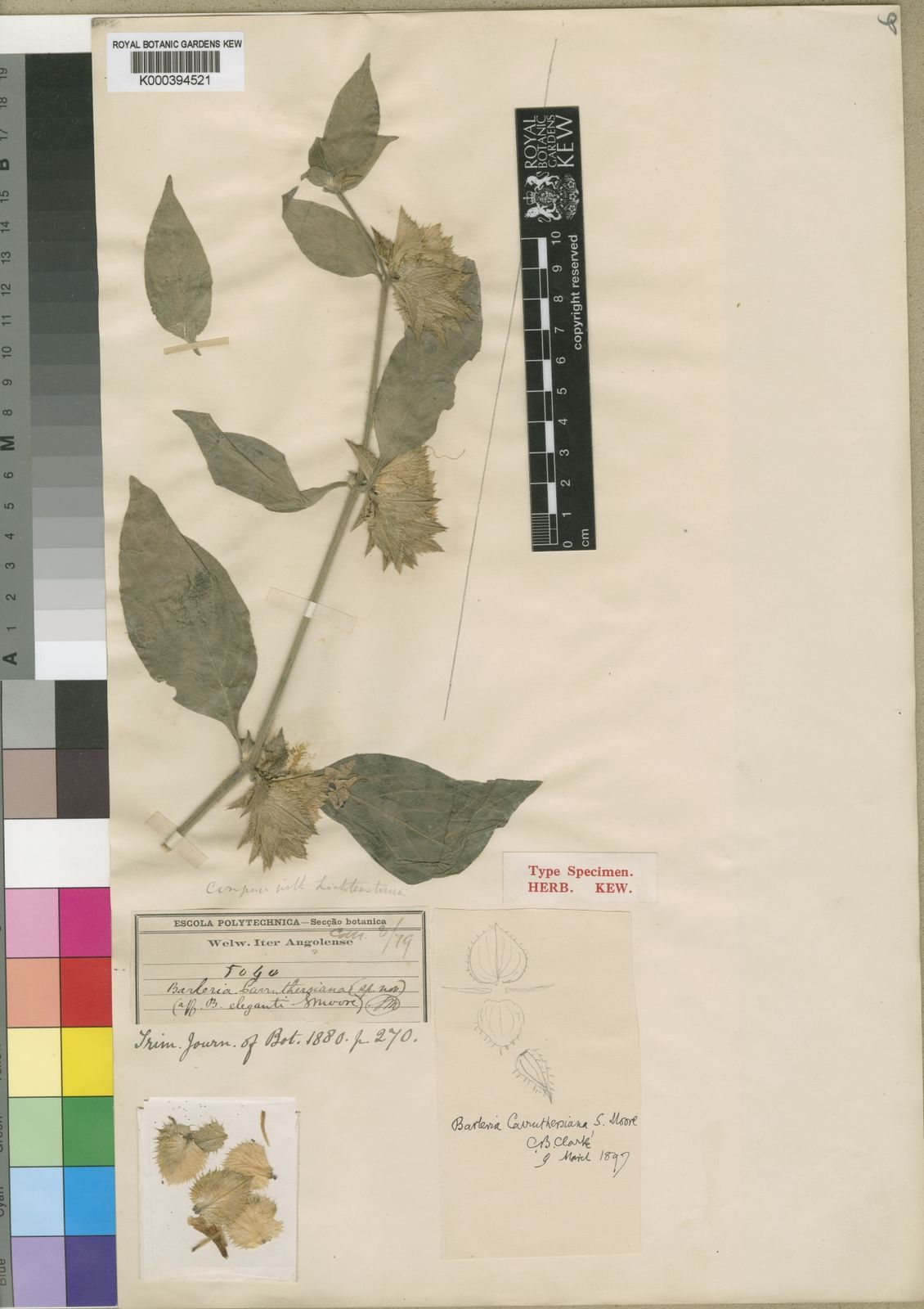 [KBu]
Darbyshire, I., Tripp, E.A. & Chase, F.M. (2019). A taxonomic revision of Acanthaceae tribe Barlerieae in Angola and Namibia. Part 1. Kew Bulletin 74: 5. https://doi.org/10.1007/s12225-018-9791-0
Conservation

This species is a rather localised Angolan endemic, primarily found along the broad coastal lowlands between Sumbe and Namibe. It has an EOO of 63,370 km2. The outlier population in Malange seems to be anomalous as this area receives higher rainfall and is also at a higher elevation, but we have no particular reason to doubt the accuracy of the specimen label of F. Raimundo et al. 322. This species was recorded as common along the lower stretch of the Benguela-Katanga railway by H. Pearson. It has most often been collected from the vicinity of Lobito, where populations are likely to have declined due to the continued expansion of this port town. In the most recent collection of this species (Tripp & Dexter 6910) near Campanda, the local population comprised only a solitary plant. However, it is almost certainly under-recorded in other areas of the coastal lowlands due to limited collecting effort. It is therefore provisionally assessed as Data Deficient – DD with more information on its range and threats required.

Distribution

Endemic to Angola (Benguela, Cuanza Sul, Huila, Malange and Namibe provinces.).

Ecology

Barleria carruthersiana occurs in the arid to semi-arid coastal plain of south and central Angola but with one outlier population in Malange Province at higher elevation. It is recorded from dry stony hillslopes, including on calcareous substrates, and from riverine scrub; it is usually found in the open amongst grass, sclerophyllous shrubs or open dry woodland of, for example, Commiphora-Adansonia, and has also been recorded from roadsides; 40 – 1100 m elevation.

Morphology

General

Habit

Much-branched perennial herb or subshrub, 30 – 150 cm tall; stems quadrangular when young, either with two lines of short white spreading to retrorse hairs on the uppermost internodes only or these hairs more numerous and widespread, also with sparse long ascending buff-coloured hairs with a ± bulbous base

Morphology

Leaves

Leaves often immature at flowering, blade elliptic or ovate, 3.7 – 17.5 × 1.7 – 8 cm (l:w ratio 2 – 2.8:1), base attenuate and sometimes forming a wing along distal potion of petiole, uppermost leaves more rounded, margin entire, apex acute to attenuate or rarely obtuse, mucronate, surfaces with ± long ascending or subappressed hairs most dense on the veins beneath and margin, interspersed with short fine spreading hairs when young; lateral veins 5 – 7 pairs, prominent beneath; petiole to 10 mm long

Morphology

Reproductive morphology

Flowers

Androecium

Stamens

Stamens inserted 9 – 15 mm from base of corolla tube; filaments 23 – 29 mm long; anthers exserted, (2.5 –) 3 – 4 mm long; lateral staminodes 2.5 – 4 mm long, pubescent in proximal portion, antherodes well developed, 0.75 – 1 mm long

Morphology

Reproductive morphology

Flowers

Calyx

Calyx scarious, brown or mauve-brown, somewhat accrescent; anterior lobe broadly ovate or suborbicular, 15.5 – 18 × 12 – 15.5 mm in flower, up to 22 mm long in fruit, base shallowly cordate or rounded, margin spinulose-serrate throughout, apex obtuse, rounded or shortly bifid in profile but serrated, surface with long ascending or appressed hairs along main veins and with short fine spreading hairs elsewhere, with or without numerous short glandular hairs, palmate-reticulate venation prominent; posterior lobe like anterior lobe but 16.5 – 22 × 12.5 – 18 mm in flower, up to 25.5 mm long in fruit, apex ± attenuate into a short spine; lateral lobes linear-lanceolate, 10.5 – 13 mm long

Morphology

Reproductive morphology

Flowers

Corolla

Corolla 37 – 50 mm long, lilac or pale blue, eglandular-pubescent externally and lateral lobes also with scattered glandular hairs; tube 19.5 – 30 mm long, cylindrical but expanded towards mouth; limb in weak "4+1" configuration; abaxial lobe offset by 2 – 3.5 mm, broadly obovate or rounded, 15 – 17.5 × 10.5 – 19 mm, apex rounded or obtuse, lateral lobes (oblong-) obovate to elliptic, 14 – 18.5 × 8 – 12 mm, apices rounded or obtuse, adaxial lobes as lateral lobes but 6.5 – 10 mm wide

Morphology

Reproductive morphology

Flowers

Gynoecium

Ovary

Ovary with ring of dense minute crisped white hairs at attachment point of style and sometimes with few long white hairs towards apex; stigma clavate, 0.5 – 0.75 mm long

Morphology

Reproductive morphology

Fruits

Capsule 4-seeded, 15 – 16 mm long, glabrous; seeds c. 4.5 – 5 mm long and wide.

Morphology

Reproductive morphology

Inflorescences

Inflorescences axillary, contracted, ± strobilate unilateral cymes 2 – 7.5 cm long, typically 7 – 15+-flowered; bracteoles imbricate and enclosing the base of the calyces, green, ovate or lanceolate, pairs unequal, the larger 11 – 30 × 5.5 – 13 mm, margin spinulose-serrate, apex attenuate and often somewhat falcate, spine-tipped, surface tripliveined and with prominent reticulate secondary venation, main veins and margin with appressed to ascending long hairs, surface with short spreading hairs and usually with sessile or short-stalked broad glands proximally, with or without scattered glandular hairs

Note

Whilst this species is very easily recognised based on gross morphology, there is considerable population-level variation. Plants from the Lobito area lack glandular hairs on the bracteoles and outer calyx lobes (except for one of the two pieces on Humbert 16064 at BM) whilst these are present at all other localities. Some populations, including the type gathering, have a rather dense short stem indumentum whilst this is sparse and restricted to the uppermost internodes in most collections. There is also considerable variation in the corolla size and in particular the length of the tube but this is not correlated with the variation in indumentum. Further material is desirable to explore this variation further.

Type

Angola, "Dist. Bumbo, prope Quitibe de Cima", fl. Oct. 1859, Welwitsch 5040 (lectotype BM! [BM000931121]; isolectotypes K! [K000394521], LISU! [LISU223395]).
Barleria carruthersiana S.Moore appears in other Kew resources:
| Date | Reference | Identified As | Barcode | Type Status |
| --- | --- | --- | --- | --- |
| Mar 9, 1897 | Welwitsch [5040], Angola | | K000394521 | Unknown type material |
| | Johnston, H.H. [s.n.], Angola | | K001009506 | |
| | Barbosa, G. [11730], Angola | | K001009502 | |
| | Bamps, P. [4352], Angola | | K001009503 | |
| | Milne-Redhead, E. [2513], Angola | | K001009504 | |
| | Pearson, H.H.W. [2125], Angola | | K001009505 | |
First published in J. Bot. 18: 270 (1880)
Accepted by
Figueiredo, E. & Smith, G.F. (2008). Plants of Angola Strelitzia 22: 1-279. National Botanical Institute, Pretoria.
Govaerts, R. (1996). World Checklist of Seed Plants 2(1, 2): 1-492. MIM, Deurne.
Literature
Kew Bulletin
Benoist, R. (1950). Quelques Acanthacées des colonies Portugaises Africanes. Bol. Soc. Brot. Sér. 2, 24: 5 – 39.
Clarke, C. B. (1899). Barleria. In: I. H. Burkill & C. B. Clarke (1899 – 1900), Acanthaceae. In: W. T. Thiselton-Dyer (ed.), Flora of Tropical Africa 5: 140 – 169. L. Reeve & Co., London.
Hiern, W. P. H. (1900). Catalogue of the African plants collected by Friedrich Welwitsch in 1853 – 1861. Dicotyledons, part IV Lentibulariaceae to Ceratophylleae. British Museum (Natural History), London.
Klopper, R. R., Chatelain, C., Bänninger, V., Habashi, C., Steyn, H. M., de Wet, B. C., Arnold, T. H., Gautier, L., Smith, G. E. & Spichiger, R. (2006). Checklist of the flowering plants of sub-Saharan Africa. An index of accepted names and synonyms. South African Botanical Diversity Network Report No. 42, SABONET, Pretoria.
Makholela, T. (2008). Acanthaceae. In: E. Figueiredo & G. F. Smith (eds), Plants of Angola / Plantas de Angola. Strelitzia 22. South African National Biodiversity Institute, Pretoria.
Moore, S. le (1880). Enumeratio Acanthacearum Herbarii Welwitschiani Angolensis. J. Bot. 18: 193 – 199, 225 – 233, 265 – 270, 307 – 314, 340 – 342 & 362 – 366.
Herbarium Catalogue Specimens
Digital Image © Board of Trustees, RBG Kew http://creativecommons.org/licenses/by/3.0/

Kew Backbone Distributions
The International Plant Names Index and World Checklist of Selected Plant Families 2021. Published on the Internet at http://www.ipni.org and http://apps.kew.org/wcsp/
© Copyright 2017 World Checklist of Selected Plant Families. http://creativecommons.org/licenses/by/3.0

Kew Bulletin
Kew Bulletin
http://creativecommons.org/licenses/by-nc-sa/3.0

Kew Names and Taxonomic Backbone
The International Plant Names Index and World Checklist of Selected Plant Families 2021. Published on the Internet at http://www.ipni.org and http://apps.kew.org/wcsp/
© Copyright 2017 International Plant Names Index and World Checklist of Selected Plant Families. http://creativecommons.org/licenses/by/3.0