This species is accepted, and its native range is Angola.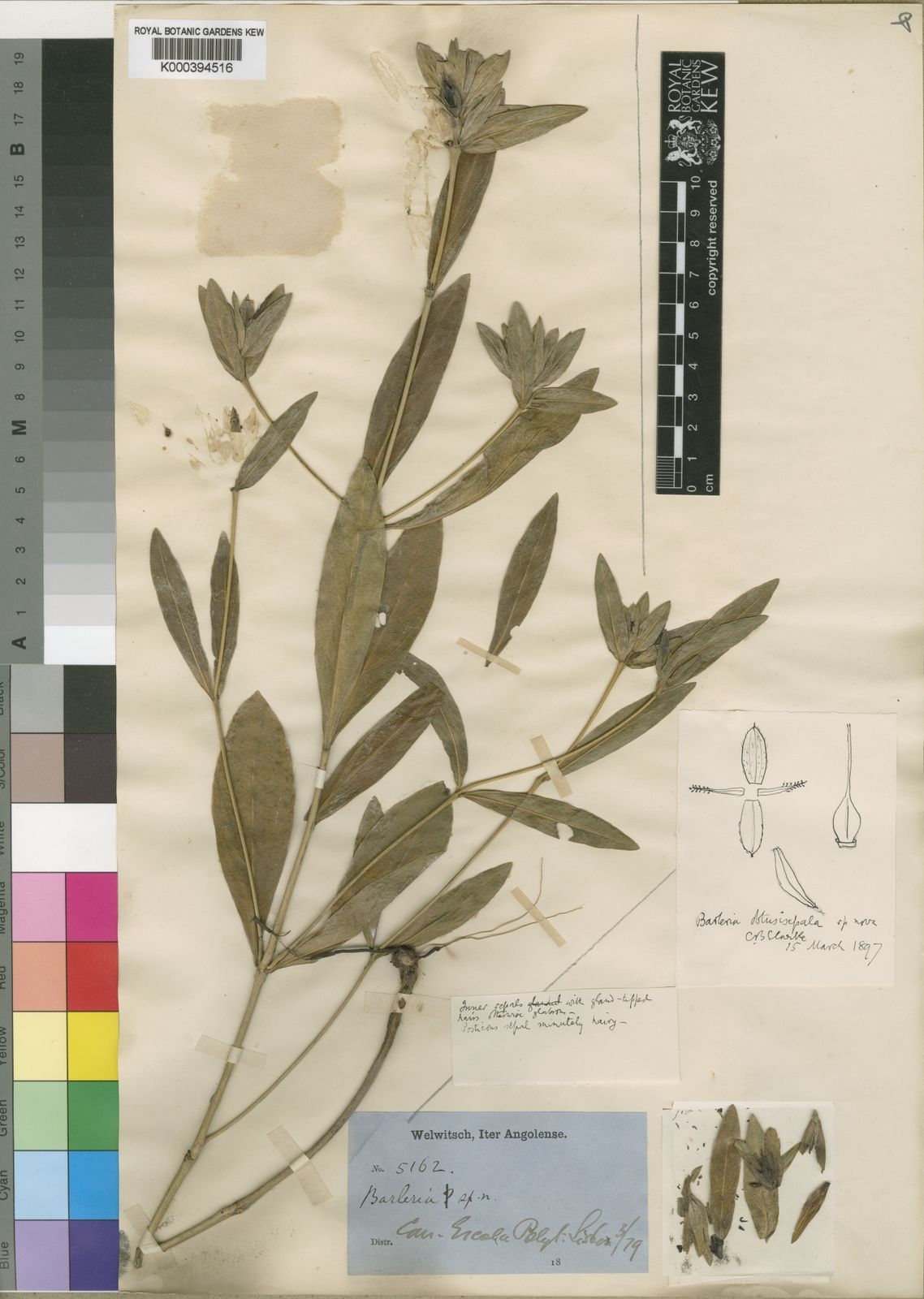 [KBu]
Darbyshire, I., Tripp, E.A. & Chase, F.M. (2019). A taxonomic revision of Acanthaceae tribe Barlerieae in Angola and Namibia. Part 1. Kew Bulletin 74: 5. https://doi.org/10.1007/s12225-018-9791-0
Conservation

Although currently known from only the five specimens cited, this species has a fairly large range, with an EOO of 49,930 km2. This is well beyond the 20,000 km2 EOO range limit for threatened species under IUCN criterion B1 (IUCN 2012). Faulkner recorded that it "seems fairly common" in the Capacca area, but no other data on abundance are available and the information on habitat requirements is also very limited. With this in mind, this species is currently considered to be Data Deficient — DD but is considered likely to prove to be of Least Concern once further information on this species becomes available.

Distribution

Endemic to western Angola (Benguela, Bié, Huambo and Malange Provinces).

Ecology

Barleria obtusisepala occurs in grasslands, miombo woodlands, and mosaics of xerophytic bushland, thickets or "light forest"; 1050 – 1550 m elevation.

Morphology

General

Habit

Rhizomatous suffruticose herb, 1 – few erect stems from a woody rootstock, 20 – 90 cm tall, unbranched or with few slender erect or ascending lateral branches; stems 4-angular, convex, glabrous or uppermost internodes inconspicuously puberulent on two opposite sides, nodal line strigulose

Morphology

General

Spines

Axillary spines absent

Morphology

Leaves

Leaves sessile or petiole to 5 mm long; blade held ± erect, sometimes caducous such that lower nodes often leafless, rather stiff, (grey-) green above, yellow-green beneath, narrowly oblong-elliptic, oblong-lanceolate or somewhat oblanceolate, 8.5 – 12 × 1.2 – 3.7 cm (l:w ratio 3.2 – 6.9:1), base cuneate, attenuate or abruptly narrowed, margin entire, sometimes revolute, apex acute or obtuse, glabrous or margins sparsely strigose, lowermost leaf pairs more elliptic; lateral veins 4 – 6 pairs, prominent beneath

Morphology

Reproductive morphology

Flowers

Androecium

Stamens

Stamens inserted c. 8.5 mm from base of corolla tube; mature filaments and anthers not seen; lateral staminodes 0.8 mm long, antherodes well developed, 0.6 – 0.7 mm long

Morphology

Reproductive morphology

Flowers

Calyx

Calyx (grey-) green or brownish, anterior and posterior lobes subequal or the latter somewhat narrower, oblong-lanceolate to oblong-elliptic or somewhat obovate, 14 – 27 × 7.5 – 10.5 mm, margin entire, apex obtuse or posterior lobe more acute, apiculate, external surface glabrous or eglandular- and glandular-puberulous, margin strigulose; lateral lobes lanceolate-attenuate, 12 – 20 mm long, glandular-puberulous towards apex

Morphology

Reproductive morphology

Flowers

Corolla

Corolla white or faintly tinged violet, eglandular-pubescent externally; tube cylindrical, c. 17.5 – 23 mm long; limb configuration unknown; lobes obovate, abaxial and lateral lobes c. 11 – 18 × 8 – 11 mm, apices obtuse or rounded

Morphology

Reproductive morphology

Flowers

Gynoecium

Ovary

Ovary glabrous; stigma clavate, 0.8 mm long

Morphology

Reproductive morphology

Fruits

Capsule only seen in immature state, 14 mm long, glabrous; immature seeds only seen.

Morphology

Reproductive morphology

Inflorescences

Inflorescences terminal on main and lateral branches, capitate or spiciform, up to 7.5 cm long, each cymule single-flowered, subsessile; bracts imbricate, green, variously ovate, lanceolate, elliptic or somewhat obovate, 18 – 30 × 8 – 19 mm, apex acute or obtuse, apiculate, margins strigose; bracteoles held erect, equal in length to or slightly shorter than calyx, green, lanceolate or narrowly oblong-elliptic to somewhat oblanceolate, 18 – 25 × 4.5 – 7 mm, margin entire, apex acute, apiculate, surfaces glabrous or puberulent, margins strigose

Note

There is very little material available of this distinctive species, such that the description remains incomplete particularly with regard to the flowers. The five specimens seen show considerable variation in some characters and it is possible that more than one taxon is involved, although we believe that they will prove to be variants of a single entity. Faulkner A.404 is particularly striking in having an elongate, spiciform inflorescence with elliptic or somewhat obovate bracts and with very large calyces. By comparison, the type specimen has a capitate inflorescence with ovate or lanceolate bracts and smaller calyces. However, the young inflorescences on the lateral branches of the Faulkner specimen look very similar to those on the type. Further, Exell & Mendonça 1862 shares the capitate inflorescence of the type but has bracts and calyces similar to the Faulkner specimen. Faulkner's plants are large (to 90 cm tall, vs 20 – 50 cm in other material seen) and we suspect that the more elongate inflorescence is a result of this more luxuriant growth. There is also some variation in calyx indumentum: in Wellman s.n. and ?Gossweiler s.n. the outer lobes are puberulent, some of the hairs gland-tipped, whilst in Faulkner A.404 they are glabrous externally. However, Exell & Mendonça 1862 is again somewhat intermediate, the calyces having a sparsely puberulent indumentum. It is possible that the calyx hairs are caducous following anthesis, as the Wellman and ?Gossweiler sheets bear only immature flowers.

Type

Angola, "inter Mangue et Calunda", fl. March 1857, Welwitsch 5162 (lectotype BM! [BM000931114], selected here; isolectotypes K! [K000394516], LISU! [LISU223400]).
Barleria obtusisepala C.B.Clarke appears in other Kew resources:
| Date | Reference | Identified As | Barcode | Type Status |
| --- | --- | --- | --- | --- |
| Mar 15, 1897 | Welwitsch [5162], Angola | | K000394516 | |
First published in D.Oliver & auct. suc. (eds.), Fl. Trop. Afr. 5: 158 (1899)
Accepted by
Darbyshire, I., Tripp, E.A. & Chase, F.M. (2019). A taxonomic revision of Acanthaceae tribe Barlerieae in Angola and Namibia. Part 1 Kew Bulletin 74(5): 1-85. Royal Botanic Gardens, Kew.
Figueiredo, E. & Smith, G.F. (2008). Plants of Angola Strelitzia 22: 1-279. National Botanical Institute, Pretoria.
Govaerts, R. (1996). World Checklist of Seed Plants 2(1, 2): 1-492. MIM, Deurne.
Literature
Kew Bulletin
Balkwill, M. J. & Balkwill, K. (1997). Delimitation and infra-generic classification of Barleria (Acanthaceae). Kew Bull. 52: 535 – 573.
Benoist, R. (1950). Quelques Acanthacées des colonies Portugaises Africanes. Bol. Soc. Brot. Sér. 2, 24: 5 – 39.
Clarke, C. B. (1899). Barleria. In: I. H. Burkill & C. B. Clarke (1899 – 1900), Acanthaceae. In: W. T. Thiselton-Dyer (ed.), Flora of Tropical Africa 5: 140 – 169. L. Reeve & Co., London.
Hiern, W. P. H. (1900). Catalogue of the African plants collected by Friedrich Welwitsch in 1853 – 1861. Dicotyledons, part IV Lentibulariaceae to Ceratophylleae. British Museum (Natural History), London.
IUCN (2012). IUCN Red List Categories and Criteria. Version 3.1. Second Edition. IUCN Species Survival Commission, Gland & Cambridge.
Klopper, R. R., Chatelain, C., Bänninger, V., Habashi, C., Steyn, H. M., de Wet, B. C., Arnold, T. H., Gautier, L., Smith, G. E. & Spichiger, R. (2006). Checklist of the flowering plants of sub-Saharan Africa. An index of accepted names and synonyms. South African Botanical Diversity Network Report No. 42, SABONET, Pretoria.
Makholela, T. (2008). Acanthaceae. In: E. Figueiredo & G. F. Smith (eds), Plants of Angola / Plantas de Angola. Strelitzia 22. South African National Biodiversity Institute, Pretoria.
Moore, S. le (1880). Enumeratio Acanthacearum Herbarii Welwitschiani Angolensis. J. Bot. 18: 193 – 199, 225 – 233, 265 – 270, 307 – 314, 340 – 342 & 362 – 366.
Herbarium Catalogue Specimens
Digital Image © Board of Trustees, RBG Kew http://creativecommons.org/licenses/by/3.0/

Kew Backbone Distributions
The International Plant Names Index and World Checklist of Selected Plant Families 2021. Published on the Internet at http://www.ipni.org and http://apps.kew.org/wcsp/
© Copyright 2017 World Checklist of Selected Plant Families. http://creativecommons.org/licenses/by/3.0

Kew Bulletin
Kew Bulletin
http://creativecommons.org/licenses/by-nc-sa/3.0

Kew Names and Taxonomic Backbone
The International Plant Names Index and World Checklist of Selected Plant Families 2021. Published on the Internet at http://www.ipni.org and http://apps.kew.org/wcsp/
© Copyright 2017 International Plant Names Index and World Checklist of Selected Plant Families. http://creativecommons.org/licenses/by/3.0