Chamaedorea amabilis H.Wendl. ex Dammer
First published in Gard. Chron., ser. 3, 36: 245 (1904)
This species is accepted
The native range of this species is Costa Rica to Panama. It is a shrub and grows primarily in the wet tropical biome.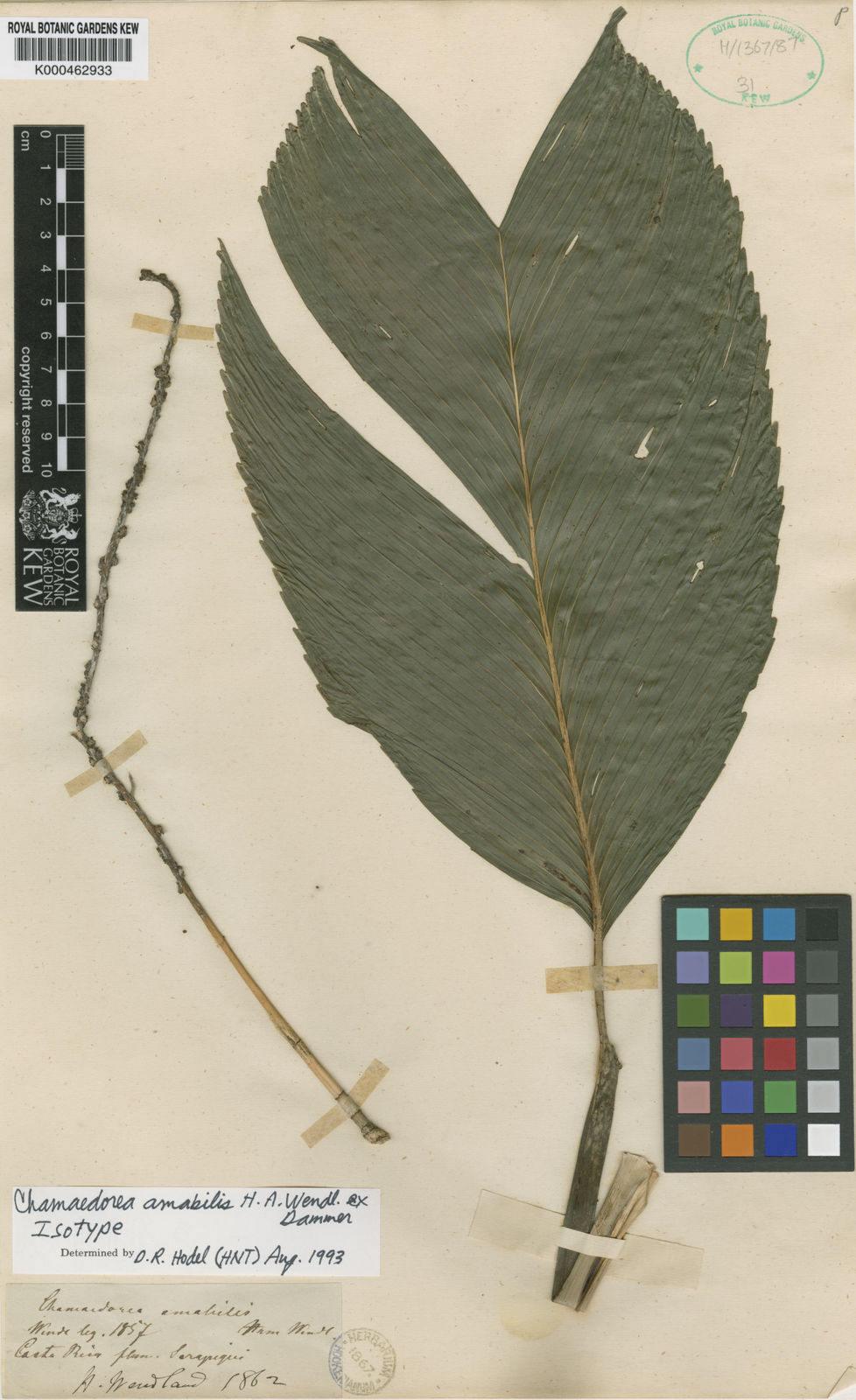 Descriptions
Biology

Dense, wet forest; 500-1,000 m elevation.

Distribution

COSTA RICA. Alajuela. Cartago. Heredia. San Jose. PANAMA. Cocle. Colon. COLOMBIA. Choco.

General Description

Habit: solitary, slender, erect but sometimes decumbent, 1-2 m tall. Stem: 7-10 mm diam., conspicuously ringed, internodes 5 cm long, conspicuous adventitious prop roots at base to 10 cm high. Leaves: 4-5, spreading, bifid, rich green; sheath 12 cm long, tubular, green, faintly longitudinally striate-nerved; petiole 3-12 cm long, flat and bright green above with a raised, light green, triangular knoblike appendage at base, rounded and with a ± indistinct pale band below; rachis 15-20 cm long, angled and green above, rounded and pale-banded below; blade 30-50 x 15-30 cm, broadly obovate, 15-25 cm wide at apex, incised apically to 1/5-1/4 its length, thin-papery, glabrous, glossy below, cuneate at base, outer margins on upper half conspicuously serrate- dentate, 25 prominent nerves on each side of rachis. Inflorescences: infrafoliar, ascending, slender; peduncles 10-15 cm long, 4 mm wide at base, 5 mm wide at apex, green in flower where exposed, orange in fruit; bracts 4, prophyll I cm long, 2nd bract 3 cm, 3rd 7 cm, distal one 10 cm and exceeding peduncle, papery-membranous, greenish but rapidly turning brownish or rotting to nearly transparent by anthesis, longitudinally striate-nerved, acuminate, bifid. Staminate with very short rachis to I cm long, green in flower; rachillae 3-7, 15-25 cm long, 3-4 mm diam., erect-spreading, green, minutely white-spotted. Pistillate spicate or sometimes furcate; flower-bearing portion or rachillae 15-20 cm long, 5 mm diam., erect, green and minutely white-spotted in flower, swollen and reddish orange in fruit. Flowers: Staminate in rather dense spirals, 2.5-3 x 2.5-3 mm, subglobose, slightly angled, obtuse or ± flattened, greenish at anthesis ageing to brown, aromatic, slightly sunken in rounded depressions 2 mm long; calyx 0.5-0.75 x 2-2.5 mm high, shallowly knotched, greenish ageing to brown, sepals connate basally, broadly rounded apically, nerveless; petals 2.5 x 3 mm, connate apically and there adnate to pistillode and corolla opening by very small, basal, lateral apertures, triangular, acute; stamens 1.5 mm high, connate basally, anthers 0.75 mm long; pistillode 22.5 mm high, obovoid, swollen apically, there I mm wide, green. Pistillate in rather dense spirals, 2-5 mm distant, 2 x 3 mm, depressed-globose, green, swelling with age whether pollinated or not to 4 mm wide and becoming greenish yellow, slightly sunken in elliptic depressions; calyx 0.5 x 3-4 mm, shallowly lobed, green, sepals briefly connate basally, very broadly rounded apically, nerveless; corolla with a terminal triangular opening, 1.5 mm across, petals 2 x 3-3.5 mm, imbricate in basal 3/4, very broadly truncate to acute or undulate apically, ± thickened, limegreen, white-margined, cup-shaped; pistil 1.5 x 2 mm, depressed- globose, dark green, stigma lobes sessile, short, black. Fruits: 12 x 9 mm, globose to oblong, black, smooth, glossy.
[PW]
Sources
Herbarium Catalogue Specimens

Digital Image © Board of Trustees, RBG Kew http://creativecommons.org/licenses/by/3.0/

Kew Backbone Distributions

The International Plant Names Index and World Checklist of Vascular Plants 2023. Published on the Internet at http://www.ipni.org and https://powo.science.kew.org/
© Copyright 2022 World Checklist of Vascular Plants. http://creativecommons.org/licenses/by/3.0

Kew Names and Taxonomic Backbone

The International Plant Names Index and World Checklist of Vascular Plants 2023. Published on the Internet at http://www.ipni.org and https://powo.science.kew.org/
© Copyright 2022 International Plant Names Index and World Checklist of Vascular Plants. http://creativecommons.org/licenses/by/3.0

Palmweb - Palms of the World Online

Palmweb 2011. Palmweb: Palms of the World Online. Published on the internet http://www.palmweb.org. Accessed on 21/04/2013
Content licensed under Creative Commons Attribution-NonCommercial-ShareAlike 3.0 Unported License http://creativecommons.org/licenses/by-nc-sa/3.0