Falcataria falcata (L.) Greuter & R.Rankin
First published in Espermat. Cuba Invent. Prelim.: XII (2016)
This species is accepted
The native range of this species is Maluku to Santa Cruz Islands. It is a tree and grows primarily in the wet tropical biome.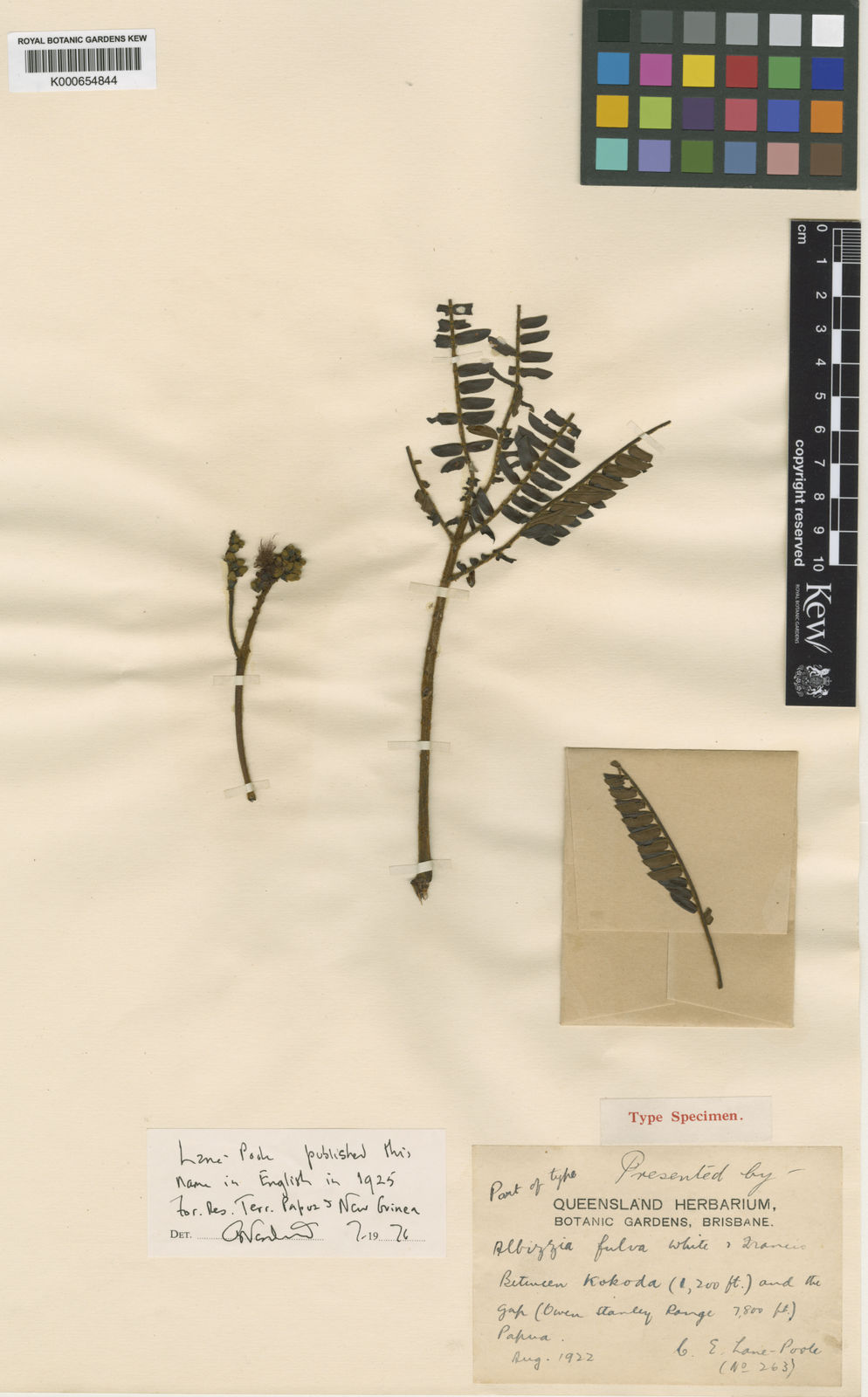 Distribution
Native to:
Bismarck Archipelago, Maluku, New Guinea, Santa Cruz Is., Solomon Is.
Introduced into:
Andaman Is., Angola, Bangladesh, Cameroon, Caroline Is., China South-Central, China Southeast, Cook Is., Fiji, Guinea-Bissau, Gulf of Guinea Is., Hainan, Hawaii, Honduras, India, Jamaica, Kenya, Leeward Is., Madagascar, Marquesas, Mozambique, New Caledonia, Nicobar Is., Nigeria, Niue, Seychelles, Society Is., Sri Lanka, Tuamotu, Uganda, Venezuela, Wallis-Futuna Is., Zimbabwe
Synonyms
Homotypic Synonyms
Heterotypic Synonyms
Publications
POWO follows these authorities in accepting this name:
Govaerts, R., Nic Lughadha, E., Black, N., Turner, R. & Paton, A. (2021). The World Checklist of Vascular Plants, a continuously updated resource for exploring global plant diversity. https://doi.org/10.1038/s41597-021-00997-6. Scientific Data 8: 215.
Kew Backbone Distributions
Acevedo-Rodríguez, P. & Strong, M.T. (2012). Catalogue of seed plants of the West Indies. Smithsonian Contributions to Botany 98: 1-1192.
Brenan, J.P.M. (1970). Flora Zambesiaca 3(1): 1-153. Royal Botanic Gardens, Kew.
Castle, G.E. (1994). Flore des Seychelles Dicotylédones: 1-663. Orstom Editions.
Catarino, L., Sampaio Martins, E., Pinto-Basto, M.F. & Diniz, M.A. (2006). Plantas Vasculares e Briófitos da Guiné-Bissau: 1-298. Instituto de investigação científica tropical, Instituto Português de apoio ao desenvolvimento.
Du Puy, D.J., Labat, N.-N., Rabevohitra, R., Villiers, J.-F., Bosser, J. & Moat, J. (2002). The Leguminosae of Madagascar: 1-737. Royal Botanic Gardens, Kew.
Figueiredo, E. & Smith, G.F. (2008). Plants of Angola. Strelitzia 22: 1-279. National Botanical Institute, Pretoria.
Figueiredo, E., Paiva, J., Stévart, T., Oliveira, F. & Smith, G.F. (2011). Annotated catalogue of the flowering plants of São Tomé and Príncipe. Bothalia, A Journal of Botanical Research 41: 41-82.
Fosberg, F.R., Sachet, M.-H., Oliver, R. (1979). A geographical checklist of the Micronesian Dicotyledonae. Micronesica; Journal of the College of Guam 15: 41-295.
Hancock, I.R. & Henderson, C.P. (1988). Flora of the Solomon Islands. Research Bulletin Dodo Creek Research Station 7: 1-203.
Hokche, O., Berry, P.E. & Huber, O. (eds.) (2008). Nuevo Catálogo de la Flora Vascular de Venezuela: 1-859. Fundación Instituto Botánico de Venezuela.
Kumar, S. & Sane, P.V. (2003). Legumes of South Asia. A Checklist: 1-536. Royal Botanic Gardens, Kew.
Lock, J.M. & Ford, C.S. (2004). Legumes of Malesia a Check-List: 1-295. Royal Botanic Gardens, Kew.
Lock, J.M. (1989). Legumes of Africa a check-List: 1-619. Royal Botanic Gardens, Kew.
Lorence, D.H. & Wagnwe, W.L. (2020). Flora of the Marquesas Islands 2: 413-1135. National Tropical Botanic Garden, Smithsonian, DRPF.
MacKee, H.S. (1994). Catalogue des plantes introduites et cultivées en Nouvelle-Calédonie, ed. 2: 1-164. Museum national d'histoire naturelle, Paris.
Morat, P. & Veillon, J.-M. (1985). Contributions à la conaissance de la végétation et de la flore de Wallis et Futuna. Bulletin du Muséum National d'Histoire Naturelle. Section B, Adansonia 7: 259-329.
Mostaph, M.K. & Uddin, S.B. (2013). Dictionary of plant names of Bangladesh, Vasc. Pl.: 1-434. Janokalyan Prokashani, Chittagong, Bangladesh.
Nelson Sutherland, C.H. (2008). Catálogo de las plantes vasculares de Honduras. Espermatofitas: 1-1576. SERNA/Guaymuras, Tegucigalpa, Honduras.
Onana, J.M. (2011). The vascular plants of Cameroon a taxonomic checklist with IUCN assessments: 1-195. National herbarium of Cameroon, Yaoundé.
Pandey, R.P. & Dilwakar, P.G. (2008). An integrated check-list flora of Andaman and Nicobar islands, India. Journal of Economic and Taxonomic Botany 32: 403-500.
St. John, H. (1988). Census of the Flora of the Gambier islands, Polynesia. Pacific Plant Studies 43: 1-34.
Sykes, W.R. (1970). Contributions to the flora of Niue. Bulletin, New Zealand Department of Scientific and Industrial Research 200: 1-321.
Sykes, W.R. (2016). Flora of the Cook Islands: 1-973. National Tropical Botanical Garden, Hawaii.
Whitmore, T.C. (1966). Guide to the forests of the British Solomon islands: 1-208. Oxford University Press.
Wu, Z. & Raven, P.H. (eds.) (2010). Flora of China 10: 1-642. Science Press (Beijing) & Missouri Botanical Garden Press (St. Louis).
Other Data
Other Kew resources that provide information on this taxon:
| Date | Reference | Identified As | Barcode | Type Status | Has image? |
| --- | --- | --- | --- | --- | --- |
| Mar 28, 2014 | Labat, J.-N. [3925], New Caledonia | Paraserianthes falcataria | K000966232 | | No |
| Jan 1, 2006 | Henty, E.E. [N.G.F. 14386], Papua New Guinea | Paraserianthes falcataria | K000654838 | | No |
| Jan 1, 2006 | Millar, A.N. [N.G.F. 13850], Papua New Guinea | Paraserianthes falcataria | K000654840 | | No |
| Jan 1, 2006 | Aet [755], Papua New Guinea | Paraserianthes falcataria | K000654832 | | No |
| Jan 1, 2006 | van Royen, P. [7557], Bismarck Archipelago | Paraserianthes falcataria | K000654830 | | No |
| Jan 1, 2006 | Ledermann [1774], Papua New Guinea | Paraserianthes falcataria | K000654836 | | No |
| Jan 1, 2006 | Ledermann [6770], Papua New Guinea | Paraserianthes falcataria | K000654835 | | No |
| Jan 1, 2006 | Hoogland, R.D. [4903], Papua New Guinea | Paraserianthes falcataria | K000654834 | | No |
| Jan 1, 2006 | Havel, J.J. [N.G.F. 15422], Papua New Guinea | Paraserianthes falcataria | K000654837 | | No |
| Jan 1, 2006 | Brass, L.J. [32547], Papua New Guinea | Paraserianthes falcataria | K000654839 | | No |
| Jan 1, 2006 | van Royen, P. [N.G.F. 16494], Papua New Guinea | Paraserianthes falcataria | K000654843 | | No |
| Jan 1, 2006 | Pullen [95], Bismarck Archipelago | Paraserianthes falcataria | K000654831 | | No |
| Jan 1, 2002 | Mcdonald, G. [3784], Bismarck Archipelago | Paraserianthes falcataria | K000654842 | | No |
| Jan 1, 2000 | Regalado, J. [1466], Papua New Guinea | Paraserianthes falcataria | K000654841 | | No |
| Apr 1, 1998 | Barbon [1664], Philippines | Paraserianthes falcataria | K000296137 | | No |
| May 1, 1997 | Takeuchi, W. [10252], Papua New Guinea | Paraserianthes falcataria | K000654847 | | No |
| Jan 1, 1995 | Sands, M.J.S. [2514], Bismarck Archipelago | Paraserianthes falcataria | K000654856 | | No |
| Jan 1, 1995 | Hoogland, R.D. [4380], Bismarck Archipelago | Paraserianthes falcataria | K000654859 | | No |
| Jan 1, 1995 | Frodin, D.G. [UPNG 2009], Papua New Guinea | Paraserianthes falcataria | K000654853 | | No |
| Jan 1, 1995 | Croft, J.R. [NGF 41405], Bismarck Archipelago | Paraserianthes falcataria | K000654586 | | No |
| Jan 1, 1995 | Vandenberg, J. [NGF 42336], Papua New Guinea | Paraserianthes falcataria | K000654850 | | No |
| Jan 1, 1995 | Brass, L.J. [576], Papua New Guinea | Paraserianthes falcataria | K000654589 | | No |
| Jan 1, 1995 | Hoogland, R.D. [4519], Bismarck Archipelago | Paraserianthes falcataria | K000654858 | | No |
| Jan 1, 1995 | Koster, Ch. [BW. 7094], Papua New Guinea | Paraserianthes falcataria | K000654854 | | No |
| Jan 1, 1995 | Brass, L.J. [27251], Papua New Guinea | Paraserianthes falcataria | K000654590 | | No |
| Jan 1, 1995 | Womersley, J.S. [NGF 43651], Papua New Guinea | Paraserianthes falcataria | K000654851 | | No |
| Jan 1, 1995 | Millar, A.N. [NGF 23529], Bismarck Archipelago | Paraserianthes falcataria | K000654827 | | No |
| Jan 1, 1995 | Ridsdale, C.E. [NGF 33960], Papua New Guinea | Paraserianthes falcataria | K000654849 | | No |
| Jan 1, 1995 | Henty, E.E. [NGF 27467], Papua New Guinea | Paraserianthes falcataria | K000654857 | | No |
| Jan 1, 1995 | Sands, M.J.S. [2514], Bismarck Archipelago | Paraserianthes falcataria | K000654855 | | No |
| Jan 1, 1995 | Katik, P. [NGF 46907], Papua New Guinea | Paraserianthes falcataria | K000654829 | | No |
| Jan 1, 1995 | Foreman, D.B. [LAE 52120], Papua New Guinea | Paraserianthes falcataria | K000654585 | | No |
| Jan 1, 1995 | Womersley, J.S. [NGF 43671], Papua New Guinea | Paraserianthes falcataria | K000654852 | | No |
| Jan 1, 1989 | Henty, E.E. [NGF 29461], Bismarck Archipelago | Paraserianthes falcataria | K000654587 | | No |
| Jan 1, 1989 | Brass, L.J. [5397], Papua New Guinea | Paraserianthes falcataria | K000654588 | | No |
| Jan 1, 1989 | Kostermans [845], Irian Jaya | Paraserianthes falcataria | K000654833 | | No |
| Nov 1, 1975 | Ridsdale, C.E. [NGF 33960], Papua New Guinea | Paraserianthes falcataria | K000654848 | | No |
| | Gaerlan, F.J.M. [5340], Philippines | Paraserianthes falcataria | K000296139 | | No |
| | Yasuda, keiko [2693], Japan | Paraserianthes falcataria | K000966236 | | No |
| | Whistler, Art [11611], Samoa | Paraserianthes falcataria | K000966234 | | No |
| | Schodde, R. [4242], Papua New Guinea | Paraserianthes falcataria | K000654828 | | Yes |
| | Yasuda, keiko [2693], Japan | Paraserianthes falcataria | K000966235 | | No |
| | Barbon [8326], Philippines | Paraserianthes falcataria | K000296138 | | No |
| | Carr, C.E. [12833], Papua New Guinea | Paraserianthes falcataria | K000654591 | | No |
| Jul 1, 1976 | Lane-Poole, C.E. [236], Papua New Guinea | Paraserianthes falcataria subsp. fulva | K000654844 | Unknown type material | Yes |
| Oct 1, 1975 | Eyma [5438], Papua New Guinea | Paraserianthes falcataria subsp. fulva | K000654845 | isotype | Yes |
| | McViegh [N.G.F. 7343], Papua New Guinea | Paraserianthes falcataria subsp. fulva | K000654656 | | No |
| | Henty, E.E. [NGF 38915], Bismarck Archipelago | Paraserianthes falcataria subsp. fulva | K000654657 | | No |
| | Schodde, R [1340], Bismarck Archipelago | Paraserianthes falcataria subsp. fulva | K000654661 | | No |
| | Carr, C.E. [15161], Papua New Guinea | Paraserianthes falcataria subsp. fulva | K000654824 | | No |
| | Hartley, T.G. [T.G.H. 12137], Papua New Guinea | Paraserianthes falcataria subsp. fulva | K000654660 | | No |
| | Carr, C.E. [14580], Papua New Guinea | Paraserianthes falcataria subsp. fulva | K000654826 | | No |
| | Foreman, D.B. [LAE 60153], Papua New Guinea | Paraserianthes falcataria subsp. fulva | K000654658 | | No |
| | Flenley, J.R. [ANU 2672], Bismarck Archipelago | Paraserianthes falcataria subsp. fulva | K000654665 | | No |
| | Vandenberg, J [NGF 39961], Bismarck Archipelago | Paraserianthes falcataria subsp. fulva | K000654666 | | No |
| | Carr, C.E. [15838], Papua New Guinea | Paraserianthes falcataria subsp. fulva | K000654825 | | No |
| | Blackwood, E [255], Papua New Guinea | Paraserianthes falcataria subsp. fulva | K000654663 | | No |
| | Blackwood, E [177], Papua New Guinea | Paraserianthes falcataria subsp. fulva | K000654664 | | No |
| | Foreman, D.B. [LAE 60153], Papua New Guinea | Paraserianthes falcataria subsp. fulva | K000654659 | | No |
| | Hoogland, R.D. [6271], Bismarck Archipelago | Paraserianthes falcataria subsp. fulva | K000654662 | | No |
| | Takeuchi, W. [16822], Bismarck Archipelago | Paraserianthes falcataria subsp. solomonensis | K000654846 | | No |
Sources
Herbarium Catalogue Specimens

Digital Image © Board of Trustees, RBG Kew http://creativecommons.org/licenses/by/3.0/

IUCN Categories

IUCN Red List of Threatened Species
http://creativecommons.org/licenses/by-nc-sa/3.0

International Legume Database and Information Service

International Legume Database and Information Service (ILDIS) V10.39 Nov 2011
http://creativecommons.org/licenses/by/3.0

Kew Backbone Distributions

The International Plant Names Index and World Checklist of Vascular Plants 2023. Published on the Internet at http://www.ipni.org and https://powo.science.kew.org/
© Copyright 2022 World Checklist of Vascular Plants. http://creativecommons.org/licenses/by/3.0

Kew Names and Taxonomic Backbone

The International Plant Names Index and World Checklist of Vascular Plants 2023. Published on the Internet at http://www.ipni.org and https://powo.science.kew.org/
© Copyright 2022 International Plant Names Index and World Checklist of Vascular Plants. http://creativecommons.org/licenses/by/3.0