The genus Narcissus has its centre of diversity in the Iberian Peninsula in Spain and Portugal, but species can be found all around the Mediterranean and some occur in North Africa.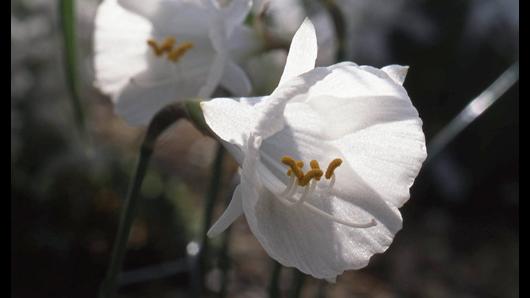 [KSP]
Kew Species Profiles
General Description

The white hoop petticoat daffodil is named after the characteristic shape of its flower.

The genus Narcissus has its centre of diversity in the Iberian Peninsula in Spain and Portugal, but species can be found all around the Mediterranean and some occur in North Africa.

The white hoop petticoat daffodil is related to the common daffodil, Narcissus pseudonarcissus, but is located in a different section of the genus - section Bulbocodii. Bulbocodiums or 'hoop petticoats' are easy to recognise as the characteristic central trumpet, or corona, looks like a widely flaring cone - hence the common name.

The name 'cantabricus' refers to the area of Cantabria in Northern Spain where the species was incorrectly thought to originate. In fact it is a plant of southern Spain, Algeria, Morocco and the Balearics.

Species Profile

Geography and distribution

In the wild this species is found in the hills and mountains of Morocco, Algeria, the Balearic Islands and the extreme south of Spain.

Description

The white flowers of Narcissus cantabricus are produced in winter, from as early as November through to February or March, and have inflated coronas (additional structure between the petals and the stamens) and perianth tubes (sepals and petals combined), with a slight constriction where the perianth segments join. They are 2.8-4.5 cm across and held on 3-10 cm tall stems.

The anthers (male parts) produce yellow pollen, and do not usually protrude from the corona. The style (female part) and filaments (stalk that bear the anthers) are white. The one or more leaves are long and narrow, only 1 or 2 mm wide.

One of the most beautiful forms, N. cantabricus var. petunioides , from North Africa, has a widely expanded corona with the margin rolled outwards.

Taxonomy

The Swiss botanist, Augustin de Candolle, described Narcissus cantabricus in Redouté's Les Liliacées in 1815. He placed it in section Bulbocodii , along with six other species.

All the North African hoop petticoats were once considered subspecies or varieties of Narcissus bulbocodium but in a revision of Narcissus in 1968, Professor Fernandes from the Botanical Institute at the University of Coimbra, Portugal, recognised five species. All the white-flowered hoop coats, except two ( N. bulbocodium var. graellsii and N. romieuxii subsp. albidus ), are treated as forms of N. cantabricus .

Uses

Narcissus cantabricus is cultivated as an ornamental.

Cultivation

Although many of the early-flowering daffodils can be grown in the open garden, the bulbs of Narcissus cantabricus are best protected from high rainfall when they are dormant. It is a fairly hardy species untroubled by temperatures as low as -10°C, so a well-ventilated cold frame, in full sun, is ideal. The frame lights should be left open as much as possible when the plants are in growth and only closed during bouts of heavy rain, snow or frost.

Pot-grown bulbs can be repotted in late summer to inspect them for pests and diseases, such as basal rot and Narcissus fly, and to provide fresh soil. They should be replanted in a gritty, loam-based soil mix. Low nitrogen, high potash feed should be given with each watering as the roots often spiral round the base of the pot and need to be supplied with plenty of nutrients.

Narcissus bulbs will produce offsets but the best method of propagation is from seed. Narcissus cantabricus will take around four years to reach flowering size.

This species at Kew

Narcissus cantabricus can be seen in the Davies Alpine House and in the Rock Garden at Kew.

Distribution

Spain

Ecology

Grassy slopes and at the edges of woodland; often on limestone.

Conservation

Not Evaluated according to IUCN Red List criteria, but four other species of Narcissus (N. bujei, N. alcaracensis, N. longispathus and N. radinganorum), all of which are native to Spain, are rated as Endangered by the IUCN.

Hazards

All parts of Narcissus species are poisonous, particularly the bulb. The sap of some species can cause dermatitis.
Native to:
Algeria, Morocco, Spain
English

White hoop petticoat daffodil
Narcissus cantabricus DC. appears in other Kew resources:
First published in P.J.Redouté, Liliac. 8: t. 486 (1816)
Accepted by
Blanchard, J.W. (1990). Narcissus a Guide to Wild Daffodils: 1-203. Alpine Garden Society, Woking.
Dobignard, D. & Chatelain, C. (2010). Index synonymique de la flore d'Afrique du nord 1: 1-455. Éditions des conservatoire et jardin botaniques, Genève.
Marques, I., Aguilar, J.F., Martins-Louçao, M.A., Moharrek, F. & Nieto Feliner, G. (2017). A tree-genome five-gene comprehensive phylogeny of the bulbous genus Narcissus (Amaryllidaceae) challenges current classifications and reveils multiple hybridization events Taxon 66: 832-854.
Rico, E. & al. (eds.) in Castroviejo, S. & al. (eds.) (2013). Flora Iberica 20: 1-651. Real Jardín Botánico, CSIC, Madrid.
Tutin, T.G. & al. (eds.) (1980). Flora Europaea 5: 1-452. Cambridge University Press.
Zonneveld, B.J.M. (2008). The systematic value of nuclear DNA content for all species of Narcissus L. (Amaryllidaceae) Plant Systematics and Evolution 275: 109-132.
Literature
Kew Species Profiles
Beentje, H. (2010). The Kew Plant Glossary. Royal Botanic Gardens, Kew.
Cooper, M.R., Johnson, A.W. & Dauncey, E.A. (2003). Poisonous Plants and Fungi: An Illustrated Guide. The Stationery Office, London.
Fernandes, A. (1968). Keys to the identification of native and naturalized taxa of the genus Narcissus L. In: The Daffodil and Tulip Year Book, 33. pp. 37-66. Royal Horticultural Society, London.
Hooker, J.D. (1870). Narcissus cantabricus. Curtis's Bot. Mag. 96: t. 5831
Maire, R. (1959). Narcissus L. In: Flora de L'Afrique du Nord, 6 ed. R. Maire. pp 51-76. Éditions Paul Lechevalier, Paris.
Wilford, R. (2010). Alpines from Mountain to Garden. Royal Botanic Gardens, Kew.
World Checklist of Selected Plant Families (2010). The Board of Trustees of the Royal Botanic Gardens, Kew. (Accessed 27 April 2011).
Kew Backbone Distributions
Tutin, T.G. & al. (eds.) (1980). Flora Europaea 5: 1-452. Cambridge University Press.
Kew Backbone Distributions
The International Plant Names Index and World Checklist of Selected Plant Families 2021. Published on the Internet at http://www.ipni.org and http://apps.kew.org/wcsp/
© Copyright 2017 World Checklist of Selected Plant Families. http://creativecommons.org/licenses/by/3.0

Kew Names and Taxonomic Backbone
The International Plant Names Index and World Checklist of Selected Plant Families 2021. Published on the Internet at http://www.ipni.org and http://apps.kew.org/wcsp/
© Copyright 2017 International Plant Names Index and World Checklist of Selected Plant Families. http://creativecommons.org/licenses/by/3.0

Kew Science Photographs
Digital Image © Board of Trustees, RBG Kew http://creativecommons.org/licenses/by/3.0/

Kew Species Profiles
Kew Species Profiles
http://creativecommons.org/licenses/by-nc-sa/3.0