This species is accepted, and its native range is Trinidad to S. Tropical America. It is used to treat unspecified medicinal disorders and for food.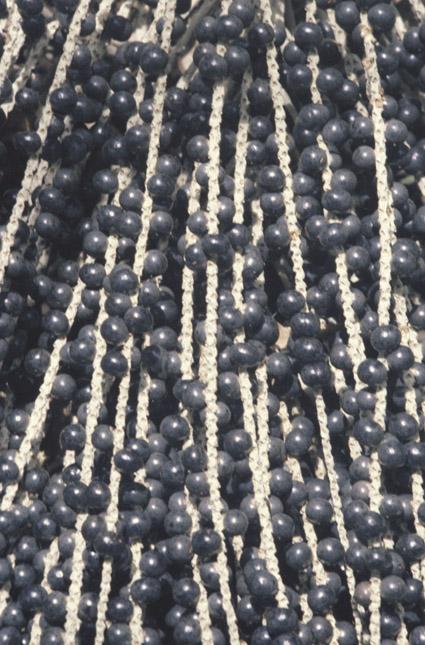 [UPB]
Use

Food

Food (Patiño 2002).

Use

Materials

Materials (State of the World's Plants 2016).

Use

Materials

Unspecified Materials Chemicals

Materials (State of the World's Plants 2016).

Use

Medicines

Unspecified Medicinal Disorders

Medicinal (Instituto Humboldt 2014).
[PW]
Use

This species is important throughout its range because it produces both edible fruit and palm heart. In the Brazilian city of Belém, the fruits are an important part of the diet of a large proportion of the inhabitants (Wallace, 1853; Calzavara. 1972; Strudwick & Sobel, 1988). The fleshy mesocarp is mixed with water and made into a drink, and also recently into ice cream. Since the demise of Euterpe edulis as a source of palm heart, E. oleracea is currently the most important species. The canning and sale of palm heart was worth $120 million in 1988 (Strudwick & Sobel, 1988). On the Pacific coast of Colombia and Ecuador, too, there are canning factories for palm heart (Bernal, 1992). Because of its multiple stems, palm heart and fruits can be harvested without destroying the tree. This advantage, coupled with the fact that the palms grow in very high-density stands in the Amazon estuary, has recently attracted the attention of researchers interested in sustainable forest products. Anderson (1988) has discussed the use and management of forests dominated by E. oleracea near Belém. Throughout its range the palm is used for a host of minor items (see Borgtoft Pedersen & Balslev, 1990, for Ecuador). The stems are used for a variety of construction purposes. The young leaves are mashed and the sappy remains applied to stop bleeding or taken to stop hemorrhaging (J. Strudwick et al. 4681). Fruits and discarded seeds are fed to domestic animals. It is also commonly planted as an ornamental throughout the Amazon region in towns and near dwellings.
Native to:
Brazil North, Brazil Northeast, Colombia, Ecuador, French Guiana, Guyana, Suriname, Trinidad-Tobago, Venezuela
Spanish

Asaí, acaí, naidí, bambil, palmiche, cansín.
First published in Hist. Nat. Palm. 2: 29 (1824)
Accepted by
Govaerts, R. & Dransfield, J. (2005). World Checklist of Palms: 1-223. The Board of Trustees of the Royal Botanic Gardens, Kew.
Hokche, O., Berry, P.E. & Huber, O. (eds.) (2008). Nuevo Catálogo de la Flora Vascular de Venezuela: 1-859. Fundación Instituto Botánico de Venezuela.
Idárraga-Piedrahita, A., Ortiz, R.D.C., Callejas Posada, R. & Merello, M. (eds.) (2011). Flora de Antioquia: Catálogo de las Plantas Vasculares 2: 1-939. Universidad de Antioquia, Medellín.
Lorenzi, H., Noblick, L.R., Kahn, F. & Ferreira, E. (2010). Brazilian Flora Arecaceae (Palms): 1-268. Instituto Plantarum de Estudos da Flora LTDA, São Paulo, Brazil.
Literature
Palmweb - Palms of the World Online
Borchsenius F., Borgtoft-Pedersen H. and Baslev H. 1998. Manual to the Palms of Ecuador. AAU Reports 37. Department of Systematic Botany, University of Aarhus, Denmark in collaboration with Pontificia Universidad Catalica del Ecuador
Gloria Galeano & A. Henderson, Flora Neotropica Monograph 72
Catálogo de Plantas y Líquenes de Colombia
ColPlantA (2021). "ColPlantA. Facilitated by the Royal Botanic Gardens, Kew. Published on the Internet; http://www.colplanta.org/"
Useful Plants of Boyacá Project
Instituto de Investigación de Recursos Biológicos Alexander von Humbodlt (2014). Plantas alimenticias y medicinales nativas de Colombia. 2567 registros, aportados por: Castellanos, C. (Contacto del recurso), Valderrama, N. (Creador del recurso, Autor), Castro, C. (Proveedor de metadatos), Bernal, Y. (Autor), García, N. (Autor). Versión 11.0. http://i2d.humboldt.org.co/ceiba/resource.do?r=ls_colombia_magnoliophyta_2014
Kew's Economic Botany collection in The State of the World's Plants Report–2016. (2016). Royal Botanic Gardens, Kew https://stateoftheworldsplants.org/2016/
Universidad Nacional de Colombia
Bernal R. y Galeano G. (eds.). (2013). Cosechar sin destruir - Aprovechamiento sostenible de palmas colombianas. Facultad de Ciencias, Instituto de Ciencias Naturales, Universidad Nacional de Colombia. Bogotá. 244 p.
Garrido, A.M., Cámara-Leret, R., Madriñán, S. (2014). Nombres y usos de las plantas identificadas por los indígenas cubeo de Colombia (Tesis de pregrado). Universidad de Los Andes, Bogotá.
Catálogo de Plantas y Líquenes de Colombia
http://creativecommons.org/licenses/by-nc-sa/3.0

Colombian resources for Plants made Accessible
http://creativecommons.org/licenses/by/3.0/

Kew Backbone Distributions
The International Plant Names Index and World Checklist of Selected Plant Families 2021. Published on the Internet at http://www.ipni.org and http://apps.kew.org/wcsp/
© Copyright 2017 World Checklist of Selected Plant Families. http://creativecommons.org/licenses/by/3.0

Kew Names and Taxonomic Backbone
The International Plant Names Index and World Checklist of Selected Plant Families 2021. Published on the Internet at http://www.ipni.org and http://apps.kew.org/wcsp/
© Copyright 2017 International Plant Names Index and World Checklist of Selected Plant Families. http://creativecommons.org/licenses/by/3.0

Palmweb - Palms of the World Online
Palmweb 2011. Palmweb: Palms of the World Online. Published on the internet http://www.palmweb.org. Accessed on 21/04/2013
Content licensed under Creative Commons Attribution-NonCommercial-ShareAlike 3.0 Unported License http://creativecommons.org/licenses/by-nc-sa/3.0

Universidad Nacional de Colombia
ColPlantA database
http://creativecommons.org/licenses/by-nc-sa/3.0

Useful Plants of Boyacá Project
ColPlantA database
http://creativecommons.org/licenses/by-nc-sa/3.0
http://creativecommons.org/licenses/by/3.0/