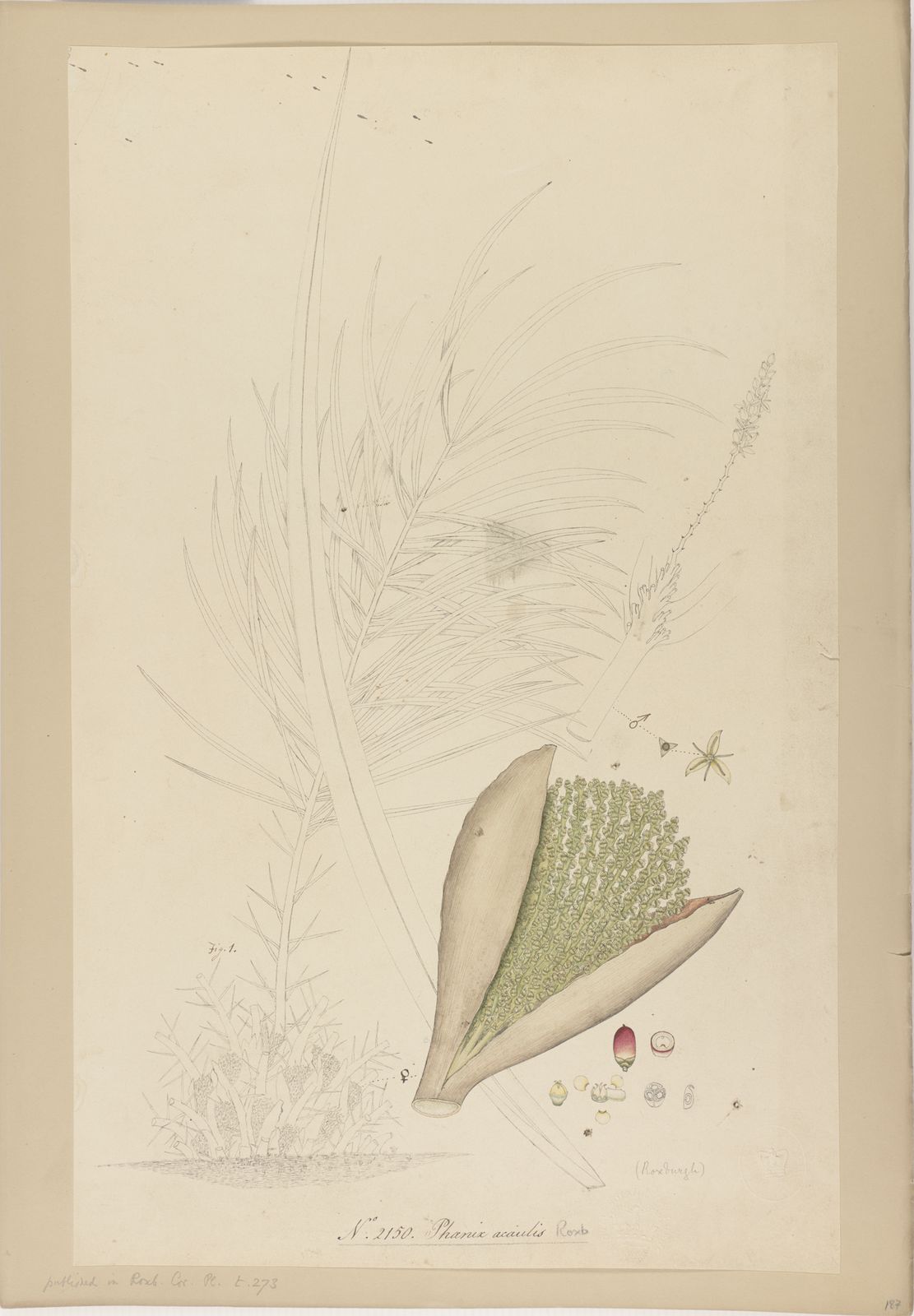 Descriptions
General Description

Acaulous palm; stem bulbous, to 10 cm high, densely covered with persistent leaf base stumps. Leaves 0.6 - 1.8 m long; leaf sheath reddish-brown, fibrous; rachis 0.3 - 1.5 m long x 1.5 - 2 cm in diam. at base; acanthophylls closely arranged in more than one plane, to 9 cm long; leaflets arranged in sub-opposite groups of 4s - 5s in more than one plane or orientation, c. 16 - 24 on each side of rachis, linear, 8 - 36 x 0.5 - 1.4 cm, flaccid, with strong marginal nerves; lamina concolorous, pale green. Inflorescences held at ground level. Staminate inflorescences not extending beyond prophyll; prophyll papery and splitting in many places, 13 x 2 cm; peduncle c. 7 x 0.6 cm; rachillae arranged in one whorl, 10 - 15 in number, c. 8 cm long. Staminate flowers not seen. Pistillate inflorescences not extending beyond prophyll; prophyll papery, c. 25 x 4- 6 cm; peduncle c. 9 - 12 x 1.4 cm, not extending on fruit maturity; rachillae arranged in one compact whorl, 15 - 20 in number, 4 - 14 cm, drying striate, with differential maturation of fruit along rachillae. Pistillate flowers c. 5 - 20 per rachilla, congested in arrangement, each subtended by a distinct rachilla swelling (bractiform notch), 3 - 10 mm long; calyx cupule 3 mm high; petals 5 - 6 x 4 mm. Fruit obovoid, 12 - 18 x 8 mm, ripening from green with scarlet apices to blue-black, with mesocarp scarcely fleshy and stigmatic remains prominently pointed (1 - 2 mm long). Seed elongate in shape, 10 x 5 mm, with rounded apices; embryo lateral opposite raphe; endosperm homogeneous.

Distribution

Sub-Himalayan belt of northern India and Nepal. Griffith (1845) and Kurz (1877) recorded the species in Myanmar, but I have seen no specimens to support this.

Biology

Griffith (1845) noted that P. acaulis grows in clay soil on elevated plains north of the Ganges river. The species occurs in open forest, scrublands, savannahs and pine forest understorey at 400 - 1500 m. In India P. acaulis flowers in the cold season from November to January with fruits ripening from April to June.

Vernacular

INDIA. Khajuzi, Chota khajur (Uttar Pradesh, Siwalik hills), (S. Biswas, pers. comm.); khajuri, pind khajur, jangly khajur (Hindi), schap (Lepcha), chindi, hindi, jhari, sindi, juno (Kurku), pinn khajur, Boichand, Yita, [Blatter (1926)].

Conservation

The current distribution and conservation status of P. acaulis is unclear. During fieldwork in India for this study I failed to find and observe P. acaulis in its native habitat in Uttar Pradesh, despite visits to previous collection localities. However, the species has been reported, and recently collected, from Chitwan National Park in central Nepal, near the Indian border, and Dhar (1998) discusses the recent discovery of a population in Uttar Pradesh. It is assumed that, with the decline in forest habitats formerly ranging across the sub-Himalayan belt of northern India, the natural habitat for P. acaulis has suffered and the species is now restricted to more remote and inaccessible areas. A further threat to the species in some parts of its range has been the destructive harvest of the stem pith as a sago substitute. The bitter pith of P. acaulis was used heavily in India during a severe famine in the 1930's (Blatter 1926).
[PW]
Uses
Use

In times of scarcity, the bitter stem pith of P. acaulis has been used as a sago substitute (Blatter 1926). The fruits are sweet and edible, though scarcely fleshy, and are commonly eaten by animals (Roxburgh 1832).
[PW]
Sources
Art and Illustrations in Digifolia

Digital Image © Board of Trustees, RBG Kew

Kew Backbone Distributions

The International Plant Names Index and World Checklist of Vascular Plants 2022. Published on the Internet at http://www.ipni.org and https://powo.science.kew.org/
© Copyright 2022 World Checklist of Vascular Plants. http://creativecommons.org/licenses/by/3.0

Kew Names and Taxonomic Backbone

The International Plant Names Index and World Checklist of Vascular Plants 2022. Published on the Internet at http://www.ipni.org and https://powo.science.kew.org/
© Copyright 2022 International Plant Names Index and World Checklist of Vascular Plants. http://creativecommons.org/licenses/by/3.0

Palmweb - Palms of the World Online

Palmweb 2011. Palmweb: Palms of the World Online. Published on the internet http://www.palmweb.org. Accessed on 21/04/2013
Content licensed under Creative Commons Attribution-NonCommercial-ShareAlike 3.0 Unported License http://creativecommons.org/licenses/by-nc-sa/3.0