Family:

Genus:
Peperomia dindygulensis Miq.
This species is accepted, and its native range is S. India to Indo-China and Peninsula Malaysia.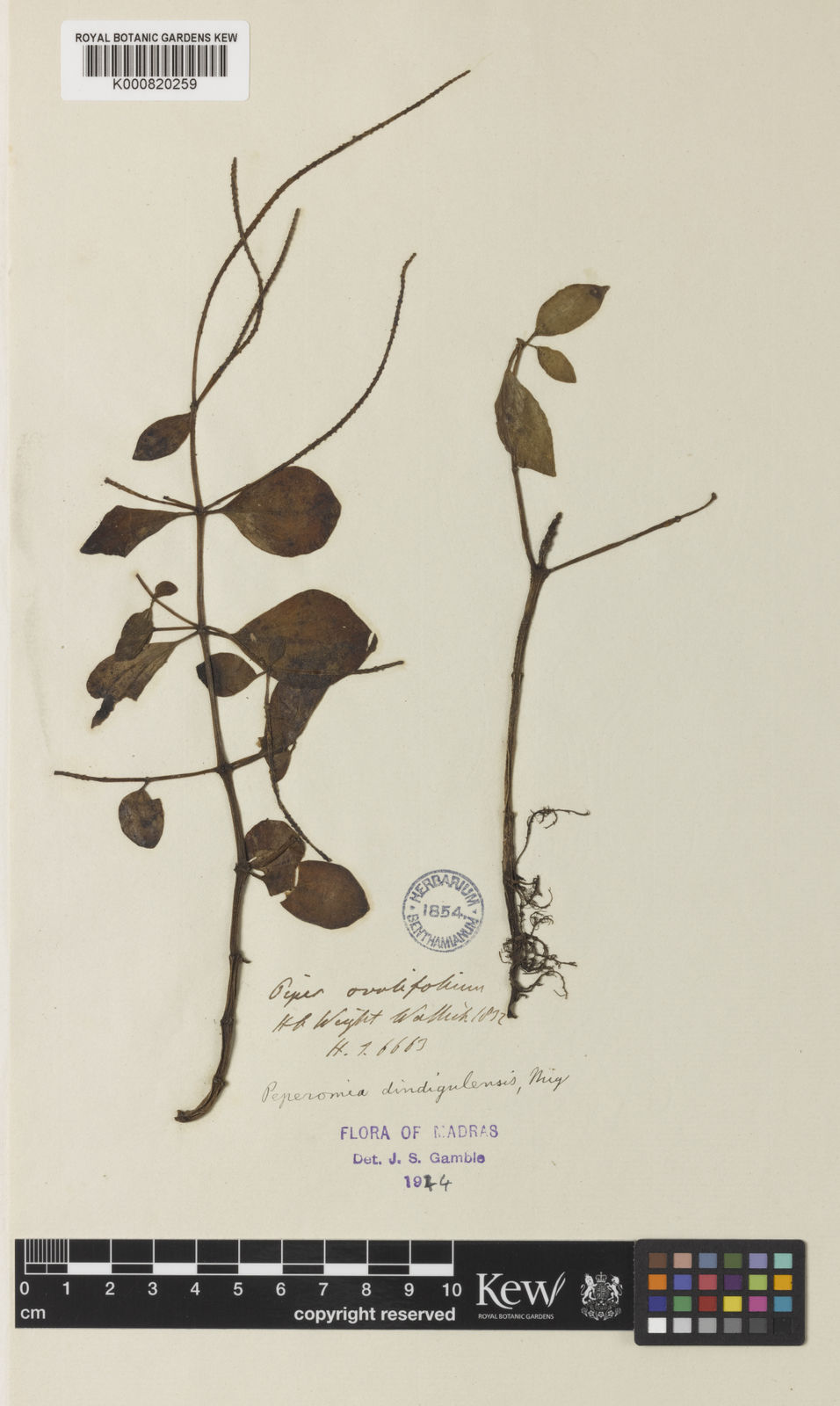 [KBu]
Suwanphakdee C et al. 2017. New species and a reinstatement in Peperomia (Piperaceae) from Thailand. Kew Bulletin 72:1. DOI 10.1007/S12225-016-9662-5
Conservation

Peperomia dindygulensis is com­mon and widespread in Asian countries. The popula­tions grow in protected and non protected areas. The specimens were collected from throughout Thailand. We propose the category of Least Concern (LC) (IUCN2011).

Distribution

China, India, Sri Lanka, Myanmar, Thailand, Vietnam, Laos, Cambodia and Malay­sia.

Ecology

Growing on mountain summits, rock-falls, in shallow depressions, exposed rock slopes and in open areas on rock platforms.

Morphology

General

Habit

Perennial herbs 20 - 25 cm high, erect, epilithic; forming a clump, many main stems with 3 - 4 branchlets; stolons present, without rooting at basal nodes; internodes 2 - 4 cm long with red or reddish spots or bands, fleshy, velutinous, rarely scabrous or puberulous

Morphology

Leaves

Leaves opposite decussate or 4-verticillate on terminal branches and caducous; petiole 0.5 - 1cm long, velutinous, scabrous or pilose; lamina chartaceous when dry, obovate or elliptic, asymmetri­cal, 3 - 5x1.5 - 3 cm, base cuneate or acute, apex acute, margin undulate and pilose, indument densest on young leaves and upper denser than lower surfaces; venation palmately 3-veined, pilose

Morphology

Reproductive morphology

Flowers

Flower with an orbicular floral bract, 0.5 - 0.8 mm diam., covering basal part of ovary

Morphology

Reproductive morphology

Flowers

Androecium

Stamens

Stamens; filaments 0.2 - 0.3 mm long; anthers with 2 valves, 0.3 - 0.5 mm long, exserted at anthesis

Morphology

Reproductive morphology

Flowers

Gynoecium

Ovary

Ovary ovoid, immersed within rachial pit; stigmas capitate, pubescent

Morphology

Reproductive morphology

Fruits

Fruit with short pseudopedicel, ±globose, 0.8 - 1 mm diam., dark brown or black, with sticky glandular hairs on each papilla and persistent style tip

Morphology

Reproductive morphology

Inflorescences

Inflorescence single or a fascicle with 2 - 4 spikes per shoot, terminal or in the axils of the upper leaves, 8 - 15 x 0.05 - 0.1 cm, erect, cylindrical, green; rachis glabrous, with sparse flowers; peduncle 1 - 1.5 cm long, puberulous or slightly scabrous

Note

Gilbert & Nian (1999) treated Peperomia dindygulensis under P. blanda (Jacq.) Kunth and selected the collection of Wight in Wallich 6663B at K-W as the lectotype and P as the isolectotype. Later, we found that additional isolectotypes were deposited in K and BM. The type locality of P. dindygulensis is Dindygul, India and P. blanda is Jamaica. We examined the type specimens of both species, voucher specimens, line and colour draw­ings from Turpin (1816- 1829), publications from Jacquin (1789) and Lanjouw (1957), specimens in Thai herbaria, living specimens in European botanic gardens and living specimens collected throughout Thailand. We found that they share similar gross morphological characters but differ in detail in so many other characters that they should not be synonymised. We therefore recognise and reinstate P. dindygulensis. The species have very different geographical distributions with P. dindygulensis dis­tributed in Asia and P. blanda the Americas/West Indies, Africa and Yemen. The phyllotaxy of P. dindygulensis is opposite decussate or 4- verticillate on terminal shoot (vs opposite on basal and whorled on terminal shoot). The stems, leaves, petioles and peduncles are velutinous, rarely scabrous or pilose (vs stems and petioles densely villosus and densely pubescent on both surfaces of leaf). The floral bract is orbicular (vs ovate with short stalk). The fruits are globose with caducous sticky glandular trichomes each on papilla (vs ellipsoid with only papillae). The fruits have pseudopedicels (vs sessile and immersed in rachial pit). The sticky glandular trichome and pseudopedicel are easily caducous which cannot be observed on dry specimens, but is easily observed on living specimens. The specific epithet refers to Dindygul (the city in the South Indian state of Tamil Nadu) from which the type specimens were collected.

Phenology

Flowering and fruiting occur between December and July.

Vernacular

Phak Pong Daeng (Chanthaburi). USES. Could potentially be used as an ornamental plant.
Native to:
Cambodia, India, Laos, Malaya, Myanmar, Sri Lanka, Thailand, Vietnam
Peperomia dindygulensis Miq. appears in other Kew resources:
First published in Syst. Piperac.: 122 (1843)
Not accepted by
Castle, G.E. (1994). Flore des Seychelles Dicotylédones: 1-663. Orstom Editions. [Cited as Peperomia blanda var. floribunda.]
Lu, Y.C., Yu & T.Y. A. Yang (2020). Taxonomy of Peperomia (Piperaceae) in Taiwan Taiwania 65: 500-516. [Cited as Peperomia leptostachya.]
Literature
Kew Bulletin
Airy-Shaw, H. K. (1987). Willis' dictionary: a dictionary of the flowering plants and ferns 8th ed. Cambridge University Press, Cambridge.
Backer, C. A. & Bakhuizen van den Brink, R. C. (1963). Piperaceae. In: Flora of Java Vol. 1: 167 - 175. Noordhoff, Groningen.
Brummitt, R. K. (1992). Vascular plants, families and genera. Clarendon Press, Oxford.
Burger, W. (1977). The Piperales and the monocots — alternate hypothesis for the origin of monocotyle- donous flowers. Bot. Rev. (Lancaster) 43: 345 - 393.
Dahlstedt, H. (1900). Studienubersud-und Central- Amerikanische Peperomien. Kongl. Svenska Vetensk. Acad. Handl. 33: 1 - 218.
Gilbert, M. G. & Nian, H. X. (1999). Notes on Piperaceae of China. Novon 9: 190 - 198.
Heywood, V. H. (1978). Flowering plants of the world. Oxford University Press, Oxford.
Hooker, J. D. (1886). Piperaceae. In: J. D. Hooker (ed.), Flora of British India. Vol. 5: 78 - 96. L. Reeve & Co., London.
Huber, H. (1987). Piperaceae. In: M. D. Dassanayake (ed.), A revised handbook to the Flora of Ceylon Vol. 6: 273 - 299. Amerind Publishing, New Delhi.
IUCN (2011). Guidelines for using the IUCN Red List categories and criteria, Version 9.0, Gland & Cambridge. http://www.iucn.org. Accessed 24 April 2014.
Jacquin, N. J. (1789). Piper blandum Jacq., Collectanea 3: 211 - 212. Ex officina Wappleriana, Vindobonae.
Lanjouw, J. (1957). Piperaceae. In: J. Lanjouw & A. Pulle (eds), Flora of Suriname Vol. 1 (2): 218 - 290. The Royal Tropical Institute, The Netherlands.
Mabberley,D.J.(2008).Mabberley'splant-book.A portable dictionary of plants, their classification and uses. 3rd edition, Cambridge University Press, Cambridge.
Mbah, J. A., Ngemenya, M. N., Abawah, A. S., Babiaka, S. B., Nubed, L. N., Nyongbela, K. D., Lemuh, N. D. & Efange, S. M. N. (2012). Bioassay-guided discov­ery of antibacterial agents: in vitro screening of Peperomia vulcanica, Peperomia fernandopoiana and Scleria striatinux. Ann. Clinical Microbiol. & Antimi­crobials 11: 10.
Miquel 1843: 122
Miquel, F. A. G. (1843). Systema Piperacearum. Apud H. A. Kramers, Roterodami.
Ridley, H. N. (1924). Piperaceae. In: H. N. Ridley (ed.), The Flora of the Malay Peninsula Vol. 3: 25 - 50. L. Reeve & co. ltd., London.
Suwanphakdee, C. (2012). Systematics and utilization of the family Piperaceae in Thailand. Ph.D. thesis. Khon Kaen University. Khon Kaen, Thailand.
Suwanphakdee, C. , Hodkinson, T. R. & Chantaranothai, P. (2014). New records of Peperomia (Piperaceae) in Thailand. Thai Forest Bull., Bot. 42: 61 - 67.
Tebbs, M. C. (1993). Piperaceae. In: J. Kubitzki, G. Rohwer & V. Bittrich (eds), Families and Genera of Vascular Plants: II, Flowering Plants, Dicotyledons, vol. 2, pp. 516 - 520. Springer-Verlag, Berlin.
The Forest Herbarium. (2014). Thai Plant Names. Tem Smitinand, revised edition. The Forest Herbarium, Royal Forest Department, Bangkok.
Thiers, B. (2015). Index Herbariorum: a globaldirectory of public herbaria and associated staff. New York Botanical Garden's Virtual Herbarium. http://sweetgum.nybg.org/ih/ (accessed 10 April 2015).
Turpin, P. J. F. (1816 - 1829). Dictionnaire des Sciences Naturelles Regne organise: Planches. Botanique: vegetaux acotyledons. 2epartie: classe d'apres la methode naturelle de M. Antoine-Laurent de Jussieu. 5: 293 - 294. F. G. Levrault, Paris.
Wanke, S., Samain, S. M., Vanderschaeve, L., Mathieu, G.,Goetghebeur,P.&Neinhuis,C.(2006).Phylogeny of the genus Peperomia(Piperaceae) inferred from the trnK/matK (cpDNA). Pl. Biol. (Stuttgart) 8: 93 - 102.
Wilson, G. C. (1972). New plant records from Thai­land. Kew Bull. 26: 141 -148.
Yongqian, C., Nianhe, X. & Gilbert, M. G. (1999). Piperaceae. In: Z. Wu & P. H. Raven (eds), Flora of China Vol. 4: 110 - 141. Science Press, Beijing & Missouri Botanical Garden Press, St. Louis.
Yuncker, T. G. (1958). The Piperaceae — a family profile. Brittonia 10: 1 - 7.
de Candolle, C. (1869). Piperaceae. In: A. P. Candolle (ed.), Prodromus systematis naturalis regni vegetabilis 16 (1): 235 - 391. Victor Masson et fils, Paris.
de Candolle, C. (1920). Piperaceae Novae. Annuaire Conserv. Jard. Bot. Geneve 21: 223.
Kew Backbone Distributions
Dassanayake (ed.) (1988). A Revised Handbook to the Flora of Ceylon 6: 1-424. Oxford & IBH Publishing Co. PVT. LTD., New Delhi, Calcutta.
Wu, Z. & Raven, P.H. (eds.) (1999). Flora of China 4: 1-453. Science Press (Beijing) & Missouri Botanical Garden Press (St. Louis).
Herbarium Catalogue Specimens

Digital Image © Board of Trustees, RBG Kew http://creativecommons.org/licenses/by/3.0/


Kew Backbone Distributions

The International Plant Names Index and World Checklist of Selected Plant Families 2022. Published on the Internet at http://www.ipni.org and http://apps.kew.org/wcsp/
© Copyright 2017 World Checklist of Selected Plant Families. http://creativecommons.org/licenses/by/3.0


Kew Bulletin

Kew Bulletin
http://creativecommons.org/licenses/by-nc-sa/3.0


Kew Names and Taxonomic Backbone

The International Plant Names Index and World Checklist of Selected Plant Families 2022. Published on the Internet at http://www.ipni.org and http://apps.kew.org/wcsp/
© Copyright 2017 International Plant Names Index and World Checklist of Selected Plant Families. http://creativecommons.org/licenses/by/3.0