Angelesia splendens Korth.
First published in Ned. Kruidk. Arch. 3: 384 (1855)
This species is accepted
The native range of this species is S. Thailand to W. & Central Malesia. It is a tree and grows primarily in the wet tropical biome.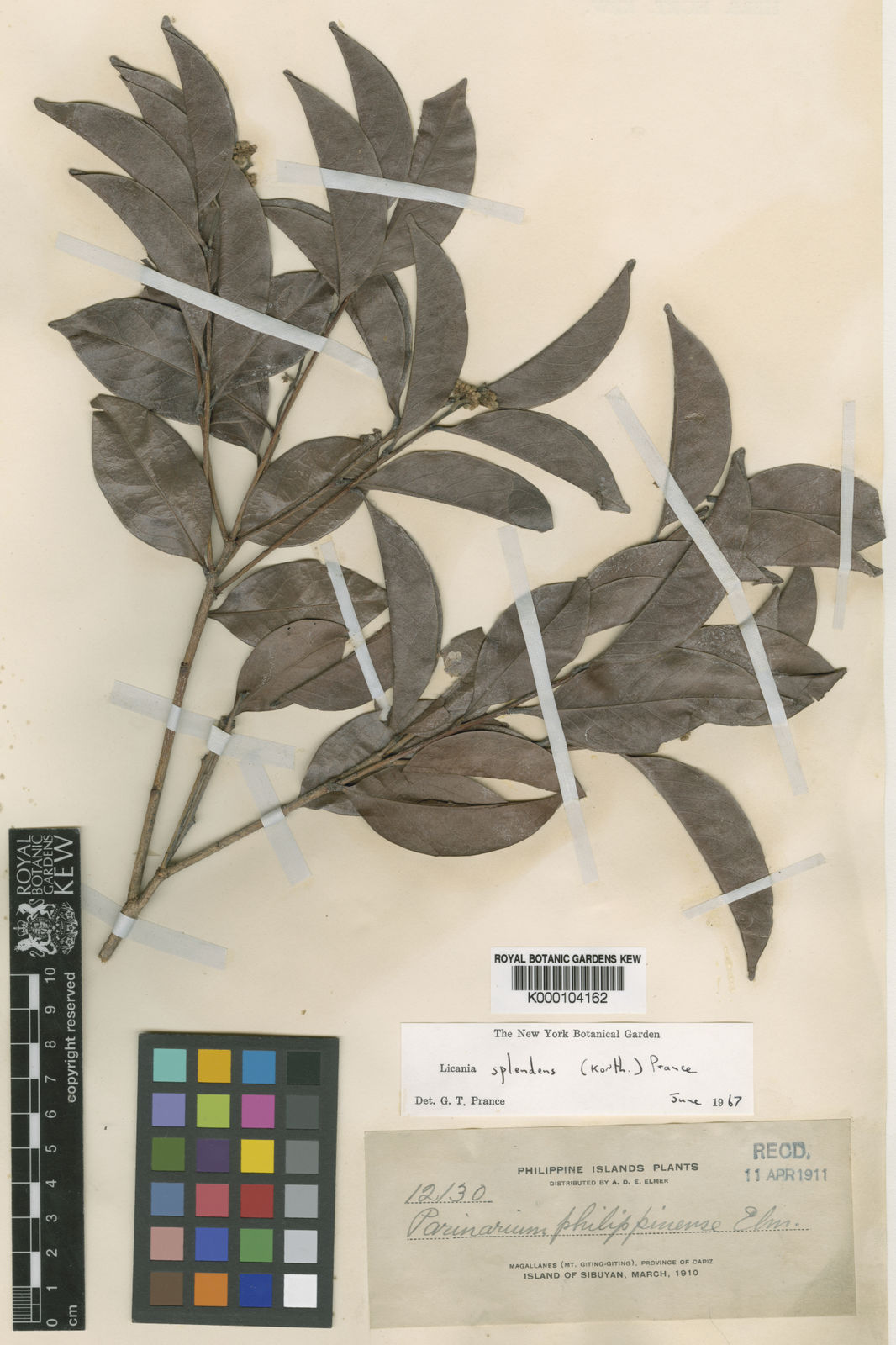 Distribution
Native to:
Borneo, Jawa, Malaya, Philippines, Sulawesi, Sumatera, Thailand
Synonyms
Homotypic Synonyms
Heterotypic Synonyms
Publications
An alternative taxonomy had been proposed by the following authorities:
Govaerts, R. (2003). World Checklist of Seed Plants Database in ACCESS G: 1-40325. [Cited as Licania splendens.]
Kew Backbone Distributions
Prance, G.T. & Sothers, C.A. (2003). Chrysobalanaceae 1 & 2. Species Plantarum: Flora of the World 9, 10: 1-319, 1-268. Australian Biological Resources Study, Canberra.
Other Data
Other Kew resources that provide information on this taxon:
| Date | Reference | Identified As | Barcode | Type Status | Has image? |
| --- | --- | --- | --- | --- | --- |
| Sep 1, 2015 | Gardner [1596], Thailand | | K001235272 | | No |
| Sep 1, 2015 | Gardner [0066], Thailand | | K001235273 | | No |
| Sep 1, 2015 | Gardner [1814], Thailand | | K001235274 | | No |
| Sep 1, 2015 | Gardner [0378], Thailand | | K001235275 | | No |
| Sep 1, 2015 | Clements [147], Malaysia | | K000370297 | isolectotype | Yes |
| Sep 1, 2015 | Maingay, A.C. [619], Malaysia | | K000370296 | lectotype | Yes |
| Mar 29, 2012 | RomeroE. [PPI 29647], Philippines | Licania splendens | K000720287 | | No |
| Mar 29, 2012 | Gaerlan [PPI 10201], Philippines | Licania splendens | K000720288 | | No |
| Mar 29, 2012 | Gaerlan [PPI 10199], Philippines | Licania splendens | K000720289 | | No |
| Mar 29, 2012 | Stone et al. [PPI 6820], Philippines | Licania splendens | K000720290 | | No |
| Mar 29, 2012 | Stone et al. [PPI 6689], Philippines | Licania splendens | K000720291 | | No |
| Jul 1, 2011 | Postar [SAN 141515], Sabah | Licania splendens | K000720135 | | No |
| Jul 1, 2011 | Siti Munirah, M.Y. et al. [FRI 55363], Peninsular Malaysia | Licania splendens | K000720128 | | No |
| Jul 1, 2011 | Chan [CML 16], Peninsular Malaysia | Licania splendens | K000720129 | | No |
| Jul 1, 2011 | Ching [S 61367], Sarawak | Licania splendens | K000720130 | | No |
| Jul 1, 2011 | Jawa [S 70266], Sarawak | Licania splendens | K000720131 | | No |
| Jul 1, 2011 | Pius, G. et al. [SAN 149052], Sabah | Licania splendens | K000720132 | | No |
| Jul 1, 2011 | Sigun [SAN 126590], Sabah | Licania splendens | K000720133 | | No |
| Jul 1, 2011 | Sigun [SAN 126572], Sabah | Licania splendens | K000720134 | | No |
| Jul 1, 2011 | Riswan, S. et al. [B 99], Kalimantan | Licania splendens | K000720136 | | No |
| Jul 1, 2011 | Ambriansyah [AA 2734], Kalimantan | Licania splendens | K000720137 | | No |
| Nov 26, 2007 | Cockburn [FRI 10502], Malaysia | Licania splendens | K000272320 | | No |
| Aug 25, 2004 | Berhaman [SAN 134835], Sabah | Licania splendens | K000227939 | | No |
| Aug 25, 2004 | Soejarto, D.D. et al. [6849], Philippines | Licania splendens | K000227943 | | No |
| Aug 25, 2004 | Ismawi [S 57897], Sarawak | Licania splendens | K000227945 | | No |
| Sep 1, 2001 | RA. Ag. Amin [SAN127142], Borneo | Licania splendens | K000103832 | | No |
| Sep 1, 2001 | Ag. Amin [SAN115321], Borneo | Licania splendens | K000103833 | | No |
| Sep 1, 2001 | Ag. Amin Sigun [SAN126057], Borneo | Licania splendens | K000103834 | | No |
| Sep 1, 2001 | Ag. Amin Sigun [SAN126490], Borneo | Licania splendens | K000103831 | | No |
| Nov 1, 2000 | Ambriansyah, A.A. [2147], Borneo | Licania splendens | K000103707 | | No |
| Jul 1, 2000 | Chin [3136], Malaya | Licania splendens | K000103704 | | No |
| May 1, 2000 | Balgooy, M.M.J.. Van [7207], Malaya | Licania splendens | K000103706 | | No |
| May 1, 2000 | Nangkat [BRUN 16505], Borneo | Licania splendens | K000103708 | | No |
| May 1, 2000 | Saw, L.G. [FRI 44612], Malaya | Licania splendens | K000103705 | | No |
| Apr 1, 2000 | Kochummen, K.M. [FRI18434], Malaysia | Licania splendens | K000104107 | | No |
| Feb 1, 2000 | Zainudin, A. [5130], Malaya | Licania splendens | K000103703 | | No |
| Feb 1, 2000 | Burley [283], Borneo | Licania splendens | K000103709 | | No |
| Nov 1, 1999 | Amin, Ra. Ag. [SAN 132048], Borneo | Licania splendens | K000103710 | | No |
| Aug 1, 1997 | Gutierrez [671], Philippines | Licania splendens | K000104155 | | No |
| Dec 1, 1996 | Ambri [W576], Borneo | Licania splendens | K000104134 | | No |
| Dec 1, 1996 | Ag. Amin Sigun [SAN102580], Borneo | Licania splendens | K000104150 | | No |
| Nov 1, 1996 | Arifin, Z. [969], Borneo | Licania splendens | K000104135 | | No |
| Nov 1, 1996 | Sidiyasa, K. [1126], Borneo | Licania splendens | K000104136 | | No |
| May 1, 1995 | Aban, G. [SAN 99643], Borneo | Licania splendens | K000104149 | | No |
| May 1, 1995 | Meijer, W. [SAN129619], Borneo | Licania splendens | K000104148 | | No |
| May 1, 1995 | Ag. Amin [SAN102866], Borneo | Licania splendens | K000104147 | | No |
| Sep 1, 1986 | Hardial [225], Malaysia | Licania splendens | K000104102 | | No |
| Sep 1, 1986 | Sidek bin Kiah [S.363], Malaysia | Licania splendens | K000104103 | | No |
| Sep 1, 1986 | Chai, P. [S31724], Borneo | Licania splendens | K000104137 | | No |
| Sep 1, 1985 | Kostermans, A. [7048], Borneo | Licania splendens | K000104122 | | No |
| Jan 1, 1970 | Whitmore, T.C. [FRI 8885], Malaysia | Licania splendens | K000104106 | | No |
| Jan 1, 1970 | Soepadmo [80?], Sumatera | Licania splendens | K000104118 | | No |
| Jan 1, 1970 | Shah [982], Borneo | Licania splendens | K000104119 | | No |
| Jan 1, 1970 | Kostermans, A. [21586], Borneo | Licania splendens | K000104120 | | No |
| Jan 1, 1970 | Kostermans, A. [6641], Borneo | Licania splendens | K000104125 | | No |
| Jun 1, 1967 | Rosli [S 14958], Borneo | Licania splendens | K000103606 | | No |
| Jun 1, 1967 | Kings Collector [8680], Malaysia | Licania splendens | K000104104 | | No |
| Jun 1, 1967 | Griffith [sn] | Licania splendens | K000104110 | | No |
| Jun 1, 1967 | Burn-Murdoch, A.M. [sn], Malaysia | Licania splendens | K000104112 | | No |
| Jun 1, 1967 | Kerr, A.F.G. [7848], Thailand | Licania splendens | K000104115 | | No |
| Jun 1, 1967 | Kerr, A.F.G. [15061], Thailand | Licania splendens | K000104116 | | No |
| Jun 1, 1967 | Kerr, A.F.G. [19033], Thailand | Licania splendens | K000104117 | | No |
| Jun 1, 1967 | Toroes, Rahmat Si [4084], Sumatera | Licania splendens | K000104132 | | No |
| Jun 1, 1967 | Meijer, W. [34342], Borneo | Licania splendens | K000104139 | | No |
| Jun 1, 1967 | Meijer, W. [SAN20045], Borneo | Licania splendens | K000104140 | | No |
| Jun 1, 1967 | Nicholson, D.I. [SAN28845], Borneo | Licania splendens | K000104142 | | No |
| Jun 1, 1967 | Cuadra, A. [1256], Borneo | Licania splendens | K000104143 | | No |
| Jun 1, 1967 | Tandom [4224], Borneo | Licania splendens | K000104145 | | No |
| Jun 1, 1967 | Elmer, A.D.E. [20916], Borneo | Licania splendens | K000104146 | | No |
| Jun 1, 1967 | Meijer, W. [SAN19891], Borneo | Licania splendens | K000104151 | | No |
| Jun 1, 1967 | Meijer, W. [SAN20457], Borneo | Licania splendens | K000104152 | | No |
| Jun 1, 1967 | Ampuria, J. [41389], Borneo | Licania splendens | K000104153 | | No |
| Jun 1, 1967 | Ampuria, J. [41196], Borneo | Licania splendens | K000104154 | | No |
| Jun 1, 1967 | Elmer, A.D.E. [12766], Philippines | Licania splendens | K000104158 | | No |
| Jun 1, 1967 | Elmer, A.D.E. [12214], Philippines | Licania splendens | K000104159 | | No |
| Jun 1, 1967 | Ramos, M. [17431], Philippines | Licania splendens | K000104160 | | No |
| Jun 1, 1967 | Martelino [35524], Philippines | Licania splendens | K000104161 | | No |
| Jun 1, 1967 | Elmer, A.D.E. [12130], Philippines | Licania splendens | K000104162 | paratype | Yes |
| Jun 1, 1967 | Gaudichaud [sn] | Licania splendens | K000104111 | | No |
| Jun 1, 1967 | Sinclair, J. [SF40650], Singapore | Licania splendens | K000104113 | | No |
| Jun 1, 1967 | Jinik Chong [33668], Borneo | Licania splendens | K000104141 | | No |
| Jun 1, 1967 | Enchai [10372], Borneo | Licania splendens | K000104144 | | No |
| Jan 1, 1967 | Ridley, H.N. [sn], Malaysia | Licania splendens | K000104101 | | No |
| Jun 1, 1963 | Pukol, H. [BRUN 5401], Brunei | Licania splendens | K000103607 | | No |
| May 1, 1963 | Sinclair, J. [9879], Malaysia | Licania splendens | K000104105 | | No |
| | Whitmore, T.C. [FRI 3787], Malaysia | Licania splendens | K000104108 | | No |
| | Vethevelu, P. [FRI29694], Malaysia | Licania splendens | K000104109 | | No |
| | Niyomdham [1221], Thailand | Licania splendens | K000104114 | | No |
| | Paie [S35694], Borneo | Licania splendens | K000104123 | | No |
| | Amin, Ag. [SAN115572], Borneo | Licania splendens | K000104124 | | No |
| | Madani, L. [SAN89479], Borneo | Licania splendens | K000104126 | | No |
| | Dewol [SAN89979], Borneo | Licania splendens | K000104127 | | No |
| | Amin G. [SAN95305], Borneo | Licania splendens | K000104128 | | No |
| | Ampuria, J. [41321], Borneo | Licania splendens | K000104129 | | No |
| | Dewol [SAN78399], Borneo | Licania splendens | K000104130 | | No |
| | George [S42886], Borneo | Licania splendens | K000104131 | | No |
| | Soejarto [6838], Philippines | Licania splendens | K000104156 | | No |
| | Soejarto [7153], Philippines | Licania splendens | K000104157 | | No |
| | Osman Mungkim [45112], Borneo | Licania splendens | K000104121 | | No |
| | Frodin, D.G. [2035], Borneo | Licania splendens | K000104133 | | No |
| | Sidiyasa, K. [635], Indonesia | Licania splendens | K000104138 | | No |
Sources
Herbarium Catalogue Specimens

Digital Image © Board of Trustees, RBG Kew http://creativecommons.org/licenses/by/3.0/

IUCN Categories

IUCN Red List of Threatened Species
http://creativecommons.org/licenses/by-nc-sa/3.0

Kew Backbone Distributions

The International Plant Names Index and World Checklist of Vascular Plants 2023. Published on the Internet at http://www.ipni.org and https://powo.science.kew.org/
© Copyright 2022 World Checklist of Vascular Plants. http://creativecommons.org/licenses/by/3.0

Kew Names and Taxonomic Backbone

The International Plant Names Index and World Checklist of Vascular Plants 2023. Published on the Internet at http://www.ipni.org and https://powo.science.kew.org/
© Copyright 2022 International Plant Names Index and World Checklist of Vascular Plants. http://creativecommons.org/licenses/by/3.0