This species is accepted, and its native range is W. New Guinea.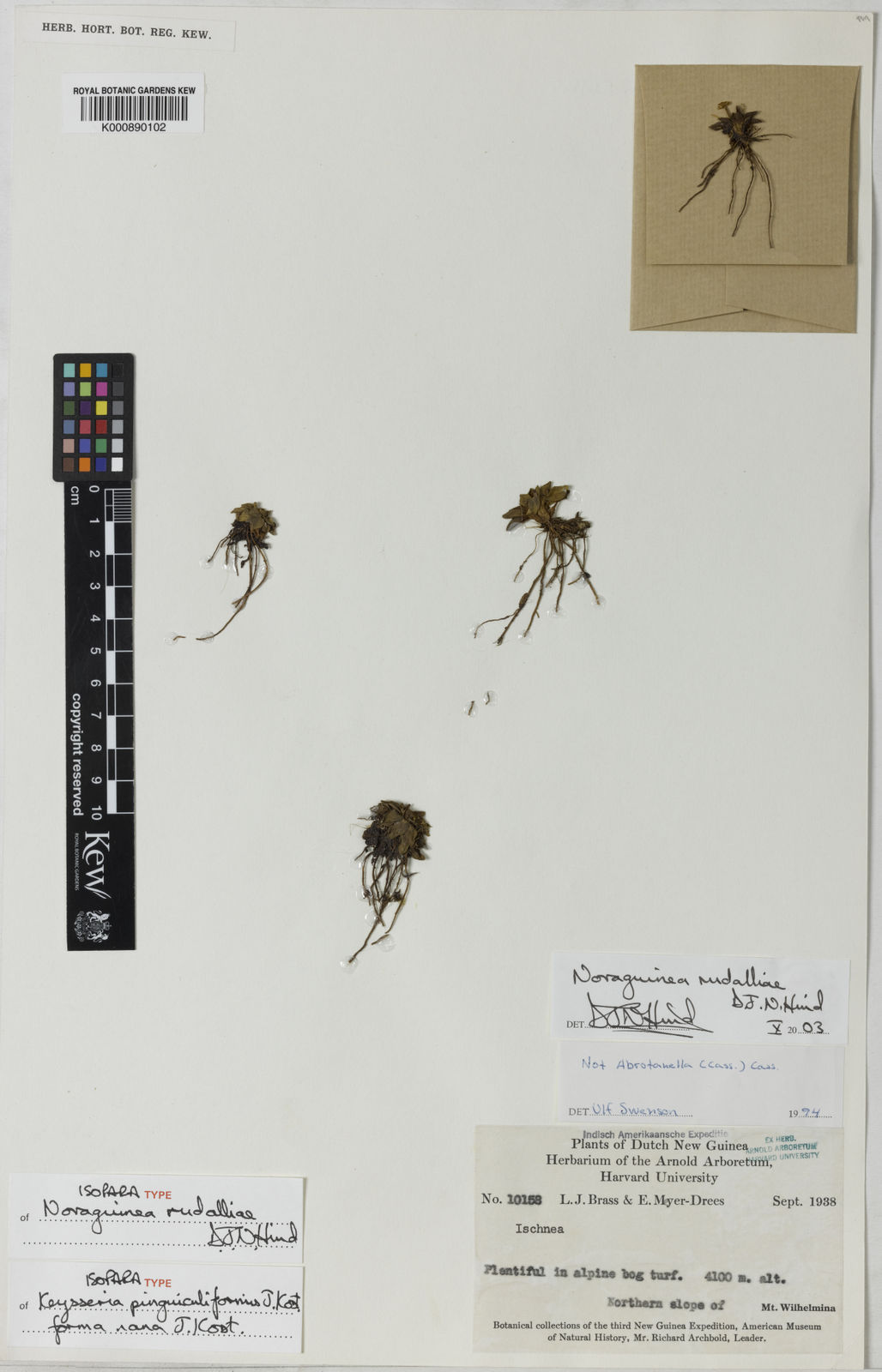 [KBu]
Hind, D. (2004). Novaguinea (Compositae: Astereae: Lagenophrinae), a New Endemic Genus to Papua, Indonesia. Contributions to the Flora of Mount Jaya, XIII. Kew Bulletin, 59(2), 177-188. doi:10.2307/4115848
Conservation

This taxon is relatively common, but easily overlooked in the boggy ground where it grows (P. Rudall, pers. comm.). This species would be categorized (IUCN 2001) as Critically Endangered - CR - based on extent of occurrence (EOO) being less than 100 km2: CR(B). However, because one of the populations, at Batubersih is potentially threatened by disturbance due to overburden dumping this categorizing might be extended to CR(B & A1c). Additional disturbance may be caused by continued use of the track down to the Fairy Lakes across the area containing the Batubersih population. The Dayak Meadow and Fairy Lakes populations themselves are unlikely to be threatened.

Distribution

Indonesian Papua, known from alpine meadows on Mount Jaya between 3630 and 4200 m, and on Mt Trikora at 4100 m.

Ecology

Wet and boggy subalpine grassland with bryophyte hummocks and patches of bog on limestone with scattered limestone boulders

Morphology

General

Habit

Small, clump-forming rosulate perennial herbs

Morphology

Leaves

Leaf rosettes to 2.5 cm diam. and about 1.5 cm tall, with older leaves retained on plants, younger leaves spreading to somewhat reflexed within lamina portion, oblanceolate, pseudopetiolate, pseudopetiole 3-veined, 10 - 12 x 2.8 mm at broad base narrowing slightly upwards to 2.4 mm wide, canaliculate, and flushed wine-red at base, becoming flat towards lamina, lamina broadly ovate, 5 - 8 x 4 - 6 mm, mid to dark green and shiny, appearing glabrous above and beneath but usually with very few (less than 10) scattered stout, erect uniseriate multicellular eglandular hairs over a sparse indumentum of short markedly adpressed uniseriate multicellular eglandular hairs, often glabrescent, midrib insculpate above and scarcely prominent beneath, secondary venation scarcely evident but reticulate, margins entire, rounded and rarely appearing ciliate with very few large uniseriate multicellular eglandular hairs like those scattered over the upper surface of lamina, apices acute to obtuse

Morphology

Reproductive morphology

Flowers

Disc

Disc florets 14 - 15, hermaphrodite, fertile, corolla 4- lobed, apparently yellowish-green or 'pale violet-pink', lobes glabrous, c. 0.8 x 0.6 mm, ascending to spreading, apices acute to obtuse with thickened, sometimes very sparsely papillate margins; anthers 4, free, filaments attached about half way down corolla tube; apical anther appendage scarcely discernible, sometimes acute, basal anther appendage scarcely evident, basally ecaudate; style base lacking basal node or nectary, style shaft c. 1.5 mm long, glabrous, upper part exserted from corolla throat, style arms narrowly lanceolate, linear, c. 0.7 mm long, separate and ascending, short-papillose outside

Morphology

Reproductive morphology

Flowers

Florets

Marginal florets 20 - 26, female, fertile, corollas bilabiate and cryptically radiate with broad glabrous outer lobe, 1.1 - 1.3 x 0.5 - 0.6 mm, and a smaller glabrous recurved linear inner lobe, 0.8 - 1 x c. 0.2 mm, corolla tube 0.6 - 1 mm long x 0.2 mm diam., moderately glandular towards apex; style base lacking basal node, glabrous, style shaft glabrous, c. 1.5 mm long, upper part exserted from corolla throat, style arms narrowly lanceolate, c. 0.5 mm long, separate and ascending, short-papillose outside

Morphology

Reproductive morphology

Fruits

Achenes usually laterally compressed, but innermost usually trigonous, body appearing pinkish brown in photographs, c. 2 x 0.7 - 0.8 mm, narrowing to a short beak c. 0.1 mm long (appearing greenish in fresh material judging by photograph) often with a distinct apical callus, body usually glabrous but very sparsely glandular at base of beak, marginal veins darker in herbarium material; carpopodium scarcely visible but procurrent on base of achene and up marginal veins; pappus absent.

Morphology

Reproductive morphology

Inflorescences

Inflorescences of solitary capitula, at first sessile or subsessile (with peduncle to c. 1 mm long) in the centre of the leaf rosette, eventually elongating on a stout peduncle to 2.5 cm long x 1.5 mm diam. at base thickening to 2.5 mm beneath involucre, peduncle bracteolate, bracteoles usually solitary, phyllary-like in upper half of stipe, c. 3 x c. 1.8 mm, peduncle at first moderately or densely pubescent beneath involucre, upon extension post- anthesis become sparsely pubescent throughout, with multicellular, uniseriate and eglandular, spreading, retrorse or ascending hairs, also moderately very shortly glandular-stipitate throughout

Morphology

Reproductive morphology

Inflorescences

Capitulum

Capitula disciform or cryptically radiate, terminal (or possibly subterminal), with axillary shoots alongside in rosette; involucre 3 mm tall x 4 mm diam., at first broadly cupulate, appearing broader at achene maturity with receptacle becoming dome-shaped; phyllaries 8 - 14, biseriate to triseriate, outer series 1.8 - 2.5 x c. 1.7 - 2.3 mm, margins laciniate, apices obtuse to rounded, laciniate, inner series c. 1.5 x 0.6 - 1.2 mm, apices acute to obtuse, laciniate; receptacle flat to convex at anthesis and conspicuously domed at maturity, glabrous, epaleate, scarcely foveolate, at first almost cream coloured at achene dispersal but later turning fawn

Morphology

Roots

Roots thread-like

Note

The species is named after Paula Rudall, the collector of the plant on the Dayak Meadow and who works in the Jodrell Laboratory, Royal Botanic Gardens, Kew. In Novaguinea rudalliae the plants are tufted or turf-cushion-forming with apparently sessile, solitary capitula in the centre of a small rosette of leaves, eventually forming a short but stocky peduncle with a slightly inflated apex. The biseriate and distinctly bilabiate female marginal florets, outnumbering the conspicuous fertile disc florets, and the domed mature receptacle help to distinguish this genus within the subtribe.

Phenology

Three collections suggest that the flowering time may be January - March and fruiting time January - March, but Brass & Meyer-Drees 10158 (September) suggests that this species may well flower throughout the year.

Type

Indonesia, Papua (Irian Jaya). Mimika Regency, PT-Freeport Indonesia Concession Area, N of Dayak Meadow, 30 March 1999, Rudall 72 (holotypus K including Kew Spirit Collection No. 71410; isotypi BO, A, CAMB, L, S, US).
Novaguinea rudalliae D.J.N.Hind appears in other Kew resources:
| Date | Reference | Identified As | Barcode | Type Status |
| --- | --- | --- | --- | --- |
| Oct 1, 2003 | Brass, L.J. [10158], New Guinea | | K000890102 | isoparatype |
| Sep 1, 2003 | Edward, P.J. [4292], New Guinea | | K000890101 | paratype |
| Sep 1, 2003 | Rudall, P.J. [72], Indonesia | | K000890100 | holotype |
First published in Kew Bull. 59: 177 (2004)
Accepted by
Roskov Y. & al. (eds.) (2018). Species 2000 & ITIS Catalogue of Life Naturalis, Leiden, the Netherlands.
Literature
Kew Bulletin
--- & --- (2003). New species of Papuacalia (Compositae: Senecioneae). Contributions to the Flora of Mount Jaya, XI. Kew Bull. 58: 389 - 402.
--- & Bremer, K. (1994). The genus Lagenocypsela (Asteraceae, Astereae) in New Guinea. Australian Syst. Bot. 7: 265 - 273.
--- & Jeffrey, C. (1988). Brachycome Cass. corn Cass. and Lagenophora Cass. corr. Cass. are correct. Kew Bull. 43: 329-331.
--- & Johns, R. J. (2002). A new alpine species of Ixeridium (Compositae: Lactuceae). Contributions to the Flora of Mount Jaya, VIII. Kew Bull. 57: 697 - 703.
--- (1995). Systematics of Abrotanella, an Amphi- Pacific genus of Asteraceae (Senecioneae). Pl. Syst. Evol. 197: 149-193.
--- (2000). Generic conspectus of the tribe Astereae (Asteraceae) in North America, Central America, the Antilles and Hawaii. Sida, Bot. Misc. 20: 1-100.
Bremer, K (1994). Asteraceae. Cladistics & Classification. Timber Press, Portland, Oregon.
Brodie, H. J. (1955). Springboard plant dispersal mechanisms operated by rain. Canad. J. Bot. 33: 156-167.
Glenny, D. (1997). A revision of the genus Anaphalioides (Asteraceae: Gnaphalieae). New Zealand J. Bot. 35: 451 - 477.
Hind, D. J. N. (2002). A new species of Papuacalia from Papua (Irian Jaya, Indonesia). Kew Bull. 57: 693 - 696.
IUCN (2001). Categories & Criteria of the Red List of the IUCN. International Union for Conservation of Nature and Natural Resources, Gland, Switzerland.
Koster, J. (1966). The Compositae of New Guinea. 1. Nova Guinea, Bot. 24: 497 - 614.
Nesom, G. L. (1994). Subtribal classification of the Astereae (Asteraceae). Phytologia 76: 193 - 274.
Pizo, M. A. & Morellato, L. P. C. (2002). A new rain- operated seed dispersal mechanism in Bertolonia mosenii (Melastomataceae), a neotropical rainforest herb. Amer. J. Bot. 89: 169-171.
Royen, P. van (1983). The Alpine Flora of New Guinea. Taxonomic part: Casuarinaceae to Asteraceae. Vol. 4. Cramer, Vaduz.
Savile, D. B. O. (1951). Splash-cup dispersal mechanism in Chrysosplenium and Mitella. Science 117: 250-251.
Swenson, U. (1994). The genus Ischnea (Asteraceae, Senecioneae) in New Guinea. PI. Syst. Evol. 191: 247 -263.
Zhang, Xiaoping & Bremer, K. (1993). A cladistic analysis of the tribe Astereae (Asteraceae) with notes on their evolution and subtribal classification. Pl. Syst. Evol. 184: 259-283.
Herbarium Catalogue Specimens
Digital Image © Board of Trustees, RBG Kew http://creativecommons.org/licenses/by/3.0/

Kew Backbone Distributions
The International Plant Names Index and World Checklist of Selected Plant Families 2021. Published on the Internet at http://www.ipni.org and http://apps.kew.org/wcsp/
© Copyright 2017 World Checklist of Selected Plant Families. http://creativecommons.org/licenses/by/3.0

Kew Bulletin
Kew Bulletin
http://creativecommons.org/licenses/by-nc-sa/3.0

Kew Names and Taxonomic Backbone
The International Plant Names Index and World Checklist of Selected Plant Families 2021. Published on the Internet at http://www.ipni.org and http://apps.kew.org/wcsp/
© Copyright 2017 International Plant Names Index and World Checklist of Selected Plant Families. http://creativecommons.org/licenses/by/3.0