This species is accepted, and its native range is Brazil (Bahia).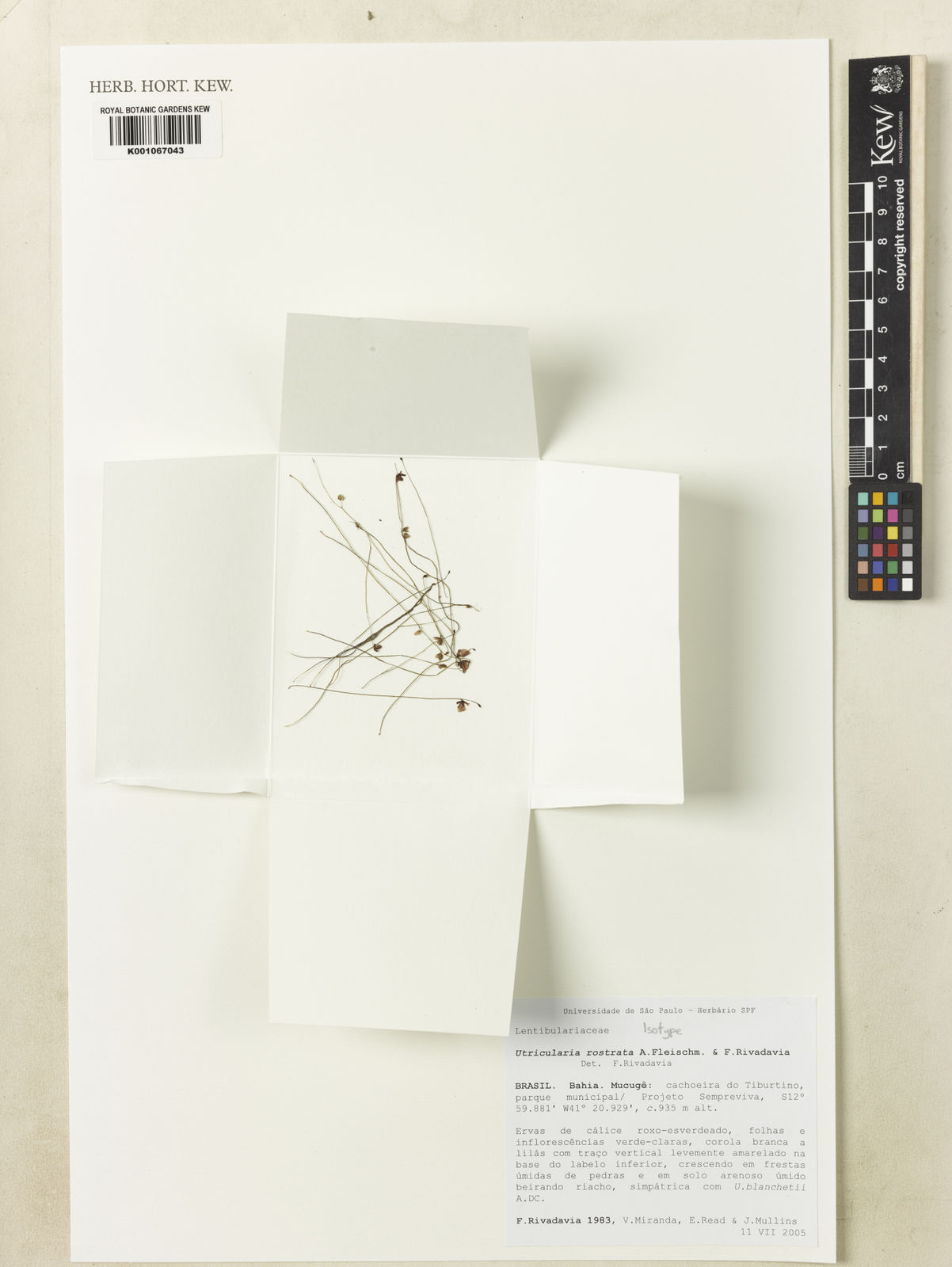 [KBu]
Fleischmann, A. & Rivadavia, F. 2009. Utricularia rostrata (Lentibulariaceae), a new species from the Chapada Diamantina, Brazil. Kew Bulletin 64: 155. DOI: https://doi.org/10.1007/s12225-008-9086-y
Conservation

Least Concern (LC) (IUCN 2001). Utriculariarostrata is widespread and common, and present in protected areas of a national park. Thus it is currently not under threat.

Distribution

Brazil: Bahia, endemic to the Chapada Diamantina highlands. Utriculariarostrata is known to occur from the northern part of the Chapada Diamantina, around the town of Lençóis and at the Fumaça waterfall, to the southern part of these highlands, c. 100 km to the south near the town of Barra da Estiva and c. 125 km to the South West near the town of Rio de Contas. Map 1.

Ecology

Commonly found growing in moist sandy soils in semi-shaded habitats along streams and waterfalls; also common with mosses on semi-shaded vertical rocks dripping with water; occasionally found growing in open sandy seepages over rocks; c. 550 m – 1570 m.

Morphology

General

Scales few, similar to the bracts, basifixed, ovate-deltoid, with apex acute, 0.6 – 0.8 mm long

Morphology

General

Habit

Small delicate terrestrial annual (occasionally perennial)

Morphology

General

Traps

Traps numerous on the leaves and stolons, ovoid, on stalk of c. 0.2 mm length, 0.40 – 0.45 mm long by 0.35 – 0.40 mm wide, mouth lateral with a single, conical, dorsal appendage of 0.1 mm and a longer, deeply bifid, multicellular, ventral appendage; outer surface of traps papillose; trap interior with both quadrifid glands and bifid threshold glands, both on stalk c. 10 μm long; quadrifid glands X-shaped, apical cells 70 – 80 μm long

Morphology

Leaves

Leaves from the stolons, petiolate, lamina narrowly linear with apex subacute, c. 0.5 mm wide, 1-nerved; up to 20 mm long

Morphology

Reproductive morphology

Flowers

Flowers 1 – 3 (4); pedicel filifom, terete, 0.4 – 1.2 mm long, c. 0.1 mm in diam. Calyx lobes unequal, upper lobe longer than the lower lobe at anthesis, membranous, glabrous, with few simple parallel nerves; upper lobe obovate with apex acute, strongly convex, c. 2 mm long; lower lobe shorter at anthesis (c. 1.3 mm, but elongated to c. 2.5 mm in fruit), convex, margins curved inwards, narrowly elliptic to obovate, with apex rounded or minutely bifid, 1.3 – 1.5 mm long, spreading in fruit

Morphology

Reproductive morphology

Flowers

Androecium

Stamens

Filaments

Filaments curved, c. 0.6 mm long, the anther thecae subdistinct, c. 0.5 mm by 0.3 mm

Morphology

Reproductive morphology

Flowers

Corolla

Corolla white, mauve or violet, lower lip with a yellow blotch at the palate and white or cream markings on the limb, 3 – 4 mm long; upper lip constricted below the middle, the superior part quadrate to elliptic with apex crenate, the inferior part transversely elliptic with prominent basal sac with raised rim, the whole upper lip only slightly longer and not wider than the calyx, 2.5 – 3.0 × 1.0 mm; lower lip limb transversely elliptic to trapezoid in outline with a prominent rounded palate at the base, the apex rounded, crenate, 1.7 – 4.0 × 3.5 – 5.0 mm; palate margin with short ciliae; spur narrowly conical, with apex shortly bidentate, curved upwards, slightly shorter than or equalling the lower lip, 0.7 – 1.0 mm in diam., c. 3 mm long

Morphology

Reproductive morphology

Flowers

Gynoecium

Ovary

Ovary globose; style short; stigma bilabiate

Morphology

Reproductive morphology

Flowers

Pollen

Pollen 5-colporate, circular in outline, 22 × 27 μm

Morphology

Reproductive morphology

Fruits

Capsule globose, to 1.2 mm in diam., shorter than the calyx lobes, totally covered by enrolled upper calyx lobe, wall membranous, dehiscence by a single, longitudinal, ventral, marginally thickened slit

Morphology

Reproductive morphology

Inflorescences

Inflorescence a raceme, erect, simple, up to 13 cm long; peduncle filiform, terete, glabrous, c. 0.2 mm thick

Morphology

Reproductive morphology

Inflorescences

Bracts

Bracts basifixed, ovate-deltoid, with apex acute, c. 0.6 mm long and 0.25 mm wide, 3-nerved

Morphology

Reproductive morphology

Inflorescences

Bracteoles

Bracteoles narrowly ovate, with apex acute, c. 0.6 × 0.15 mm

Morphology

Reproductive morphology

Seeds

Seed truncate-obovoid, compressed, c. 250 × 200 μm; testa surface rugose, testa cells ± rectangular, elongate, with conspicuously raised anticlines

Note

Utriculariarostrata is placed in sect. Aranella (Barnhart) P. Taylor because of its trap morphology (i.e. trap mouth with a single dorsal appendage and a pair of multicellular ventral appendages). However, the raised rim surrounding the basal sac of the upper corolla lip is not as prominent in U. rostrata as is typical with other members of that section. This new species is apparently most closely related to U. costata P. Taylor, because of the shape and sculpture of its seed (Fig. 2), and because calyx lobes, scales, bracts and bracteoles all have entire margins (at least lowermost scales fimbriate to dentate in all other members of Aranella except U. costata and U. purpureocaerulea A. St. Hil. & Girard). Utriculariarostrata differs from all other members of sect. Aranella in its rostrate upper calyx lobe, which totally encloses the seed capsule in fruit. Furthermore, U. rostrata differs from the related U. costata in its short and curved spur (straight and 3 times as long as the lower corolla lip in U. costata), in its calyx with apex acute (upper lobe with obtuse, denticulate apex, lower lobe truncate to shortly bidentate), in the corolla upper lip being rectangular (upper corolla lip ovate) and in the lower corolla lip 3 – 4 times as long as the lower calyx lobe (about as long as the lower calyx lobe). Utriculariarostrata can be distinguished from U. purpureocaerulea (with which it shares bracts and bracteoles that all have entire margins) by its quadrate to elliptic upper corolla lip, that is constricted below the middle, that has a crenate apex, and that is narrower than the calyx and by its spur that is curved upwards (upper corolla lip transversely elliptic, not constricted, with apex rounded, much wider than the calyx and spur straight in U. purpureocaerulea). Seed of U. rostrata is truncate-obovoid, not ovoid like the seed of U. purpureocaerulea. The specific epithet rostrata refers to the unique beak-like rostrate apex of the upper calyx lobe, which is especially obvious in fruiting material of this species. When growing in shadier habitats the inflorescences tend to be green in colour and the corolla mauve to violet. In sunnier habitats the whole inflorescence and especially the calyx may be reddish, while the corolla becomes nearly white. The flowers of Utriculariarostrata are sweetly perfumed. The upper calyx lobe encloses the whole capsule in fruit, the lower calyx lobe is horizontally spreading in fruit. Seed which is shed from the longitudinal vertical dehiscence line of the capsule will fall on the lower calyx, from which it is shed by wind, or — more effectively — splashed by rain drops. The lower calyx lobe will act like a catapult, when hit by a rain droplet. Other species of Utricularia also have a lower calyx lobe that is elongated in fruit, becoming conspicuously larger than both the upper lip and the capsule (like U. pusillaVahl of sect. Setiscapella (Barnhart) P. Taylor or U. nana A. St. Hil. & Girard of sect. Benjaminia P. Taylor). In these species, the lower lip may act like a seed catapult for rain drop dispersal as well.

Type

Brazil, Bahia, Município de Mucugê, cachoeira do Tiburtino, F. Rivadavia, V. Miranda, E. Read & J. Mullins 1983 (holotypusSPF!; isotypi K, M).

Vegetative Multiplication

Stolons

Stolons few, filiform, up to 7 cm long, c. 0.1 mm thick
Native to:
Brazil Northeast
Utricularia rostrata A.Fleischm. & Rivadavia appears in other Kew resources:
| Date | Reference | Identified As | Barcode | Type Status |
| --- | --- | --- | --- | --- |
| | Rivadavia, F. [1983], Bahia | | K001067043 | isotype |
First published in Kew Bull. 64: 155 (2009)
Accepted by
Govaerts, R., Nic Lughadha, E., Black, N., Turner, R. & Paton, A. (2021). The World Checklist of Vascular Plants, a continuously updated resource for exploring global plant diversity. https://doi.org/10.1038/s41597-021-00997-6 Scientific Data 8: 215.
Literature
Kew Bulletin
IUCN (2001). IUCN Red List Categories and Criteria: Version 3.1. IUCN Species Survival Commission. IUCN, Gland, Switzerland and Cambridge, UK.
Stannard, B. L. (ed.) (1995). Flora of the Pico das Almas. Royal Botanic Gardens, Kew.
Taylor, P. (1989). The genus Utricularia — a taxonomic monograph. Kew Bull. Addit. Ser. XIV. HMSO, London.
Herbarium Catalogue Specimens
Digital Image © Board of Trustees, RBG Kew http://creativecommons.org/licenses/by/3.0/

Kew Backbone Distributions
The International Plant Names Index and World Checklist of Selected Plant Families 2021. Published on the Internet at http://www.ipni.org and http://apps.kew.org/wcsp/
© Copyright 2017 World Checklist of Selected Plant Families. http://creativecommons.org/licenses/by/3.0

Kew Bulletin
Kew Bulletin
http://creativecommons.org/licenses/by-nc-sa/3.0

Kew Names and Taxonomic Backbone
The International Plant Names Index and World Checklist of Selected Plant Families 2021. Published on the Internet at http://www.ipni.org and http://apps.kew.org/wcsp/
© Copyright 2017 International Plant Names Index and World Checklist of Selected Plant Families. http://creativecommons.org/licenses/by/3.0