Caralluma wilhelmii Thulin
First published in Kew Bull. 64: 477 (2009)
This species is accepted
The native range of this species is E. Ethiopia. It is a succulent shrub and grows primarily in the desert or dry shrubland biome.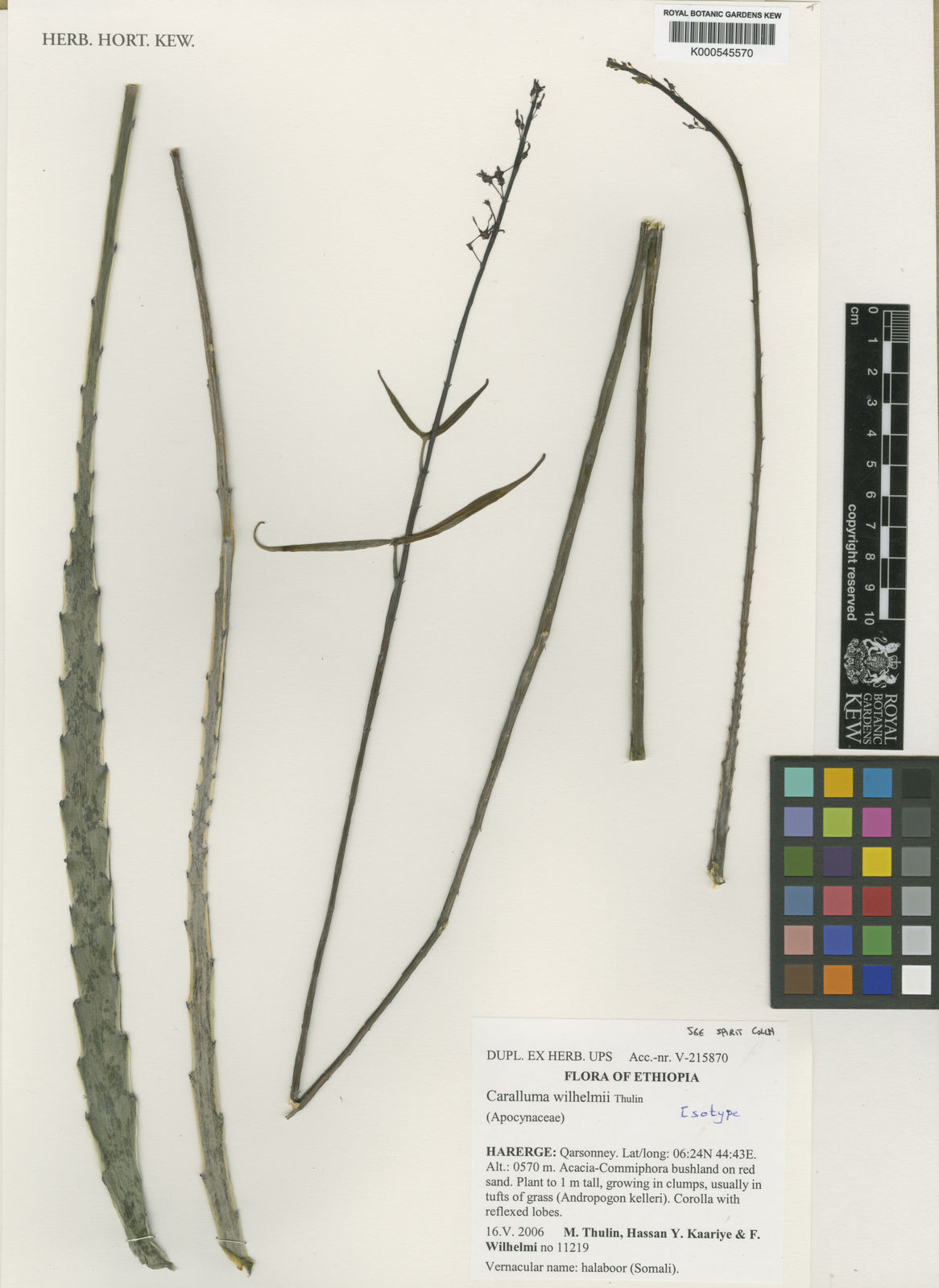 Descriptions
Thulin, M. 2009. New species of Caralluma and Ceropegia (Apocynaceae: Asclepiadoideae-Ceropegieae) from eastern Ethiopia. Kew Bulletin 64: 477. DOI: https://doi.org/10.1007/s12225-009-9125-3
Type

Ethiopia, Somali Regional State, Harerge, Qarsonney, Thulin, Kaariye & Wilhelmi 11219 (holotypus ETH; isotypi K, UPS).

Morphology

General

Habit

Plant up to 1 m tall, growing in dense clumps, with a clear exudate; vegetative stems succulent, erect, up to c. 45 cm tall, acutely 4-angular, 10 – 20 mm wide, greyish green with darker mottling and with whitish ribs

Morphology

Leaves

Leaves tooth-like, persistent, inserted along the angles of the stem and 10 – 20 mm apart, narrowly to broadly triangular, 2 – 3 mm long, acute at the apex, glabrous or minutely hairy at margin

Morphology

Reproductive morphology

Inflorescences

Inflorescence a slender deciduous pseudoraceme up to 60 cm long, acutely 4-angular, sometimes branched; flowers 5-merous in (1 –) 2-flowered fascicles; bracts and bracteoles linear, 1 – 1.5 mm long; pedicels 3 – 6 mm long, slender, first ascending but drooping at anthesis

Morphology

General

Buds

Buds 5 – 7 mm long, subglobose at the base, with a narrow middle portion, and somewhat expanded again towards the sulcate upper portion, acute at the tip. Sepals lanceolate, 1.5 – 2 mm long, outcurved at anthesis, acute

Morphology

Reproductive morphology

Flowers

Corolla

Corolla deeply divided into linear lobes, completely reflexed at anthesis, glabrous; tube 1 – 1.5 mm long, c. 3 mm in diam., pale yellowish with a dense dark purplish brown mottling with often ± transverse markings inside; lobes 6 – 8 mm long, c. 1.5 mm wide at the base, tapering into c. 0.5 mm wide middle portion and widening again to c. 1 mm and conduplicate towards the acute tip, dark purplish brown, but basal part pale yellowish with dark markings as the tube. Corona gynostegial, almost sessile, largely exserted from the corolla tube, c. 2 mm in diam. and c. 1.5 mm high, on the outside with tufts of 1 – 2 mm long stiff but easily detached purplish hairs; outer corona lobes interstaminal, ± square, c. 0.5 × 0.5 mm, suberect, ± truncate, pale purple; inner corona lobes staminal, incumbent over the anthers, c. 1.5 × 0.5 mm, somewhat narrowing towards the tip, not connivent, dark purplish brown

Morphology

Reproductive morphology

Flowers

Pollinarium

Pollinaria D-shaped, c. 0.3 × 0.2 mm

Morphology

Reproductive morphology

Flowers

Pedicel

Pedicel in fruit c. 10 mm long, much thickened and erect. Follicles terete, widely divergent, up to 70 × 4 mm when not fully ripe, tapering at the tips; old dehisced follicles c. 170 × 10 mm

Morphology

Reproductive morphology

Seeds

Seeds not seen

Distribution

Carallumawilhelmii is known only from the area between KebriDehar and Shillabo in the eastern part of the Somali National Regional State (previously Harerge Region) of Ethiopia. Apart from the type locality the species was also seen, but not collected, c. 25 km NE of Shillabo at 6°18′N, 44°40′E. About a dozen clumps were seen in total.

Ecology

Acacia-Commiphora bushland on red sand, mostly found in tufts of the robust grass Andropogonkelleri; 550 – 570 m.

Vernacular

Halaboor (Somali, at type locality).

Conservation

This species may well have a wider distribution, but in view of its very restricted known distribution and the small number of plants seen, it should be regarded as Endangered (EN B2a, biii D). Andropogonkelleri, the tuft-forming grass that provides the main habitat of Carallumawilhelmii, is becoming less frequent as it is much used for building purposes, etc.

Note

This distinctive new species is named after Dr Friedrich Wilhelmi, manager of the Dibatag Field Research Project of Al Wabra Wildlife Preservation, who took part in and provided logistic support for the field trip during which the plant was discovered. The type locality is only a few minutes walk from the project field station in Qarsonney, which is some 60 km SE of KebriDehar. Carallumawilhelmii resembles the widespread C. priogonium K. Schum. in overall size, vegetative parts, and in the almost sessile corona, but differs markedly in other floral structures. The buds have a subglobose base, a narrow middle portion, and a sulcate, expanded apical portion (buds not cylindrical with a tapering tip); the corolla is glabrous (not with purplish vibratile hairs on lobes), and with lobes reflexed at anthesis (corolla not more or less rotate) and expanded and conduplicate (not tapering and flat) towards the tip; the corona is practically entirely exposed (not partly enclosed by corolla tube) and has tufts of purplish hairs (not glabrous) on the outside, and the outer lobes are truncate (not deeply 2-toothed). C. priogonium is known from the arid parts of Ethiopia, Somalia, Uganda, Kenya and Tanzania, and was also seen near KebriDehar, but not in the areas of red sand inhabited by C. wilhelmii.
[KBu]
Sources
Herbarium Catalogue Specimens

Digital Image © Board of Trustees, RBG Kew http://creativecommons.org/licenses/by/3.0/

Kew Backbone Distributions

The International Plant Names Index and World Checklist of Vascular Plants 2022. Published on the Internet at http://www.ipni.org and https://powo.science.kew.org/
© Copyright 2022 World Checklist of Vascular Plants. http://creativecommons.org/licenses/by/3.0

Kew Bulletin

Kew Bulletin
http://creativecommons.org/licenses/by-nc-sa/3.0

Kew Names and Taxonomic Backbone

The International Plant Names Index and World Checklist of Vascular Plants 2022. Published on the Internet at http://www.ipni.org and https://powo.science.kew.org/
© Copyright 2022 International Plant Names Index and World Checklist of Vascular Plants. http://creativecommons.org/licenses/by/3.0