This species is accepted, and its native range is Brazil (Minas Gerais: Chapada Diamantina).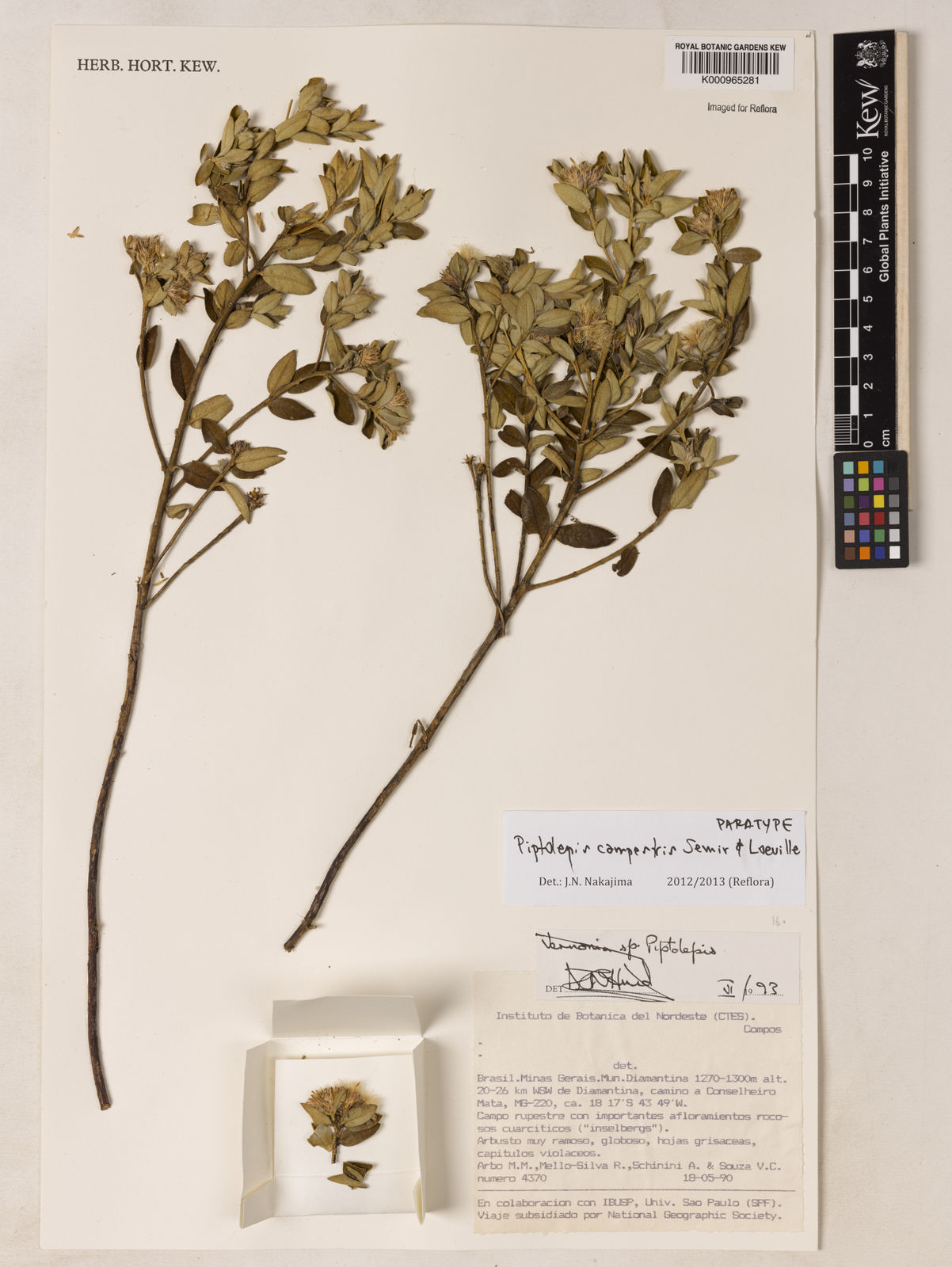 [KBu]
Loeuille, B., Semir, J., Hind, D.J.N. et al. 2012. Kew Bulletin 67: 11. https://doi.org/10.1007/s12225-012-9325-0
Conservation

According to available information about Piptolepis campestris, it can be scored, using IUCN conservation criteria (IUCN 2001), as Endangered (EN), since its area of occurrence is smaller than 5,000 km2, its area of occupancy is smaller than 500 km2, and it is known from no more than five localities EN (criteria B1a, B2a).

Distribution

Endemic to Minas Gerais and known only from the Diamantina region, Brazil.

Ecology

Campos rupestres, amongst rocks.

Morphology

General

Habit

Shrub or subshrub to 2 m

Morphology

Leaves

Leaves alternate, simple, imbricate to subrosulate towards stems apices, patent to slightly ascending, shortly petiolate, petioles pad-like, 1.1 – 3 mm long; blade elliptic, more rarely narrow oblong to narrow obovate, 1.1 – 1.9 × 0.6 – 0.9 cm, densely velutinous to subsericeous, silverish canescent, black glandular dotted (sometimes scarcely visible) adaxially, densely velutinous to sericeous, silverish green abaxially, hairs simple, uniseriate, midrib prominent beneath, sunken above, venation brochidodromous, margins entire and smooth, apex obtuse to rounded, base rounded, sometimes slightly attenuate

Morphology

Reproductive morphology

Flowers

Florets

Florets 19 – 21, hermaphrodite, fertile; corolla actinomorphic, 5-lobed, lilac, corolla tube 4.5 – 6.2 × 0.5 – 1 mm, glandular-punctate, corolla throat 1 – 2 × 0.5 – 0.8 mm, corolla lobes 2.4 – 3.2 × 0.4 – 0.6 mm, apices acute, mamillose; apical anther appendages acute, more than twice as long as wide, anther base long-sagittate; style 0.9 – 1.1 cm, style shaft glabrous throughout except for pubescent upper c. 0.8 mm beneath style arms, style base glabrous, lacking basal node, style arms 1.5 – 2.5 mm long, short pubescent outside throughout

Morphology

Reproductive morphology

Inflorescences

Inflorescence terminal, seldom axillary, a solitary capitulum or a simple, 2 – 5-headed pseudoglomerule, often surrounded by foliage leaves

Morphology

Reproductive morphology

Inflorescences

Capitulum

Capitula homogamous, discoid, sessile; involucre cylindrical to campanulate, 7.3 – 13 × 3.8 – 7 mm; phyllaries 5 – 6-seriate, imbricate, outer phyllaries widely trullate to ovate, 2.4 – 4.9 × 0.7 – 1.7 mm, apex acute, tomentose to subvillous, greyish brown, inner phyllaries linear to lanceolate, 5.9 – 7 × 0.7 – 0.8 mm, apex acute to apiculate, glabrescent, greyish brown to stramineous, persistent or deciduous; receptacle flat, weakly fimbriate

Morphology

Stem

Stems well-branched, slightly flattened, furrowed, pubescent to velutinous, canescent when young, becoming cylindrical, subglabrescent with ochreous remaining indument with age, leaf scars triangular, distinctive on leafless portions of stem

Note

Following Schultz-Bipontinus (1863), Piptolepis campestris belongs to sect. Macrophyllum Sch. Bip. It is similar to P. oleaster with its silverish canescent adaxial leaves and cluster of few heads, but is easily set apart from it by the shape of leaves (elliptic, more rarely narrow oblong to narrow obovate vs oblanceolate to linear-lanceolate) and number of florets per head (19 – 21 vs 15 – 16). It is also similar to P. schultziana, the other new species described below, by the shape and size of the leaves, but the adaxial surface is velutinous to subsericeous and silverish canescent (vs glabrescent, shiny and green). Geographically, P. campestris is restricted to the camposrupestres of the Planalto de Diamantina which is the centre of diversity of the genus (ten species occur in this region and eight are endemics). This species epithet denotes its habitat in open formations bound to a mosaic of rocky outcrops and shallow white sands above 1,000 m in Central and Eastern Brazil — the camposrupestres.
Native to:
Brazil Southeast
Piptolepis campestris Semir & Loeuille appears in other Kew resources:
| Date | Reference | Identified As | Barcode | Type Status |
| --- | --- | --- | --- | --- |
| Jan 1, 2013 | Arbo, M.M. [4370], Brazil | | K000965281 | |
| | Giulietti, A.M. [1796], Brazil | | K000965282 | |
First published in Kew Bull. 67: 11 (2012)
Accepted by
A synopsis of Lychnophorinae (Asteraceae: Vernonieae) (2019). Loeuille, B., Semir, J. & Pirani, J.R. Phytotaxa 398: 1-139.
Roskov Y. & al. (eds.) (2018). Species 2000 & ITIS Catalogue of Life Naturalis, Leiden, the Netherlands.
Literature
Kew Bulletin
Baker, J. G. (1873). Compositae I. Vernoniaceae. In: C. F. P. von Martius† & A. W. Eichler (eds), Flora Brasiliensis 6(2): 5 – 180. Fried. Fleischer, Münich, Vienna, Leipzig.
Beauverd, G. (1913). Contribution à l'étude des Composées (suite VIII). Bull. Soc. Bot. Genève, Ser. II, 5: 239 – 244.
Candolle, A. P. de (1836). Vernoniaceae. ProdromusSystematis Naturalis RegniVegetabilis…, v. 5, p. 9 – 103. Treutel et Würtz, Paris.
Hind, D. J. N. (2003). Flora of Grão-Mogol, Minas Gerais: Compositae (Asteraceae). Bol. Bot. Univ. São Paulo 21(1): 179 – 234.
IUCN (2001). IUCN Red List Categories: version 3.1. Prepared by the IUCN Species Survival Commission. IUCN, Gland and Cambridge. http://www.iucnredlist.org/technical-documents/categories-and-criteria/2001-categories-criteria [accessed June 2010].
Jeffrey, C. F. & Hind, D. J. N. (1994). The typification of Piptolepis Sch. Bip. (Compositae), nom. cons. Taxon 43: 94 – 96.CrossRefGoogle Scholar
Lessing, C. F. (1829). De synantherisherbariiregiiberolinensisdissertatio prima. Vernonieae. Linnaea 4: 240 – 356.
McNeill, J., Barrie, F. R., Burdet, H. M., Demoulin, V., Hawksworth, D. L., Marhold, K., Nicolson, D. H., Prado, J., Silva, P. C., Skog, J. E., Wiersema, J. H. & Turland, N. J. (eds) (2006). International Code of Botanical Nomenclature (Vienna Code). Regnum Veg. 146.
Robinson, H. (2006) [2007]. Vernonieae. In: J. Kadereit & C. Jeffrey (vol. eds) The Families and Genera of Vascular Plants (K. Kubitzki, series ed.): Vol. 8: Asterales. 149 – 174. Springer. Berlin, Heidelberg, New York.
Saint-Hilaire, A. (1833). Voyage dans le District des Diamants et sur le Littoral du Brésil, vol. 1. Librairie Gide, Paris.
Schultz-Bipontinus, C. H. (1863) [1864]. Lychnophora Martius! und einigebenachbarteGattungen. Jahresber. Pollichia 20/21: 321 – 439.
Herbarium Catalogue Specimens
Digital Image © Board of Trustees, RBG Kew http://creativecommons.org/licenses/by/3.0/

Kew Backbone Distributions
The International Plant Names Index and World Checklist of Selected Plant Families 2021. Published on the Internet at http://www.ipni.org and http://apps.kew.org/wcsp/
© Copyright 2017 World Checklist of Selected Plant Families. http://creativecommons.org/licenses/by/3.0

Kew Bulletin
Kew Bulletin
http://creativecommons.org/licenses/by-nc-sa/3.0

Kew Names and Taxonomic Backbone
The International Plant Names Index and World Checklist of Selected Plant Families 2021. Published on the Internet at http://www.ipni.org and http://apps.kew.org/wcsp/
© Copyright 2017 International Plant Names Index and World Checklist of Selected Plant Families. http://creativecommons.org/licenses/by/3.0