This species is accepted, and its native range is Madagascar.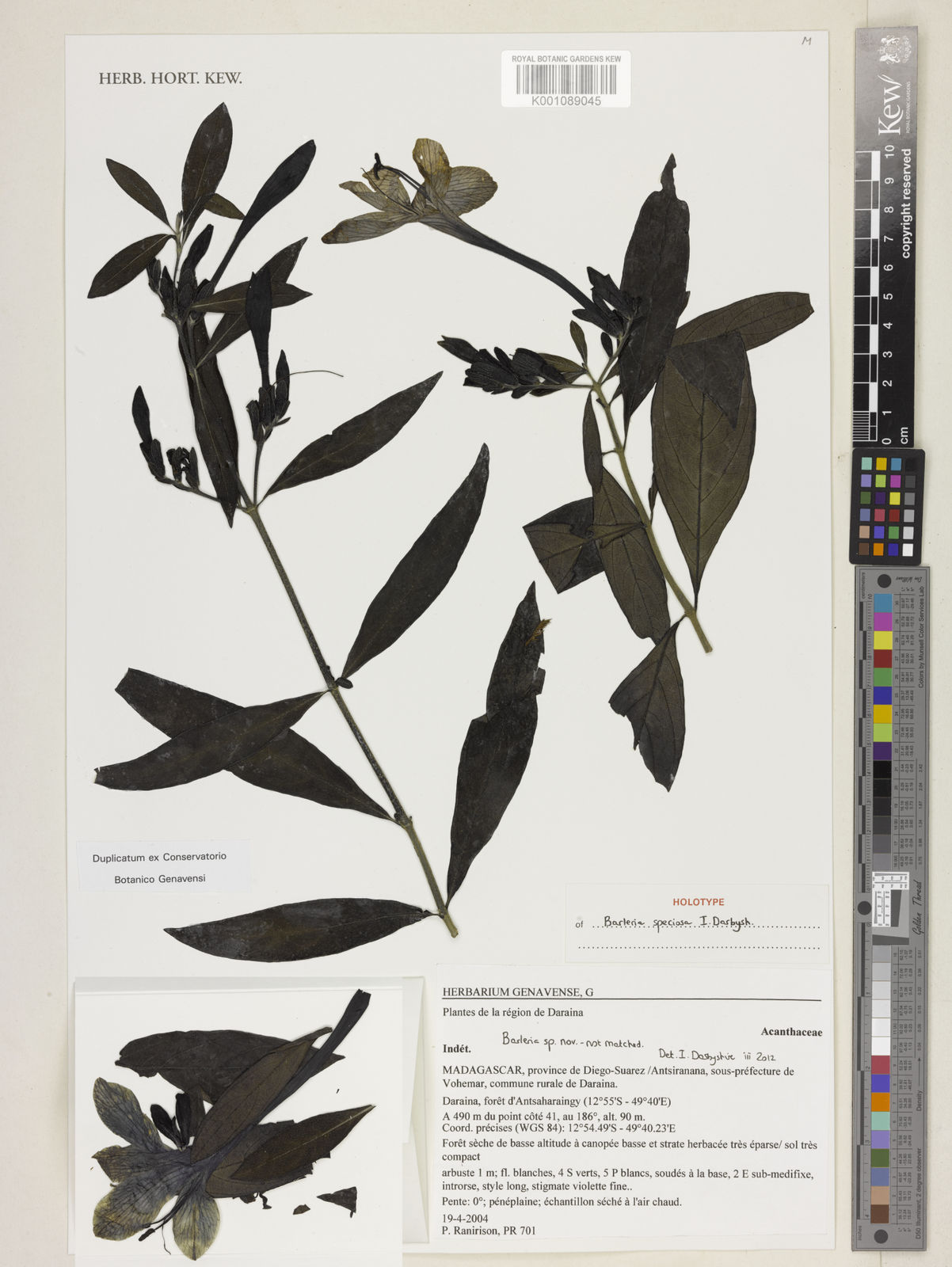 [KBu]
Darbyshire, I., Phillipson, P.B. & Rakotonasolo, F. 2014. Additions to the genus Barleria in Madagascar. Kew Bulletin 69: 9513. DOI https://doi.org/10.1007/s12225-014-9513-1
Conservation

In view of the fact that this species is so showy and yet (to our knowledge) has been collected only once, it is clearly very scarce and localised. Indeed, it appears to be the rarest of the DarainaBarleria species. Whilst good forest habitat is still to be found in the Daraina region and the forest patches are currently under 'temporary protection' within the proposed new protected area: Loky-Manambato, there is nevertheless still an inferred threat from habitat degradation through artisanal gold mining activities. Even small scale disturbance could have significant repercussions for the survival of this narrow endemic. It is therefore considered to be Critically Endangered [CR B1ab (iii) + 2ab (iii)].

Distribution

Northern Madagascar, known only from the type.

Ecology

Recorded from lowland dry forest with a sparse herbaceous understorey; 90 m alt.

Morphology

General

Habit

Shrub ± 1 m tall; stems subquadrangular, pale buff- or whitish-strigose, densely so on upper internodes

Morphology

Leaves

Leaves drying green-black, elliptic to narrowly oblong-elliptic, 8.2 − 11.6 × 1.7 − 3.3 cm, base cuneate or cuneate-attenuate, margin entire, apex acute or subattenuate, lamina pale-strigose on margin, midrib, veins beneath and sometimes sparsely so on upper surface, with numerous minute orange subsessile glands towards base beneath; lateral veins 4 − 5 pairs; petiole to 5 mm long, strigose

Morphology

Reproductive morphology

Flowers

Androecium

Stamens

Stamens inserted in distal half of corolla tube; filaments c- 55 mm long, pubescent towards base; anthers white, 5.5 − 7 mm long; staminodes 3, slender, 13 − 14 mm long, pubescent towards base, with vestigial antherodes

Morphology

Reproductive morphology

Flowers

Calyx

Calyx drying ink-black; anterior lobe oblong or oblong-obovate, 12.5 − 18 × 5 − 6.5 mm, base cuneate, margin entire, apex truncate and shallowly emarginate, with ± 7 inconspicuous subparallel veins, pale-strigose externally and with numerous minute subsessile glands on both surfaces, these drying purplish- or reddish-black, internal surface with finer appressed hairs towards base; posterior lobe like anterior lobe but oblong or oblong-elliptic, 12.5 − 18.5 × 4 − 7 mm, apex obtuse or subacute; lateral lobes linear-lanceolate, 9 − 12 × 2 − 2.5 mm

Morphology

Reproductive morphology

Flowers

Corolla

Corolla 112 − 125 mm long, limb white, drying pinkish-blue with darker venation, tube yellow-green in proximal portion, drying blue-black, densely glandular-pubescent externally, limb also strigose; tube 75 − 82 mm long, cylindrical but throat somewhat widened; limb in "4+1" arrangement; abaxial lobe offset by 10.5 − 14 mm, broadly elliptic, ± 33.5 × 18.5 mm, apex rounded and shallowly notched; lateral lobes oblong-elliptic, 31 − 34.5 × 16.5 − 18.5 mm, apex obtuse and minutely notched; adaxial lobes oblong, 22.5 − 24 × 9 − 10 mm, apex acute

Morphology

Reproductive morphology

Flowers

Gynoecium

Pistil

Pistil glabrous; stigma violet, linear, curved, 3 − 4 mm long, apex notched

Morphology

Reproductive morphology

Fruits

Capsule not seen

Morphology

Reproductive morphology

Inflorescences

Inflorescences of unilateral (scorpioid) cymes in upper axils, each 3 − 4-flowered, held at a wide angle from or patent to stems; bracts foliaceous; primary peduncle 8 − 21.5 mm long, pale-strigose, flowers within each cyme spaced 4 − 8 mm apart at maturity, sessile on rachis; bracteole pairs offset and slightly unequal, one adpressed to calyx, the other held parallel to rachis, the former obovate or elliptic, 7.5 − 10.5 × 3.2 − 5 mm, apex obtuse or rounded, strigose externally particularly on margin and around midrib, with numerous minute orange subsessile glands elsewhere

Note

Easily separated from all other Malagasy Barleria when in flower by the exceptionally large, white corolla with a long slender cylindrical tube in which the stamens are inserted in the distal half. This unmistakable and spectacular Barleria, one of the largest-flowered species in the genus, does not appear closely allied to any of the other documented Malagasy species. The only species with a vaguely comparable corolla size on the island is B. pulchra Benoist which, nevertheless, has corollas only up to c. 80 – 90 mm long. In B. pulchra the corollas are purple and the tube is gradually funnel-shaped from below the midpoint; it additionally differs from B. speciosa in, for example, the much larger leaves up to 25 × 8 cm, the subsessile inflorescences, and the much larger and sparsely strigulose outer calyx lobes (25 − 35 × 18 − 23 mm fide Benoist 1967). The two are not considered to be closely related. From the combination of the axillary unilateral cymes, the linear stigma and the antherode-bearing lateral staminodes, this species can be placed with confidence in sect. Barleria even in the absence of fruiting material (Balkwill & Balkwill1997; Darbyshire2009). The long, slender white corollas suggest that B. speciosa is adapted to moth pollination. This pollination method is known to occur in a number of species in sect. Barleria in tropical Africa and India, such as B. acanthoidesVahl, B. capitataKlotzsch and B. noctiflora L. f. However, in these species, the corolla lobes are always much smaller than in B. speciosa.

Type

Type: Madagascar, Antsiranana, Daraina, forêt d'Antsaharaingy, Ranirison PR 701 (holotype K!; isotypes CAS, Daraina, G, TEF).
Barleria speciosa I.Darbysh. appears in other Kew resources:
| Date | Reference | Identified As | Barcode | Type Status |
| --- | --- | --- | --- | --- |
| | Ranirison, P. [701], Madagascar | | K001089045 | holotype |
First published in Kew Bull. 69(2)-9513: 2 (2014)
Accepted by
Govaerts, R., Nic Lughadha, E., Black, N., Turner, R. & Paton, A. (2021). The World Checklist of Vascular Plants, a continuously updated resource for exploring global plant diversity. https://doi.org/10.1038/s41597-021-00997-6 Scientific Data 8: 215.
Literature
Kew Bulletin
Balkwill, M.-J. & Balkwill, K. (1997). Delimitation and infra-generic classification of Barleria (Acanthaceae). Kew Bull. 52: 535 − 573.CrossRefGoogle Scholar
Balkwill, M.-J. & Balkwill, K. (1998). A preliminary analysis of distribution patterns in a large, pantropical genus, Barleria L. (Acanthaceae). J. Biogeogr. 25: 95 – 110.CrossRefGoogle Scholar
Benoist, R. (1967). Acanthacées. Tome I. In: H. Humbert (ed.), Flore de Madagascar et des Comores. Museum National d'HistoireNaturelle, Laboratoire de Phanérogamie, Paris.
Darbyshire, I. (2009). A reassessment of the status of Barleria sect. Cavirostrata (Acanthaceae) in tropical Africa, with a new species, B. richardsiae, described from the Tanzania-Zambia border region. Kew Bull. 63: 601 – 611.CrossRefGoogle Scholar
IUCN (2001). IUCN Red List Categories and Criteria. Version 3.1. IUCN Species Survival Commission, IUCN, Gland and Cambridge.
IUCN (2013). Guidelines for using the IUCN Red List Categories and Criteria. Version 10.1. Available at http://jr.iucnredlist.org/documents/RedListGuidelines.pdf. Accessed 13 December 2013.
McDade, L. A., Daniel, T. F. & Kiel, C. A. (2008). Toward a comprehensive understanding of phylogentic relationships among lineages of Acanthaceaes.l. (Lamiales). Amer. J. Bot. 95: 1136 – 1152.CrossRefGoogle Scholar
Herbarium Catalogue Specimens
Digital Image © Board of Trustees, RBG Kew http://creativecommons.org/licenses/by/3.0/

Kew Backbone Distributions
The International Plant Names Index and World Checklist of Selected Plant Families 2021. Published on the Internet at http://www.ipni.org and http://apps.kew.org/wcsp/
© Copyright 2017 World Checklist of Selected Plant Families. http://creativecommons.org/licenses/by/3.0

Kew Bulletin
Kew Bulletin
http://creativecommons.org/licenses/by-nc-sa/3.0

Kew Names and Taxonomic Backbone
The International Plant Names Index and World Checklist of Selected Plant Families 2021. Published on the Internet at http://www.ipni.org and http://apps.kew.org/wcsp/
© Copyright 2017 International Plant Names Index and World Checklist of Selected Plant Families. http://creativecommons.org/licenses/by/3.0