This species is accepted, and its native range is Madagascar.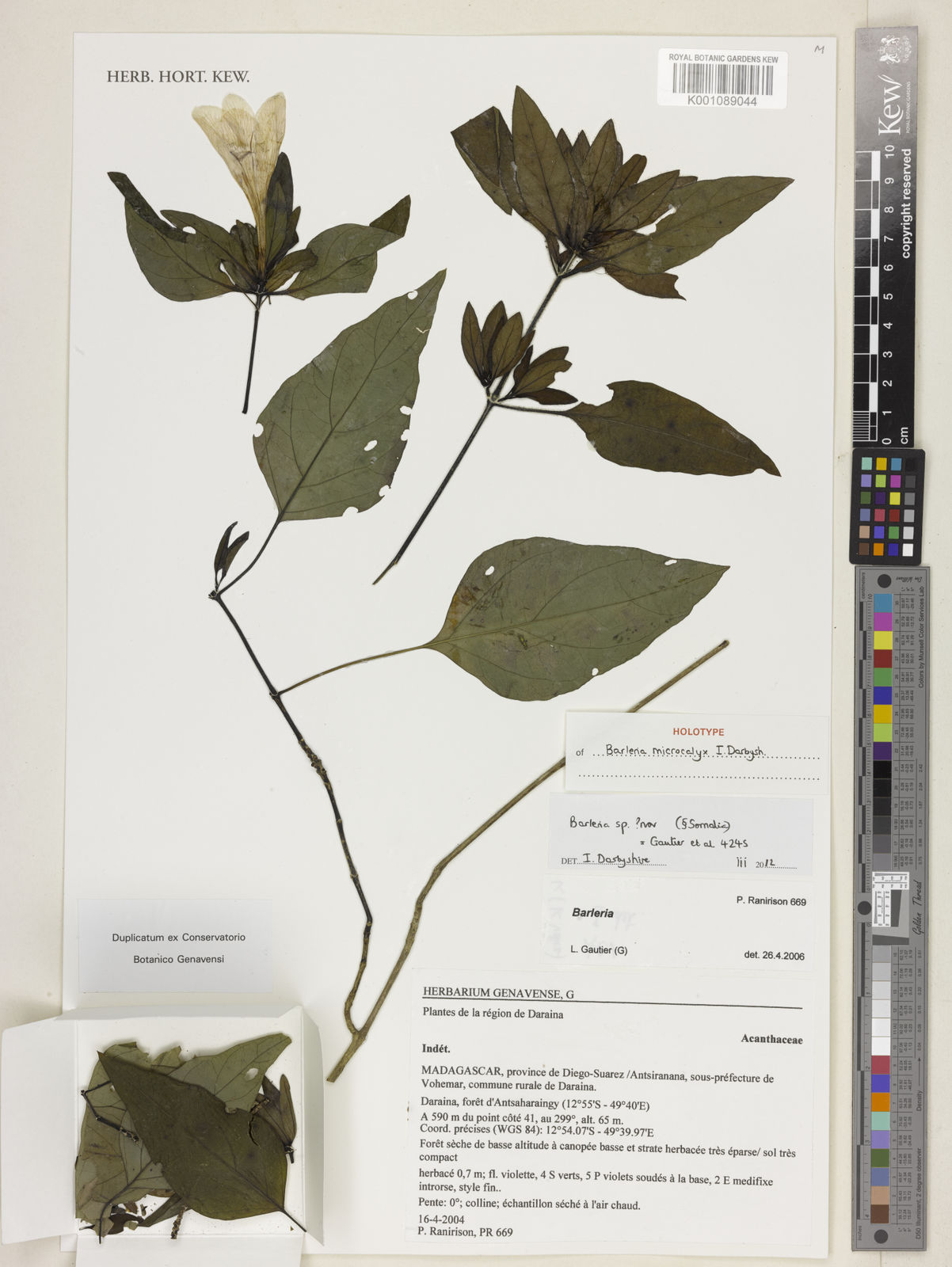 [KBu]
Darbyshire, I., Phillipson, P.B. & Rakotonasolo, F. 2014. Additions to the genus Barleria in Madagascar. Kew Bulletin 69: 9513. DOI https://doi.org/10.1007/s12225-014-9513-1
Conservation

This species is recorded from a very restricted range (EOO 257 km2, AOO 12 km2, 3 locations). Habitat loss and degradation in the Daraina region through artisanal gold mining and tree felling pose inferred threats to these locations, although the area is currently under 'temporary protection' within the proposed new protected area: Loky-Manambato. It is therefore considered Endangered [EN B1ab (i, ii, iii, iv) + B2ab (i, ii, iii, iv)].

Distribution

Northern Madagascar.

Ecology

Recorded from lowland dry forest on slopes and ridges, with a sparse herbaceous understorey; 60 – 180 m alt.

Morphology

General

Habit

Perennial herb or subshrub, 60 – 80 cm tall; young stems drying blackish-brown, subangular, patently glandular-pilose, multicellular hairs appearing deflated in dry state, also with minute white retrorse and antrorse eglandular hairs on two opposite sides, these becoming very dense and conspicuous in two lines on short uppermost internodes and along internodal line, appearing woolly; mature stems softly woody with pale brown bark

Morphology

Leaves

Leaves chartaceous, ovate or trullate, lower cauline leaves 6.5 – 11 × 3.2 – 5.7 cm, base broadly cuneate or somewhat attenuate, margin entire or obscurely repand, apex acute to obtuse or subattenuate, apiculate; surfaces glabrous except for short glandular hairs towards midrib beneath and longer glandular hairs along margin towards base, lower surface also with numerous sessile glands; lateral veins 4 – 5 pairs; petiole 24 – 52 mm long, patently glandular-pubescent and with dense short woolly hairs in proximal portion of adaxial groove

Morphology

Reproductive morphology

Flowers

Androecium

Stamens

Stamens attached 7 – 9.5 mm from base of corolla tube; filaments 27.5 – 32.5 mm long, shortly hairy at base; anthers exserted, 4.7 – 5.5 mm long; staminodes absent

Morphology

Reproductive morphology

Flowers

Calyx

Calyx hidden within bracteoles, brown in dry state, lobes rather membranous, base thickened; anterior lobe triangular, 4.2 – 4.6 × 2 mm, margin entire, apex subattenuate into a short flexuose point, surfaces glabrous or with minute appressed hairs along margin, venation parallel with central pair of veins most prominent; posterior lobe like anterior lobe but 5 – 5.5 mm long, single central vein most prominent; lateral lobes lanceolate, 4.5 – 5.5 × 1.5 mm, sometimes with few short glandular hairs

Morphology

Reproductive morphology

Flowers

Corolla

Corolla pale violet to mauve with a white base to tube, 48 − 63 mm long, sparsely glandular-pubescent externally mainly on lateral lobes; tube 24.5 – 29 mm long, subcylindrical but gradually and narrowly expanded upwards, c- 2.5 – 3 mm in diam- at base, to 5.5 – 6.5 mm at mouth; limb in "4+1" arrangement; abaxial lobe offset from remaining lobes by 4.5 − 8 mm, broadly elliptic, 18.5 – 30 × 12.5 – 16 mm, apex rounded; lateral lobes oblong-elliptic, 17 – 26.5 × 10 – 16 mm, apex rounded and minutely notched; adaxial lobes like lateral lobes but 16.5 – 24 × 8.5 – 11.5 mm

Morphology

Reproductive morphology

Flowers

Gynoecium

Ovary

Ovary glandular-puberulous distally; style glabrous; stigma violet, linear, 4 – 4.5 mm long

Morphology

Reproductive morphology

Fruits

Capsule 15 – 16 mm long including sterile beak 6 – 7 mm long, beak glandular-pubescent; septum with a shallow membranous portion; immature seeds 5.5 mm long, clothed in matted buff-coloured hygroscopic hairs

Morphology

Reproductive morphology

Inflorescences

Inflorescences of sessile single-flowered cymes crowded in upper axils between short internodes to form a terminal fascicle; bracts foliaceous but reduced and subsessile, ovate or ovate-elliptic to narrowly so, typically 25 − 40 × 7 − 16 mm, margin glandular-pubescent; bracteoles like bracts but oblong-elliptic to narrowly oblong, 16.5 – 25.5 × 4.5 – 8 mm

Note

Differs from all other species in Barleria sect. Somalia in having the combination of a tiny calyx relative to the corolla (length ratio 0.08 – 0.1 : 1), the absence of staminodes and the short white woolly indumentum in two opposite lines on the uppermost internodes, along the interpetiolar line and within the petiolar groove. The two-seeded, prominently beaked capsule with a membranous portion to the septum, the linear stigma and the absence of spines together place Barleriamicrocalyx in Barleria sect. Somalia (Balkwill & Balkwill1997; Darbyshire2009). Six of the species recorded by Benoist (1967) belong to that section: B. insolita Benoist, B. laeta Benoist, B. longipes Benoist (including B. puberula Benoist which is probably a distinct species), B. pulchella Benoist, B. separata Benoist and B. seyrigii Benoist. In Benoist's key, B. microcalyx would be identified as B. laeta, the only other species with a hairy ovary and capsule. Indeed, B. microcalyx superficially resembles that species in, for example, leaf shape and corolla size. However, the two are easily separated by a number of characters listed in Table 2. Particularly striking is the minute calyx of the new species which is hidden within the leafy bracteoles, whereas in B. laeta the large, leafy calyces are clearly exposed beyond the bracteoles.

Type

Type: Madagascar, Antsiranana, Daraina, forêt d'Antsaharaingy, Ranirison PR 669 (holotype K!; isotypes CAS, Daraina, G, TEF).
Barleria microcalyx I.Darbysh. appears in other Kew resources:
| Date | Reference | Identified As | Barcode | Type Status |
| --- | --- | --- | --- | --- |
| | Ranirison, P. [669], Madagascar | | K001089044 | holotype |
First published in Kew Bull. 69(2)-9513: 7 (2014)
Accepted by
Govaerts, R., Nic Lughadha, E., Black, N., Turner, R. & Paton, A. (2021). The World Checklist of Vascular Plants, a continuously updated resource for exploring global plant diversity. https://doi.org/10.1038/s41597-021-00997-6 Scientific Data 8: 215.
Literature
Kew Bulletin
Balkwill, M.-J. & Balkwill, K. (1997). Delimitation and infra-generic classification of Barleria (Acanthaceae). Kew Bull. 52: 535 − 573.CrossRefGoogle Scholar
Balkwill, M.-J. & Balkwill, K. (1998). A preliminary analysis of distribution patterns in a large, pantropical genus, Barleria L. (Acanthaceae). J. Biogeogr. 25: 95 – 110.CrossRefGoogle Scholar
Benoist, R. (1967). Acanthacées. Tome I. In: H. Humbert (ed.), Flore de Madagascar et des Comores. Museum National d'HistoireNaturelle, Laboratoire de Phanérogamie, Paris.
Darbyshire, I. (2009). A reassessment of the status of Barleria sect. Cavirostrata (Acanthaceae) in tropical Africa, with a new species, B. richardsiae, described from the Tanzania-Zambia border region. Kew Bull. 63: 601 – 611.CrossRefGoogle Scholar
IUCN (2001). IUCN Red List Categories and Criteria. Version 3.1. IUCN Species Survival Commission, IUCN, Gland and Cambridge.
IUCN (2013). Guidelines for using the IUCN Red List Categories and Criteria. Version 10.1. Available at http://jr.iucnredlist.org/documents/RedListGuidelines.pdf. Accessed 13 December 2013.
McDade, L. A., Daniel, T. F. & Kiel, C. A. (2008). Toward a comprehensive understanding of phylogentic relationships among lineages of Acanthaceaes.l. (Lamiales). Amer. J. Bot. 95: 1136 – 1152.CrossRefGoogle Scholar
Herbarium Catalogue Specimens
Digital Image © Board of Trustees, RBG Kew http://creativecommons.org/licenses/by/3.0/

Kew Backbone Distributions
The International Plant Names Index and World Checklist of Selected Plant Families 2021. Published on the Internet at http://www.ipni.org and http://apps.kew.org/wcsp/
© Copyright 2017 World Checklist of Selected Plant Families. http://creativecommons.org/licenses/by/3.0

Kew Bulletin
Kew Bulletin
http://creativecommons.org/licenses/by-nc-sa/3.0

Kew Names and Taxonomic Backbone
The International Plant Names Index and World Checklist of Selected Plant Families 2021. Published on the Internet at http://www.ipni.org and http://apps.kew.org/wcsp/
© Copyright 2017 International Plant Names Index and World Checklist of Selected Plant Families. http://creativecommons.org/licenses/by/3.0