Family:

Genus:
Oxygonum pterocarpum Osborne & Vollesen
This species is accepted, and its native range is Tanzania.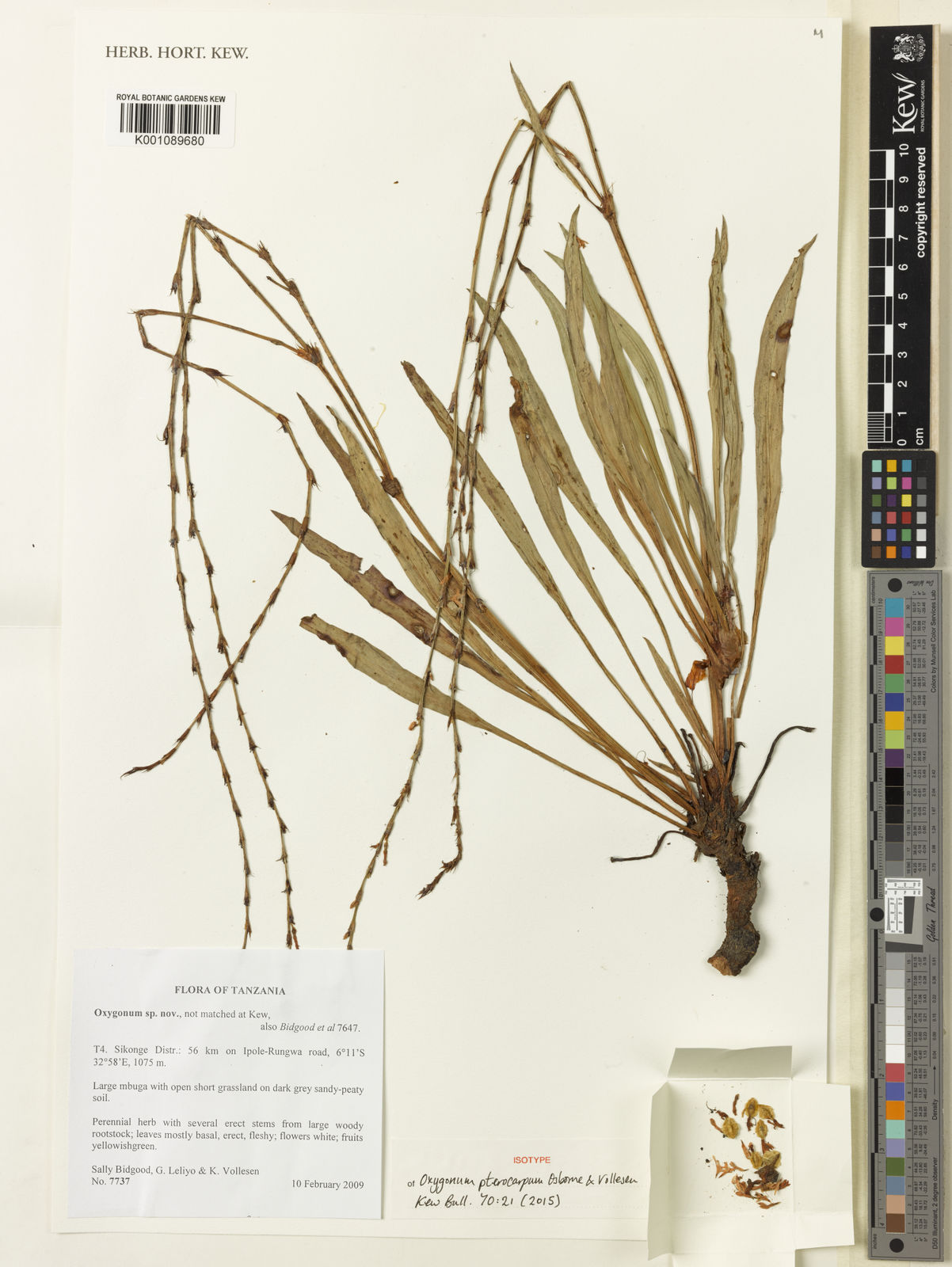 [KBu]
Harley, R.M. 2015. "Oocephalus lythroides" (Lamiaceae: Ocimeae: Hyptidinae) from the Distrito Federal of Brazil is a new species: Oocephalus grazielae. Kew Bulletin 70: 18. DOI https://doi.org/10.1007/s12225-015-9568-7
Conservation

Oxygonumpterocarpum is known only from the two collections cited, occurring within a very restricted area delimited by the coordinates given above. In the first locality only 5 – 10 individual plants were observed but in the second (the type locality) well over 100 individuals were seen. The area where it occurs has no human settlements as it forms part of the corridors between the Ruaha National Park/Rungwa Game Reserve to the east and Ugalla Game Reserve/Katavi National Park to the west. At present these corridors are deliberately kept empty of human habitation and there are still large numbers of elephants, lions and other game in this area. The Brachystegia-Julbernardia woodlands are harvested for timber but the grasslands are only used for occasional grazing. At the moment there seem to be no serious threats to the status of these corridors but with the ever increasing human population in Tanzania, which currently has an annual population growth rate of 3.1 % (UNdata2014), there is always the possibility that pressure might increase to the point where human settlement starts. The two localities are relatively close to Rungwa Game Reserve to the east and Katavi National Park/Ugalla Game Reserve to the west. Both these reserves contain numerous areas with similar habitats which have not been at all well botanised. Were the species to be recorded in either of these its future could be considered to be reasonably safe. However, in view of the very limited information on this species at present it is difficult to give a reasonable conservation assessment and we classify it as Data Deficient (DD) according to the categories and criteria of IUCN (2001).

Distribution

Known only from the two collections cited below. Both are from a restricted area in Sikonge Distr. in the southern part of Tabora Region in W Tanzania occurring within the Zambesian Regional Centre of Endemism as defined by White (1983).

Ecology

Large, seasonally wet, open areas (dambos) in tall, mature woodland. These areas are covered with open Combretum adenogonium-Diospyros kirkii-Acacia seyal wooded grassland and have a fairly short, open grass cover. They stand on dark grey, shallow, sandy-peaty soils overlying ironstone pans and are regularly inundated in the rainy season. The surrounding Brachystegia woodland, usually only reaching 1 – 2 m above the grass sward, stands on deep, greyish-brown sandy soils and is never inundated.

Morphology

General

Habit

Erect, glabrous, perennial herb to 65 cm tall with thick, woody rootstock; stems 1 – several from the base, striate, few-branched, usually with 1 – 2 leafy nodes; internodes 6 – 15 cm long

Morphology

Leaves

Leaves fleshy, basal and cauline (mostly in a basal cluster); basal leaves erect, linear-lanceolate, often with the widest part of the lamina located at the distal half, 10 – 25 × 0.3 – 1.2 cm, decurrent at the base, without distinct petiole, apex acute, margin entire; cauline leaves in clusters of 2 – 6 at nodes, similar to basal leaves but smaller, 6 – 14 × 3 – 6 cm

Morphology

Reproductive morphology

Flowers

Flowers hermaphrodite, heterostylous; perianth white, 8 mm long with tube 3 mm long and five obovate lobes 5 × 2 mm, obtuse at apex; stamens and pistil included

Morphology

Reproductive morphology

Flowers

Androecium

Stamens

Stamens 8, in two whorls, the 5 outer stamens alternating with perianth lobes, inserted at apex of perianth tube and glabrous at base; the 3 inner stamens inserted in perianth tube and densely villous at base; filaments in brevistylous flowers 4 – 5 mm long, in longistylous flowers 1.5 – 2 mm long; anthers 0.3 – 0.45 × 0.25 – 0.35 mm

Morphology

Reproductive morphology

Flowers

Gynoecium

Ovary

Ovary 0.3 – 0.35 mm long; styles 3, connate at base, in brevistylous flowers styles 2.5 mm long, connate for 1 mm, in longistylous flowers styles 5 mm long, connate for 2 mm; stigmas capitate

Morphology

Reproductive morphology

Fruits

Fruit pale yellowish-green, 8 – 10 × 5 – 6 mm, with marcescent corolla at apex, fusiform, trigonous, obovate in outline, with 3 wings on the angles 2 mm wide and with a transverse ridge running around the fruit just over half way from the base, sometimes forming a minute tooth at the margin of each wing and several minute teeth between the wings

Morphology

Reproductive morphology

Inflorescences

Inflorescence 25 – 32 cm long, consisting of 1 – 3 slender, erect, terminal thyrses; axis narrowly winged towards the apex; bracts 5 – 10 mm long, tubular to obconical with a narrowly acuminate, setose apex and several shorter lateral setae, chartaceous at apex between the setae; flowers 4 – 5 per bract with 1 flower per bract open at a time; pedicels erect, 5 – 7 mm long, becoming thicker and up to 8 mm long in fruit

Morphology

Stem

Ocreae 7 – 20 mm long, chartaceous and reddish-brown on dried specimens, apex truncate, with a fringe of fine setae 3 – 10 mm long

Note

Oxygonumpterocarpum can be distinguished from all other species of Oxygonum by the combination of its long, erect, entire and linear-lanceolate basal cluster of leaves and distinctive, pale yellowish-green, 3-winged fruits (Fig. 1). The winged fruits of O. pterocarpum most closely resemble those of the annual O. alatum Burch., from which it clearly differs by its perennial habit and its basal cluster of erect, entire leaves (the leaves of O. alatum being cauline and often lobed). The specific epithet refers to the winged fruit (from the Greek pterón — wing and karpos — fruit). There is no current infrageneric classification in Oxygonum within which to place the new species and additionally, it does not appear to be closely related to any other Oxygonum species. The unusual, erect, linear-lanceolate, long basal foliage of O. pterocarpum is particularly striking in comparison with all other Oxygonum species. Foliage in Oxygonum tends to be cauline and although variable in shape, is usually much shorter than that of O. pterocarpum. The winged fruits of O. pterocarpum are also distinctive. They appear closest to those of O. alatum (see Recognition above) but differ in shape, as the fruits of O. alatum are ovate in outline while those of O. pterocarpum are obovate. A carefully sampled molecular phylogeny is needed to understand the relationships within Oxygonum.

Type

Type: Tanzania, Sikonge Distr., 56 km on Ipole-Rungwa road, 10 Feb. 2009, Bidgood, Leliyo & Vollesen 7737 (holotype NHT!; isotypes BR!, EA!, K!, MO!, P!).
Oxygonum pterocarpum Osborne & Vollesen appears in other Kew resources:
| Date | Reference | Identified As | Barcode | Type Status | Has image? |
| --- | --- | --- | --- | --- | --- |
| | Bidgood, S. [7737], Tanzania | | K001089679 | isotype | Yes |
| | Bidgood, S. [7737], Tanzania | | K001089680 | isotype | Yes |
First published in Kew Bull. 70(2)-21: 2 (2015)
Accepted by
Govaerts, R., Nic Lughadha, E., Black, N., Turner, R. & Paton, A. (2021). The World Checklist of Vascular Plants, a continuously updated resource for exploring global plant diversity. https://doi.org/10.1038/s41597-021-00997-6. Scientific Data 8: 215.
Literature
Kew Bulletin
Brandbyge, J. (1993). Polygonaceae. In: K. Kubitzki, The families and genera of vascular plants. Volume II: 531 – 544. Springer-Verlag, Berlin.
Darbyshire, I. (2008). Notes on the genus Dicliptera (Acanthaceae) in Eastern Africa. Kew Bull. 63: 361 – 383.
Germishuizen, G. (1987). Notes on African plants: Polygonaceae: a new species of Oxygonum from Natal. Bothalia 17 (1): 40 – 41.
Germishuizen, G. (1988). Polygonaceae — Reinstatement of OxygonumacetosellaWelw. Bothalia 18 (2): 187 – 188.
Germishuizen, G. (1989). Polygonaceae: Oxygonumaltissimum, a new species from central Somalia. Bothalia 19 (2): 210 – 211.
Graham, R. A. (1957). A revision of Oxygonum (Polygonaceae–Polygoneae). Kew Bull. 1957: 145 – 172.
Graham, R. A. (1958). Polygonaceae. In: W. B. Turrill & E. Milne-Redhead (eds), Flora of Tropical East Africa, 1 – 40. Crown Agents for Oversea Governments & Administrations, London.
Haraldson, K. (1978). Anatomy and taxonomy in Polygonaceaesubfam. PolygonoideaeMeisn. Emend. Jaretzky. Symb. Bot. Upsal. 22: 1 – 95.
IUCN (2001). IUCN Red List Categories and Criteria. Version 3.1. IUCN Species Survival Commission, Gland and Cambridge.
Nogueira, I., Ortiz, S. & Paiva, J. A. R. (2006). Polygonaceae. In: G. V. Pope, R. M. Polhill & E. S. Martins (eds), Flora Zambesiaca. Flora Zambesiaca Managing Committee, London.
Ortiz, S. & Paiva, J. A. R. (1999). Taxonomic notes on Polygonaceae from southern tropical Africa. Bot. J. Linn. Soc. 131: 167 – 176.
Ortiz, S. (2003). Two new species of the Oxygonumstuhlmannii-atriplicifolium complex (Polygonaceae) from Somalia. Bot. J. Linn. Soc. 142: 341 – 345.
Schuster, T. M., Reveal, J. L. & Kron, K. A. (2011). Phylogeny of Polygoneae (Polygonaceae: Polygonoideae). Taxon 60: 1653 – 1666.
Takhtajan, A. L. (2009). Flowering Plants. 2ndedn, p. 155. Springer, Berlin.
UNdata (2014). http://data.un.org/CountryProfile.aspx?crName=United+Republic+of+Tanzania
White, F. (1983). The vegetation of Africa. Natural Resources Research XX. Unesco, Paris.
Herbarium Catalogue Specimens

Digital Image © Board of Trustees, RBG Kew http://creativecommons.org/licenses/by/3.0/


Kew Backbone Distributions

The International Plant Names Index and World Checklist of Selected Plant Families 2022. Published on the Internet at http://www.ipni.org and http://apps.kew.org/wcsp/
© Copyright 2017 World Checklist of Selected Plant Families. http://creativecommons.org/licenses/by/3.0


Kew Bulletin

Kew Bulletin
http://creativecommons.org/licenses/by-nc-sa/3.0


Kew Names and Taxonomic Backbone

The International Plant Names Index and World Checklist of Selected Plant Families 2022. Published on the Internet at http://www.ipni.org and http://apps.kew.org/wcsp/
© Copyright 2017 International Plant Names Index and World Checklist of Selected Plant Families. http://creativecommons.org/licenses/by/3.0