Family:

Genus:

Species:
Ipomoea cairica var. cairica
This variety is accepted, and its native range is Tropical & S. Africa, W. Indian Ocean, Arabian Peninsula to Temp. E. Asia.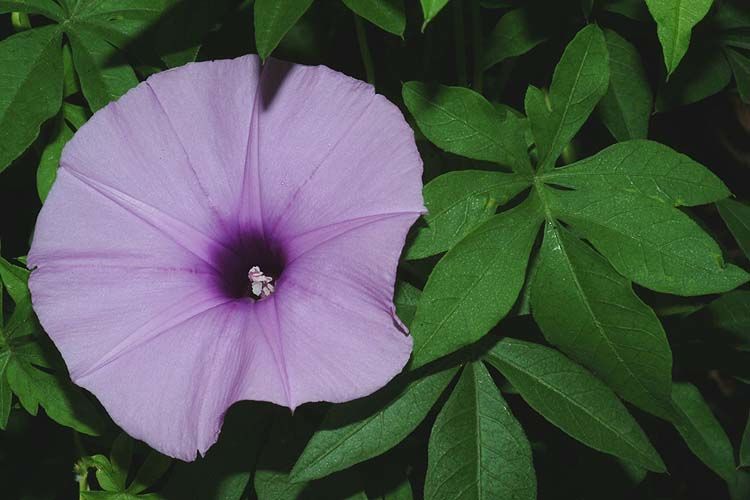 Native to:
Angola, Bangladesh, Botswana, Burundi, Cameroon, Cape Provinces, China South-Central, China Southeast, Congo, Equatorial Guinea, Eritrea, Ethiopia, Gabon, Gambia, Ghana, Guinea, Guinea-Bissau, Gulf of Guinea Is., Hainan, India, Ivory Coast, Kenya, KwaZulu-Natal, Laos, Liberia, Madagascar, Malawi, Mauritius, Mozambique, Myanmar, Nansei-shoto, Nepal, Nigeria, Northern Provinces, Ogasawara-shoto, Oman, Palestine, Rodrigues, Rwanda, Réunion, Senegal, Sierra Leone, Somalia, South China Sea, Sri Lanka, Sudan, Swaziland, Taiwan, Tanzania, Thailand, Togo, Uganda, Vietnam, West Himalaya, Yemen, Zambia, Zaïre, Zimbabwe
Introduced into:
Alabama, Argentina Northeast, Argentina Northwest, Assam, Bismarck Archipelago, Bolivia, Borneo, Brazil Northeast, Brazil South, Brazil Southeast, Brazil West-Central, California, Canary Is., Cape Verde, Cayman Is., Christmas I., Colombia, Cuba, Ecuador, Egypt, Fiji, Florida, Guyana, Hawaii, Jamaica, Jawa, Kermadec Is., Leeward Is., Malaya, Maluku, Mexico Northeast, Mexico Southwest, New Caledonia, New Guinea, New South Wales, New Zealand North, Niue, Norfolk Is., Pakistan, Paraguay, Peru, Philippines, Queensland, Saudi Arabia, Seychelles, Sicilia, Socotra, South Australia, Texas, Tonga, Trinidad-Tobago, Tubuai Is., Uruguay, Vanuatu, Venezuela, Western Australia, Windward Is.
Ipomoea cairica var. cairica appears in other Kew resources:
Accepted by
Darbyshire, I., Kordofani, M., Farag, I., Candiga, R. & Pickering, H. (eds.) (2015). The Plants of Sudan and South Sudan: 1-400. Kew publishing, Royal Botanic Gardens, Kew.
Literature
Kew Backbone Distributions
Adams, C.D. in Adams, C.D. (1972). Flowering Plants of Jamaica: 601-614. University of the West Indies, Mona.
Alfarhan, A. & Thomas, J. in Chaudhary, S.A. (2001). Saudi Arabian CNV + CUS Flora of the Kingdom of Saudi Arabia 2(2): 156-222. Ministry of Agriculture & Water, Riyadh.
Allan, H.H. (1982). Fl. New Zealand Convolvulaceae-indigenous Flora of New Zealand 1: 835-841+1034. R.E.Owen, Government Printer, Wellington.
Austin, D. F. & M. Costea in Zuloaga, F. O., O. Morrone, & M. J. Belgrano (2008). Convolvulaceae Catálogo de las plantas vascualres del Cono Sur 2: 1936-1966. Missouri Bot. Garden.
Austin, D.F. & Huáman, Z. (1996). A synopsis of Ipomoea (Convolvulaceae) in the Americas Taxon 45: 3-38.
Austin, D.F. & S. Ghazanfar in E. Nasir & Ali, S.I. (eds.) (1979). Convolvulaceae Flora of West Pakistan 126: 1-64.
Austin, D.F. in Wagner, W.L., D.R. Herbst, & S.H. Sohmer (1999). Man. Fl. Plts. Hawai'I Convolvulaceae Manual of the Flowering Plants of Hawai'I 1: 548-564. University of Hawaii Press.
Baker, J.G. & A.B. Rendle in Thiselton-Dyer, W.T. et al. (eds.) (1905). Convolvulaceae Flora of Tropical Africa 4(2): 62-206. Secretary of State for the Colonies.
Barker, R.M. & Telford, I.R.H. (1993). Fl. Australia Oceanic Islds. Convolvs Flora of Australia 50: 342-353. Australian Government Publishing Service, Canberra.
Bhellum, B.L. & Magotra, R. (2011). Flora of Jammu and Kashmir state (family Convolvulaceae): a census Journal of Economic and Taxonomic Botany 35: 732-736.
Bianchini, R.S., Ferreira, P.P.A. in Forzza, R.C. et al. (2010). Convolvulaceae Lista de Espécies da Flora do Brasil Jardim Botânico do Rio de Janeiro.
Bosser, J. & H. Heine (2000). Fl. Mascar. Convolvulaceae Flore des Mascareignes 127: 1-63. IRD Éditions, MSIRI, RBG-Kew, Paris.
Carranza, E. (2007). Convolvulaceae I, in Fl. Bajío Flora del Bajío y de regiones adyacentes 151: 1-129.
Clarke, C.B. in Hooker, J.D. (1883). Fl. Br. India Convolvulaceae Flora of British India 4: 179-228 + 734.
Clarke, C.B. in Kanjilal, U.N., A. Das, P.C. Kanjilal, & R.E. De (eds.) (1939). Fl. Assam Convolvulaceae Flora of Assam 3: 338-362+538. Govt. of Assam.
Dempster, L. T. in Hickman, J. C. (ed.) (1993). Convolvulaceae The Jepson Manual, higher plants of Cilfornia: 516-522. Univ. California Press.
Deroin, T. (2001). Convolvulaceae Flore de Madagascar et des Comores (Plantes Vasculaires) 171: 11-287. Typographie Firmin-Didot et Cie., Paris.
Dobignard, A. & C. Chatelain in Dobignard, A. & Chatelain, C. (2011). Convolvulaceae Index synonymique de la flore d'Afrique du nord 3: 331-351. Conservatoire et Jardin Botanique de la ville de Genève.
Fang, R.-Z. & Staples, G. (1995). Convolvulaceae Flora of China 16: 271-325. Missouri Botanical Garden Press, St. Louis.
Friedmann, F. (1994). Convolvulaceae Flore des Seychelles Dicotylédones: 491-503. ORSTOM éditions.
Gagnepain & Courchet in H. Lecomte (1915). Flore Indo-Chine Convolvulaceae Flore Générale de l'indo-Chine 4: 228-313.
Green, P.S. (1994). Convolvulaceae Flora of Australia 49: 305-310. Australian Government Publishing Service, Canberra.
Greuter, W., Burdet, H.M., & Long, G. (1986). Med-checklist 3: Dicotyledones (Convolvulaceae - Labiatae) 3: 1-395. Conservatoire et Jardin botaniques, Ville de Genève.
Guillaumin, A. (1948). Compendium de la Flore Phanérogamique des Nouvelles Hébrides Annales de l'Institut Botanico-Geologique Colonial de Marseille, VI, 5-6: 1-56.
Hallé, N. (1980). Les Orchidees de Tubuai (archipel des Australes, Sud Polynesie), suivies d'un catalogue des plantes a fleurs et fougeres des iles Australes Cahiers de l'Indo-Pacifique 2(3): 69-130.
Hansen, A. & Sunding, P. (1993). Flora of Macaronesia. Checklist of vascular plants. 4. revised edition Sommerfeltia 17: 88-93.
Heine, H. (1984). Fl. Nouv. Caléd. & Dépend. Convolvulaceae Flore de la Nouvelle-Calédonie et Dépendances 13: 1-91. Muséum National d'Histoire Naturelle, Paris.
Heine, H. in Hutchinson, J. & Dalziel, J.M. (1963). Convolvulaceae Flora of West Tropical Africa, second edition 2: 335-352 + 496. Crown Agents for Oversea Governments and Administrations.
Hill, A.W. & Sandwith, N. in Williams, R.O. (1953). Fl. Trinidad & Tobago Convolvs. Flora of Trinidad and Tobago 2(4): 210-240. Government Printing Office, Port-of-Spain.
Johnson, R.W. (2012). Convolvulaceae Australian Plant Census Council of Heads of Australian Herbaria.
Khan, M.S. (1985). Fl. Bangladesh Convolvulaceae Flora of Bangladesh 30: 1-59. Bangladesh National Herbarium, Dhaka.
Kobayashi, S. & Ono, M. (1987). A Revised List of Vascular Plants Indigenous and Introduced to the Bonin (Ogasawara) and the Volcano (Kazan) Islands Ogasawara Research 13: 1-55.
Kress, W.J., R.A. DeFilipps, E. Farr, & Y.Y. Kyi in Kress, W.J. et al. (2003). Cklist. Myanmar Convolvulaceae Checklist of the Trees, Shrubs, Herbs, and Climbers of Myanmar: 197-201. National Museum of Natural History, Washington DC.
Lejoly, J. & S. Lisowski (1992). Les genres Merremia et Ipomoea (Convolvulaceae) dans la Flore d'Afrique Centrale (Zaire, Rwanda, Burundi) Fragmenta Floristica et Geobotanica 37: 21-125.
Leon, H. & Alain, H. in Leon, H. (1957). Convolvulaceae Flora de Cuba 4: 218-248. Cultural S. A., La Habana.
Lisowski, S. in Lisowski, S. (2009). Convolvulaceae Flore (Angiospermes) de la République de Guinée: 136-145. Jardin Botanique National de Belgique.
Long, R. W. & O. Lakela in Long, R. W. & O. Lakela (1976). Convolvulaceae A flora of tropical Florida: 711-724. Banyan Books.
Meeuse, A.D.J. & W.G. Welman (2000). Convolvulaceae Flora of Southern Africa 28: 1-138. Botanical Research Institute, Department of Agriculture.
Miller, A.G. & M. Morris in Miller, A.G. & M. Morris (2004). Ethnofl. Soqotra Archipel. Convolvulaceae + Cuscutaceae Ethnoflora of the Soqotra Archipelago: 516-524. Royal Botanic Garden Edinburgh.
O'Donell, C.A. (1959). Convolvuloideas de Uruguay Lilloa 29: 349-376. Universidad Nacional de Tucuman, Instituto 'Miguel Lillo'.
Ooststroom, S.J. van & R.D. Hoogland (1953). Convolvulaceae Flora Malesiana 4: 388-512. Noordhoff-Kolff N.V., Djakarta.
Powell, Dulcie A. (1979). The Convolvulaceae of the Lesser Antilles Journal of the Arnold Arboretum 60: 219-271.
Press, J.R., K.K. Shrestha, & D.A. Sutton (2012). Nepal Cklist. Convolvulaceae Annotated Checklist of the Flowering Plants of Nepal - online Natural History Museum et al.
Shinners, L. in Correll, D.S. & M.C Johnston (1970). Convolvulaceae Manual of the vascular plants of Texas: 1241-1261. Texas Research Foundation.
Smith, A.C. in Smith, A.C. (1991). Fl. Vitiensis Nova Convolvulaceae Flora Vitiensis Nova. A new flora for Fiji (Spermatophytes only) 5: 41-69. Pacific Tropical Botanical Garden, Lawai.
Spaulding, D. in Spaulding, D. (2013). Convolvulaceae Checklist of Alabama's vascular flora: 137-139.
Staples, G., Phoutthavong, K., Traiperm, P. & Pornpongrueng, P. (2014). A corrected and expanded checklist of Convolvulaceae from Lao PDR Thai Journal of Botany 6: 79-87.
Sykes, W.R. (1970). Contributions to the flora of Niue Bulletin, New Zealand Department of Scientific and Industrial Research 200: 1-321.
Verdcourt, B. (1963). Convolvulaceae Flora of Tropical East Africa: 1-161.
Wood, J.R.I. in Wood, J.R.I. (1997). Handb. Yemen Fl. Convolvulaceae A Handbook of the Yemen Flora: 230-236. The Board of Trustees of the Royal Botanic Gardens, Kew.
Yamazaki, T. (1993). Fl. Japan Convolvulaceae Flora of Japan IIIa: 195-205. Kodansha Ltd., Tokyo.
Yuncker, T.G. (1959). Plants of Tonga Bernice P. Bishop Museum Bulletin 220: 1-283.
Kew Backbone Distributions

The International Plant Names Index and World Checklist of Selected Plant Families 2022. Published on the Internet at http://www.ipni.org and http://apps.kew.org/wcsp/
© Copyright 2017 World Checklist of Selected Plant Families. http://creativecommons.org/licenses/by/3.0


Kew Names and Taxonomic Backbone

The International Plant Names Index and World Checklist of Selected Plant Families 2022. Published on the Internet at http://www.ipni.org and http://apps.kew.org/wcsp/
© Copyright 2017 International Plant Names Index and World Checklist of Selected Plant Families. http://creativecommons.org/licenses/by/3.0


Kew Science Photographs

Digital Image © Board of Trustees, RBG Kew http://creativecommons.org/licenses/by/3.0/