Family:

Genus:

Species:
Mimosa pudica var. pudica
This variety is accepted, and its native range is Mexico to Central America, Caribbean.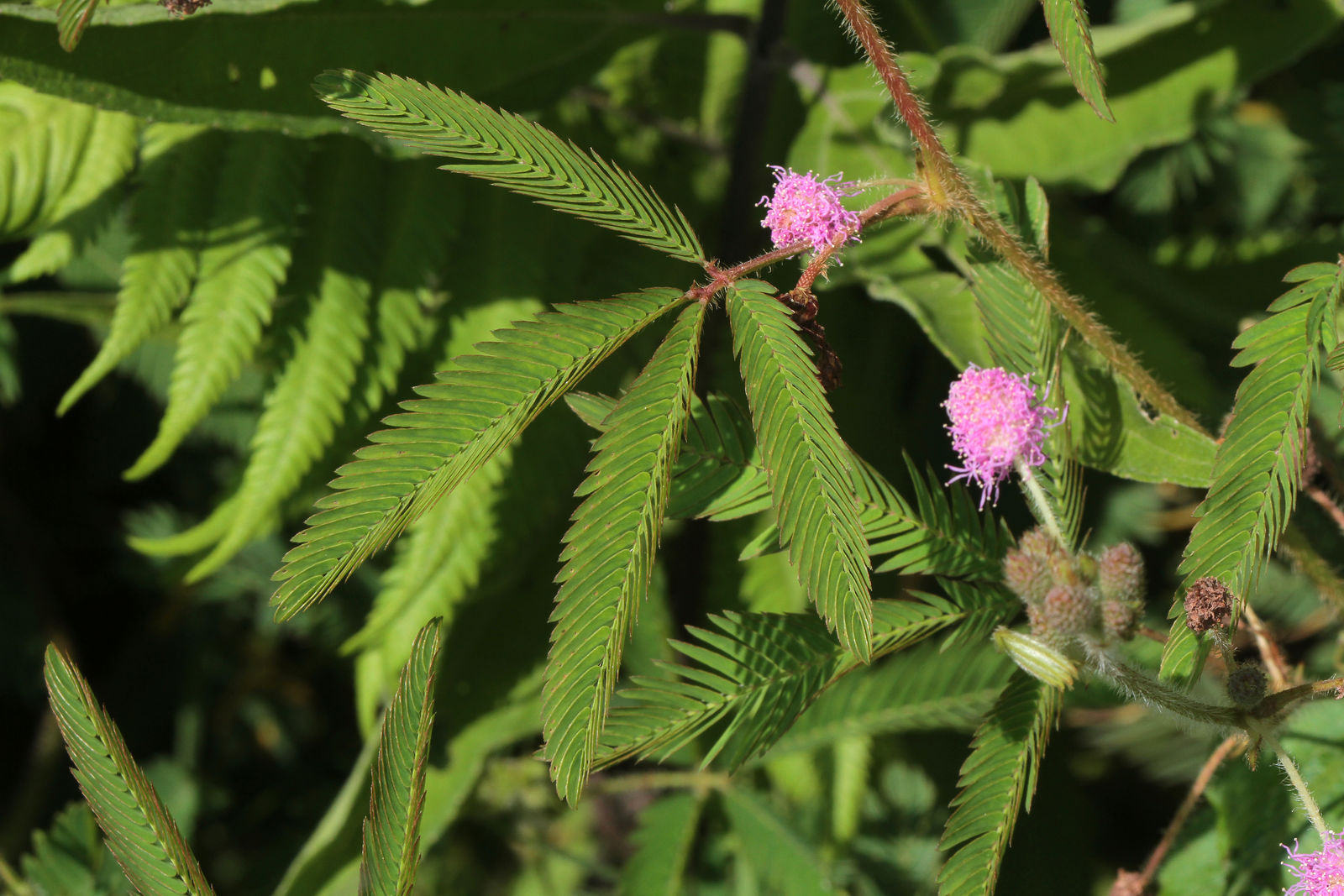 [ILDIS]
International Legume Database and Information Service
Morphology

General

Habit

Annual/Perennial, Not climbing, Herb

Vernacular

Bidi Kumba, Chui-Mui, Lajalu, Lajwanti, Lajwati, Sensitive Plant
Native to:
Bahamas, Belize, Cayman Is., Costa Rica, Cuba, Dominican Republic, El Salvador, Guatemala, Haiti, Jamaica, Leeward Is., Mexico Central, Mexico Southeast, Mexico Southwest, Nicaragua, Puerto Rico, Southwest Caribbean, Windward Is.
Introduced into:
Andaman Is., Assam, Bangladesh, Benin, Burkina, Cambodia, Cameroon, Caroline Is., Chagos Archipelago, China South-Central, China Southeast, Christmas I., Comoros, Congo, Cook Is., East Himalaya, Gabon, Galápagos, Gambia, Ghana, Guinea, Gulf of Guinea Is., Hainan, India, Ivory Coast, Kenya, Korea, Liberia, Madagascar, Malawi, Maldives, Marianas, Marshall Is., Nansei-shoto, Nepal, New Caledonia, New South Wales, Nicobar Is., Nigeria, Niue, Northern Territory, Ogasawara-shoto, Pakistan, Queensland, Senegal, Seychelles, Sierra Leone, Society Is., Solomon Is., South China Sea, Sri Lanka, Sudan, Taiwan, Tanzania, Togo, Tonga, Tuamotu, Tubuai Is., Uganda, Vanuatu, Wallis-Futuna Is., West Himalaya, Zaïre, Zimbabwe
Mimosa pudica var. pudica appears in other Kew resources:
Accepted by
Govaerts, R., Nic Lughadha, E., Black, N., Turner, R. & Paton, A. (2021). The World Checklist of Vascular Plants, a continuously updated resource for exploring global plant diversity. https://doi.org/10.1038/s41597-021-00997-6. Scientific Data 8: 215.
Literature
Kew Backbone Distributions
Acevedo-Rodríguez, P. & Strong, M.T. (2012). Catalogue of seed plants of the West Indies. Smithsonian Contributions to Botany 98: 1-1192.
Akoègninou, A., van der Burg, W.J. & van der Maesen, L.J.G. (eds.) (2006). Flore Analytique du Bénin: 1-1034. Backhuys Publishers.
Aké Assi, L. (2001). Flore de la Côte-d'Ivoire: catalogue systématique, biogéographie et écologie. I. Boissiera 57: 1-396.
Balick, M.J., Nee, M.H. & Atha, D.E. (2000). Checklist of the Vascular Plants of Belize with Common Names an Uses: 1-246. New York Botanic Garden Press, New York.
Barthelat, F. (2019). La flore illustrée de Mayotte: 1-687. Biotope éditions.
Barua, K.N. & Khatry, P.K. (2009). Alien forest weeds in upper Brahmaputra valler and hill zones of Assam. Journal of Economic and Taxonomic Botany 33: 414-422.
Bhellum, B.L. (2012). Flora exotica of Jammu and Kashmir (List- I). Journal of Economic and Taxonomic Botany 36: 33-45.
Castle, G.E. (1994). Flore des Seychelles Dicotylédones: 1-663. Orstom Editions.
Choudhary, R.K., Srivastava, R.C., Das, A.K. & Lee, J. (2012). Floristic diversity assessment and vegetation analysis of Upper Siang district of eastern Himalaya in North East India. Korean Journal of Plant Taxonomy 42: 222-246.
Du Puy, D.J., Labat, N.-N., Rabevohitra, R., Villiers, J.-F., Bosser, J. & Moat, J. (2002). The Leguminosae of Madagascar: 1-737. Royal Botanic Gardens, Kew.
Dy Phon, P. (2000). Dictionnaire des plantes utilisées au Cambodge: 1-915. Chez l'auteur, Phnom Penh, Cambodia.
Fosberg, F.R. (1957). The Maldive islands, Indian Ocean. Atoll Research Bulletin 58: 1-37.
Fosberg, F.R. (1975). Vascular plants of Aitutaki. Atoll Research Bulletin 190: 73-84.
Fosberg, F.R., Sachet, M.-H., Oliver, R. (1979). A geographical checklist of the Micronesian Dicotyledonae. Micronesica; Journal of the College of Guam 15: 41-295.
Garcia-Mendoza, A.J. & Meave, J.A. (eds.) (2012). Diversidad florística de Oaxaca: de musgos a angiospermas (colecciones y listas de especies), ed. 2: 1-351. Instituto de Biología, Universidad Nacional Autónoma de México.
George, A.S., Orchard, A.E. & Hewson, H.J. (eds.) (1993). Oceanic islands 2. Flora of Australia 50: 1-606. Australian Government Publishing Service, Canberra.
Gonzalez, F., Nelson Diaz, J. & Lowry, P. (1995). Flora Illustrada de San Andrés y Providencia: 1-281. Universidad Nacional de Colombia, Instituto de Ciencias Naturales, Colombia.
Guillaumin, A. (1948). Compendium de la Flore Phanérogamique des Nouvelles Hébrides. Annales de l'Institut Botanico-Geologique de Marseille, VI, 5-6: 1-56.
Hallé, N. (1980). Les Orchidees de Tubuai (archipel des Australes, Sud Polynesie), suivies d'un catalogue des plantes a fleurs et fougeres des iles Australes. Cahiers de l'Indo-Pacifique 2(3): 69-130.
Hammel, B.E., Grayum, M.H., Herrera & C. & Zamora, N. (eds.) (2010). Manual de plantas de Costa Rica volumen V. Dicotiledóneas (Clusiaceae-Gunneraceae). Monographs in Systematic Botany from the Missouri Botanical Garden 119: 1-970. Missouri Botanical Garden.
Hancock, I.R. & Henderson, C.P. (1988). Flora of the Solomon Islands. Research Bulletin Dodo Creek Research Station 7: 1-203.
Iwatsuki, K., Boufford, D.E. & Ohba, H. (eds.) (2001). Flora of Japan IIb: 1-550. Kodansha Ltd., Tokyo.
Jaramillo Díaz, P. & Guézou, A. (2017). CDF Checklist of Galapagos Vascular Plants - FCD Lista de especies de Plantas Vasculares de Galápagos http://www.darwinfoundation.org/datazone/checklists/vascular-plants/.
Jones, M. (1991). A checklist of Gambian plants: 1-33. Michael Jones, The Gambia College.
Kobayashi, S. & Ono, M. (1987). A Revised List of Vascular Plants Indigenous and Introduced to the Bonin (Ogasawara) and the Volcano (Kazan) Islands. Ogasawara Research 13: 1-55.
Kumar, S. & Sane, P.V. (2003). Legumes of South Asia. A Checklist: 1-536. Royal Botanic Gardens, Kew.
Lee, W.T. (1996). Lineamenta Florae Koreae: 1-1688. Soul T'ukpyolsi: Ak'ademi Sojok.
Lejoy, J., Ndjele, M.-B. & Geerinck, D. (2010). Catalogue-flore des plantes vasculaires des districts de Kisangani et de la Tshopo (RD Congo). Taxonomania 30: 1-307.
Lepschi, B. & Monro, A. (Project Coordinators) (2014). Australian Plant Census (APC) Council of Heads of Australian Herbaria. http://www.anbg.gov.au/chah/apc/index.html.
Lisowski, S. (2009). Flore (Angiospermes) de la République de Guinée. Scripta Botanica Belgica 41: 1-517.
Lock, J.M. (1989). Legumes of Africa a check-List: 1-619. Royal Botanic Gardens, Kew.
López Patiño, E.J., Szeszko, D.R., Rascala Pérez, J. & Beltrán Retis, A.S. (2012). The flora of the Tenacingo-Malinalco-Zumpahuacán protected natural area, state of Mexico, Mexico. Harvard Papers in Botany 17: 65-167.
MacKee, H.S. (1994). Catalogue des plantes introduites et cultivées en Nouvelle-Calédonie, ed. 2: 1-164. Museum national d'histoire naturelle, Paris.
Morat, P. & Veillon, J.-M. (1985). Contributions à la conaissance de la végétation et de la flore de Wallis et Futuna. Bulletin du Muséum National d'Histoire Naturelle. Section B, Adansonia 7: 259-329.
Pandey, R.P. & Dilwakar, P.G. (2008). An integrated check-list flora of Andaman and Nicobar islands, India. Journal of Economic and Taxonomic Botany 32: 403-500.
Reddy, G.V.P. (2011). Survey of invasive plants on Guam and identification of the 20 most widespread. Micronesica; Journal of the College of Guam 41: 263-274.
S.Calderon & P.C.Standley (1944). Lista Preliminar de las plantas de El Salvador, ed. 2: 1-450. Ediciones culturales de la universidad de El Salvador.
Sachet, M.-H. (1969). List of vascular flora of Rangiroa. Atoll Research Bulletin 125: 33-44.
Sheppard, C.R.C. & Seaward, M.R.D. (eds.) (1999). Ecology of the Chagos archipelago: 1-350. Westbury Academic & Scientific Publishing, Otley.
Singh, A. (2012). Exotic flora of the Chandauli district Uttar Pradesh, India: an overview. Indian Journal of Forestry 35: 79-84.
Sita, P. & Moutsambote, J.-M. (2005). Catalogue des plantes vasculaires du Congo, ed. sept. 2005: 1-158. ORSTOM, Centre de Brazzaville.
Standley, P.C. & Steyermark, J.A. (1946). Flora of Guatemala. Fieldiana Botany New Series 24(5): 1-502. Field Museum of Natural History.
Stevens, W.D., Ulloa U., C., Pool, A. & Montiel, O.M. (2001). Flora de Nicaragua. Monographs in Systematic Botany from the Missouri Botanical Garden 85: i-xlii, 1-2666. Missouri Botanical Garden.
Sykes, W.R. (1970). Contributions to the flora of Niue. Bulletin, New Zealand Department of Scientific and Industrial Research 200: 1-321.
Thiombiano, A., Schmidt, M., Dressler, S., Ouédraogo, A., Hahn, K. & Zizka, G. (2012). Catalogue des plantes vasculaires du Burkina Faso. Boissiera 65: 1-391.
Villaseñor, J.L. (2016). Checklist of the native vascular plants of Mexico. Revista Mexicana de Biodiversidad 87: 559-902.
Welsh, S.L. (1998). Flora Societensis: 1-420. E.P.S. Inc. Utah.
Wu, Z. & Raven, P.H. (eds.) (2010). Flora of China 10: 1-642. Science Press (Beijing) & Missouri Botanical Garden Press (St. Louis).
Yuncker, T.G. (1959). Plants of Tonga. Bernice P. Bishop Museum Bulletin 220: 1-283.
International Legume Database and Information Service
Ambasta, S. P. (1986). The useful plants of India
Haines, H. H. (1922). The Botany of Bihar & Orissa, Part 3. London.
Jain, S. K. (1991). Dictionary of Indian Folk Medicine and Ethnobotany
Kostermans, A. J. G. H. (1980). Mimosaceae. In Flora of Ceylon, Vol. 1. M. D. Dassanayalu....
Polunin, O. & Stainton, A. (1984). Flowers of the Himalayas
Shetty, B. V. & Singh, V. (1987). Flora of Rajasthan Vol. 1. Flora of India Series 2
Verdcourt, B. (1979). A Manual of New Guinea Legumes. Office of Forests, Lae, PNG
International Legume Database and Information Service

International Legume Database and Information Service (ILDIS) V10.39 Nov 2011
http://creativecommons.org/licenses/by/3.0


Kew Backbone Distributions

The International Plant Names Index and World Checklist of Selected Plant Families 2022. Published on the Internet at http://www.ipni.org and http://apps.kew.org/wcsp/
© Copyright 2017 World Checklist of Selected Plant Families. http://creativecommons.org/licenses/by/3.0


Kew Names and Taxonomic Backbone

The International Plant Names Index and World Checklist of Selected Plant Families 2022. Published on the Internet at http://www.ipni.org and http://apps.kew.org/wcsp/
© Copyright 2017 International Plant Names Index and World Checklist of Selected Plant Families. http://creativecommons.org/licenses/by/3.0


Kew Science Photographs

Copyright applied to individual images