Family:

Genus:
Visnaga daucoides Gaertn.
This species is accepted, and its native range is Macaronesia, Medit. to Iran and E. Ethiopia. It is used as a poison and a medicine and for food.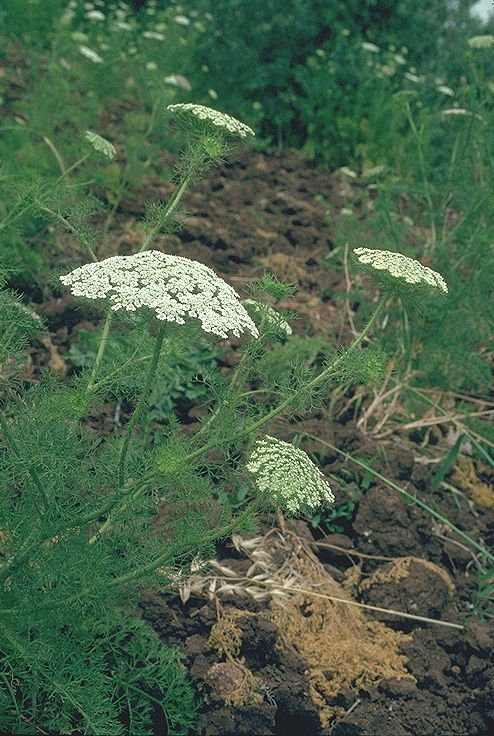 [UPFC]
Distribution

Biogeografic region: Andean. Elevation range: 1600–1720 m a.s.l. Naturalised in Colombia. Colombian departments: Cundinamarca.

Habit

Herb.

Ecology

Habitat according IUCN Habitats Classification: artificial - terrestrial.
[FIQ]
Ghazanfar, S. A. & Edmondson, J. R (Eds). (2014) Flora of Iraq, Volume 5 Part 2: Lythraceae to Campanulaceae.
Morphology

General

Habit

Erect, glabrous annual (sometimes biennial?), 25–75(–100) cm Plant very leafy, radical leaves 3 or 4-pinnate, with a deltoid-ovate lamina (withered at flowering); cauline leaves all similar, 2 or 3-pinnatisect into narrow linear-filiform entire segments, mostly 5–20 × 0.5–0.75 mm, each with a mucronate tip

Morphology

Stem

Stem very stout, terete, striate, erect, branched from near base

Morphology

Branches

Branches long, ascending

Morphology

Reproductive morphology

Inflorescences

Partial umbels many (± 50)-flowered, pedicels 1–7 mm, also set on a disk Umbels large, with very many (up to 100) stout rays; rays spreading 10–30 cm in flower, closing up together in fruit and elongating to as much as 8 cm, fusing at the base on to a prominent, firm disk which surmounts the parent branch; bracts of the involucre large, deflexed at base and then spreading, 2 or 3-pinnatisect, subequalling the length of the rays

Morphology

Reproductive morphology

Inflorescences

Peduncles

Peduncles 5–12(–16) cm

Morphology

Reproductive morphology

Inflorescences

Bracts

Bracts of the involucel numerous (12–20), linear-filiform, entire, subequalling the partial umbels

Morphology

Reproductive morphology

Fruits

Fruit glabrous, ovoid or ovoid-oblong, 2 mm long, ribs narrow, not very prominent

Morphology

Reproductive morphology

Flowers

Gynoecium

Style

Styles long and reflexed, much exceeding the conical stylopodia.

Ecology

Moist places, by streams, banks of ditches, a common weed in fields, among cereal stubble, on an abandoned hill, rice fields, etc.; alt. 50–600(–1500) m

Phenology

Flowering and fruiting: May–Jul.(–Aug.).

Distribution

Rare in the forest zone, but quite common in the steppe region of Iraq; also on the alluvial plain in the desert region. Mediterranean Europe (Portugal & Spain to Greece), Aegean Isles, Syria, Lebanon, Palestine, Egypt, Arabia, Turkey, Caucasus, Iran, N Africa (Morocco, Algeria), Macaronesia (Madeira, Canary Is.). Introduced elsewhere and subspontaneous as a weed (e.g. Britain, China, N, C & S America).

Note

Toothpick Bishop's-weed; also sometimes called Toothpick, Spanish Carrot, Toothpick Ammi (Am.), etc.; ? KASRI (Ir.-Mosul, Nabělek 354 – "dried rays of umbels used as toothpicks"); KHAIZARAN (Guest (1932), Ir.-Baghdad district, Guest 2433 – "dry heads used as toothpicks; seeds boiled and decoction given to children with bad breath"; Ir.-Kirkuk, Rawi 15174 – "weed used as fuel"); ?DAIRAM (Ir.-Mosul, Guest 4033); ?KURAILA (Kurd.-Halabja, Guest 1294). V. Tackholm (1974) who has added to the list of vernacular Egyptian Arabic plant-names drawn up by Drar and published in Stud. Fl. Egypt ed. 1 (1956), gives KHILLA, KHILLĀL (Eg.) and other variants, based on the Arabic roots KHALIA ("pierce") and KHALLALA ("to pick the teeth") as the common vernacular names for this plant in Egypt. Handel-Mazzetti (1913) noted the Arabic name HULL, from Syria (probably for KHALL, cf. KHALLA above) as recorded on the label of a specimen collected at Aleppo (Hakim 22).
[CPLC]
Bernal, R., Gradstein, S.R. & Celis, M. (eds.). 2015. Catálogo de plantas y líquenes de Colombia. Instituto de Ciencias Naturales, Universidad Nacional de Colombia, Bogotá. http://catalogoplantasdecolombia.unal.edu.co
Distribution

Adventicia en Colombia; Alt. 1600 - 1720 m.; Andes.

Morphology

General

Habit

Hierba

Conservation

No Evaluada
[UPFC]
Use

Food

Used for food.

Use

Materials

Used as material.

Use

Medicines

Medical uses.

Use

Poisons

Poisons.
[FIQ]
Use

The name KHILLA was also recorded from the Levant by Post (1896), though whether from Egypt, Lebanon or Palestine is not mentioned. Zohary (1972) states that the seeds of this plant are the main source of the drug Khellin, their medicinal properties being as a diuretic and emmenagogue; he also says that they are used to make red dye in Iraq, though the source of this information is not quoted. Lindley & Moore (1870) noted that the rays or stalks of the main umbel of this species shrunk after flowering and became so hard that they form convenient tooth-picks in Spain and, after they had fulfilled that purpose, that they are chewed and held to be of service in cleaning the gums, while the leaves have a pleasant aromatic flavour in the mouth.
Native to:
Albania, Algeria, Azores, Baleares, Canary Is., Corse, Cyprus, East Aegean Is., Egypt, Eritrea, Ethiopia, France, Greece, Iran, Iraq, Italy, Lebanon-Syria, Libya, Madeira, Morocco, North Caucasus, Palestine, Portugal, Sardegna, Sicilia, Spain, Transcaucasus, Tunisia, Turkey, Turkey-in-Europe
Extinct in:
Juan Fernández Is.
Introduced into:
Alabama, Argentina Northeast, Argentina Northwest, Belgium, Brazil South, California, Chile Central, China Southeast, Colombia, Czechoslovakia, Florida, Great Britain, Japan, Juan Fernández Is., Mexico Southwest, North Carolina, Oregon, Pakistan, Pennsylvania, Peru, Texas, Uruguay, Vietnam
Visnaga daucoides Gaertn. appears in other Kew resources:
First published in Fruct. Sem. Pl. 1: 92 (1788)
Accepted by
Lê, T.C. (2003). Danh l?c các loài th?c v?t Vi?t Nam 2: 1-1203. Hà N?i : Nhà xu?t b?n Nông nghi?p.
Tohmé, G. & Tohmé, H. (2014). Illustrated Flora of Lebanon, ed. 2: 1-610. CNRS Publication.
Literature
Kew Backbone Distributions
Bernal, R., Gradstein, R.S. & Celis, M. (eds.) (2016). Catálogo de plantas y líquenes de Colombia 1-2: 1-3068. Libro impreso.
Boulos, L. (2000). Flora of Egypt 2: 1-352. Al Hadara Publishing, Cairo.
Danihelka, J. Chrtek, J. & Kaplan, Z. (2012). Checklist of vascular plants of the Czech Republic Preslia. Casopsi Ceské Botanické Spolecnosti 84: 647-811.
Danin, A. & Fragman- Sapir, O. (2019). Flora of Israel Online http://flora.org.il/en/plants/.
Danton, P. & Perrier, C. (2017). Suppressions and additions to the flora of the Juan Fernández archipelago (Chile) Botany Letters 164: 351-360.
Davis, P.H. (ed.) (1972). Flora of Turkey and the East Aegean Islands 4: 1-657. Edinburgh University Press, Edinburgh.
Dimopoulos, P., Raus, T., Bergmeier, E., Constantinidis, T., Iatrou, G., Kokkini, S., Strid, A., & Tzanoudakis, D. (2013). Vascular plants of Greece. An annotated checklist: 1-372. Botanic gardens and botanical museum Berlin-Dahlem, Berlin and Hellenic botanical society, Athens.
Dobignard, A. & Chatelain, C. (2011). Index synonymique de la flore d'Afrique du nord 2: 1-429. Éditions des conservatoire et jardin botaniques, Genève.
Garcia-Mendoza, A.J. & Meave, J.A. (eds.) (2012). Diversidad florística de Oaxaca: de musgos a angiospermas (colecciones y listas de especies), ed. 2: 1-351. Instituto de Biología, Universidad Nacional Autónoma de México.
Ghazanfar, S.A. & Edmondson, J.R. (eds.) (2013). Flora of Iraq 5(2): 1-349. Ministry of Agriculture & Agrarian Reform, Baghdad.
Hedberg, I., Edwards, S. & Nemomissa, S. (eds.) (2003). Flora of Ethiopia and Eritrea 4(1): 1-352. The National Herbarium, Addis Ababa University, Ethiopia & The Department of Systematic Botany, Upps.
Hedge, I.C., Lamond, J.M. & Rechinger, K.H. (1987). Flora Iranica 162: 1-555. Akademische Druck- u. Verlagsanstalt, Graz.
Iwatsuki, K., Boufford, D.E. & Ohba, H. (eds.) (1999). Flora of Japan IIc: 1-328. Kodansha Ltd., Tokyo.
Kral, R., Diamond, A.R., Ginzbarg, S.L., Hansen, C.J., Haynes, R.R., Keener, B.R., Lelong, M.G., Spaulding, D.D. & Woods, M. (2011). Annotated checklist of the vascular plants of Alabama: 1-112. Botanical reseach institute of Texas.
Lê, T.C. (2003). Danh l?c các loài th?c v?t Vi?t Nam 2: 1-1203. Hà N?i : Nhà xu?t b?n Nông nghi?p.
Nasir, E. (1972). Flora of West Pakistan 20: 1-169.
Takhtajan, A.L. (ed.) in Takhtajan, A.L. (ed.) (2012). Konspekt Flora Kavkaza 3(2): 1-623. Editio Universitatis Petropolitanae.
Tohmé, G. & Tohmé, H. (2014). Illustrated Flora of Lebanon, ed. 2: 1-610. CNRS Publication.
USDA, NRCS ( 2021-continuously updated). Natural Resources Conservation Services Plant Database http://plants.usda.gov/cgi_bin/topics.cgi?earl=checklist.html.
Zuloaga, F.O. & Belgrano, M.J. (eds.) (2019). Flora Argentina. Flora vascular de la República Argentina 20(2): 1-444. INTA, IMBIV & IBODA.
Zuloaga, F.O., Morrone, O. , Belgrano, M.J., Marticorena, C. & Marchesi, E. (eds.) (2008). Catálogo de las Plantas Vasculares del Cono Sur Monographs in Systematic Botany from the Missouri Botanical Garden 107: 1-3348. Missouri Botanical Garden.
Useful Plants and Fungi of Colombia
Bernal, R., Gradstein, S.R., & Celis, M. (eds.). (2020). Catálogo de Plantas y Líquenes de Colombia. v1.1. Universidad Nacional de Colombia. Dataset/Checklist. https://doi.org/10.15472/7avdhn
Diazgranados et al. (2021). Catalogue of plants of Colombia. Useful Plants and Fungi of Colombia project. In prep.
Diazgranados, M., Allkin, B., Black N., Cámara-Leret, R., Canteiro C., Carretero J., Eastwood R., Hargreaves S., Hudson A., Milliken W., Nesbitt, M., Ondo, I., Patmore, K., Pironon, S., Turner, R., Ulian, T. (2020). World Checklist of Useful Plant Species. Produced by the Royal Botanic Gardens, Kew. Knowledge Network for Biocomplexity.
FPI (2021). Food Plants International. https://fms.cmsvr.com/fmi/webd/Food_Plants_World?homeurl=https://foodplantsinternational.com/plants/
GBIF.org (2021). GBIF species matching tool. https://www.gbif.org/tools/species-lookup
Medicinal Plant Names Services (MPNS) v.10 (2021); http://mpns.kew.org/
Catálogo de Plantas y Líquenes de Colombia

http://creativecommons.org/licenses/by-nc-sa/3.0


Flora of Iraq

http://creativecommons.org/licenses/by-nc-sa/3.0


Herbarium Catalogue Specimens

Digital Image © Board of Trustees, RBG Kew http://creativecommons.org/licenses/by/3.0/


Kew Backbone Distributions

The International Plant Names Index and World Checklist of Selected Plant Families 2022. Published on the Internet at http://www.ipni.org and http://apps.kew.org/wcsp/
© Copyright 2017 World Checklist of Selected Plant Families. http://creativecommons.org/licenses/by/3.0


Kew Living Collection Database

Common Names from Royal Botanic Gardens, Kew Living Collection https://www.kew.org/


Kew Names and Taxonomic Backbone

The International Plant Names Index and World Checklist of Selected Plant Families 2022. Published on the Internet at http://www.ipni.org and http://apps.kew.org/wcsp/
© Copyright 2017 International Plant Names Index and World Checklist of Selected Plant Families. http://creativecommons.org/licenses/by/3.0


Kew Science Photographs

Copyright applied to individual images


Useful Plants and Fungi of Colombia

http://creativecommons.org/licenses/by-nc-sa/3.0