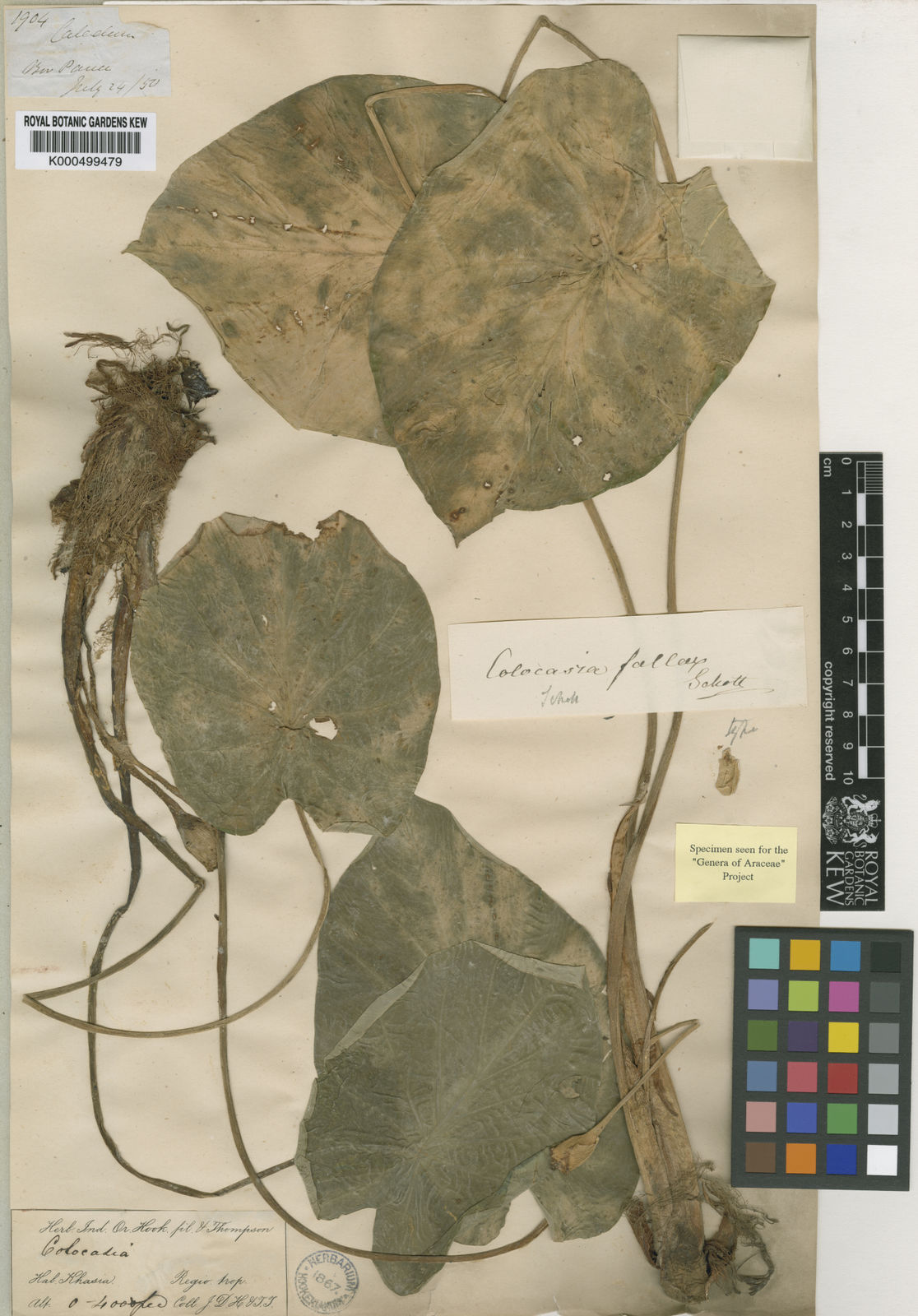 Descriptions
CATE Araceae, 17 Dec 2011. araceae.e-monocot.org
Vernacular

jia yu


General Description

Herbs, small to somewhat robust, stoloniferous. Rhizome erect, up to 7 × 1–1.5cm; stolons pale green or pale purple, erect or creeping, mostly simple, 5–60cm × up to 6mm, internodes 0.5–1.5cm, bearing ovoid or cylindric-ovoid tubercles to 3.5cm in diam., or without tubercles. Leaves 3–8; petiole green, sometimes with transverse purple lines, cylindric, 12–57cm, sheathing for almost 1/2 length; leaf blade paler or slightly glaucous abaxially, green or with dark purple patches between primary veins adaxially, cordate-peltate, ovate-cordate, or narrowly oblong-ovate, 8–36 × 3.3–29cm, membranous, apex apiculate; primary lateral veins 5–7. Inflorescences 1–5 together; peduncle green, cylindric, 4–23cm, slender. Spathe constricted or not between tube and limb; tube green, funnel-form or subcylindric, 1.7–4.2 × 0.7–1.7cm, margins convolute; limb at anthesis proximally gaping, distally convolute, erect, sometimes slightly reflexed after anthesis, orange-yellow, golden yellow, or yellowish basally, violet apically, narrowly lanceolate to oblong-lanceolate, 5–11.2 × 2.7–4.8cm, apex long acuminate. Spadix sessile, to 6.5cm, shorter than spathe; female zone yellow, pale yellowish, or green, conic or cylindric, 1–2.6cm × 4–6mm, with 4–6 rows of whitish or yellow staminodes at base; ovary green, speckled white, subglobose or ovoid to oblong, ca. 1mm, 1-loculed; placentae 3; stigma sessile or subsessile, disciform-capitate, or disciform at base and tapering distally into a linear point to 0.5mm; sterile zone present between female and male zones; male zone yellow, cylindric, 1.1–4.6cm × 3–6mm; synandria golden yellow, polygonal, 6–12-androus; distal sterile zone (between male zone and appendix) cream-colored, cylindric, 0.5–1.2cm × 1–3mm, with white hairs, hairs 10–15mm at anthesis, disappearing on drying; synandrodes broadly oblong to depressed ovate or depressed obpyramidal, apex truncate or subtruncate; appendix absent or yellowish, cylindric or narrowly conic, 2.5–4.5cm × 1–2.5mm, scaly-rough, base distinctly constricted or not, apex acute. Berry ripening yellow, ovoid, ca. 2mm. 2n = 28.


Phenology

Fl. Mar–Sep, fr. Jul–Oct.


Habitat

Dense forests, humid forest margins, moist mossy rock faces in forests, valley scrub, moist shaded places along streams.

[CATE]
IUCN Red List of Threatened Species https://www.iucnredlist.org/species/194794/8902631
Conservation

LC - least concern
[IUCN]
Sources
CATE Araceae

Haigh, A., Clark, B., Reynolds, L., Mayo, S.J., Croat, T.B., Lay, L., Boyce, P.C., Mora, M., Bogner, J., Sellaro, M., Wong, S.Y., Kostelac, C., Grayum, M.H., Keating, R.C., Ruckert, G., Naylor, M.F. and Hay, A., CATE Araceae, 17 Dec 2011.
http://creativecommons.org/licenses/by-nc-sa/3.0

Herbarium Catalogue Specimens

Digital Image © Board of Trustees, RBG Kew http://creativecommons.org/licenses/by/3.0/

IUCN Categories

IUCN Red List of Threatened Species
http://creativecommons.org/licenses/by-nc-sa/3.0

Kew Backbone Distributions

The International Plant Names Index and World Checklist of Vascular Plants 2023. Published on the Internet at http://www.ipni.org and https://powo.science.kew.org/
© Copyright 2022 World Checklist of Vascular Plants. http://creativecommons.org/licenses/by/3.0

Kew Names and Taxonomic Backbone

The International Plant Names Index and World Checklist of Vascular Plants 2023. Published on the Internet at http://www.ipni.org and https://powo.science.kew.org/
© Copyright 2022 International Plant Names Index and World Checklist of Vascular Plants. http://creativecommons.org/licenses/by/3.0