Family:

Genus:
Dieffenbachia oerstedii Schott
This species is accepted, and its native range is Central Mexico to Ecuador. It is used as a medicine.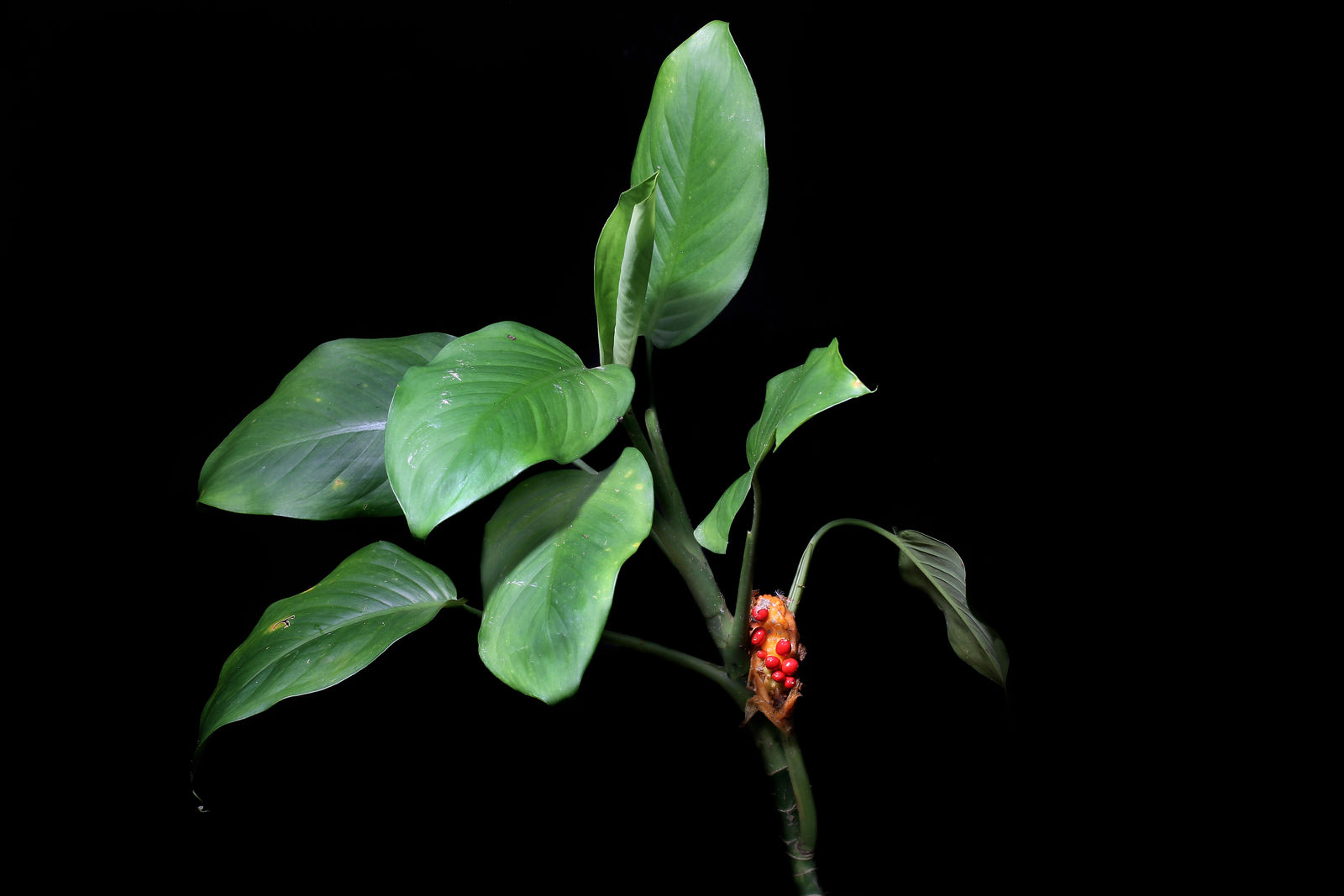 [UPFC]
Distribution

Biogeografic region: Andean. Elevation range: 1700–1700 m a.s.l. Native to Colombia. Colombian departments: Nariño.

Habit

Herb.

Ecology

Habitat according IUCN Habitats Classification: forest and woodland, shrubland, artificial - terrestrial.
[CPLC]
Bernal, R., Gradstein, S.R. & Celis, M. (eds.). 2015. Catálogo de plantas y líquenes de Colombia. Instituto de Ciencias Naturales, Universidad Nacional de Colombia, Bogotá. http://catalogoplantasdecolombia.unal.edu.co
Distribution

Nativa en Colombia; Alt. 1700 m.; Andes.

Morphology

General

Habit

Hierba

Conservation

No Evaluada
[CATE]
CATE Araceae, 17 Dec 2011. araceae.e-monocot.org
General Description

Herb, 30-75(100) cm tall (usually less than 50 cm); stem erect or partially reclining, often conspicuously clustered with numerous plants; sap moderately foul; leaf scars conspicuous, transverse or oblique (when oblique, up to 2x as wide on one side as the other), forming a T or forming a W on open side of sheath; internode semiglossy to glossy, weakly warty on magnification, 1- 5.T cm long, 0 .8- 2(3) cm diam., dark olive-green to blackish green, medium green or dark green, sometimes variegated with streaks of paler green, drying dark brown to dark yellow-brown, glossy, smooth; petioles 10- 20(.30) cm long, (averaging1 3.7 cm long), 3 -4 mm diam., sheathing 1/3 to 3/4 (rarely nearly throughout) their length (averaging 0.7 their length), medium green, matte, sometimes finely streaked throughout with darker green, usually weakly glossy and white near base; sheath2 .5-21.5 cm long (averaging9 .3 cm long),pale green to white on lower most clasping portion (cont lasting sharply with much darker stem), with margins involute, the tip with one side erect, free-ending and rounded to auriculate, with the other side rounded to acute( sometimes not free-ending in Coe le Province, Panama); unsheathed portion 5-1.S (m long, C-shaped to U-shaped in cross section, convex adaxially, acute to bluntly angled on margins; blades ovate to narrowly ovate or ovate –lanceolate or rarely oblanceolate, (5.5)14- 22(35) x (1.7)4-14(21.5) cm, (averaging 2 0.1 x 8.5 cm), 1.4-5.9 longer than wide (averaging 2.5 times longer than wide), 0.8-2.7 times longer than petiole (averaging 1.5), often inequilateral, somewhat thinly coriaceous to subcoriaceous, moderately bicolorous, gradually acuminate and apiculate at apex (the acumen 5 mm long), acute and weakly decurrent to obtuse or more often rounded, sometimes subcordate at base; upper surface matte and subvelvety to weakly glossy, dark green, frequently splotched light or medium green or with white areas especially near midrib (all variations frequently found in a single population), drying dark brown to gray-green, concolorous, sometimes faintly dark-stiliate; lower surface matte to weakly glossy (epidermal cells raised and sometimes translucent), drying yellow-green to yellow-brown, some-times faintly dark-striate, slightly paler; midrib flat-raised to obtusely flat-raised above, concolorous or sometimes white above (sometimes mottled on plants with mottled leaves, sometimes faintly dark-striate on both surfaces), slightly paler and convex to broadly convex to bluntly acute below; primary lateral veins( 4)6 to 9(11) per side, departing midrib at a 40°-45° angle, broadly arcuate-ascending, sunken to quilted-sunken above, slightly darker than surface, weakly convex-pleated below; inter- primary veins weak or as conspicuous as primary lateral veins; minor veins indistinct above, moderately distinct to moderately obscure below;" cross-veins sometimes visible. INFLORESCENCES 1 to 2 sometimes 3 , rarely 4 per axil; peduncle (2.2)3.5- 12(22) cm long (average 7.6 cm long), l/10 as long as spathe to fully as long as the spathe, averaging 0.43 as long, 6-13 mm diam., 2-4 mm diam. on drying, somewhat flattened in cross section; spathe (7.5)10-17(25.5) cm long, weakly constricted above tube, medium green on both surfaces, sometimes tinged whitish on back throughout (the median rib green), weakly glossy to semiglossy outside, glossy on inside, narrowly acuminate at apex; tube to 2- 2.8 cm wide, 1.5-2.3 cm thick when furled, to 8 cm wide when flattened; spathe blade to 2.5 cm diam. When furled, 3.0-8 cm wide at anthesis; spadix (7)10-17(21) cm long (averaging 1 4.6 cm), 1- 5 cm shorter than spathe; pistillate portion 4.3- 7.5(10) cm long (averaging 6. 4 cm long),5 -10 mm diam.; fertile staminate portion 3-8.5 cm long (averaging .5..3 cm long), 5-7 mm diam., broadest at middle, tapering toward both ends, especially at bluntly pointed apex; mostly sterile intermediate segment (1)2-3.2 cm long, to 2.5 mm diam. (dried), with a few widely scattered sterile staminate flowers in upper 3/4 and a few pistillate flowers in lower 1 /4, sometimes with only sterile-staminate flowers scattered throughout, rarely almost bare; pistils ( 26)33- 46(54), moderately closely spaced except in the lower 1.5 cm and the upper 1 cm (the distance between them generally equaling or twice their width), up to 4 in a row across the width of the spadix, subglobose, 1.5 x 1.4-2.6 mm; stigma depressed-globose, yellow, 1 mm wide, puberulent; style caviform with a weak central dome; staminodia clavate, white, drying orange, 2-3(4.5) mm long, 1-2 nlm wide at apex, 2-3 times longer than pistil, usually weakly fused at base, sometimes well separated, weakly flattened, thickened toward apex; synandria 3 to 5 per spiral, 1.4-2.0 mm diam., the margins smooth to irregularly and smoothly in-dented, smooth and subrounded at apex. INFRUCTESCENCEto 22 cm long; spathe orange outside; berries bright red, globose, with 13 to 43 per spadix, 4-6 mm diam.

Habitat

In Tropical dry( T-df), Tropical moist (T-mf), Tropical wet (T-wf), Prernontane wet (P-wf), and Prernontane rainforest (P-rf) life zones (Hold-ridge, 1967).

Phenology

Flowering of D. oerstedii occurs throughout the year, but with the heaviest flowering at the end of the dry season and the first part of the rainy season, April to September. Fruit maturation is more regularly scattered throughout the year.

Distribution

Dieffenbachia oerstedii ranges from Mexico( Veracruz, Oaxaca, Chiapas, and Tabasco) mostly along the Caribbean slope in Central America in Guatemala, Honduras, Nicaragua, and Costa Rica (where it occurs on both slopes) and west-central Panama. The species also occurs on the Pacific slope of El Salvador (Department of Ahuachapan).

Diagnostic

This species is characterized by its small stature (generally less than 1 m tall); frequently clustered stems; and sharply C-shaped petioles that are whitish at the base and sheathed.
Native to:
Belize, Colombia, Costa Rica, Ecuador, El Salvador, Guatemala, Honduras, Mexico Central, Mexico Gulf, Mexico Southeast, Mexico Southwest, Nicaragua, Panamá
Introduced into:
French Guiana, Windward Is.
Dieffenbachia oerstedii Schott appears in other Kew resources:
First published in Oesterr. Bot. Z. 8: 179 (1858)
Accepted by
Amith, J. & collaborators (2020). Nahuatl Learning Environment http://www.balsas-nahuatl.org/index.html.
Govaerts, R. & Frodin, D.G. (2002). World Checklist and Bibliography of Araceae (and Acoraceae): 1-560. The Board of Trustees of the Royal Botanic Gardens, Kew.
Hammel, B.E. & al. (2003). Manual de Plantas de Costa Rica 2: 1-694. Missouri Botanical Garden Press, St. Louis.
Nelson Sutherland, C.H. (2008). Catálogo de las plantes vasculares de Honduras. Espermatofitas: 1-1576. SERNA/Guaymuras, Tegucigalpa, Honduras.
Stevens, W.D., Ulloa U., C., Pool, A. & Montiel, O.M. (2001). Flora de Nicaragua Monographs in Systematic Botany from the Missouri Botanical Garden 85: i-xlii, 1-2666. Missouri Botanical Garden.
Literature
Catálogo de Plantas y Líquenes de Colombia
Bernal, R., Gradstein, S.R. & Celis, M. (eds.). 2015. Catálogo de plantas y líquenes de Colombia. Instituto de Ciencias Naturales, Universidad Nacional de Colombia, Bogotá. http://catalogoplantasdecolombia.unal.edu.co
CATE Araceae
Croat, T. 2004. Revision of Dieffenbachia (Araceae) of Mexico, Central America and the West Indies. Ann. Missouri Bot. Gard.. 91 (4): 668-772
Kew Backbone Distributions
Amith, J. & collaborators (2020). Nahuatl Learning Environment http://www.balsas-nahuatl.org/index.html.
Croat, T. (2004). Revision of Dieffenbachia (Araceae) of Mexico, Central America, and the West Indies Annals of the Missouri Botanical Garden 91: 668-772.
GBIF (2008- continuously updated). Global Biodiversity Information Facility http://www.gbif.org/.
Useful Plants and Fungi of Colombia
Bernal, R., Gradstein, S.R., & Celis, M. (eds.). (2020). Catálogo de Plantas y Líquenes de Colombia. v1.1. Universidad Nacional de Colombia. Dataset/Checklist. https://doi.org/10.15472/7avdhn
Diazgranados et al. (2021). Catalogue of plants of Colombia. Useful Plants and Fungi of Colombia project. In prep.
Diazgranados, M., Allkin, B., Black N., Cámara-Leret, R., Canteiro C., Carretero J., Eastwood R., Hargreaves S., Hudson A., Milliken W., Nesbitt, M., Ondo, I., Patmore, K., Pironon, S., Turner, R., Ulian, T. (2020). World Checklist of Useful Plant Species. Produced by the Royal Botanic Gardens, Kew. Knowledge Network for Biocomplexity.
GBIF.org (2021). GBIF species matching tool. https://www.gbif.org/tools/species-lookup
Instituto de Investigación de Recursos Biológicos Alexander von Humbodlt (2014). Plantas alimenticias y medicinales nativas de Colombia. 2567 registros, aportados por: Castellanos, C. (Contacto del recurso), Valderrama, N. (Creador del recurso, Autor), Bernal, Y. (Autor), García, N. (Autor). http://i2d.humboldt.org.co/ceiba/resource.do?r=ls_colombia_magnoliophyta_2014
Medicinal Plant Names Services (MPNS) v.10 (2021); http://mpns.kew.org/
CATE Araceae

Haigh, A., Clark, B., Reynolds, L., Mayo, S.J., Croat, T.B., Lay, L., Boyce, P.C., Mora, M., Bogner, J., Sellaro, M., Wong, S.Y., Kostelac, C., Grayum, M.H., Keating, R.C., Ruckert, G., Naylor, M.F. and Hay, A., CATE Araceae, 17 Dec 2011.
http://creativecommons.org/licenses/by-nc-sa/3.0


Catálogo de Plantas y Líquenes de Colombia

http://creativecommons.org/licenses/by-nc-sa/3.0


Colombian resources for Plants made Accessible

http://creativecommons.org/licenses/by/3.0/


Herbarium Catalogue Specimens

Kew Backbone Distributions

The International Plant Names Index and World Checklist of Selected Plant Families 2022. Published on the Internet at http://www.ipni.org and http://apps.kew.org/wcsp/
© Copyright 2017 World Checklist of Selected Plant Families. http://creativecommons.org/licenses/by/3.0


Kew Names and Taxonomic Backbone

The International Plant Names Index and World Checklist of Selected Plant Families 2022. Published on the Internet at http://www.ipni.org and http://apps.kew.org/wcsp/
© Copyright 2017 International Plant Names Index and World Checklist of Selected Plant Families. http://creativecommons.org/licenses/by/3.0


Kew Science Photographs

Digital Image © Board of Trustees, RBG Kew http://creativecommons.org/licenses/by/3.0/


Useful Plants and Fungi of Colombia

http://creativecommons.org/licenses/by-nc-sa/3.0