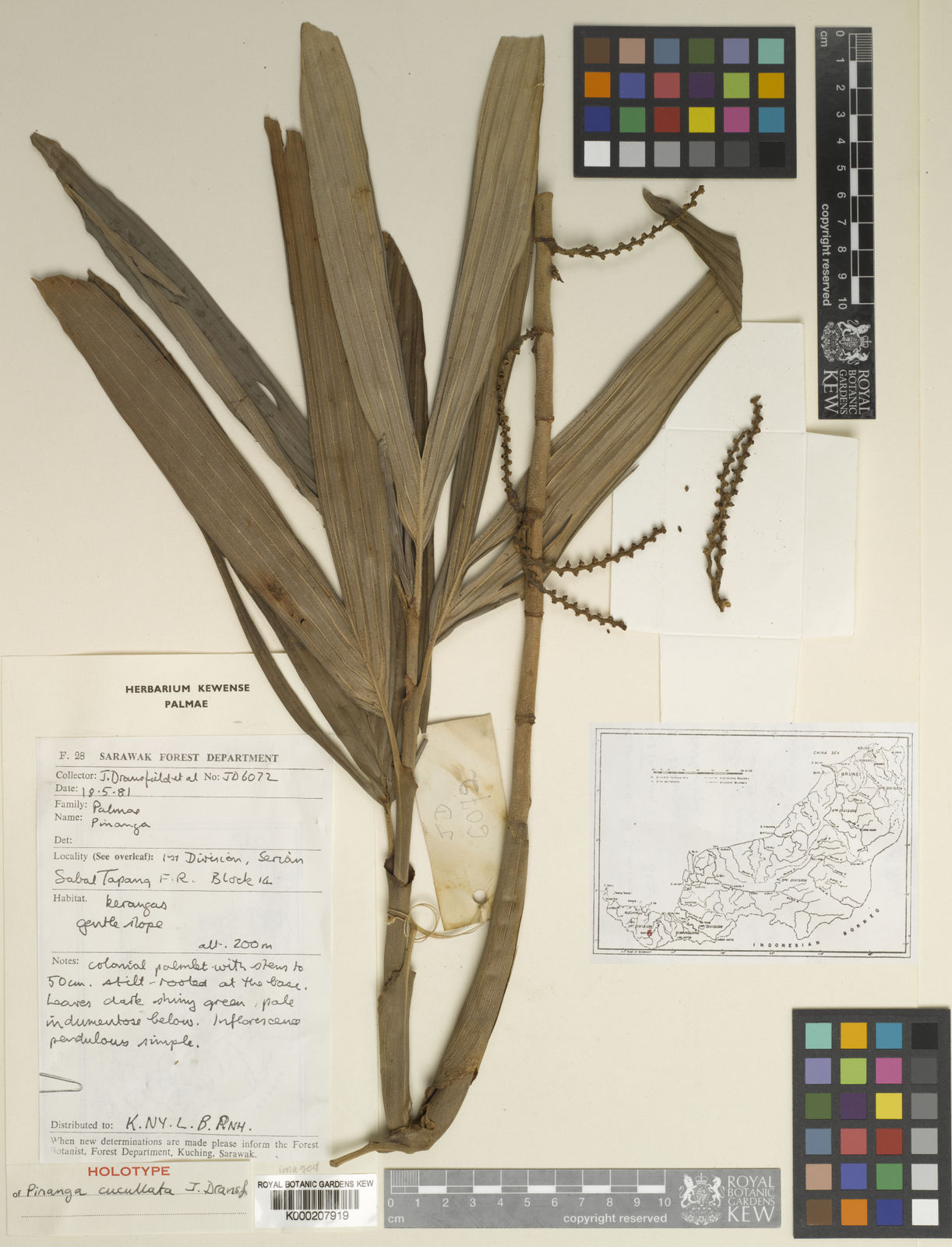 Descriptions
Biology

It seems always to be found in 'kerangas' (Bornean heath forest) and, although all collections are from the same locality, I have observed it else- where in the 1st Division at Semengoh Forest Reserve near Kuching and in Sempadi Forest Reserve on the Bau-Lundu Road. Although abundant where it occurs, it is, like many kerangas palms, a shy flowerer.

Diagnostic

P. tomentellae Becc. pagina inferiore laminae tomentella calyce floris pistillati connato affinis sed lamina profunde bifida, habitu dense caespitoso distinguibilis.

General Description

Slender colonial palmlet spreading by short rhizomes or stolons; stem erect, rarely exceeding 60 cm long, 4-8 mm diam., internodes 3-4 cm long, the surface covered with dark brown scales and white hairs, adventitious branching sometimes occurring from the middle of the internodes. Crown of about 8 leaves, the sheaths forming an elongate crownshaft; leaf sheaths c. 11 x 1.4 cm, smooth, almost succulent when fresh, striate on drying, bearing scales and hairs as the internodes, distally with 2 short rapidly disintegrating auricles 6 x 3 mm; petiole very short, c. 20 x 2.5 mm, bearing scales and hairs as the sheath; blade when fresh, dark shiny green adaxially, grey hairy abaxially, deeply bifid, the costa c. 5 cm only, the two lobes conspicuously cucullate, to 25 x 3 cm, with about 5 ribs, the tips entire rather than lobed, adaxial surface glabrous, abaxial surface densely grey-scurfy, particularly along the folds. Inflorescence unbranched or bifid, pendulous or porrect, to 8 cm; prophyll not preserved; peduncle very short, not exceeding 8 mm, c. 4 mm diam. near the base; rachilla c. 2 x 1 mm diam., pale cream, thickening and becoming red at fruit maturity, rather densely covered in caducous branched scale-like trichomes, and bearing strictly distichous triads of flowers. Staminate flowers (based on one very imperfectly preserved flower) c. 4 x 3 mm; calyx c. 0.5 mm high, irregularly 3-lobed; petals c. 4 x 2 mm, unequal; stamens at least 4 (exact number not known), filaments 0.5 mm, anthers elongate, 1.3 mm; pollen not known. Pistillate flower globular, c. 2 mm diam.; calyx gamo- sepalous, striate, c. 1.5 mm high, shallowly 3-lobed; petals imbricate, ovate, c. 1.5 x 1.5 mm, the margins minutely ciliate; staminodes absent; ovary ellipsoid, c. 2 x 1 mm, tipped with an irregularly lobed stigma. Mature fruit black, ellipsoid, c. 13 x 5 mm. Seedling not known.
[PW]
Sources
Herbarium Catalogue Specimens

Digital Image © Board of Trustees, RBG Kew http://creativecommons.org/licenses/by/3.0/

Kew Backbone Distributions

The International Plant Names Index and World Checklist of Vascular Plants 2023. Published on the Internet at http://www.ipni.org and https://powo.science.kew.org/
© Copyright 2022 World Checklist of Vascular Plants. http://creativecommons.org/licenses/by/3.0

Kew Names and Taxonomic Backbone

The International Plant Names Index and World Checklist of Vascular Plants 2023. Published on the Internet at http://www.ipni.org and https://powo.science.kew.org/
© Copyright 2022 International Plant Names Index and World Checklist of Vascular Plants. http://creativecommons.org/licenses/by/3.0

Palmweb - Palms of the World Online

Palmweb 2011. Palmweb: Palms of the World Online. Published on the internet http://www.palmweb.org. Accessed on 21/04/2013
Content licensed under Creative Commons Attribution-NonCommercial-ShareAlike 3.0 Unported License http://creativecommons.org/licenses/by-nc-sa/3.0