Family:

Genus:
Hoodia gordonii (Masson) Sweet ex Decne.
A modern-day example of the need to recognise not only the traditional uses of wild plants, but also to respect the communities that use them is illustrated by the commercialisation of slimming products containing Hoodia. For generations the indigenous peoples of the Kalahari Desert in southern Africa used Hoodia as a food to quench their thirst.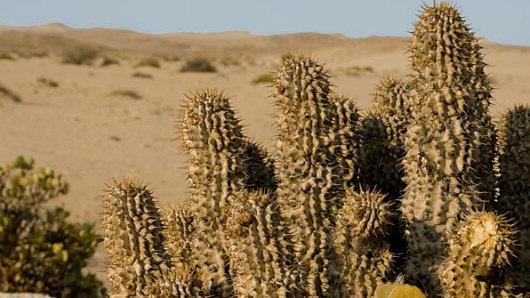 [KSP]
Kew Species Profiles
General Description

Used for generations by the indigenous peoples of the Kalahari to quench their thirst, Hoodia gordonii is now widely used in the commercial production of slimming aids.

In the mid-1960s the National Food Research Institute in South Africa tested whether Hoodia did actually quench thirst; they discovered that it actually suppressed appetite. In the late 1990s the active principle in Hoodia was identified and patented as an appetite-suppressant, and Western drug and food companies then focused on how they could develop Hoodia-based products as slimming aids.

Because the development of these products was based on the traditional knowledge of the indigenous peoples, the companies had to negotiate a benefit-sharing arrangement with the San people. This agreement ensures that any company selling products containing the Hoodia appetite suppressant share the financial returns with the San people.

Species Profile

Geography and distribution

South Africa and Namibia.

Description

Hoodia gordonii is a cactus-like, clump-forming, spiny succulent to 75 cm tall, lacking conventional leaves. Flowers are up to 10 cm in diameter, more or less circular to clearly 5-lobed, flesh-coloured or a deeper reddish purple. The fruit is a V-shaped pair of cylindrical follicles, up to about 12 cm in length.

Threats and conservation

This species is threatened by succulent-plant enthusiasts taking wild plants for their collections, and by people collecting it for its therapeutic value. It is also under pressure from browsing and grazing. Hoodia species are now the subject of intensive bioprospecting and harvesting from the wild. Efforts are underway to regulate wild harvesting.

Uses

Several species of Hoodia (including H. gordonii , H. pilifera and H. currorii ) have been used as food by African tribespeople in Botswana, Namibia, Angola and South Africa. It is reported they ate the young peeled shoots as a food to quench their thirst on long hunting trips. Once Hoodia gordonii had been shown to have appetite-suppressant activity, researchers at the Council for Industrial Research (CSIR) in South Africa worked on the chemistry of the plants and identified the active principle as a pregnane glycoside (P57). In 1998 the CSIR protected the use of this compound as an appetite-suppressant by filing a patent and licensing its subsequent development of the patent through an intermediary, first to a pharmaceutical, and then a food company.

The San people demanded recognition of their traditional knowledge and a share of the benefits that would arise from the development of slimming products that contained P57. This agreement was signed in 2003. In 2008, the food company Unilever decided to drop its plans to develop Hoodia as part of its range of slimming products. Phytopharm, the UK company that had licensed the development of Hoodia to Unilever, is hoping to develop the product with another international company. Hoodia products are currently been sold via websites but care should be taken when purchasing these as laboratory studies have shown that some do not contain Hoodia .

H. gordonii has several uses as a traditional medicine, including the treatment of hypertension, diabetes, tuberculosis and abdominal pains. To date, patents have also been filed on the anti-diabetic activity of Hoodia and for its use in the treatment of gastric acid secretion damage. Despite the fact that research on Hoodia as a food resulted in commercial interest, the nutritive value of Hoodia still requires further investigation.

Hoodias also make attractive and unusual ornamental plants for tropical arid gardens, or as greenhouse subjects in temperate countries. Care should be taken to ensure plants are from cultivated sources, and not obtained directly from the wild.

Millennium Seed Bank: Seed storage

Kew's Millennium Seed Bank Partnership aims to save plant life world wide, focusing on plants under threat and those of most use in the future. Seeds are dried, packaged and stored at a sub-zero temperature in our seed bank vault.

Number of seed collections stored in the Millennium Seed Bank: One

Germination testing: Successful

Cultivation

This is a slightly challenging plant to cultivate as it can rot off at the base if overwatered, thus causing the plant to collapse. Therefore, careful watering, allowing compost to dry out fully between waterings, is important.

Potting compost needs to be gritty or sandy and well drained. It also needs good, bright light. At Kew, Hoodia gordonii is grown under glass in pots plunged in a heated sand bench all year round, but it could be grown in a warm conservatory or greenhouse.

Hoodia gordonii is easiest grown from seed. At Kew the sealed bag method is used for germinating many succulents. Seeds are sown on top of moist sterilised compost and covered lightly with fine grit to anchor them. The pot is then placed in a transparent plastic bag and sealed with a rubber band. They can be left inside sealed bag for months until pricking out size.

Alternatively try rooting Hoodia cuttings by slashing the cut base of a cutting and soaking in rooting hormone. Allow the cut surface to callus well and place on slightly damp medium to root (Kew uses Seramis). It can still be difficult to get them to root.

Another alternative is to try grafting cuttings onto Ceropegia tubers.

Distribution

Namibia, South Africa

Ecology

Very dry rocky environments to sandy river beds.

Conservation

Not evaluated. However, in part of its range (Namibia) it has been assessed as Lower Risk - Least Concern according to IUCN Red Data List categories (SANBI, 2002).

Hazards

There are issues of quality control and clinical efficacy surrounding the unregulated trade in products claiming to contain 'Hoodia'.
Native to:
Cape Provinces, Free State, Namibia
Hoodia gordonii (Masson) Sweet ex Decne. appears in other Kew resources:
| Date | Reference | Identified As | Barcode | Type Status | Has image? |
| --- | --- | --- | --- | --- | --- |
| Dec 1, 2002 | Bartsch, S., Loots, S. [SB1059], Namibia | | K000743799 | | No |
| Jan 1, 1993 | Dinter [8272], Namibia | | K000306192 | | Yes |
| Jan 1, 1993 | Pillans, N.S. [164], South Africa | | K000306193 | Unknown type material | Yes |
| Jan 1, 1993 | Pillans, N.S. [164], South Africa | | K000306194 | | Yes |
| Jan 1, 1993 | Bain [11], South Africa | | K000306196 | Unknown type material | Yes |
| Jan 1, 1993 | | | K000306195 | | Yes |
| Jan 1, 1993 | Lycett [5], South Africa | | K000306197 | Unknown type material | Yes |
| Jan 1, 1993 | Burke [464], South Africa | | K000306200 | Unknown type material | Yes |
| | Plowes, D. [4975C], Namibia | | 49729.000 | | No |
| | Robertson, I. | | 49730.000 | | No |
| | Plowes, D.C.H. [6820], South Africa | | 52210.000 | | No |
| | Broom, R. [34942B], South Africa | | 6750.000 | | No |
| | Burke [464], South Africa | | K000306198 | | Yes |
| | Burke [463], South Africa | | K000306199 | Unknown type material | Yes |
| | Pillans [9], South Africa | | K000306202 | holotype | Yes |
| | Pillans [160], South Africa | | K000306201 | Unknown type material | Yes |
First published in A.P.de Candolle, Prodr. 8: 665 (1844)
Accepted by
Bruyns, P.V. (2014). The Apocynaceae of Namibia Strelitzia 34: 1-158. National Botanical Institute, Pretoria.
Germishuizen, G. & Meyer, N.L. (eds.) (2003). Plants of Southern Africa an annotated checklist Strelitzia 14: 1-1231. National Botanical Institute, Pretoria.
Literature
Kew Species Profiles
CITES (Convention on International Trade in Endangered Species).
Golding, J.S. (2002) Southern African Botanical Diversity Network Report (SANBI) Report No.14. Southern Africa Plant Red Data Lists. SABONET.
Jansen, P.C.M. (2004) Hoodia currorii (Hook.) Decne. Record from Protabase. Grubben, G.J.H. & Denton, O.A. (eds), PROTA (Plant Resources of Tropical Africa / Ressources végétales de l'Afrique tropicale), Wageningen, Netherlands.
Millennium Ecosystem Assessment (2005) Ecosystems and human well-being: current state and trends, Vol.1. Island Press, Washington, D.C.
Munoz Tellez, V. Recognising the traditional rights of the San people: the Hoodia case of benefit-sharing. School of Law, Queen Mary, University of London. Download a pdf version here
SEPASAL (Survey of Economic Plants for Arid and Semi-Arid Lands).
Taxonomic source data from Bruyns, P.V. (1993). A revision of Hoodia and Lavrania (Asclepiadaceae - Stapelieae). Bot. Jahrb. Syst. 115: 145-270.
Van Rooyen, N. (2001) Flowering plants of the Kalahari dunes. Ecotrust, Pretoria.
van Heerden, F.R. (2008) Hoodia gordonii: A natural appetite suppressant. Journal of Ethnopharmacology 119: 434-437.
Kew Backbone Distributions
Germishuizen, G. & Meyer, N.L. (eds.) (2003). Plants of Southern Africa an annotated checklist Strelitzia 14: 1-1231. National Botanical Institute, Pretoria.
Art and Illustrations in Digifolia

Digital Image © Board of Trustees, RBG Kew


Herbarium Catalogue Specimens

Digital Image © Board of Trustees, RBG Kew http://creativecommons.org/licenses/by/3.0/


Kew Backbone Distributions

The International Plant Names Index and World Checklist of Selected Plant Families 2022. Published on the Internet at http://www.ipni.org and http://apps.kew.org/wcsp/
© Copyright 2017 World Checklist of Selected Plant Families. http://creativecommons.org/licenses/by/3.0


Kew Names and Taxonomic Backbone

The International Plant Names Index and World Checklist of Selected Plant Families 2022. Published on the Internet at http://www.ipni.org and http://apps.kew.org/wcsp/
© Copyright 2017 International Plant Names Index and World Checklist of Selected Plant Families. http://creativecommons.org/licenses/by/3.0


Kew Science Photographs

Copyright applied to individual images


Kew Species Profiles

Kew Species Profiles
http://creativecommons.org/licenses/by-nc-sa/3.0