This species is accepted, and its native range is N. Central Namibia.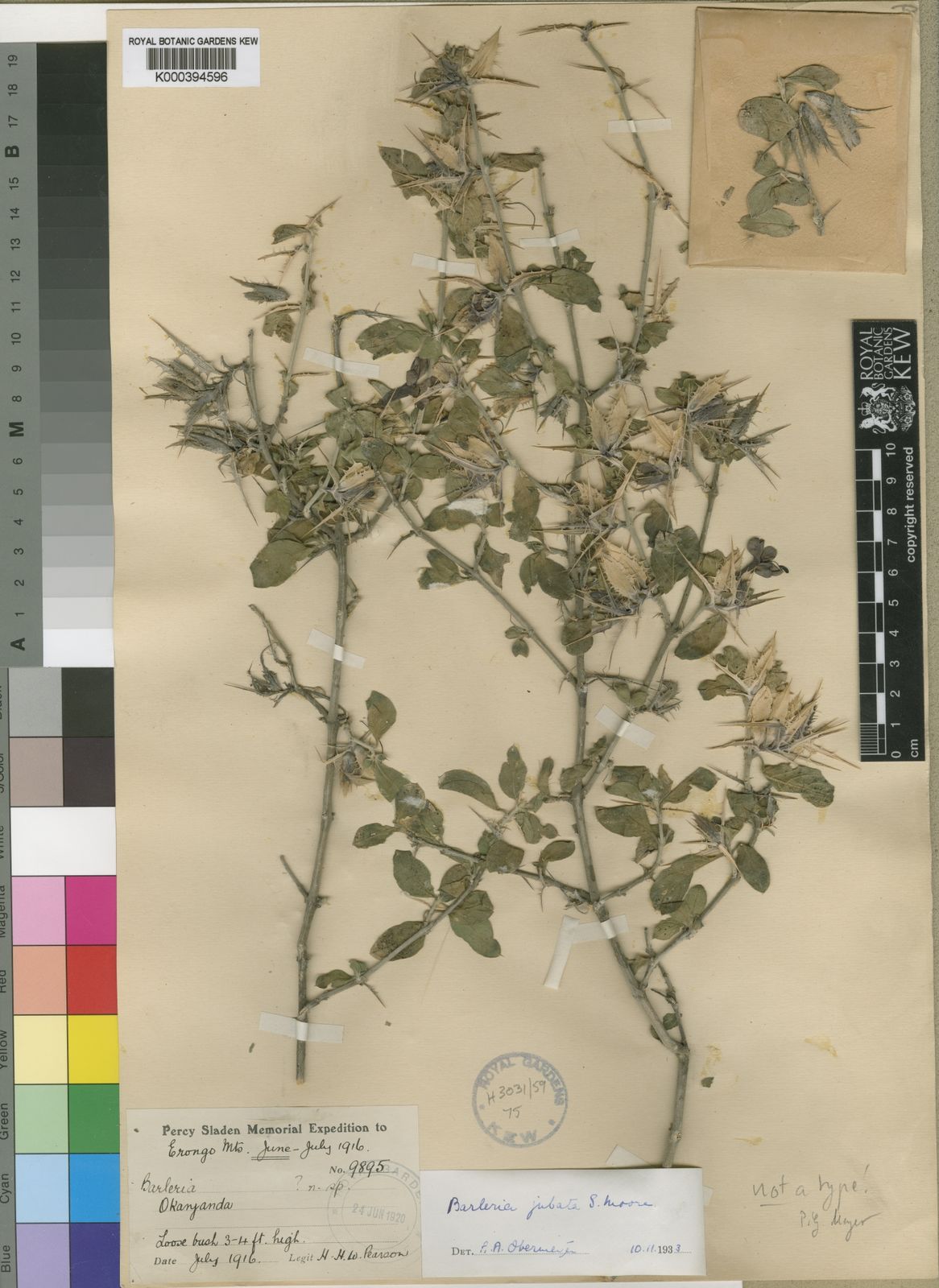 [KBu]
Darbyshire, I., Tripp, E.A. & Chase, F.M. (2019). A taxonomic revision of Acanthaceae tribe Barlerieae in Angola and Namibia. Part 1. Kew Bulletin 74: 5. https://doi.org/10.1007/s12225-018-9791-0
Conservation

Barleria jubata has a highly restricted range, being found only on the sandstone outcrops of the Waterberg plateau and nearby hills in Otjozondjupa and adjacent areas of Kunene Region. It has an EOO of 2369 km2, and an AOO of 40 km2 using the recommmended 2 × 2 km grid cell size; whilst the latter is likely to be an underestimate, it is very likely that AOO will be less than 2000 km2, this being the cut-off for the Vulnerable Category under IUCN criterion B2. It is known from 6 – 7 threat-defined locations. It has previously been recorded as common by T. G. Een and relatively frequent by H. & E. Walter. The first author recently found it to be fairly common around the Waterberg Game Guest House on Klein Waterberg in 2015, although it appears to occupy a very restricted altitudinal range there, being found only towards the foot of the sandstone slope. B. Noczil-Ostermeier noted it as uncommon on its western-most location, where it was recorded as heavily browsed (by ?kudu). The Waterberg plateau is a National Park and so the species should be afforded some protection there. However, there has been severe encroachment into the bushland habitat around the foot of the Waterberg plateau and adjacent farmland (BirdLife International 2017); this is likely to impact populations of B. jubata, particularly those to the west of the National Park and around Klein Waterberg. With an inferred decline in extent and quality of habitat, this species is assessed as Vulnerable — VU B1ab(iii)+2ab(iii).

Distribution

Endemic to Northern Namibia (Kunene and Otjozondjupa regions).

Ecology

Barleria jubata can be found in sparse to dense Acacia-Terminalia bushland and dry woodland, often on rocky hillslopes of sandstone but also in shaded areas along dry streambeds; c. 1300 – 1800 m elevation. It is recorded from the Thornbush Shrubland and transition to the Northern Kalahari vegetation types of Mendelsohn et al. (2002).

Morphology

General

Habit

Spiny shrub or shrublet, 60 – 150 cm tall, fertile branches sometimes straggling; stems rather stout, densely white-puberulous throughout, velutinous to the touch, with interspersed long ascending buff-coloured hairs with a ± swollen base

Morphology

Leaves

Leaves obovate or elliptic, 1.6 – 3.4 × 0.8 – 1.8 cm (l:w ratio 1.7 – 2.1:1), base attenuate or cuneate, margin entire or with small teeth formed by swollen and elongated hair bases, apex acute to rounded, prominently mucronate, veins beneath and margin strigose, elsewhere sometimes strigulose, young leaves also white-puberulous; lateral veins 4 – 6 pairs; petiole up to 7 mm long

Morphology

Reproductive morphology

Flowers

Androecium

Stamens

Stamens inserted in lower half of corolla tube; filaments c. 18.5 – 20 mm long; anthers 3.6 – 4 mm long; lateral staminodes slender, 3.5 – 4 mm long, pubescent only at base, antherodes absent

Morphology

Reproductive morphology

Flowers

Calyx

Calyx at first green to mauve, soon turning pale-scarious; anterior lobe elliptic-lanceolate to lanceolate, 15 – 19 × 4.5 – 6.2 mm, base cuneate, margin with 6 – 8 conspicuous slender spines per side to 3.5 mm long, apex spinose or the spine shortly notched, external surface white-puberulous particularly towards base, also buff-yellow-strigose and with interspersed short patent glandular hairs; posterior lobe like anterior lobe but 17.5 – 24 × 5 – 7.5 mm, apex long-spinose, margin with longer spines up to 6 mm long; lateral lobes linear-lanceolate, 9 – 12 mm long

Morphology

Reproductive morphology

Flowers

Corolla

Corolla c. 26 – 32 mm long, lilac or pale blue, with purple streaks in roof of throat, pubescent externally, limb with mixed eglandular and glandular hairs; tube 17 – 21 mm long, cylindrical, somewhat or barely widened towards mouth; limb subregular, abaxial lobe slightly offset; lobes ± broadly obovate, each with a minute acumen, abaxial and lateral lobes c. 9 – 11.5 × 8 – 8.5 mm; adaxial lobes c. 10 × 6.5 mm

Morphology

Reproductive morphology

Flowers

Gynoecium

Ovary

Ovary with a ring of dense minute crisped white hairs at attachment point of style and extending onto style base; stigma linear, ± 1 mm long

Morphology

Reproductive morphology

Fruits

Capsule 4-seeded, c. 13 – 13.5 mm long, glabrous; seeds c. 4.2 mm long and wide.

Morphology

Reproductive morphology

Inflorescences

Inflorescences axillary, contracted unilateral cymes up to 2 cm long, each 2 – 6-flowered; bracts foliaceous; bracteoles lanceolate-spinose, pairs somewhat unequal in length, the longer 19 – 29 × 1.3 – 3 mm, blade at first green or purplish but turning scarious, midrib pale and prominent, margin with 3 – 5 ± patent lateral spines per side 3 – 5.5 mm long, surface white-puberulous with occasional broad sessile glands proximally; sterile bracteoles persisting at lower nodes as paired or clustered axillary spines

Note

Meyer (1957: 380) noted that it is only found with certainty at the Great Waterberg and he postulated that this may be a tropical species that finds its southwest-most extent there, as is the case in a number of other tropical species. However, we now know Barleria jubata to be highly range-restricted, centred on the Waterberg area. This site is now known to contain a high plant diversity, with almost 500 species recorded, and it is recognised as an Important Plant Area (Smith 2005). It contains a number of range-restricted and rare species, including the endemic species Jamesbrittenia acutiloba (Pilg.) Hilliard (Scrophulariaceae), the endemic monotypic genus Dintera pterocaulis Stapf (Plantaginaceae) and the globally Vulnerable Lobelia hereroensis Schinz (Campanulaceae) (Loots 2005; Hilliard 1994). Barleria jubata is somewhat intermediate in general appearance between B. elegans and B. meeuseana. The three are certainly close but easily separated by the characters given in the key. Barleria jubata is additionally separated by the dense, velutinous stem hairs which persist on the stout mature stems.

Type

Namibia, Damaraland, fl. 1879, Een s.n. (holotype BM! [BM000931094]).
Barleria jubata S.Moore appears in other Kew resources:
| Date | Reference | Identified As | Barcode | Type Status |
| --- | --- | --- | --- | --- |
| Nov 10, 1933 | Pearson, H.H.W. [9895], Namibia | | K000394596 | |
First published in J. Bot. 45: 229 (1907)
Accepted by
Govaerts, R. (1996). World Checklist of Seed Plants 2(1, 2): 1-492. MIM, Deurne.
Literature
Kew Bulletin
BirdLife International (2017). Important Bird Areas factsheet: Waterberg Plateau Park. Downloaded from http://www.birdlife.org. on 12 Sept. 2017.
Craven, P. (ed.) (1999). A checklist of Namibian plant species. South African Botanical Diversity Network Report No. 7, SABONET, Windhoek.
Darbyshire, I., Tripp, E. A. & Dexter, K. G. (2012). A new species and a revised record in Namibian Barleria (Acanthaceae). Kew Bull. 67: 759 – 766.
Hilliard, O. M. (1994). The Manuleae: a tribe of Scrophulariaceae. Edinburgh University Press, Edinburgh.
Klaassen, E. & Kwembeya, E. (eds) (2013). A checklist of Namibian indigenous and naturalised plants. Occasional Contributions No. 5, National Botanical Research Institute, Windhoek.
Klopper, R. R., Chatelain, C., Bänninger, V., Habashi, C., Steyn, H. M., de Wet, B. C., Arnold, T. H., Gautier, L., Smith, G. E. & Spichiger, R. (2006). Checklist of the flowering plants of sub-Saharan Africa. An index of accepted names and synonyms. South African Botanical Diversity Network Report No. 42, SABONET, Pretoria.
Loots, S. (2005). Red data book of Namibian plants. Southern African Botanical Diversity Network Report Series No. 38. SABONET, Pretoria.
Mendelsohn, J., Jarvis, A., Roberts, C. & Robertson, T. (2002). Atlas of Namibia. A portrait of the land and its people. Ministry of Environment & Tourism and David Philip, Cape Town.
Meyer, P. G. (1957). Beitrag zur Kenntnis der Acanthaceen Südwestafrikas. Mitt. Bot. Staatssamml. München 2: 368 – 385.
Meyer, P. G. (1968). 130. Acanthaceae. In H. Merxmüller (ed.), Prodromus einer Flora von Südwestafrika. J. Cramer, Germany.
Moore, S. le (1907). Alabastra Diversa. Part XV. 1. New or rare Acanthaceae from German South-West Africa. J. Bot. 45: 226 – 233.
Nyirenda, F. C. & Balkwill, K. (2018). Significance of variation and evaluation of potential characters in three morphologically similar species of Barleria sect. Barleria (Acanthaceae) in southern Africa. Pl. Syst. Evol. 304: 77 – 92.
Nyirenda, F. C. (2012). Morphological variation in five related species of Barleria (Acanthaceae). Unpubl. M.Sc. thesis, University of the Witwatersrand, Johannesburg.
Obermeyer, A. A. (1933). A revision of the South African species of Barleria. Ann. Transvaal Mus. 15: 123 – 180.
Smith, T. J. (ed.) (2005). Important Plant Areas in southern Africa. Combined proceedings of workshops held in Mozambique, Namibia and South Africa. Southern African Botanical Diversity Network Report Series No. 39. SABONET, Pretoria.
Welman, W. G. (2003). Acanthaceae. In: G. Germishuizen & N. L. Meyer (eds), Plants of southern Africa: an annotated checklist. Strelitzia 14: 92 – 106. National Botanical Institute, Pretoria.
Herbarium Catalogue Specimens
Digital Image © Board of Trustees, RBG Kew http://creativecommons.org/licenses/by/3.0/

Kew Backbone Distributions
The International Plant Names Index and World Checklist of Selected Plant Families 2021. Published on the Internet at http://www.ipni.org and http://apps.kew.org/wcsp/
© Copyright 2017 World Checklist of Selected Plant Families. http://creativecommons.org/licenses/by/3.0

Kew Bulletin
Kew Bulletin
http://creativecommons.org/licenses/by-nc-sa/3.0

Kew Names and Taxonomic Backbone
The International Plant Names Index and World Checklist of Selected Plant Families 2021. Published on the Internet at http://www.ipni.org and http://apps.kew.org/wcsp/
© Copyright 2017 International Plant Names Index and World Checklist of Selected Plant Families. http://creativecommons.org/licenses/by/3.0